Microsoft is getting ready to launch its Microsoft Loop app in public preview later this month. Microsoft Loop has been available in private preview since November, allowing users to collaborate with their colleagues across Microsoft 365 apps.
Microsoft Loop is based on Microsoft's Fluid Framework, and it has three main structural elements: Loop components, Loop pages, and Loop workspaces. First up, Loop components are live pieces of content that work across multiple Microsoft 365 apps. These include tables, checklists, bulleted lists, and numbered lists. Loop components are updated in real time and can be shared in Microsoft Teams and Outlook.
Additionally, a Loop page is a document that allows users to share and collaborate on one or more Loop components. Loop workspaces make it easier for users to track and organize their Loop pages. For instance, users can organize related Loop pages in different groups or sections, which is particularly useful for large projects. Microsoft says that multiple users will be able to collaborate on Loop pages and workspaces.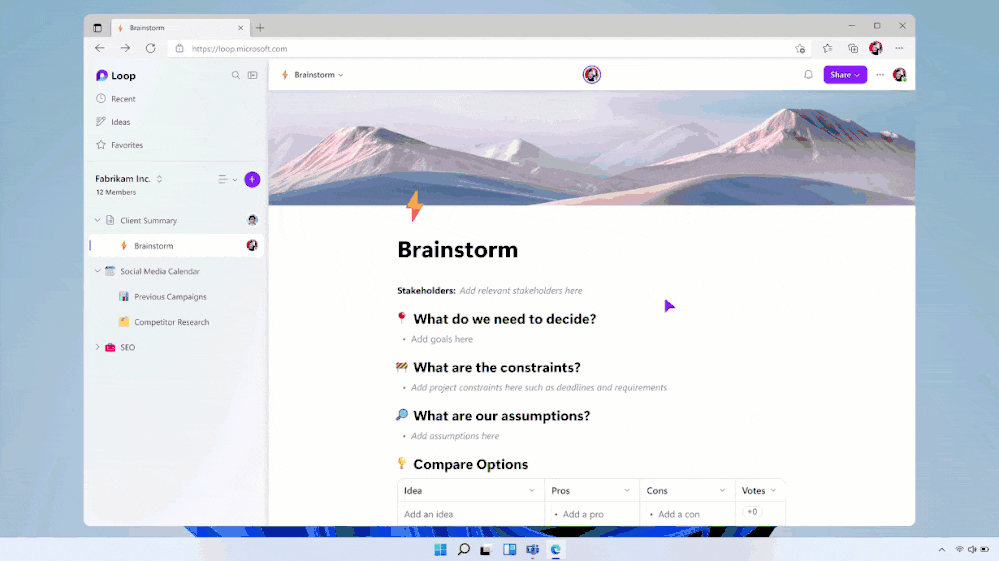 How to prepare for the public preview of Microsoft Loop?
For now, Microsoft Loop will be disabled by default, and it will be up to the IT admins to enable it in their tenants. "The Loop app is entering a public preview phase. It is default off and does not yet meet all of Microsoft's compliance capabilities. Regulated organizations will note that we are still working on features such as eDiscovery, Sensitivity labeling, and others. A more complete list of these capabilities will come in future roadmap updates," the company explained on the Microsoft 365 admin center.
To prepare for this release, Microsoft suggests IT admins to enable the Loop app in their organization. The company notes that IT Pros can control Microsoft Loop with a Microsoft Cloud Policy. They will first need to create a Security Group for all users and then deploy the Loop setting to that group. Furthermore, Loop components across the Microsoft Suite can be controlled separately from the Loop app, and you can find more details on this support page.
Microsoft Loop vs. Notion
Microsoft continues to improve the collaboration experience to help businesses adapt to this new hybrid work era. Microsoft wants to position its Loop app as a strong competitor to popular productivity solutions such as Notion.
Microsoft Loop and Notion offer several features to enhance content creation, project management, and note-taking experiences. However, Microsoft Loop has an edge over Notion because it's seamlessly integrated into the Microsoft Office ecosystem. Do you think that the Loop app can help to improve your productivity? Sound off in the comments section below.