Key Takeaways:

Windows 11 version 23H2 (the Windows 11 2023 Update) brings a few enhancements, including Windows Copilot and a modernized File Explorer.
IT Pros will find new tools and policies in this update, including the ability to remove passwords, configure Windows Firewall, and manage trusted apps more effectively.
IT admins can use a new policy to remove passwords from Windows 11 devices with FIDO2 security keys or Windows Hello for Business.
Microsoft has just announced the release of Windows 11 version 23H2 (also known as the Windows 11 2023 Update). The new version of the operating system is available as a small enablement package for PCs already running Windows 11 version 22H2.
Starting today, Windows 11 users with eligible devices will be able to see Windows 11 version 23H2 in Windows Update. However, Microsoft will use telemetry to monitor the rollout for major issues and problems.
"As Windows 11, version 23H2 shares the same code base and servicing branch as Windows 11, version 22H2, we will deliver this feature update using servicing technology (like that used for the monthly update process), providing a fast installation experience," explained John Cable, Vice President, Program Management, Windows Servicing and Delivery.
What's new in Windows 11 version 23H2
Windows 11 version 23H2 includes all new features released on September 26 with some additional capabilities. First off, Microsoft has made it easier for users to manage their applications on Windows 11. The "All apps" section in the Start menu now clearly tags System Components with a "system" label. Microsoft has also created a dedicated page for these components, which can be accessed by navigating to Settings > System > System Components.
Additionally, Microsoft has replaced the built-in Chat integration with Microsoft Teams (free), which is pinned by default on the Windows 11 taskbar. It enables users to connect with friends and family through chats, calls, meetings, and community groups.
We have extensively covered the rest of the new features in Windows 11 version 23H2, but here are the main highlights.
Windows Copilot: The biggest new feature Microsoft highlighted in the Windows 11 2023 Update is the integration of a new AI-based assistant called Windows Copilot. It enables users to leverage natural language commands to change Windows settings, such as starting a focus session, turning on dark mode, opening Snap Assist, and other Windows functions. Windows Copilot also allows users to summarize documents, texts, and web pages.
It's currently available in preview for customers based in North America, some parts of Asia, and South America. Microsoft plans to expand its availability to other markets over time.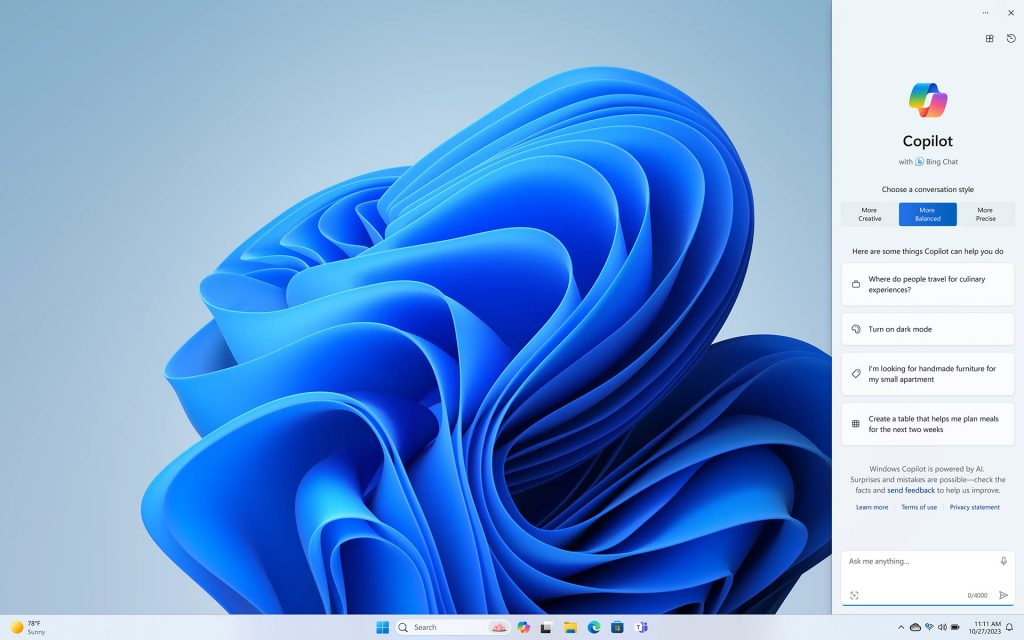 Modernized File Explorer: Microsoft has released a major update for its File Explorer app on Windows 11. The company has updated the home page, folder view, and details pane with a modern design to make it more consistent with the design language of Windows 11. The app also shows AI-powered file recommendations for users signed in with their Microsoft Entra ID accounts on Windows 11.
Windows Backup: The Windows 11 2023 Update includes a new application that allows users to back up all their files, apps, settings, and credentials to their OneDrive storage. The feature makes it easier to restore them when setting up a new Windows PC with a few clicks. Users can click on the app icons to reinstall from the Microsoft Store.
Passkey support: Microsoft introduced passkey support to let users sign into websites like Best Buy. Moreover, commercial customers can also use Windows Hello to create a passwordless authentication experience on Entra ID (Azure AD) joined devices.
Windows Dev Drive/Dev Home: The new Dev Home connects with GitHub to make it easier to manage development environments. It's designed to pull the latest changes automatically and lets users install various extensions like Android Studio, Visual Studio, and PyCharm. Moreover, the Dev Drive feature allows users to create a system partition to store source code and project data.
Windows 365 Boot and Windows 365 Switch: Windows 365 Boot lets users log into their Windows 365 cloud PCs directly from any physical device. The Windows 365 Switch feature enables users to easily switch between their local desktop and a Windows 365 Cloud PC.
New features for IT Pros
Microsoft has introduced a new policy that enables IT admins to completely remove passwords from Windows 11 devices with FIDO2 security keys or Windows Hello for Business. There is also a new Config Refresh feature that automatically resets settings in the PolicyCSP every 90 or 30 minutes.
With Custom App Control, IT admins can ensure the installation of trusted apps on managed Windows 11 PCs. Moreover, IT administrators can configure more granular Windows Firewall logging for private, domain, and public firewall profiles. It's also possible to set up inbound and outbound rules for ICMP types and codes in Windows Firewall.
How to get the Windows 11 2023 Update
If you currently use Windows 11, you can update to version 23H2 by going to Settings, selecting Windows Update, turning on "Get the latest updates as soon as they're available," and clicking the "Check for updates" button. If the update is available for your PC, you will see it on the screen, and you can proceed by clicking on "Download and install" to start the update process.
If you don't see the update on your Windows 11 device, it could be because Microsoft has temporarily blocked it due to compatibility issues. Microsoft is gradually releasing the update to gather feedback, so it may not be immediately available to everyone.
For commercial customers, Windows 11 version 23H2 is currently available via Windows Update for Business, Windows Server Update Services, and the Volume Licensing Service Center (VLSC). Microsoft advises organizations to start targeted deployments to ensure compatibility with the new release for their apps and devices.
Microsoft notes that Windows 11 version 23H2 Home and Pro editions will be eligible for updates for 24 months. Meanwhile, the company plans to support the Enterprise and Education editions for up to 36 months. It's worth noting that support for the original release of Windows 11 (21H2) ended this month, and users must upgrade to 22H2 or later to continue receiving updates. However, these Windows 11 devices require a full operating system swap to update to the latest version of the operating system.