Microsoft has started discussing its plans regarding Windows 11 version 23H2, the next annual update for the OS to be released later this fall. On its Windows IT Pro blog yesterday, the company announced that Windows 11 version 23H2 will be released as an enablement package in the fourth quarter of 2023.
"The upcoming Windows 11, version 23H2 shares the same servicing branch and code base as Windows 11, version 22H2. What does it mean for you? If you're running Windows 11, version 22H2, it will be a simple update to version 23H2 via a small enablement package (eKB)," explained Jason Leznek, Principal Product Manager in the Windows Servicing & Delivery team.
In the second half of 2024, Microsoft will also plans to make a Windows 11 LTSC release available for organizations. "If you're waiting for a Windows 11 LTSC release, you can begin planning and testing your applications and hardware on the current General Availability (GA) Channel release, Windows 11, version 22H2," Leznek said yesterday.
Microsoft promises a seamless update process for Windows 11 version 23H2
Microsoft has previously used enablement packages to release annual Windows updates: This first happened in 2019 with the transition from Windows 10 version 1903 to 1909. Microsoft has also been using this same shared servicing model to release Windows 10 versions 21H2 and 22H2, which share the same source code as version 20H2.
Because Windows 11 versions 23H2 and 22H2 will use the same code base and servicing branch, IT pros won't have to worry about application or device compatibility. That's why Microsoft is recommending organizations continue rolling out Windows 11 version 22H2 until the 23H2 enablement package becomes available in the fourth quarter.
In a new "Windows and the shared servicing model" whitepaper published yesterday, Microsoft explained that not all versions of Windows can share the same branch, but there are many advantages in using a single shared servicing branch to deliver annual Windows updates. "An upgrade from one version to another on the same branch does not require additional testing, and there is no burden on the corporate network infrastructure or end user experience. An upgrade literally takes just a few minutes," the company emphasized.
The enablement package to install Windows 11 version 23H2 on PCs running the version 22H2 of the OS will be available through Windows Server Update Services, Windows Update for Business, and Windows Autopatch.
Windows 11 version 23H2 is currently being tested with Beta Channel Insiders
Microsoft is currently testing Windows 11 version 23H2 with Insiders on the Beta Channel, though it may be too early to provide a detailed list of new features. Microsoft says that Beta Channel testers are "previewing experiences that are closer to what we will ship to our general customers. However, not every new feature that's being tested in the Beta Channel is guaranteed to ship in the next Windows 11 release.
The Beta Channel currently has two separate groups of Insiders: One of them is getting Windows 11 builds with new features enabled by default, and the other group is getting builds where new features are disabled. Here are some of the new Windows 11 features that Microsoft has been testing with one group of Beta Channel Insiders since April:
Evolved widgets board: The Windows 11 widgets board offers a 3-columns layout on larger screens, with a clear separation between the news feed and widgets added by users.
File Explorer Gallery: This new Gallery view lets users easily access their most recently taken photos.
System tray clock: Users can now hide the time and date in the system tray
Diagnose network problems: Users can now right-click the network icon in the system tray to quickly diagnose network problems.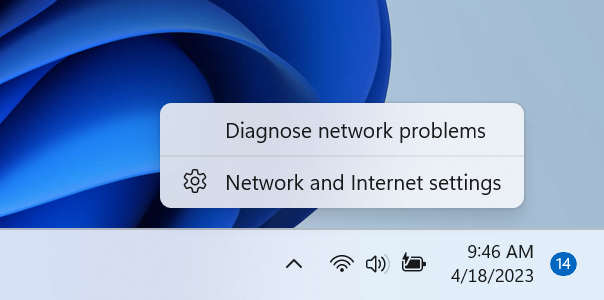 View Wi-Fi passwords: Passwords for known wireless networks can now be viewed in the Settings app.
Passpoint Wi-Fi networks: Public Wi-Fi networks that support the Passpoint protocol to simplify network access now provide enhanced connection performance.
WPA 3 support in Phone Link: the Phone Link instant hotspot feature now supports the WPA3 standard for more secure connections to a phone's hotspot.
Earlier this week, the July Patch Tuesday update for Windows 11 version 22H2 brought the new "Moment 3" features to all Windows 11 users. Even though Windows 11 is now on an annual release cycle, Microsoft has started releasing new features throughout the year via these "Moment" updates. However, organizations that prefer stability can turn off these new features for their users.
Again, we'll have a better idea of what to expect in Windows 11 version 23H2 once the update lands on the Release Preview channel. For IT pros, this remains the best channel to preview what's coming in the next Windows release.