Time to Review Your Tenants Office 365 Licenses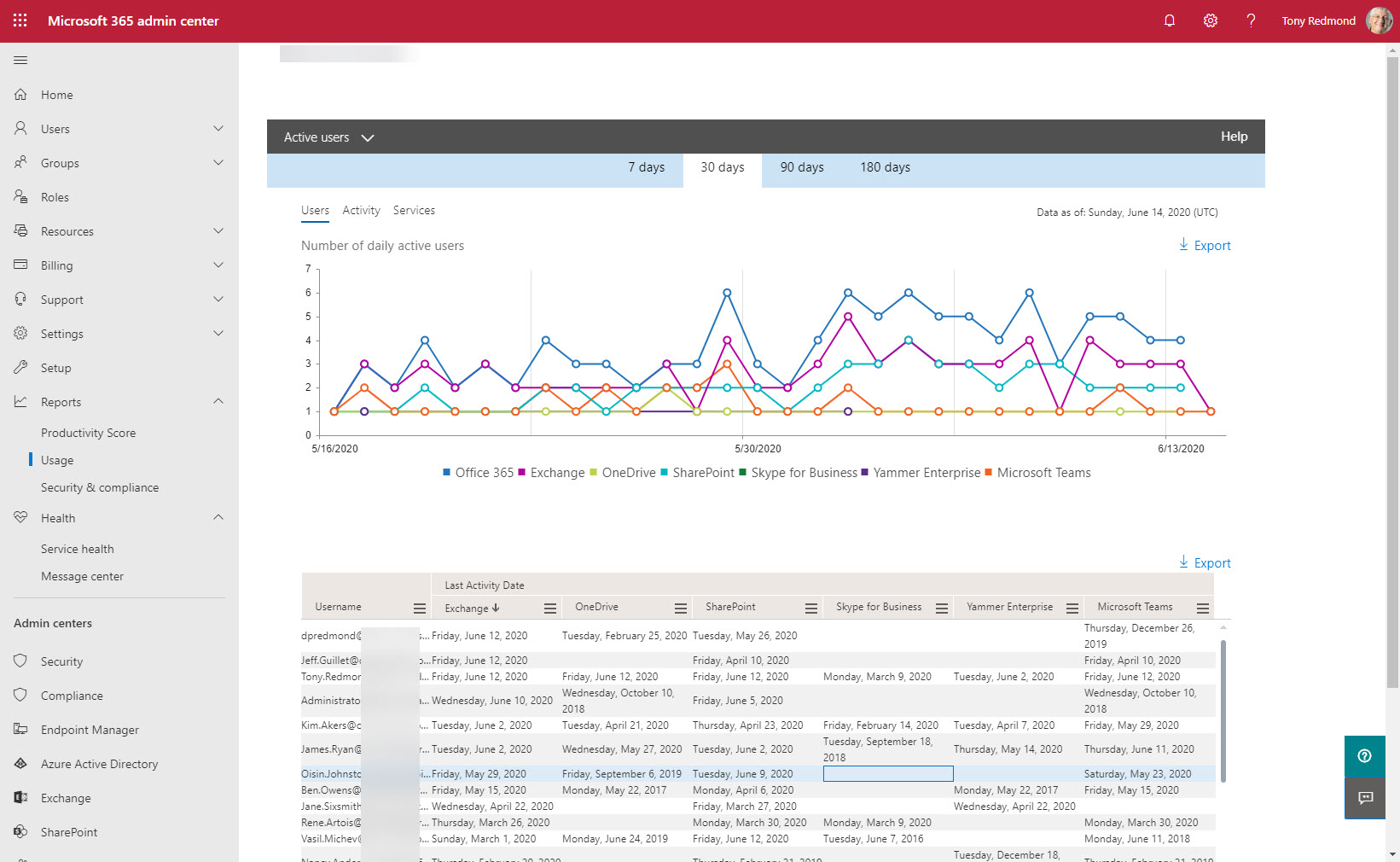 Office 365 Licensing Should be Part of Operational Reviews
Many businesses are conducting operational reviews because of the Covid-19 pandemic. Previous standards, like the need for people to turn up in an office every day, have gone by the wayside as remote working becomes the new normal.
Companies with Office 365 tenants should consider their license mix as part of operational reviews. You might be in the fortunate position of needing more licenses to accommodate new employees. On the other hand, you might need to plan a reduction due to lay-outs and furloughs. And when you've settled on the number of licenses needed, the next question is if you are paying Microsoft too little or too much for the functionality needed by the business.
Microsoft Upsells for Extra Revenue
Microsoft would very much like to move tenants to more expensive plans, like Office 365 E5, or sell add-on licenses covering specific functionality, like advanced compliance. Indeed, during Microsoft's FY20 Q3 earnings call, CFO Amy Hood told market analysts about their success in increasing the average revenue per user (ARPU) by upselling Office 365 tenants to the E5 plan. In other words, Microsoft wants to extract more money for each of its licensed user base. It's easy to understand why. An extra dollar per month for 250 million users amounts to $3 billion extra revenue annually, most of which is pure profit.
But the flipside of the coin is often true: tenants pay more than they should for Office 365 licenses. They have too many licenses (how many unused accounts clock up $20/month for an E3 license in your tenant?) or perhaps employees are assigned licenses for functionality they never use.
Office 365 is a Good Deal
To be fair to Microsoft, they haven't increased the price of Office 365 plans since the service launched in 2011. Although it's good to have stable prices, the lack of upward movement lulls customers into a false sense of not having to do anything. The feeling is that the licenses sold when a company first moved to the cloud were good enough. We know what our monthly and annual costs for Office 365 licenses are, so why change?
But things do change. Once more being fair to Microsoft, they have increased the functionality available in Office 365 plans over the years. New applications like Teams, Yammer, and Planner have joined the old faithfuls of Exchange Online, SharePoint Online, and OneDrive for Business. Office Communications Server became Lync Online, which in turn became Skype for Business Online (due for deprecation in July 2021). Microsoft has added a ton of new features across Office 365, liberally doused with lots of artificial intelligence and machine learning. Overall, Office 365 is a good deal.
Paying Too Much
Unless you're paying too much. Take Office 365 E3 for example. Because it includes the Office desktop applications (now Microsoft 365 Enterprise apps), E3 is often looked on as the basic plan for corporate workers. $240/year buys a lot of functionality, including core compliance functionality like content searches, holds, retention labels, and sensitivity labels.
What License Does a User Really Need?
But could some people use Office 365 F3 instead? At $48/year, the saving over E3 is $192/year per user. Or Office 365 E1 at $96/year. Some immediate decision points exist:
Do people need large mailboxes? F3 offers a 2GB mailbox, which is good enough for most on-premises users. Do they need the 50 GB offered by E1 or 100 GB available in E3?
Do people need the desktop apps? A few years ago, people might have replied "absolutely" because the online versions of OWA, Word, Excel, and PowerPoint were not as functional as their desktop equivalents. Today, many people use mobile devices to access Office content and the need for desktop apps is much reduced because the online versions are now so mature. It's an interesting exercise to see how many people with Office 365 E3 and E5 licenses have activated their copy of Office 365 ProPlus (now renamed as Microsoft 365 enterprise apps).
Do people need compliance? The gut response might be "yes" because organizations want to apply holds to user mailboxes for eDiscovery and compliance purposes, but there's probably some users who will never feature in an eDiscovery case. And to there's no need to put a hold on their mailboxes to preserve them as active mailboxes when their users leave. Making the mailboxes shared instead doesn't need an E3 license. Users don't need E3 licenses either to consume retention or sensitivity labels (they do to apply labels to content).
Remember that other licenses can drive cost too. Azure Active Directory Premium licenses are needed for features like password self-service and while a large percentage of enterprise tenants have premium licenses, some do not.
Not Enough Data
The problem most organizations face is that they don't have enough data to make good decisions. They need to know if users are active to ensure that they don't pay for licenses for people who never go near Office 365. They need to know what active users consume to understand what functionality is needed and what can be discarded. They need to understand how the compliance and regulatory regime applying within the company influences what Office 365 functionality is required. Microsoft has started to be clearer about the licenses required for different compliance features, but it's still an area that can be as clear as muck at times.
The new active users report in the Microsoft 365 admin center (Figure 1) is a start and you can download the data presented in the chart to a CSV file. However, the data isn't as detailed as you need to make decisions about what licenses people should have. The raw data needs to be supplemented with business insight to create a view of:
What is the current usage of the Office 365 applications? What clients do people use to access these applications?
How active are users? The Office 365 definition of an active user performing an action like sending a message or reading a document at least once a month is not appropriate here. No one wants to spend $20/month for someone to read one message per month.
What users consider to be must-have functionality and what's in the nice-to-have category.
What people need for the role they serve within the business. Obviously, the CEO and CFO must meet different compliance and regulatory requirements than a frontline worker.
Image 1 Expand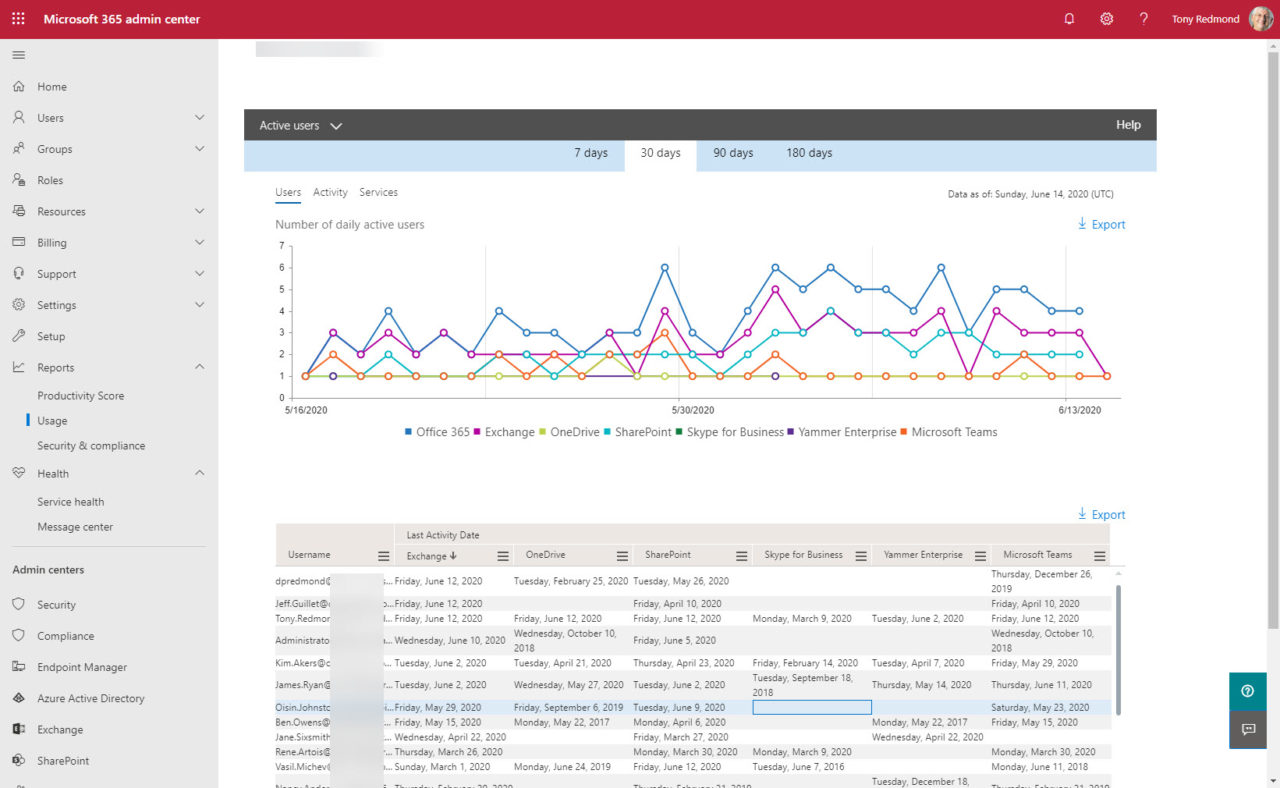 The Graph usage data displayed in the Microsoft 365 admin center is easily accessible with PowerShell, so you can build your own analysis of usage data and use that to identify underused Office 365 licenses.
Don't Give Microsoft Free Money
If economics is the dismal science, Microsoft licensing is even darker. License management is boring. Not quite in the category of paint drying, but close. But the goal of reduced cost by focusing on optimum license purchase and allocation is a good one. Saving $100/year for 10,000 users is a million dollars. And while I don't pretend to promise that this kind of saving is possible, I think taking a detailed look at your current license mix is a good exercise, especially for tenants with more than a couple of thousand licensed users.
Microsoft gains when tenants keep static licensing levels. You can't get a refund for unused licenses and no rebate is available for underused licenses. Your commitment is to buy a certain number of licenses for a period. The cost falls on you if you get that calculation wrong. That's one good reason to focus on licenses at least once a year.