How to Enable Remote Desktop in Windows Server 2022 for Remote Administration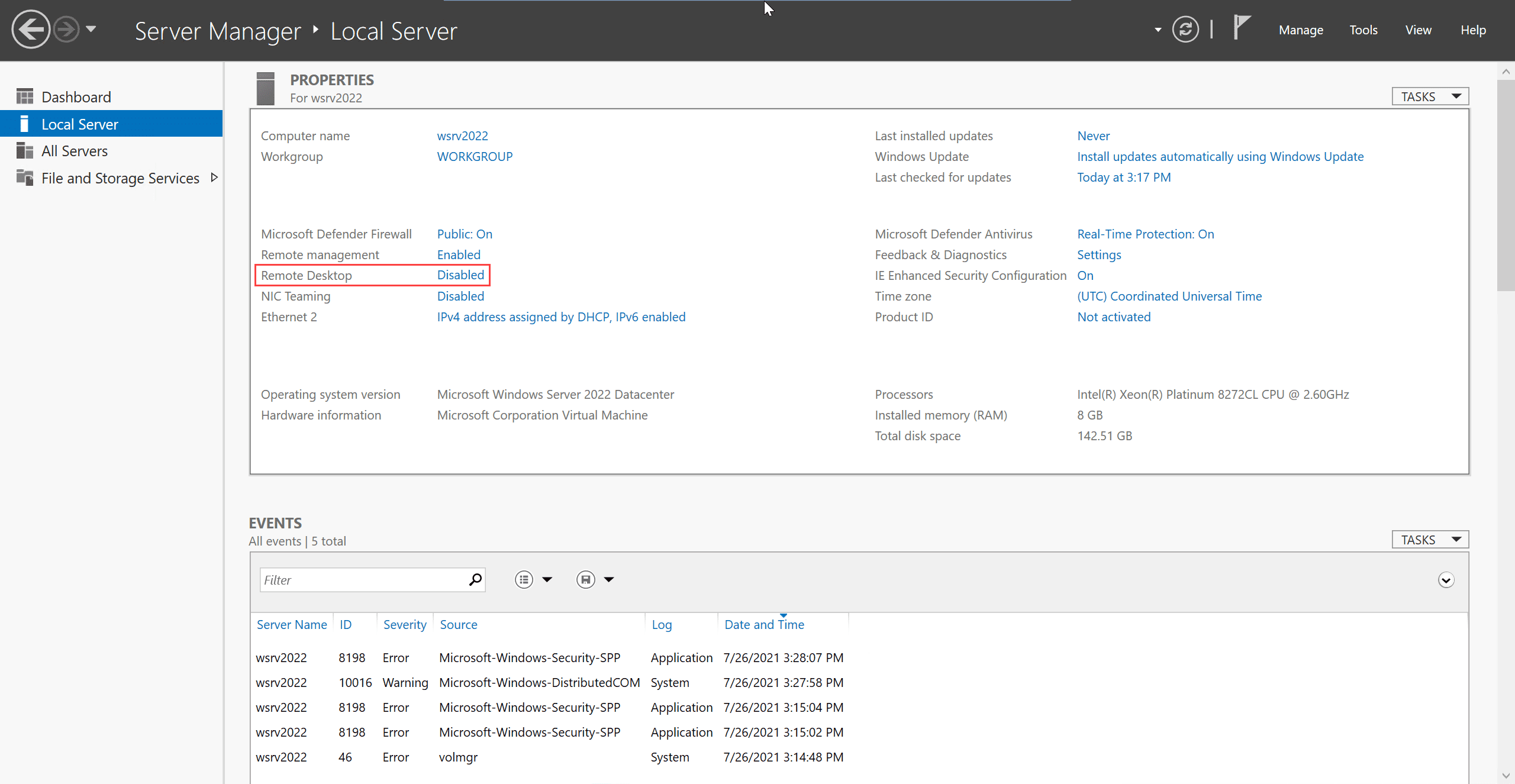 Remote Desktop Services (RDS) is a feature in Windows Server 2022 that lets multiple users connect simultaneously and access applications and a desktop remotely. But Remote Desktop can also be used by IT for remote administration.
It's important to understand that if you want to connect to Windows Server 2022 to remotely manage the server, you don't need to install the RDS server role. Some earlier versions of Windows Server required you to install RDS, previously called Terminal Services, in a special mode for remote administration. But that is no longer the case.
Enable remote access using Server Manager
To enable remote access to Windows Server 2022 using Server Manager, follow the steps below.
Log in to Windows Server 2022 using a local administrator account.
Open Server Manager using the tile on the Start menu.
In the list of options on the left of Server Manager, click Local Server.
Information about your server will appear on the right of Server Manager. In the Properties section, click Disabled to the right of Remote Desktop.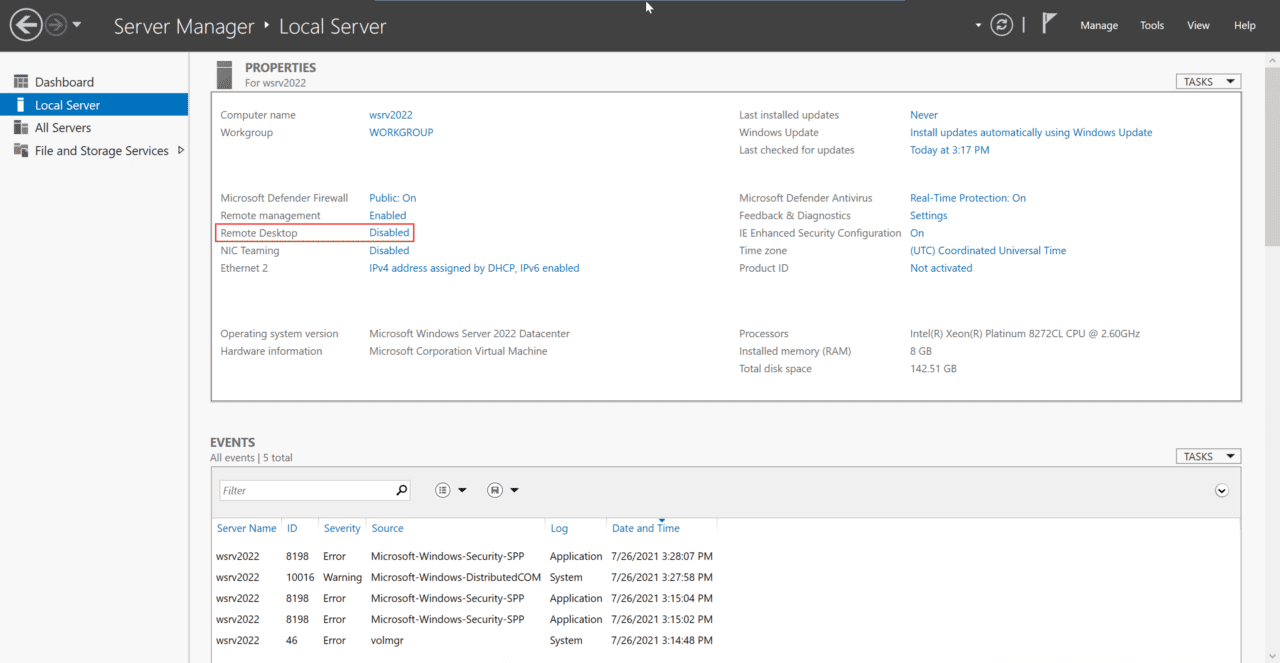 In the System Properties dialog, check Allow remote connections to this computer.
Now click OK.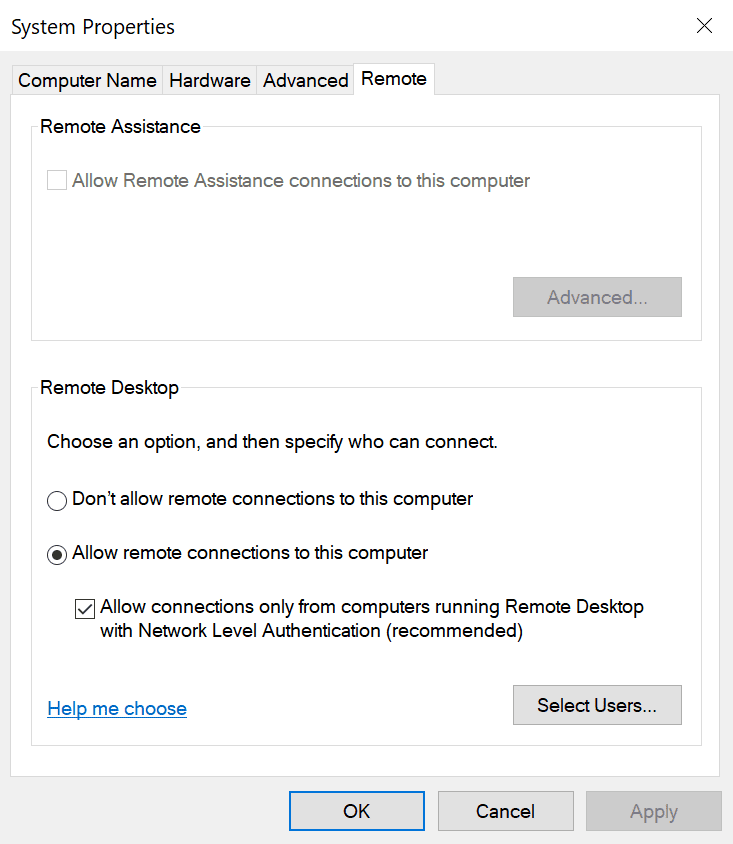 The default configuration is to let the local administrator account, or domain administrator on a domain controller, access Windows Server 2022 remotely. You can add additional users and groups by clicking Select Users in the System Properties dialog.
How to enable remote administration for Windows Server 2022 Server Core?
The best way to remotely administer a Server Core installation of Windows Server 2022 is using Windows Admin Center (WAC). WAC is a free web-based remote administration console for all Windows Server 2022 SKUs and install options.
Download Windows Admin Center free from Microsoft's website here.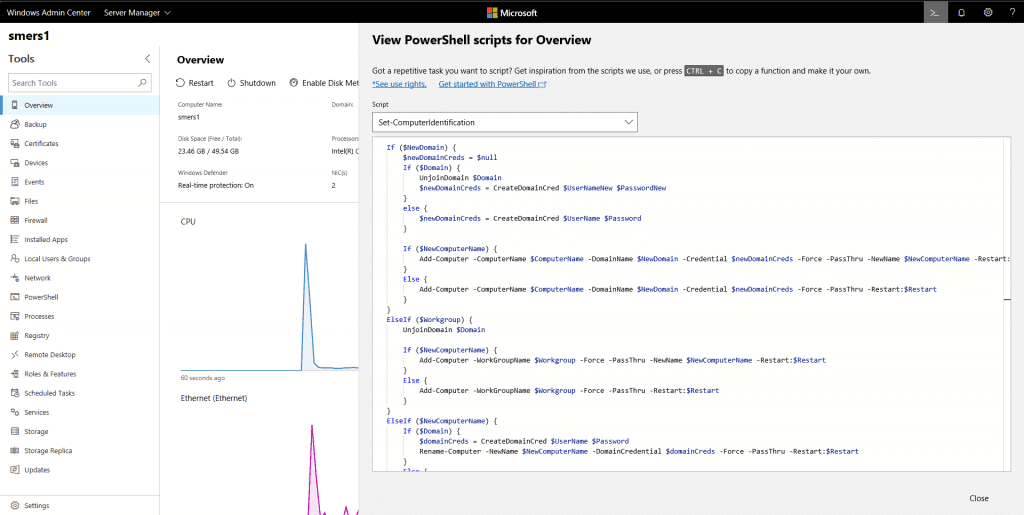 WAC provides an updated experience to Server Manager and many of the legacy management consoles still built-in to Windows Server 2022. You can install Windows Admin Center locally on your PC and use it to manage remote Windows Servers. Or you can use Windows Admin Center in the Azure management portal.
Before you enable remote desktop for administration on your servers, consider using WAC instead. Windows Admin Center uses PowerShell behind the scenes, so it provides a more secure way to administer Windows Server than RDS. Plus, you also get to benefit from all the updated tools. For example, there's a new Performance Monitor and Event Viewer, which are both designed to be easier to work with than their legacy counterparts.
For more information on how to work with WAC, see How to Install and Use Windows Admin Center and How to Use Windows Admin Center in the Azure Portal on the Petri IT Knowledgebase.
Related Article: