August has been relatively quiet, but there have been some important announcements. So, let's get started.
Microsoft releases Edge 85 to the Stable Channel
Microsoft released Edge version 85.0.564.41 to the Stable channel on August 27th. It includes several feature updates, including the ability to synchronize favorites and settings to Active Directory profiles so that a connection to the cloud isn't required.
There is added group policy support for trusting site + app combos to launch without a combination prompt. Administrators can configure trusted protocol/origin combinations, like those for Microsoft 365 apps, so confirmation prompts are suppressed when going to a URL that contains the app protocol.
In addition, Collections gets a 'Send to OneNote' option, there are some updates to the DevTools, and Microsoft releases a Storage Access API to provide access to first-party storage in a third-party context. The Storage Access API is a JavaScript API that provides fine-grained control of storage access permissions when access would usually be denied by the browser's default settings.
Finally, the PDF Highlighter tool can be added to the toolbar for PDFs so users can easily highlight important text.
Windows 10 version 1803 gets another 6 months' support
Originally due to end November 10th, Microsoft announced this month that support for Windows 10 Enterprise, IoT Enterprise, and Education 1803 would be extended by 6 months to May 11th, 2021. Microsoft cites in its blog post customer feedback and the need to focus on business continuity during the global pandemic.
IE11 support for Microsoft 365 to end but not for legacy in-house apps
There's been a lot of press this month about Microsoft ending support for Internet Explorer 11 (IE11). Well, not quite. What Microsoft did announce is that Microsoft Teams would no longer support IE11 beyond November 30th, 2020. And that Microsoft 365 apps and services would not be supported IE11 past August 17th, 2021.
While the announcement spells the beginning of the end for IE11, Microsoft didn't hesitate to confirm that IE11 would still be supported where organizations have legacy in-house apps that don't work in modern browsers.

As you can see in the figure above, legacy Edge will reach end of life March 9th, 2021. Customers that face issues getting apps to work in the new Microsoft Edge can make use of the App Assure promise to get support.
For more information on how you can get help with application compatibility in Microsoft's browsers, see the announcement here.
WSL2 coming to Windows versions 1903 and 1909
In something of a surprise announcement, Microsoft said this month that the Windows Subsystem for Linux 2 (WSL2) would be backported to Windows 10 1903 and 1909. WSL2 debuted in Windows 10 version 2004 and it uses a full Linux kernel to improve performance and compatibility.
In a post on Microsoft's website, Program Manager Tyler Citrin writes that because of customer feedback, Microsoft decided to bring the WSL2 experience to more users. The backport is only for x64 systems and it is available via Windows Update. Windows 10 builds 18362 and 18363 must have minor build number 1049 or later to run WSL2 distros.
Windows 10 version 20H2 ready for commercial validation
In a TechCommunity blog August 20th, Microsoft said that Windows 10 version 20H2 is ready for commercial customers to begin validation before general availability later this year. Like Windows 10 version 19H2, 20H2 will be delivered as an enablement package for those on the latest stable Windows 10 release (version 2004).
What that means is that those running Windows 10 version 2004 won't need to go through a full system upgrade to get the 20H2 feature update. The update is delivered like a monthly quality update that lights up the new features because the code is already baked into Windows 10 version 2004.
The Windows 10 20H2 update is available via Windows Update, Windows Server Update Services (WSUS), the Azure Marketplace, and you can download the ISO file here. 20H2 will be automatically rolled out to Insiders in the Beta and Release Preview Channels.
Microsoft readies Windows Server 2021 with new preview build
It's been quiet on the Windows Server front in recent months. But August saw Microsoft release a new preview build of Windows Server vNext. Not only that, we get to see a list of new features. Windows Server 2021 will be released on the Long-Term Servicing Channel (LTSC), which means it includes the full desktop experience, 10 years of security patches, but no feature updates.
Some of the new features in Windows Server 2021 are from current builds of Windows Server that are designed for customers needing access to new features as quickly as possible. There's a big focus on networking improvements, clustering, containers, and Kubernetes. For the full list, check out Microsoft's site here.
'Apps view' comes to Your Phone for some Samsung handsets
Microsoft started rolling out App View for Your Phone to customers with supported Samsung handsets this month. The feature lets users run Android apps remotely on their Windows 10 devices. According to Thurrott.com, the feature is an extension of screen mirroring that came to Your Phone last year.
Windows Insider Builds
Windows 10 20H2 got two updates this month. Neither added any new features but just addressed security updates and bug fixes.
Windows 10 build 20197 on the Dev Channel got an update to the Settings app, bringing with it Disk Management into the 21st century. Microsoft says the new Disk Settings experience was built from the ground up with accessibility in mind. You can access the new Disk Management in Settings > System > Storage > Manage Disks and Volumes.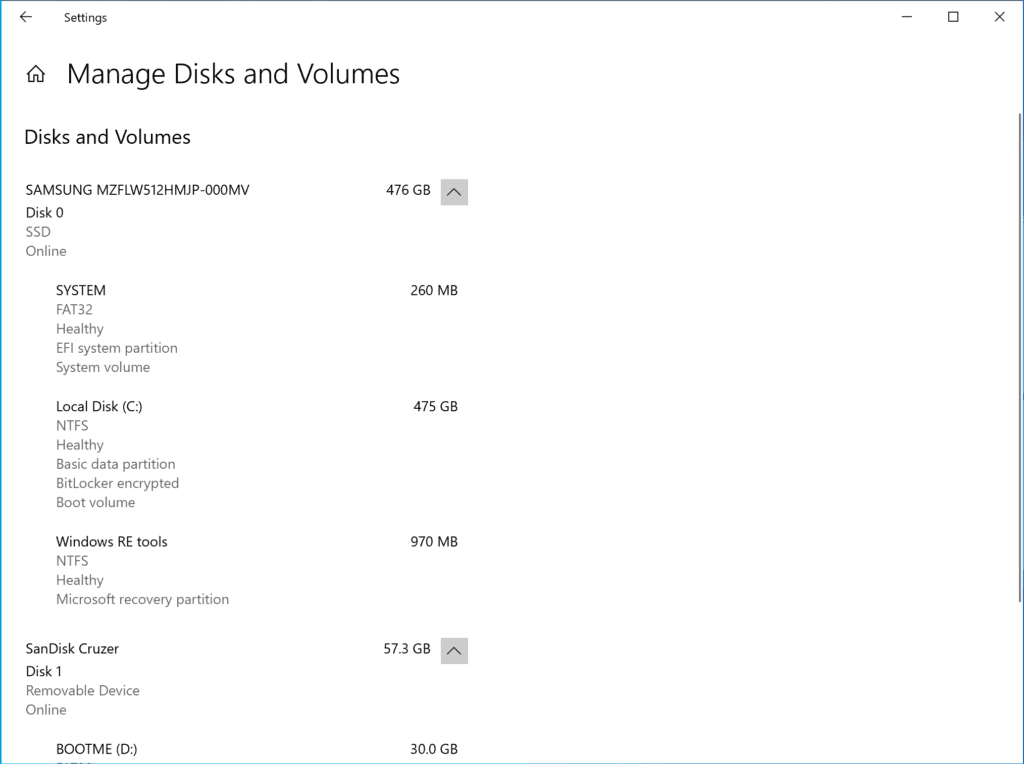 Build 20190 debuted a new post-update experience to help users understand what's new in a feature update. Microsoft says that users often feel feature updates are time consuming without real benefit. The new post-update experience is designed to address that. The build also includes improved graphics settings in the Settings app. Build 20201 was released on the Dev Channel and brings a series of fixes.
And that is it for another month!