Project Moca In Preview for Office 365 Users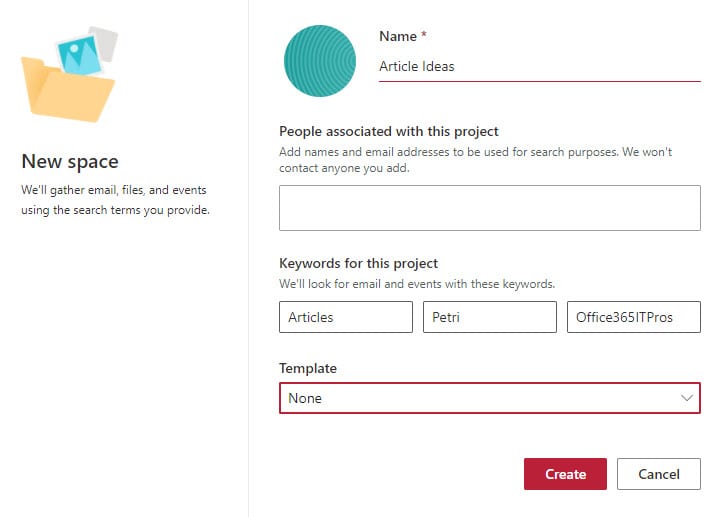 On October 14, Microsoft announced that Project Moca, a new "productivity module," is available as a public preview for Office 365 commercial tenants. The feature had previously been made available to Education tenants in August and to premium Outlook.com accounts in June. Moca is the "Outlook spaces project," the first sights of which leaked in February.
If you want to enable Moca for users, you'll need to run the Set-OWAMailboxPolicy cmdlet to update OWA mailbox policies and update the ProjectMocaEnabled setting to True. For example:
Set-OWAMailboxPolicy OwaMailboxPolicy-Identity OWAFullAccess -ProjectMocaEnabled $True

According to Office 365 notification MC224257, it can take up to 48 hours before Moca appears in the OWA module switcher (lower left-hand corner).
Information Scattered Everywhere Across Microsoft 365
The concept underpinning Moca is valid. Information is spread all over the place and it takes effort to assemble data together to form a coherent picture of what needs to be done to organize a project or some other work. To some degree, Microsoft is responsible for the state we find ourselves in, with information scattered across many different places in Microsoft 365:
Exchange Online mailboxes (personal tasks, email, and calendar).
Teams (personal chats and channel conversations).
Planner (group tasks).
Documents and files (OneDrive for Business and SharePoint Online).
OneNote.
Stream videos.
And so on. Every development group that deals with some aspect of collaboration has its own take on the topic and data keeps on piling up in different places.
New Approach Based on a New Context
Up to until recently, Outlook was the nearest thing to a coherent place to store and organize personal information. However, Outlook's view of the world has tired and needed to be refreshed, which is why I think the Outlook team has taken a new look at how to organize information for personal consumption in Moca. Given the One Outlook vision announced at Ignite 2020, we can but hope that Moca eventually freshens up Outlook desktop too.
The advent of the Microsoft 365 substrate and the availability of Graph APIs create a new context for developers. Information is more easily accessible and can be presented in new ways. We've already seen this happen in the Tasks in Teams app, where data from To-Do (personal tasks) and Planner (group tasks) is presented in a unified manner. The fingerprints of the substrate and Graph are all over Moca.
Starting Moca
Moca is a personal application. It organizes information available to you and doesn't share that information with others. I spend a lot of my time writing, so I decided to test Moca by seeing if it could replace all the scribbled jottings I normally use to track ideas for articles. I've been down this path before with To Do but was never satisfied at the outcome.
To start, I created a new Moca project (Figure 1). Microsoft makes several template projects available, like project plan or personal wellness, but none seemed to match my needs, so I elected to start from scratch. The keywords entered are for searching your mailbox for matching email and events which you might want to add to the project canvas. You can leave this blank if you want as searching can always be done later.
Image 1 Expand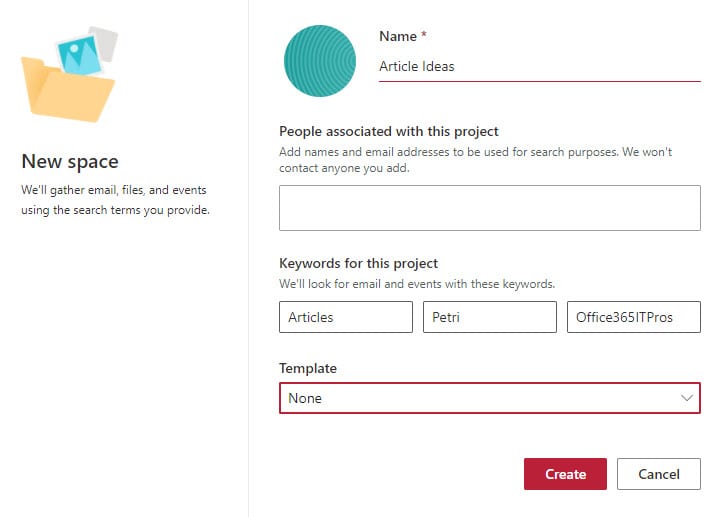 A new Moca project is a blank space or canvas, ready to be populated with the different elements supported by Moca, including:
Buckets: Logical divisions of information within the project.
Notes: Free-form notes about things relating (or not) to the project. These notes are Outlook notes and accessible in the Notes folder.
File: Links to files stored in your OneDrive for Business account.
Links: URLs to pages or deeplinks to objects such as a conversation in a Teams channel. Links are useful for referencing files in SharePoint too.
Task: These items are stored in To Do and accessible in To Do, Outlook, or the Teams tasks app.
Person: A link to an Outlook contact.
Goal: These items are stored in your calendar as all-day events.
Weather: Details about the weather in your chosen location(s). These items are stored in your mailbox.
Moca uses a set of folders in the non-IPMRoot part of the mailbox to store its data. A folder called OutlookSpaces holds an item for each space, and each space has an Assets folder to store its metadata (look for names like OutlookSpaceAssets22d2bae6-7d5e-4ffd-aaf3-4e75d7f79ef8). You can only use Moca if your mailbox is in Exchange Online. Two points flow from this – first, if you move a mailbox back to an on-premises server, their spaces will disappear. Second, backups of Exchange Online mailboxes probably won't include the Moca data, meaning that you won't be able to restore spaces if that need arises.
My Moca Space
It wasn't difficult to transpose my scribbled reminders into a Moca project. I organized items into three buckets and added a couple of relevant emails and links and some irrelevant contacts and locations just to complete the picture (Figure 2). The canvas is scrollable and you can move to different parts of the screen to see items which don't fit.
Image 2 Expand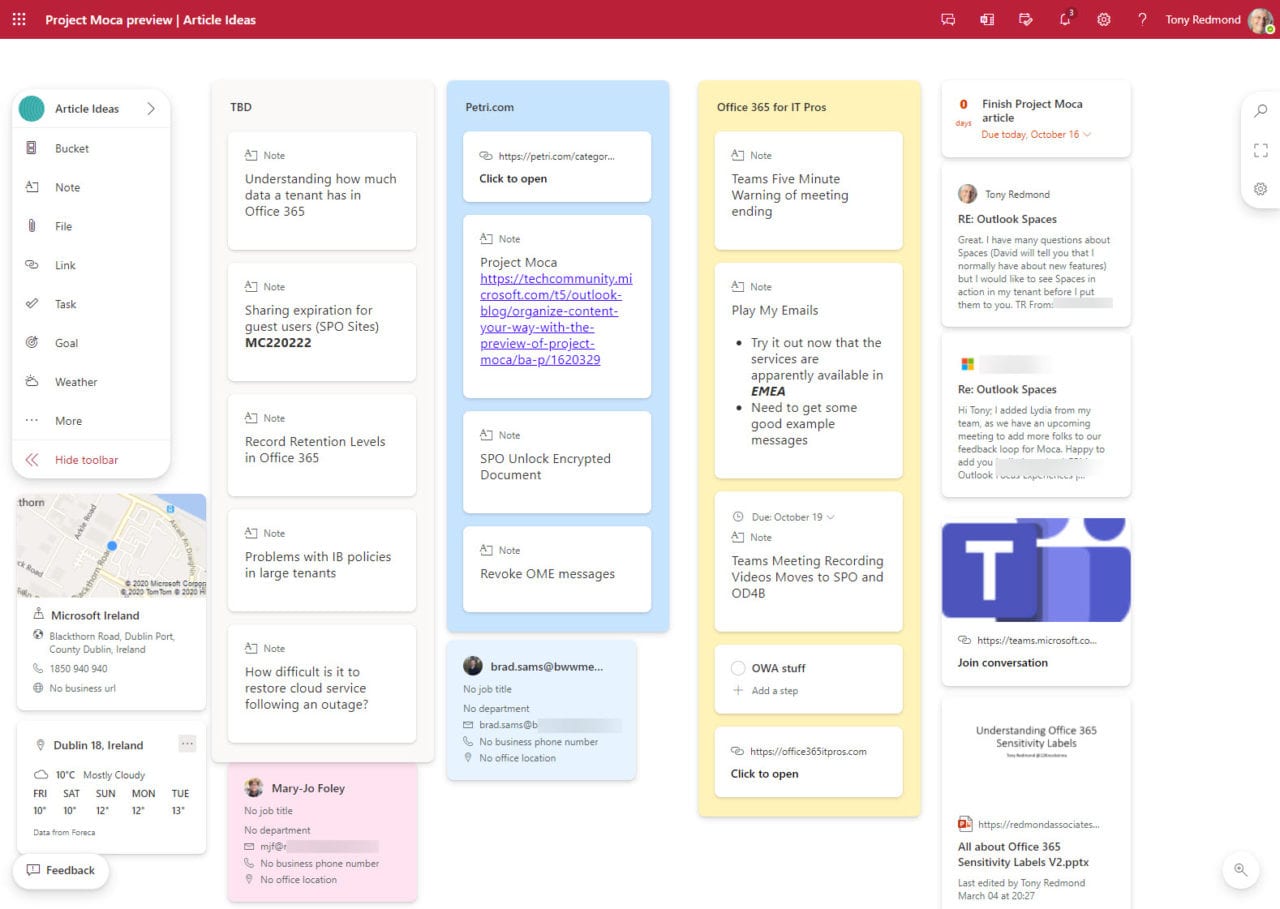 Most of the time everything worked smoothly, and the user interface isn't hard to work out. Sometimes items wouldn't drag and drop into buckets (there's a menu option to do this too) and I ended up with some notes hidden behind buckets (user incompetence). For whatever reason, I couldn't rearrange the link I created to the Office365itpros.com site from the bottom to the top of the bucket (this worked for the link to Petri.com). Oddly, after I added a link to a OneDrive file, Moca insisted that I sign in again to open the file even though I owned it.
Another problem is that items occasionally seemed to refuse to be deleted (a refresh sorted this out). There's no way to rescue a deleted item and put it back into a board or into a space. At least, I couldn't find one. Searching finds Moca items from both OWA and Outlook, but the display of the retrieved items in OWA is odd to say the least. Let's take it that these are all preview glitches which Microsoft will address as the app reaches general availability.
No Mobile
Most Office 365 apps come along with a mobile version. Moca doesn't, perhaps because of its focus on assembling bits of data drawn from other places within the ecosystem. If you to add something to a space when you're on the move, you can run Moca on a mobile browser (Moca is definitely not optimized to view on mobile devices as there is no good way to navigate around the canvas) or send yourself email and import the message when you next connect on a workstation. You can't import tasks from To Do or a note created outside Moca because there's no way to connect the item to the resources attached to a space.
Moca Compliance
Like any data stored in Microsoft 365, it's important that Moca data is available for compliance purposes. The good news is that like any other mailbox data, Moca items are indexed and discoverable by a content search. The bad news is that notes are returned in searches in a slightly obscure form (Figure 3). This isn't a Moca problem as notes created by Outlook show up in the same way. However, if Moca makes notes more popular, it would be nice if content searches handled them better and stripped out the extraneous junk.
Image 3 Expand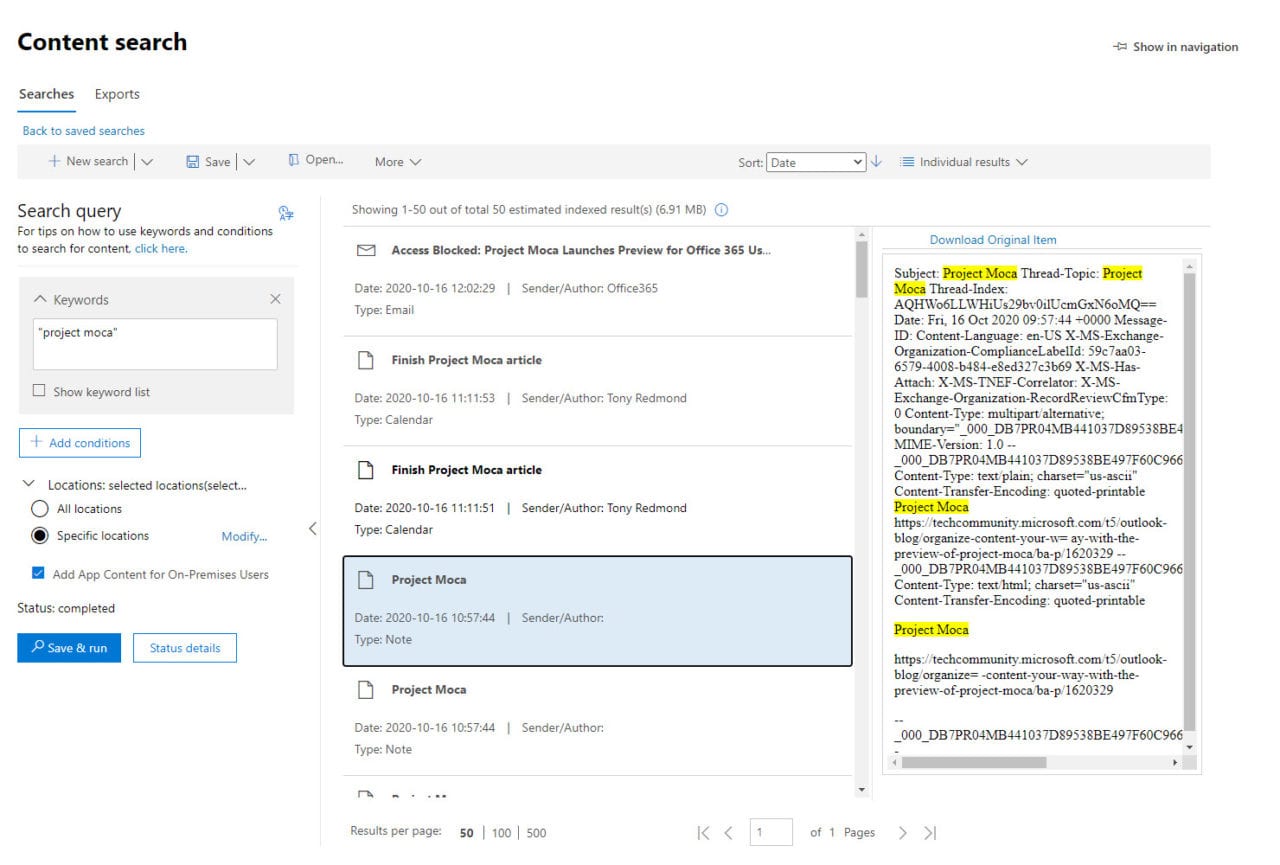 It doesn't seem like Moca activity like the creation of a new space results in any records in the Office 365 audit log. This might be because Moca is deemed to be a personal app.
The Big Question
I know many people who use OneNote as their personal organizer in much the same way as you might use Moca. It's hard to know if Moca is interesting and functional enough to attract dedicated OneNote users. On the other hand, Moca is an app created to work in the cloud and exploit data already available to people and it's easier to use than OneNote is.
MVP Luise Freese has some thoughts on using Moca that might help you to decide if this is an app for you. On a personal level, Moca won't stop me scribbling notes about articles I might write, but it might just put some order on those thoughts later.