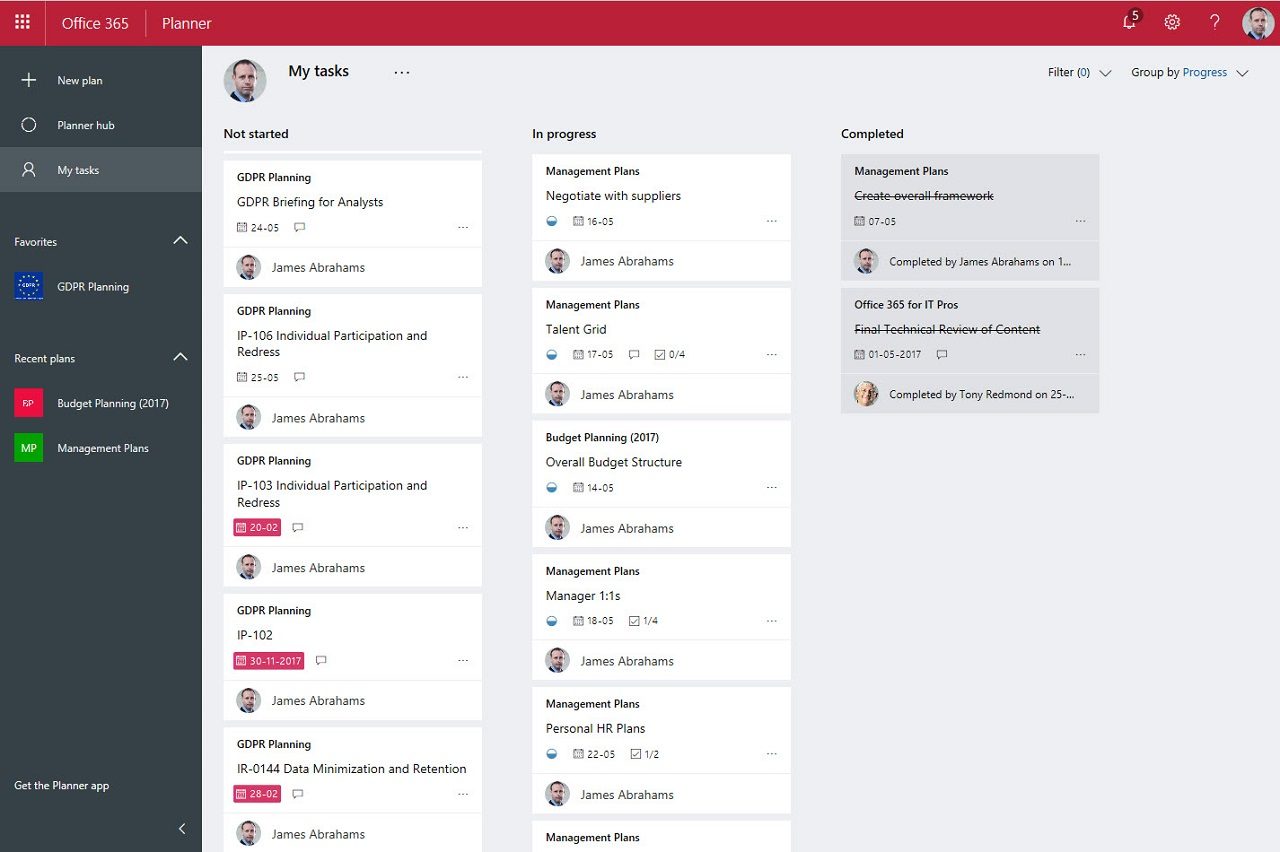 Making Tasks Appear in Your Calendar
Despite rolling out some recent upgrades (and yes, guest access is finally rolling out), the Planner team have left one of the biggest complaints about their product unanswered No option exists to print off a plan, lists of tasks for a plan or a bucket within a plan, or details of the tasks assigned to an individual. It's a strange oversight for an application designed to help people to organize work.
Of course, you could make the argument that people don't need old-fashioned printouts to help them manage tasks because they can do this through the Planner browser and mobile clients (for IOS and Android).
But that's ignoring the fact that some people find it easier to print stuff off and review items on paper. In any case, printing task lists is hardly an act of extraordinary software engineering. Plenty of examples exist within Microsoft for how to format and print task information, including the range of options available in OWA to print calendar and task data.
Planner Synchronization to Outlook
The solution now offered is to synchronize tasks with Outlook calendars. Outlook calendar synchronization is automatically enabled for all Office 365 tenants that have Planner as part of their subscription.
If you don't want to allow users to synchronize Planner tasks to Outlook, you can disable the feature by following the instructions in this article. I hope Microsoft simplifies this aspect soon as the ability to enable and disable features should be controlled in the Office 365 Admin Center, just like the other applications do.
User Tasks from Planner
When a user decides to connect Planner to Outlook, they go to the My Tasks view in Planner and click the ellipsis menu to reveal the choice to Add "My Tasks" to Outlook calendar (Figure 1).

Click the button and then select Publish. Planner generates an iCalendar link (Figure 2).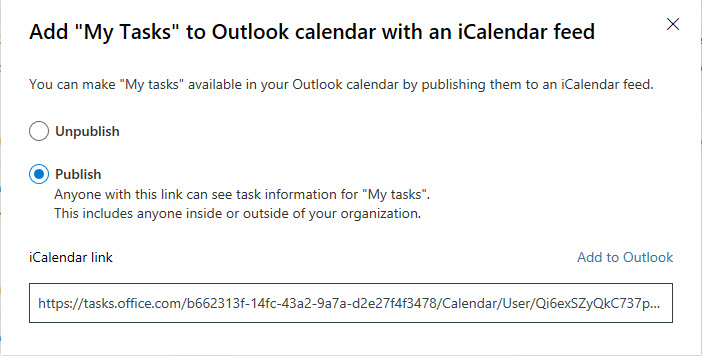 The link looks something like this:
https://tasks.office.com/b662313f-14fc-43a2-9a7a-d2e27f4f3478/Calendar/User/Qi6exSZyQkC737py0An6HpYAAZ1X?t=0_95716443-a6d2-425b-a936-27fc76a889be_2018-05-10T12%3a29%3a13.4330492%2b00%3a00
Now click Add to Outlook. Planner launches OWA at the Calendar subscription window, copies the iCalendar link, and names the new calendar "Planner-My tasks" (Figure 3). Click Save to continue.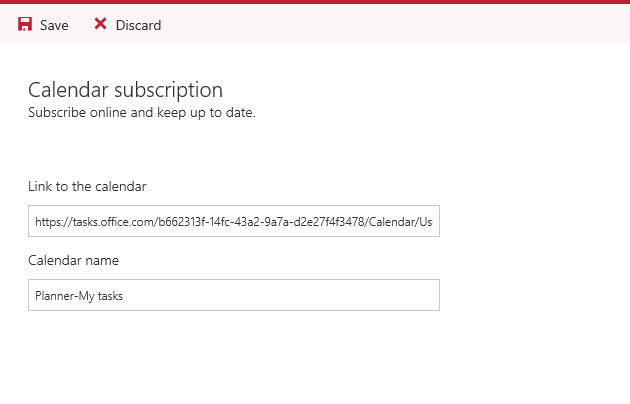 OWA creates a new calendar to store the items synchronized from Planner in a folder in the user's mailbox. Rather bizarrely, no check is done to figure out whether such a calendar folder already exists, but if you try to add the same link twice, Exchange ignores the request and doesn't create a duplicate folder.
Synchronization Kicks In
With the link in place, Outlook populates the new calendar with details of the user's "Not Started" and "In Progress" tasks fetched from Planner (Figure 4). You can't filter the tasks as the connector is configured to fetch all open tasks assigned to the user.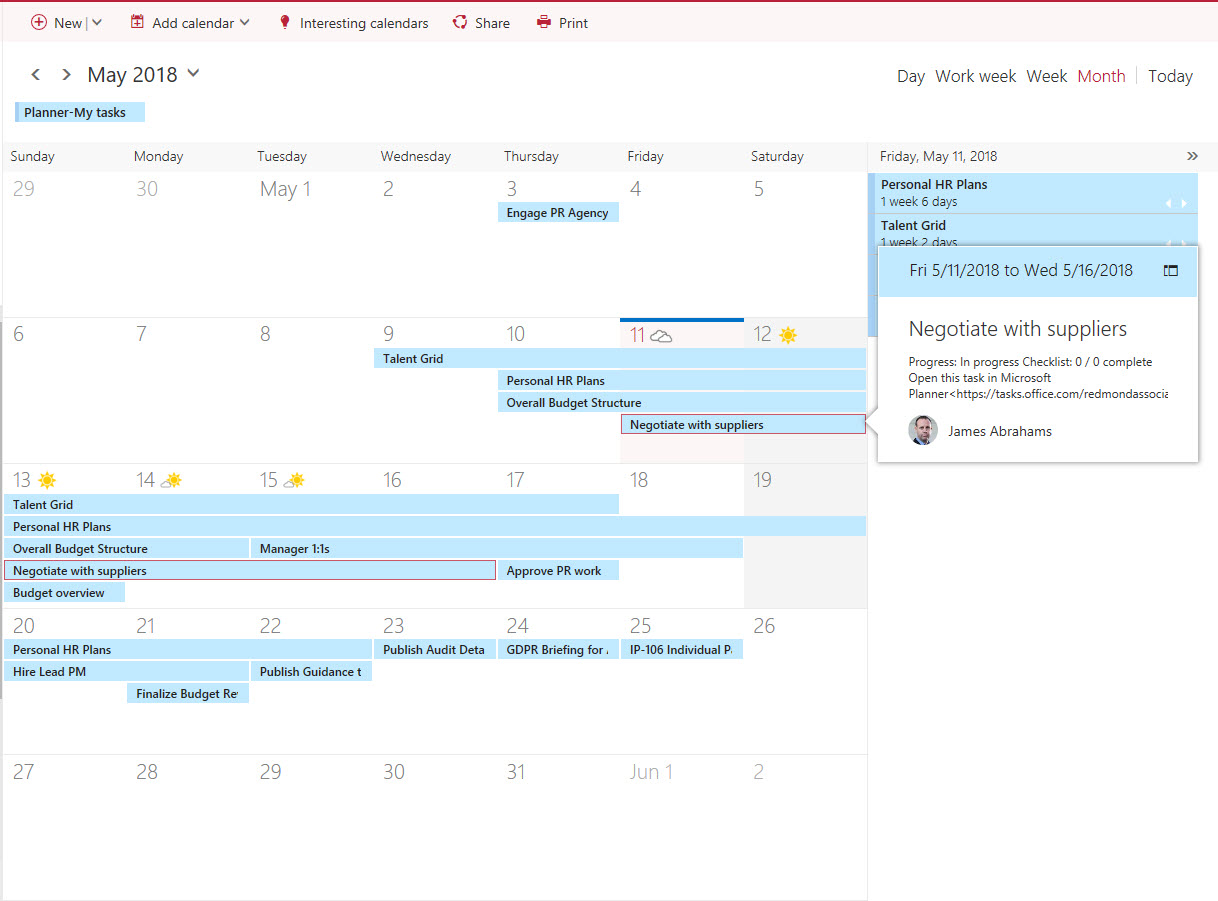 A One-Way Affair
Synchronization is one-way from Planner to Outlook. New items do not synchronize at once because Outlook refreshes Planner data via the connector every three to four hours. You can't force synchronization to happen. The information synchronized to the calendar for a task includes:
Date: Planner items are scheduled for all day calendar slots as Planner bases task assignment on days rather than hours. If a task has a due date, the calendar item is scheduled for that day. If it has both start and due dates, the item is scheduled for that period.
Location: None added as Planner does not capture this data.
Progress: The status of the task in Planner.
Checklist: a note about how many checklist items exist and are complete.
Calendar entries created through the connector do not tell you what plan or bucket within a plan a task belongs to, but each entry has a link to Planner (Figure 5) to bring the user back to the original task., where they can make whatever changes are necessary. The changes will then be synchronized back to Outlook.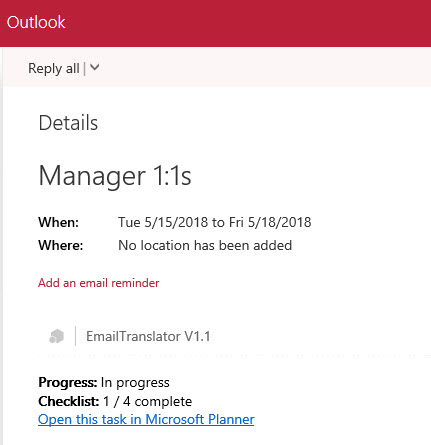 Although the user cannot edit the calendar entry in Outlook, they can add a reminder.
The Flow Option
If you prefer not to use the iCalendar connector, you can also link Outlook to Planner using several standard Flow templates published by Microsoft. Flow is good at inserting items into a calendar. It is less successful at tracking changes made to tasks such as completing tasks or synchronizing changes made to a task like changing its status. This is probably due because Planner only publishes three "triggers" for connectors to fire on, and don't include triggers for task edits.
Imperfect but Acceptable
I think synchronizing Planner tasks to Outlook is an imperfect but acceptable solution. It's imperfect because of the delay in synchronization and its one-way nature, but the Planner developers are constrained by the way iCalendar links bring information into Outlook calendars. At least this solves the problem of being able to print off a task list because OWA and Outlook desktop both have the necessary functionality, and it's good to be able to see tasks shown alongside other commitments that people have in their calendars.
Follow Tony on Twitter @12Knocksinna.
Want to know more about how to manage Office 365? Find what you need to know in "Office 365 for IT Pros", the most comprehensive eBook covering all aspects of Office 365. Available in PDF and EPUB formats (suitable for iBooks) or for Amazon Kindle.