Paul Thurrott's Short Takes: Microsoft Earnings Special Edition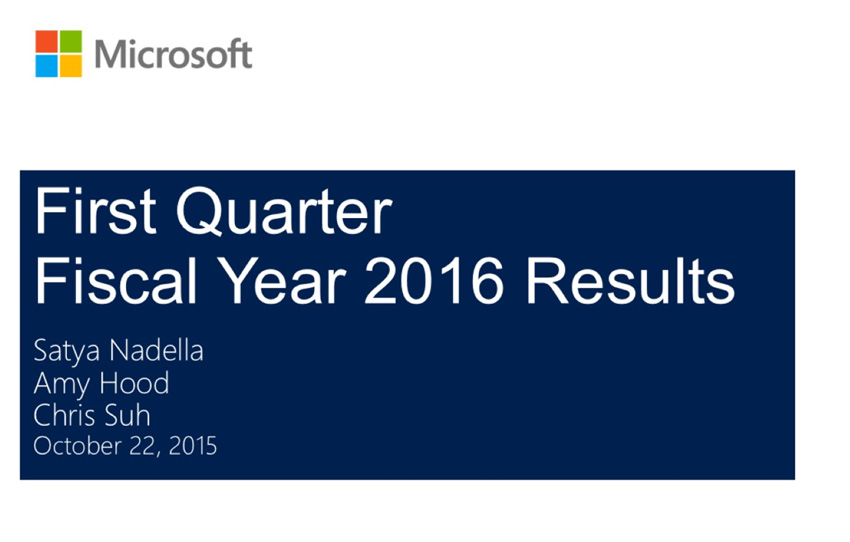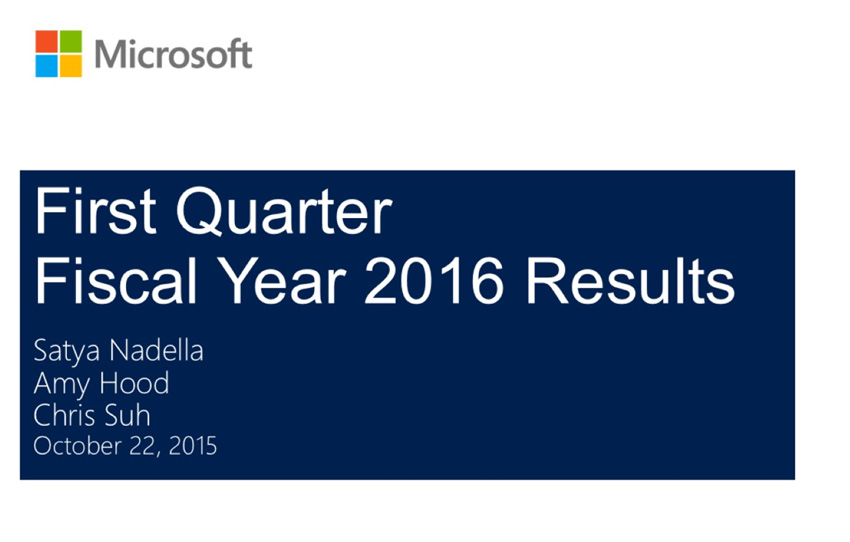 Because Microsoft only releases its earnings four times a year, this week's other news focuses exclusively on those earnings: net income of $4.6 billion on revenues of $20.4 billion.
Microsoft this week reported net income of $4.6 billion on revenues of $20.4 billion for the quarter ending September 30, 2015. Those figures represent a 2 percent gain for profits (good) but a 12 percent drop in revenues (bad). So many of the blurbs today will focus on these earnings so we can find out what really happened.
Microsoft's quarter in a nutshell?
I'm always interested by how news outlets, professional or otherwise, handle the tech stories in which I'm interested, in particular the headlines. For example, Nasdaq highlighted the positive in its coverage, with "Microsoft Profit Top Estimates," while The Verge tooka more negative bent: "Microsoft reports falling revenues, slowing Surface sales in latest quarter" Both headlines are factual enough, and it's not immediately clear which presents the better picture of the firm's quarter. But the "slowing Surface sales" part of the last headline is factual but pointless, since Microsoft's hardware release cycles mean that this quarter was a non-event for Surface whereas the same quarter a year ago benefited from a then-recent device launch. Point being, you can lie with facts too. Winner: WSJ.
"Microsoft brings in $4.6 billion in Net Income for Q1 2016:
Be sure to read Brad's story about the Microsoft earnings on Thurrott.com.
Microsoft earnings: the big picture
Following last quarter's disastrous $2.1 billion operating loss—thanks to its $7.6 billion write-off of its Nokia phone business purchase—Microsoft faced some interesting challenges this time around. On the good news front, Microsoft's "Intelligent Cloud" business segment—Azure, Server and enterprise mobility—was up 8 percent in the quarter. But their other businesses were all down, with More Personal Computing—a terrible name for "Windows, phone, Xbox, and Search—plummeted 17 percent thanks to continued soft performance in the PC market and the abject failure of Windows phone. When you consider that Productivity and Business Processes—e.g. "Office"—declined as well, mostly because of costs related to the Office 365 transition, you can come away with a very simple statement about Microsoft's business overall: Cloud services are the future, and the past (Windows, Office) is declining. This maps to what I've been saying about "mobile first, cloud first" for a long time: It's really "cloud first, mobile distant second." And in this scenario, mobile exists only to drive adoption of cloud.
"Microsoft Earnings: Cloud Rises, Hardware Falls"
Bingo.
An interesting look at Windows 10
Windows 10 presents an interesting dilemma for the PC industry. On the one hand, it's been presented as the savior of the PC, and consumers and businesses alike actually like the OS quite a bit, and that should help drive new PCs sales. On the other hand, Microsoft is giving away Windows 10 for free for the first year, and that should kill new PC sales. So far, analysts from IDC and Gartner agree that Windows 10's impact on the PC market, short term, is negative, and the market will fall through at least mid-2016. But Microsoft reported something interesting in its own results: Though sales of Windows licenses to PC makers did decline by 6 percent in the quarter, that decline is lower than the rate at which the PC market is falling. What could that possibly mean? Microsoft suggested that the average PC price point may be edging up, a goal for its Surface product line. But it might mean that PC makers are bullish about Windows 10 and are buying up licenses in anticipation of better-than-expected holiday PC sales. I hope that's the case: We have some amazing options to choose from this year (especially when you compare it to the lackluster choices we had with Windows 8 launched in 2012) and I just don't see it getting much better than this going forward.
"TheStreet's Jim Cramer thinks Microsoft's Windows 10 'is a hit"
Whew. We were obviously waiting on that ruling.
Just when you thought Windows phone couldn't fall any further
In its earnings materials, Microsoft noted that its phone revenues had plummeted an astonishing 54 percent (though the figure is actually worse than that, since that number is adjusted for constant currency fluctuation), and blamed its "updated strategy." But as I wrote back in July, Microsoft's updated strategy is to simply stop trying, and to sell a handful of phones to enthusiasts, businesses, and poor people in emerging markets while it waits out this wave and sees what happens next. And on that note, the firm sold only 5.8 million Lumias in the quarter, compared to 9.3 million in the same quarter a year ago. To put that in perspective, Apple sold 47.5 million iPhones in Q2 2015 (one quarter before the Microsoft numbers cited here), which is a relevant comparison because this was the last quarter before new iPhones shipped. That's almost 10 times as much as Lumia, and iPhone is only the second-most-popular smart phone platform, with about 15 percent of the market. What's roughly 1/10th of 15 percent? Right. That's Windows phone. A statistic non-entity. And wait until you see this quarter's iPhone numbers.
"Microsoft earnings show plunging phone revenue and uncertain future for Lumias"
Bingo.
Bing is finally profitable
I don't want to make too much of this given the several billion dollars that Microsoft has thrown into the Bing toilet so far, but it is worth at least mentioning: This quarter, for the first time ever, Bing was profitable. We don't know how profitable, because, well, Microsoft's new reporting structure doesn't require them to tell us. But we know that Bing revenues grew 23 percent year over year and exceeded $1 billion for the first time in the quarter. So is it fair to say that Bing is no longer a "bottomless money pit"? Not really: I don't think this business will ever be around long enough to ever make back its losses.
"Duane Forrester, Bing's Webmaster Outreach, Announces He Is Leaving Microsoft"
Mission accomplished, I guess.
Microsoft lays off about 1,000 more employees
This wasn't mentioned anywhere in Microsoft's earnings announcement, but the software giant later confirmed that reports were correct: It is laying off an addition 1,000 employees or so (on top of the nearly 8,000 it previously laid off this year). "The job reductions were spread across more than one business area and country and reflect adaptations to business needs," Microsoft told Mary Jo Foley. These layoffs are part of Microsoft's continued belt-tightening, which will impact various parts of the business. Especially the unprofitable parts.
"Microsoft puts rosy spin on earnings, doesn't mention layoffs"
That does seem a bit deceptive.
Microsoft earnings: the big picture, part 2
OK, let's look at this another way: Analysts polled by Thomson Reuters expected Microsoft to report a per-share profit of 59 cents and revenue of $21.03 billion for the quarter. But what the software giant delivered was per-share earnings of 67 cents a share and $21.7 billion in revenues. So it beat expectations on both counts, and that is absolutely good news. Also positive: Microsoft stock soared in after-hours trading and hit $51 per share for the first time in over 15 years. 15 years.
"Microsoft Earnings Beat Estimates; Stock Rises"
Bingo.