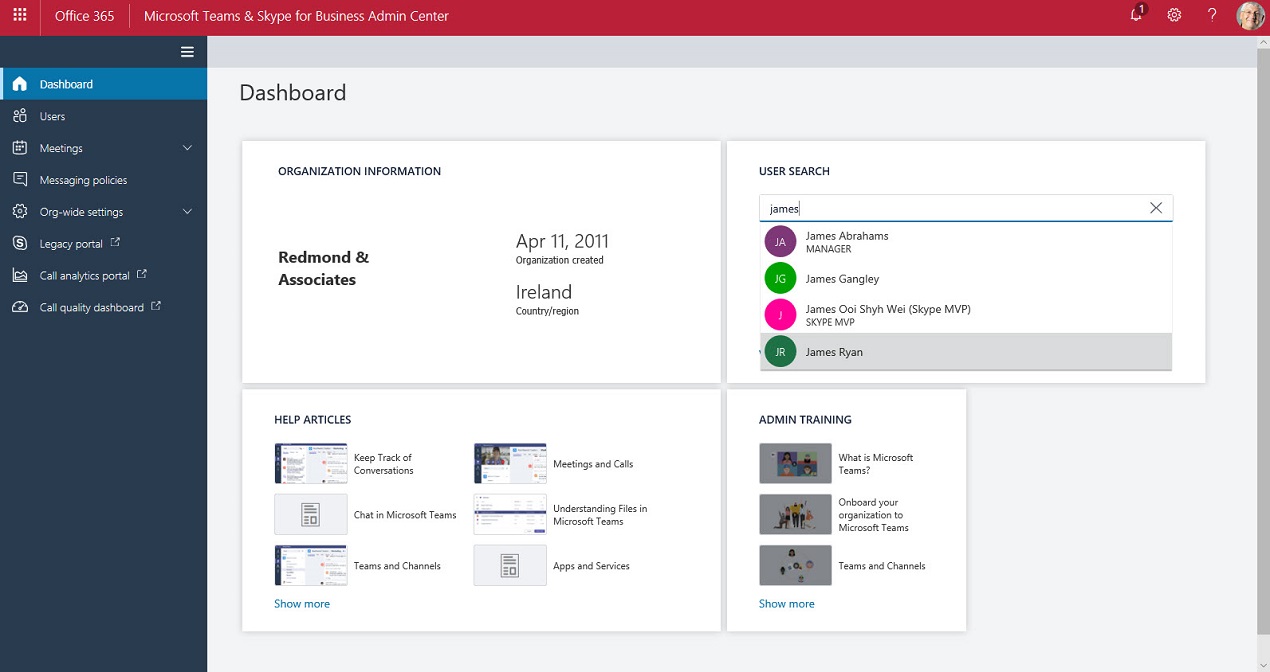 The Joy of Yet Another Office 365 Console
On April 4, Microsoft announced that they have begun the roll-out of a new Teams and Skype for Business Admin Center (TSBAC – my term, not Microsoft's) to Office 365 tenants. The new admin center is not yet listed in the 12 other admin centers accessible from the Office 365 Admin Center, but you can get to it at https://admin.teams.microsoft.com/ (see above).
A Work in Progress
The TSBAC is a work in progress and lots of the functionality does not yet work, so this is very much a "kick-the-tires and tell us what you think" kind of console. In other words, give it a month or so to before you can expect to use this interface in any serious way. Microsoft needs that time to build out features and transition work from other places in Office 365.
But going forward, the direction is clear. Microsoft will combine the features available in the current Skype for Business Online own console (lovingly referred to as the "legacy portal" here), and the settings that control how Teams behave and who has access to the application (now found in the Settings section of the Office 365 Admin Center) to deliver a single place to manage both Teams and Skype for Business Online. This is part of the transition of Teams to take over from Skype for Business Online.
The New Way to Manage Teams
From a Teams perspective, the big new piece of functionality is the transition from per-tenant settings to policy-driven control over what users can and cannot do inside Teams. Over time, Microsoft is moving Teams configuration settings from the Office 365 Admin Center to the TSBAC. As settings move, their departure is highlighted in the Office 365 Admin Center (Figure 1). See Microsoft's documentation for more information about the migration of settings to TSBAC.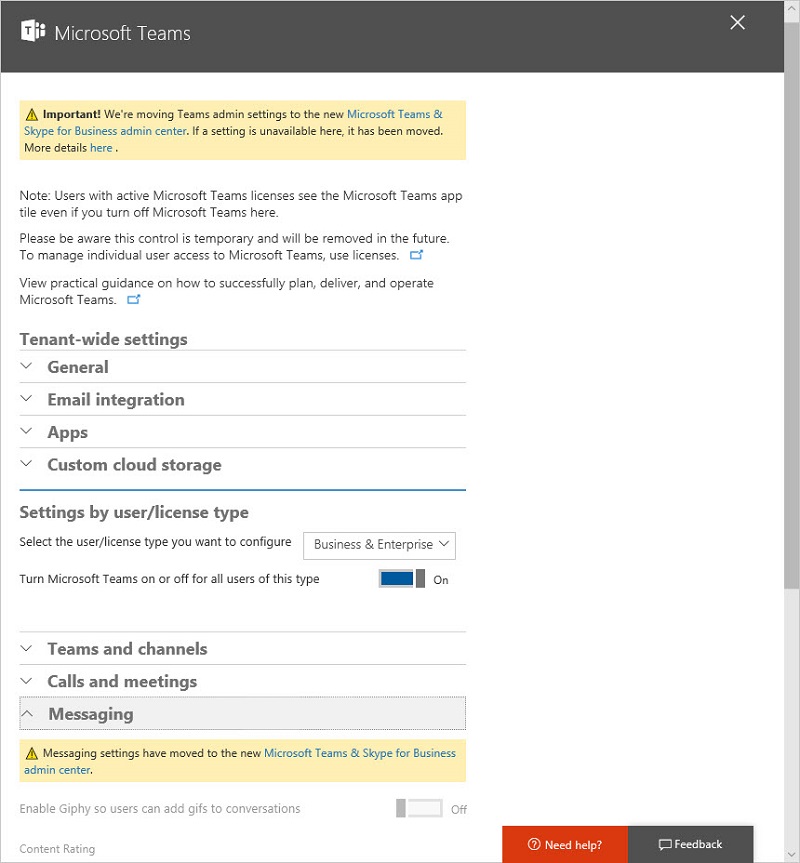 Messaging settings are the first to move to TSBAC, where they show up under Messaging Policies. In the future, you'll be able to create and assign different policies to different sets of users. For now, the default messaging policy is where the migrated settings have landed. The settings are there (Figure 2) but you cannot yet update the policy. Maybe next week!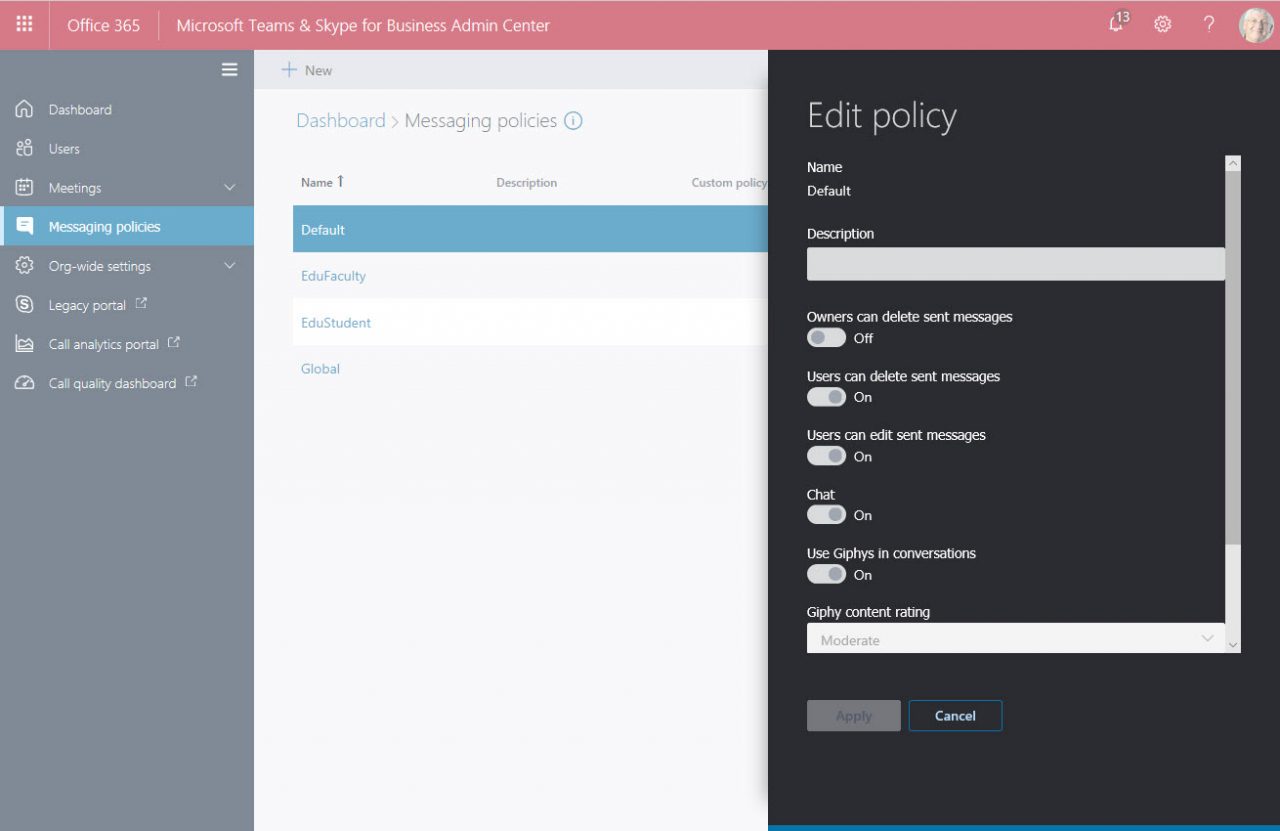 When Microsoft updates TSBAC to allow tenants to create and update policies, you will be able to go to the Users section of the console and assign policies to individual users there (Figure 3). For instance, you might allow some users to remove their own messages from channels while others cannot.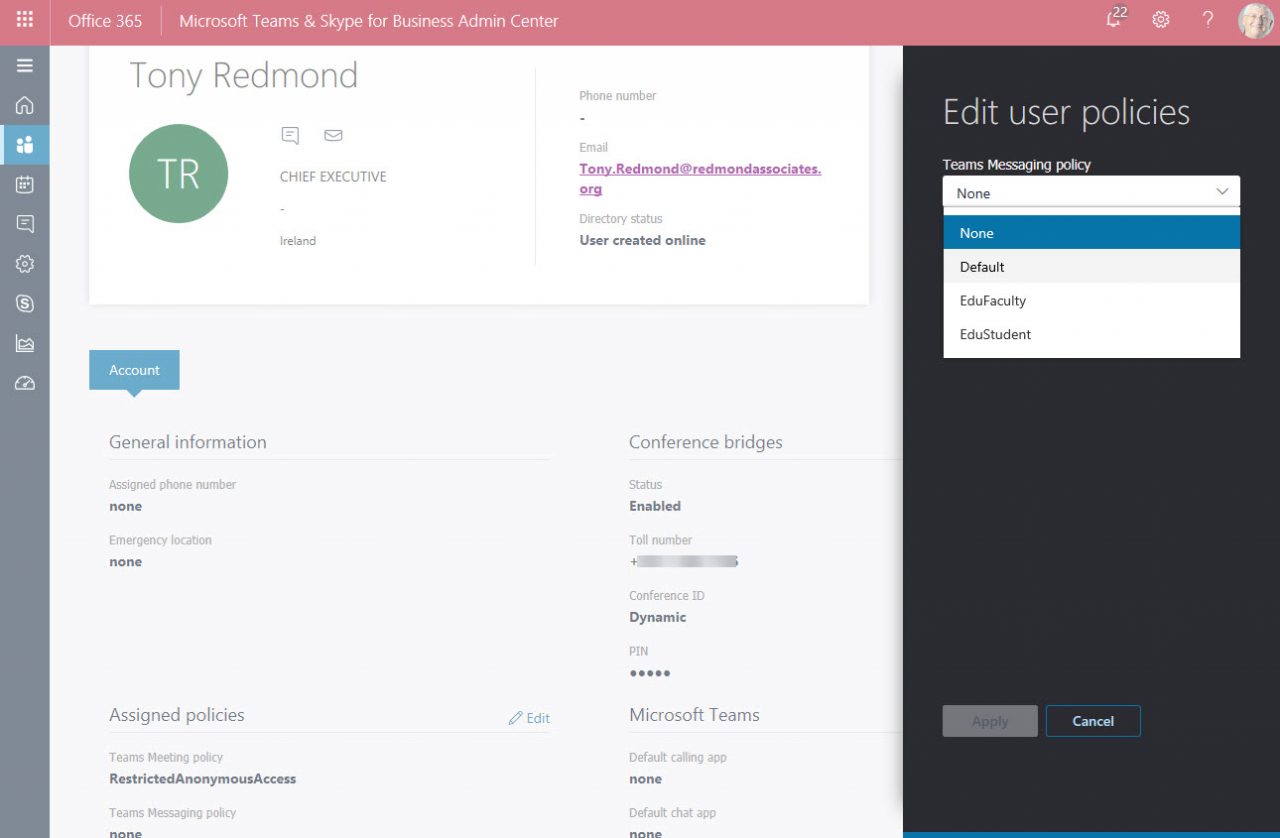 Using policies to control access to functionality assigned at user level is good – you don't have to get down to that level of granularity and can use the Default policy, but it's nice to have the ability to create and assign different policies to different user groups if needed.
No Bulk Edit Today
I don't see any evidence of bulk edit capability today where you can select sets of users and apply the same policy to that set. This might come in a future version of the console, or Microsoft might update the PowerShell module for Teams to allow administrators to form collections of users (perhaps all those belonging to a department or country) and stamp those accounts with a Teams policy. Certainly, large tenants need some way to automate policy assignment.
Controlling Guests
Guests also create and send messages within Teams, so they have their own settings in TSBAC (Figure 4). In this case, a single messaging policy applies to guests is under Org-wide Settings, which is updateable.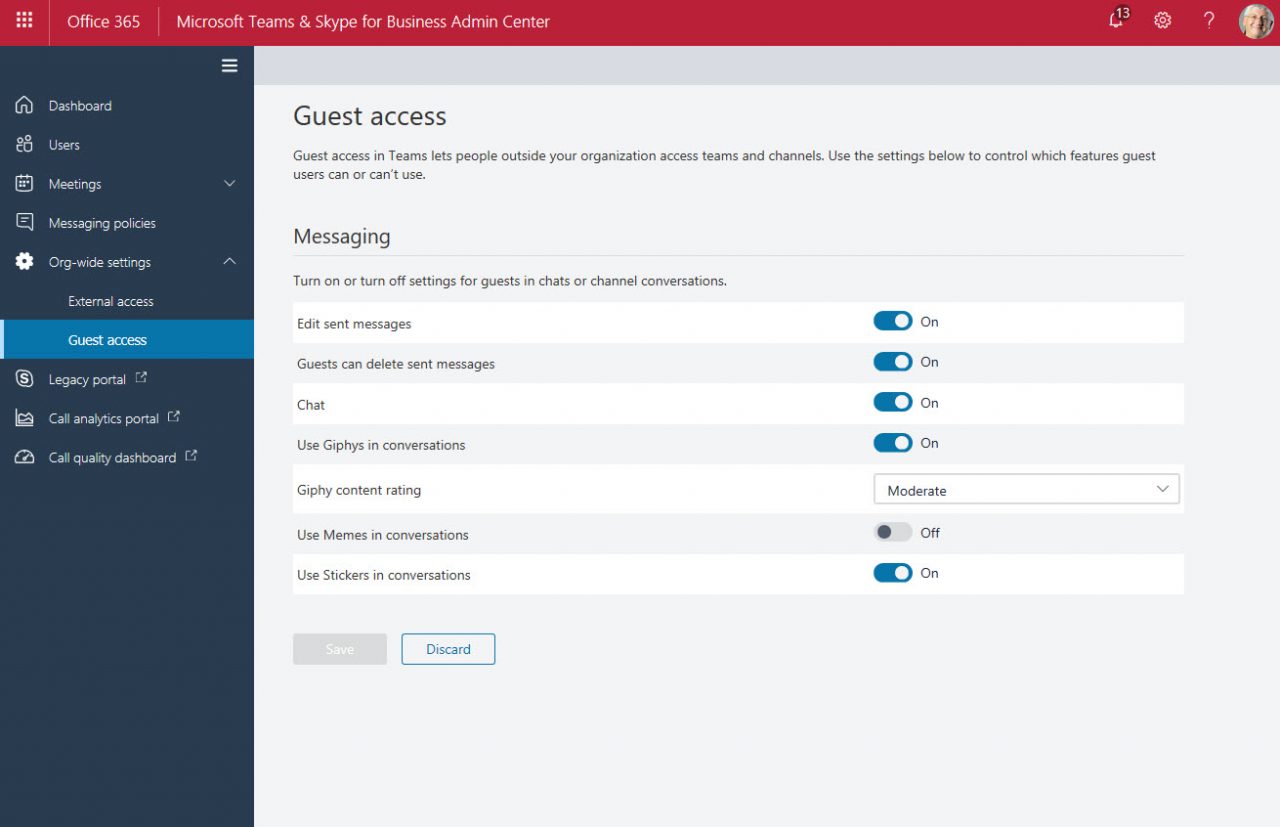 The Ongoing Evolution of Teams
Office 365 is full of moving parts, and Teams is more full of change than any other part of the service. This new console is just one of those parts. But isn't constant change one of the true joys of working with cloud systems?
Follow Tony on Twitter @12Knocksinna.
Want to know more about how to manage Office 365? Find what you need to know in "Office 365 for IT Pros", the most comprehensive eBook covering all aspects of Office 365. Available in PDF and EPUB formats (suitable for iBooks) or for Amazon Kindle.