Microsoft has just published a roundup of new features added to its Teams collaboration service in November 2022. The list of recent updates includes scheduled messages, instant polls, new Teams devices, and management features. Here's what you need to know:
Scheduled messages
First up, Microsoft introduced a new chat feature that allows desktop and mobile users to schedule messages in Teams chat. The latest update enables users to choose when the message will be delivered to their coworkers. It should help them to collaborate at the right time and respect off days and work-life balance.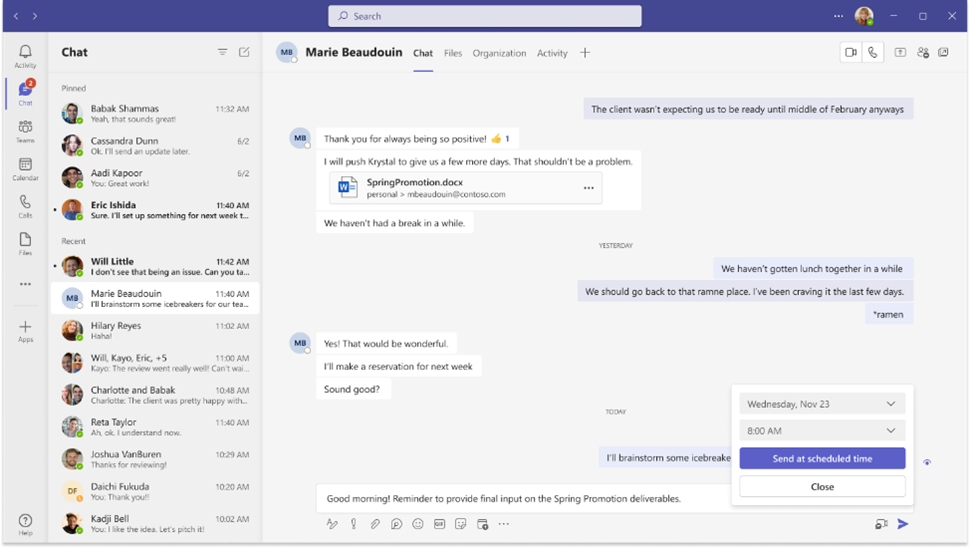 Microsoft Teams is getting a new feature that lets users accept or reject group chat invites from external (unmanaged users). This capability has been available for 1:1 chats for a while and it's now coming to group chats. The Microsoft Teams desktop app allows users to filter unread notifications in the Activity tab.
Additionally, it's possible to start a chat with Mail-enabled Security Groups, Office 365 Groups, and Distribution Groups with up to 250 participants. Microsoft has improved the search experience to show the full context of the message in the conversation history. Another new feature lets users attach OneDrive files in e-signature approval requests.
Instant polls for meetings
Microsoft Teams now allows organizers to quickly gather feedback from attendees with instant meeting polls. They will be able to create polls with binary responses such as Yes/No, thumbs up/thumbs down, etc.
Moreover, the app can automatically switch to Large Gallery view to show up to 49 video feeds simultaneously. Microsoft has started rolling out an updated meeting experience that brings a new pre-join screen, control bar, and dynamic view to web users.
Microsoft released a new update that enables PSTN users to join breakout rooms during Teams meetings. The transcription feature is now available for 1:1 calls and group calls on Android devices.
Updates for Microsoft Teams devices and more
Microsoft released several new capabilities for Teams devices, including hotdesking support in portrait mode for Teams displays. A new Proximity Join feature allows meeting participants to only view video streams from remote attendees. Microsoft also announced a rebranding of the Common Area Phone license to the Teams Shared Devices license.
Microsoft has introduced the ability to manage the Surface Hub's lifecycle as a Teams device directly via the Teams Admin Portal. Specifically, IT admins can download logs, remotely restart a device and perform other activities.
Finally, Microsoft has announced that GCC-High customers can cast from a Teams desktop (macOS or Windows) device to a Teams Rooms device. Meanwhile, the company is also bringing Teams Connectors support to government customers.