Microsoft Teams is getting a new schedule send feature that allows users to choose a specific time to send a chat message. The feature was spotted by Petri Jämsen, a Microsoft 365 consultant, and it's rolling out gradually in public preview for the Teams desktop and web apps.
First announced at Ignite 2021, the schedule send feature is one of the top requests from Microsoft Teams users. It's similar to the delay delivery option in Outlook and lets users schedule chat messages to be sent at a time convenient to their colleagues. Users can also edit and delete messages before they are delivered to the recipient.
"All scheduled messages can only be delivered no more than 7 days in the future and cannot be flagged as urgent or important. Inline images and attached files will only be accessible by others in the chat once the message has been delivered," the company explained on the Microsoft 365 admin center.
The schedule send feature is designed to improve work-life balance, and prevent users from disturbing their colleagues outside of working hours. Microsoft expects to make it available for all commercial customers in mid-October, though the timeline is subject to change.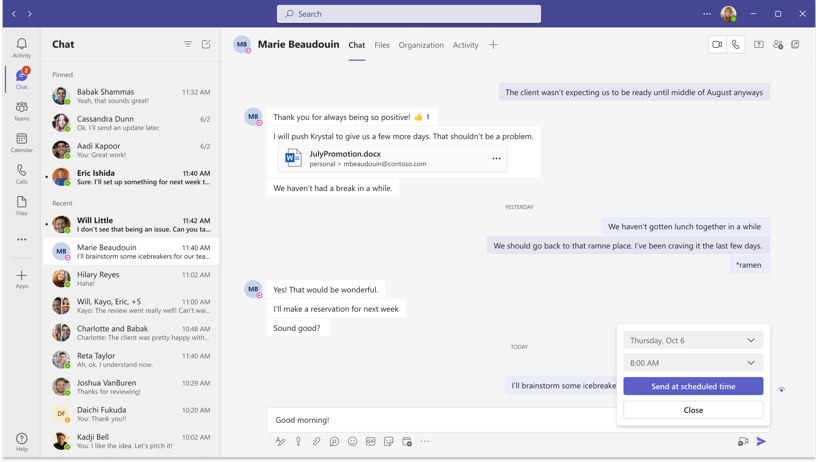 How to schedule a chat message in Microsoft Teams
To schedule a message in Teams, desktop users will need to right-click on the Send button and choose a date and time within seven days. Review the schedule details in the message compose box and click the Send at scheduled time button to deliver it at the scheduled date and time.
On mobile, users will need to type the message and long press the send button to open the scheduling menu. Select the date and time and tap the "Send at scheduled time button" to deliver it at a later time.
In other Teams news, Microsoft has released an updated search experience in preview that lets users view message threats right from search results. Last week, the company also released a new remixed ringtone for video calls in Microsoft Teams.