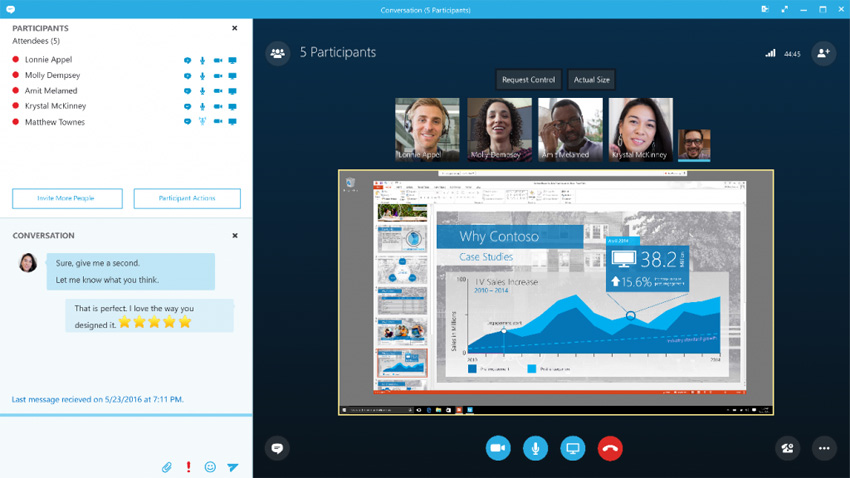 Microsoft on Monday announced a major update to the commercial versions of Office 365 that will enable Skype for Business to replace traditional business phone systems. The firm calls this capability the first cloud business phone system with a dial tone.
"Organizations can now replace their legacy meeting and phone systems with innovative services built on the familiar Skype for Business experience, all naturally integrated within Office 365—the world's most-used collaboration and productivity platform," Microsoft corporate vice president Kirk Koenigsbauer wrote in a post to the Office blogs.
To be clear, Microsoft previously offered some integration between its on-premises Skype Server (and, previously, Lync) and traditional phone systems. But this week's announcement encompasses a broader range of capabilities, and is certainly the most comprehensive cloud solution of its kind.
According to Microsoft, Skype for Business—which is part of the commercial versions of Office 365—is being updated to support the following new features.
PSTN Conferencing so you can dial in to a Skype for Business-based meeting from a traditional phone. (This is addition to the standard ability to join meetings from PCs or mobile devices using the Skype for Business client.)
Skype Meeting Broadcast for creating large virtual meetings with up to 10,000 meeting attendees. These attendees can join from almost any web browser or mobile device.
Cloud PBX so that corporations can eliminate traditional PBX systems and continue their transition to the cloud.
PSTN Calling allows Office 365 customers to separately subscribe to Microsoft-managed calling plans and phone numbers. This capability is rolling out first in the U.S. and Microsoft more more markets are "coming later."
These new Office 365 features are well-timed: According to Microsoft, over half of its business customers are still paying for multiple conferencing solutions, and many are still using legacy PBX phone systems. With Office 365 and Skype for Business, these businesses can transition to a single system, in the cloud, that can be easily IT managed.
And as with Microsoft's earlier forays into on-premises PBX/PSTN replacements, the software giant is coming to market with a host of partners. This includes telecommunication operators, network connectivity and managed services, and even phone and conferencing vendors. For example, Polycom has already announced the the first phones that are qualified for the new Skype for Business services in Office 365, the VVX Business Media Phones for individuals and theRealPresence Trio, a group collaboration solution.
In addition to these business phone system solutions, Microsoft also announced some new security and data analytics features for Office 365. These include:
Delve Analytics, which provides users with rich insights on time and relationships from a single dashboard. The goal, Microsoft says, is to help individuals get time back and spend it more effectively.
Power BI, a business analytics service that enables users visualize and analyze data using live data dashboards, interactive reports and visualizations.
Customer Lockbox, a way for customers to transparently control their data in the cloud.
Advanced eDiscovery, which integrates with Equivio machine learning, predictive coding and text analytics capabilities to "reduce the costs and challenges that come along with sorting through large quantities of data for eDiscovery purposes."
Advanced Threat Protection. This new feature protects against unknown malware and viruses using behavioral analysis.
All of these new features—the Skype for Business phone capabilities, and the new security and data analytics features—are available immediately, Microsoft says.