Microsoft has announced new features and improvements coming to its Microsoft Entra Verified ID service. The company says that these updates should help to make credentials exchange easier for both issuers and verifiers.
For those unfamiliar, the Verified ID service first debuted as "Azure Active Directory Verifiable Credentials" in preview last year. The decentralized identity offering allows security teams to verify the credentials of users and organizations. Microsoft recently rebranded the service to Verified ID as part of its new Microsoft Entra product line.
With this release, Microsoft Authenticator users can now easily recover Verifiable Credentials in situations where a device is lost or stolen. "Users can export their credentials and secure the exported file using a pass phrase to ensure that only you can access your encrypted credentials. If you lose your phone, you can use Microsoft Authenticator on the new device to import credentials using the file, along with the passphrase," the company explained.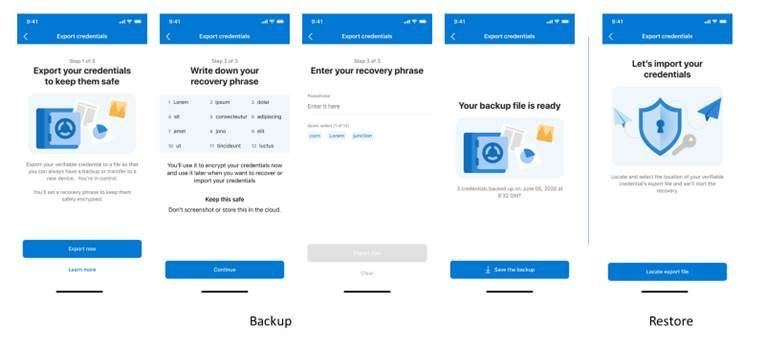 Microsoft announces Verifiable Credentials Network & more
Microsoft has also launched a Verifiable Credential Network, which is a database of verified "credential types" issuers. App developers will no longer need to make custom integrations with issuers. Verifiable Credential Network is also available for all customers using the free version of Azure Active Directory (Azure AD).
Furthermore, Microsoft has released an update that makes it easier for IT Pros to configure and issue Verifiable Credentials to users for directory-based claims through Azure Portal. It is possible to configure policies that let users accept credentials with a single click.
Finally, the latest Microsoft Entra Verified ID update enables developers to find credential types and select a specific issuer via APIs. In addition, the Request API can be used to integrate verifiable credentials into any application. You can check out this support page to learn more about Microsoft Entra Verified ID.