Microsoft has released a new update to improve the Azure Active Directory-based user sign-in experience for enterprise customers. The latest release brings customization features that enable organizations to create a custom look and feel for Azure AD and Microsoft 365 applications.
According to Microsoft, IT admins can configure company branding with a customized logo and page background color. Moreover, administrators can choose to show, hide or customize the self-service password reset link that appears on the user interface of the sign-in page. It's also possible to customize the header and footer elements.
Additionally, customers can upload a Cascading Style Sheet (CSS) to replace the default style of the page. There is also an option to customize the sign-in page based on the browser language.
"The new experience controls apply to sign-in for users in the directory and for external users, including use cases for B2B, B2E and first-party applications running on Azure AD," explained Robin Goldstein, Director of Product Management at Microsoft identity. "For those building customer facing apps, we know from our experience on the B2C platform that a beautifully branded experience is critical in building a trusted relationship."
How to configure the sign-in experience in Azure AD
Microsoft notes that IT admins can configure the customer experience by heading to the Azure portal. Select Azure Active Directory >> Company branding and click the Customize button. Now, follow the onscreen instructions to configure settings to automatically show custom branding after users authenticate for the first time.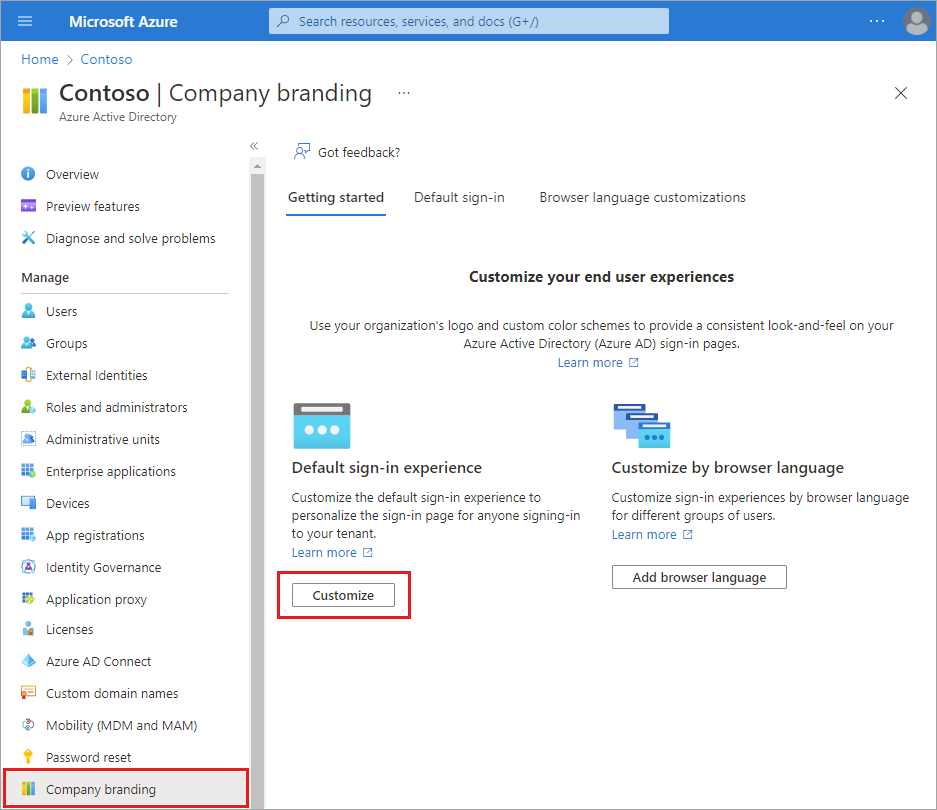 It is important to note that organizations can set up the company branding for users who sign in with their work accounts. "Sign-in page branding doesn't carry over to personal Microsoft accounts. If your users or guests authenticate using a personal Microsoft account, the sign-in page won't reflect the branding of your organization," Microsoft added.
Microsoft says that the new Azure AD company branding experience is available in preview for organizations who have an Azure AD Premium 1/Premium 2 or Office 365 (for Office apps) subscription. We invite you to check out this support document to learn more about license requirements.