Multi-tenant organizations (MTOs) are a new feature in Microsoft 365 and Entra ID (formerly Azure Active Directory) that has reached the public preview stage in mid-2023. An MTO is a group of up to five Entra ID tenants linked together to offer your users seamless collaboration and the sharing of resources. In this article, I'll discuss the benefits and limitations of multi-tenant organizations in Microsoft 365, and I'll also briefly show you how to get started with creating a new MTO in your organization.
What is a multi-tenant organization in Microsoft 365?
As I previously mentioned, a multi-tenant organization in Microsoft 365 is a group of up to five Entra ID tenants that are linked together so that users in each tenant can collaborate and share resources more efficiently. This can be useful for organizations with multiple subsidiaries, business units, or departments that need to be able to work together seamlessly.
As of this writing, there are a few limitations you will want to be aware of with MTOs.
The number of tenants that can be included in a multi-tenant organization is limited to five.
The number of users per tenant is limited to 100,000.
Not all Microsoft 365 features are supported in multi-tenant organizations.
The benefits of a multi-tenant organization
At this early stage of development and execution, multi-tenant organizations offer a handful of benefits for your organization, but there are very few 'real-world' applications and features taking advantage of this new technology. However, as time goes on and feedback is incorporated into future engineering efforts, the potential here is quite substantial.
Improved collaboration via the new Microsoft Teams
Because we are at such an early stage of this new feature, there is only one 'application' that supports the MTO natively, and that is the New Microsoft Teams client. This new app is rather close to becoming the default client for new Microsoft 365 app deployments.
The new Teams client allows users to work across multiple tenants and accounts in side-by-side windows. They can join a meeting or collaborate in a channel hosted in another tenant, and simultaneously compose chat messages in their tenant. Instead of awkwardly switching tenants and potentially disrupting your users' flow, the 'tenant picker' in the upper right corner of the app lets them switch seamlessly and effortlessly.
Users can also receive cross-tenant notifications for all accounts and tenants added to the Teams client, no matter which one is currently in focus. Also, the new icon for notifications in the upper-right corner of the app lets you see alerts or Chat updates at a glance without necessarily needing to switch.
It is common for users from multiple tenants to be in meetings together in a multi-tenant organization. MTO group users can now enjoy the same full-fidelity meeting experience they enjoy when joining meetings in their tenant. With these new MTO capabilities, you can join these meetings from your home tenant, and never miss meeting experiences such as Whiteboard, increasing flexibility while eliminating any disruptions in your workflow.
For now, the new Teams client allows users in different tenants to easily collaborate on documents, projects, and tasks. Eventually, they'll also be able to share calendars, contacts, and other resources across the Microsoft 365 ecosystem.
Enhanced security
Multi-tenant organizations can help to improve security by allowing administrators to centrally manage permissions and policies. This can help to prevent unauthorized access to data.
Each tenant connects to other tenants with built-in cross-tenant synchronization. This is handled in the Microsoft Entra ID admin center. As a tenant admin/IT Pro, you can also control what specific users will synchronize with the other tenants in the MTO.
Improved compliance
Multi-tenant organizations can help organizations improve compliance by making it easier to manage user access to data. This is because all users in a multi-tenant organization are managed by a single set of permissions and policies.
Simplified management
Multi-tenant organizations can simplify management by providing a single pane of glass for managing users, devices, and applications across all tenants.
Multi-tenant organizations also support built-in cross-tenant synchronization. If you want your users to have a more seamless collaboration experience across tenants, cross-tenant synchronization is a one-way synchronization service in Entra ID that helps you automate the creation, update, and deletion of business-to-business users across your tenants.
How to create a new multi-tenant organization
What better way to get a feel for how a multi-tenant organization works than to create one? Before I start the process in my Microsoft 365 Developer lab environment, I'll go through a few prerequisites you'll need to keep aware of.
At the time of this writing in mid-September 2023, only tenants in the Targeted release (formerly known as First release) schedule will have this functionality enabled (for testing).
Every user that participates in an MTO will need at least an Entra ID Premium P1 license.
Using the Microsoft 365 Admin Center
I will now walk you through the steps to create a Multi-Tenant Organization:
On the left navigation menu, click on Settings -> Org settings.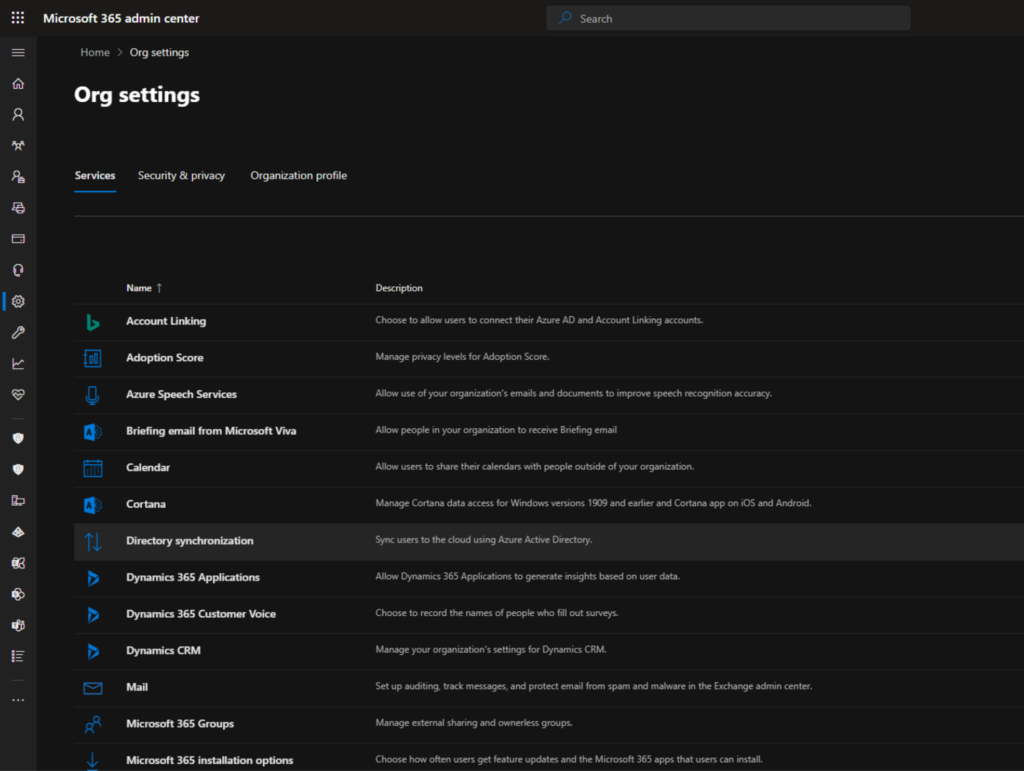 On the top, click the 'Organization profile' tab and then open 'Multitenant collaboration (Preview)'.
After clicking on Get started, choose Create a new multitenant organization and click Next.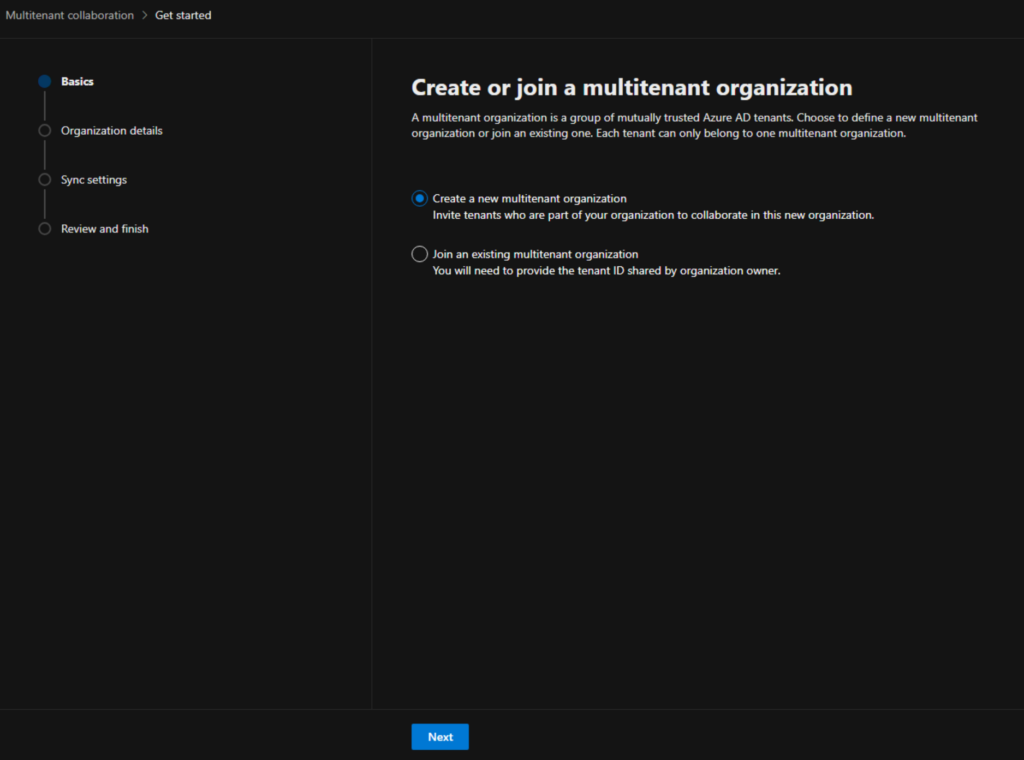 On the Organization details screen, enter an Organization name, an optional description, and then the tenant IDs of other Entra ID tenants if you have them now. If not, don't worry, you can always add them later. Click Next.
On the Sync settings screen, you will need to explicitly enable both options before proceeding. This is to facilitate the cross-tenant synchronization and backend services.
On the Review and finish screen, make sure everything looks right and click the Create multitenant organization button at the bottom of the screen.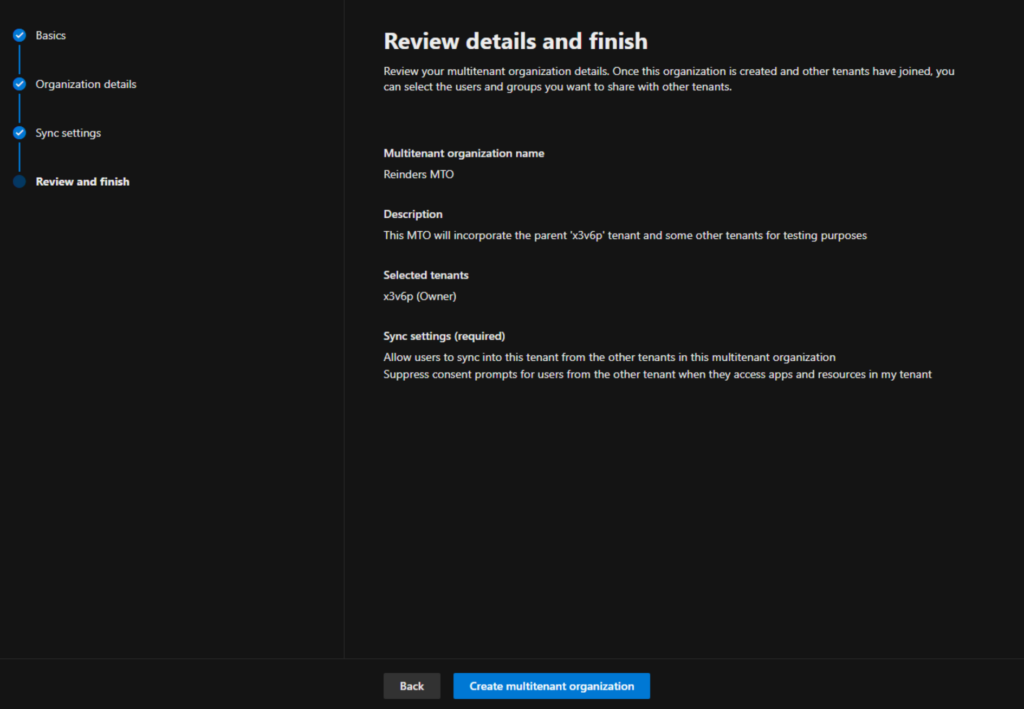 We are nearly there! On the 'Review and finish' screen, make sure everything looks right and click the Create multit-tenant organization button at the bottom of the screen.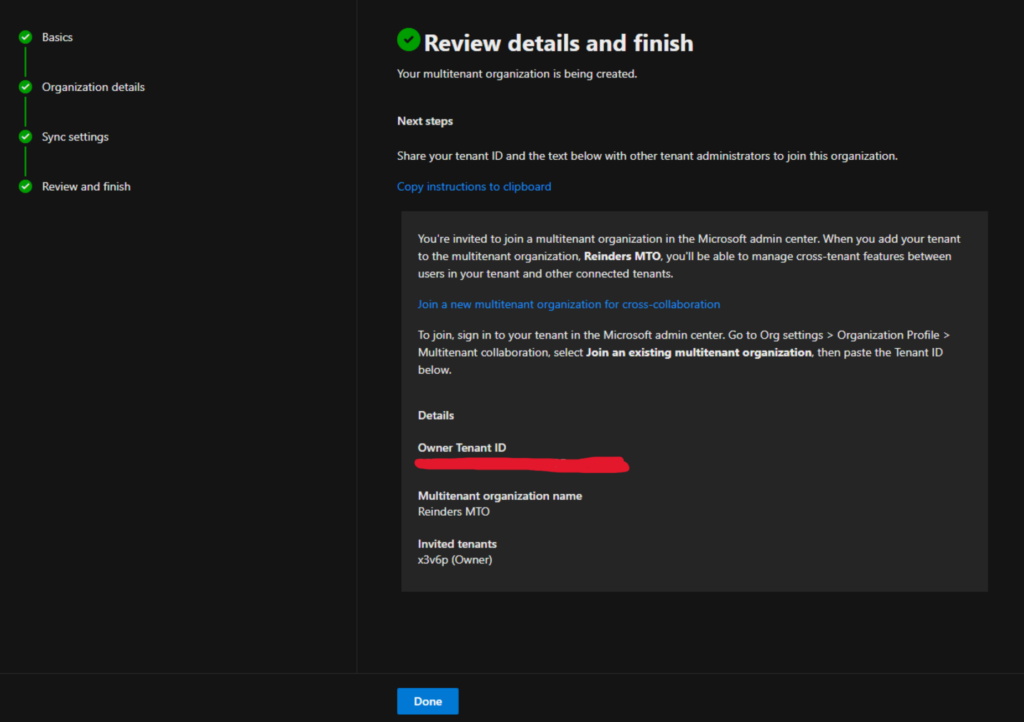 The process has begun. You're presented with some information you can email or share with other tenant administrators so they can join your multi-tenant organization.
The new 'Reinders MTO' is now all set and Active.
Multi-tenant organizations are already promising
Multi-tenant organizations in Microsoft 365 can be a valuable tool for organizations that need to improve collaboration, security, and efficiency. If your organization meets the criteria for using multi-tenant organizations, then it is a good option to consider.
If you are considering using multi-tenant organizations in Microsoft 365, I recommend consulting with your Microsoft Certified Partner to get help with planning and implementation. A Microsoft Certified Partner can help you to ensure that your multi-tenant organization is set up correctly and that you are getting the most out of it.