Microsoft has announced that it will soon rebrand Azure Active Directory (Azure AD) as Entra ID. The name change will be a gradual process, and it's expected to be rolled out to all Microsoft products and experiences in the second half of 2023.
The Microsoft Entra product family first made its debut back in May 2022. The new suite is designed to offer identity and access management, cloud infrastructure management as well as identity verification capabilities to businesses. At launch, it included Azure AD, Microsoft Entra Verified ID, and Microsoft Entra Permissions Management. Since then, Microsoft Entra added two new product categories; Microsoft Entra ID Governance and Microsoft Entra Workload ID.
Microsoft explained that the rebranding reflects the fact that Azure AD is now a product in the Microsoft Entra portfolio. It should also help customers to understand and use its capabilities to protect different identities and access points.
"Unifying all identity and access capabilities under the Microsoft Entra name will make it easier to navigate and use all products and capabilities in our expanded portfolio, ensuring that you have the strongest protections for any access point. We're also standardizing the use of the term "ID" for all our identity products: Microsoft Entra ID, ID Protection, ID Governance, External ID, Workload ID and Verified ID," Microsoft explained.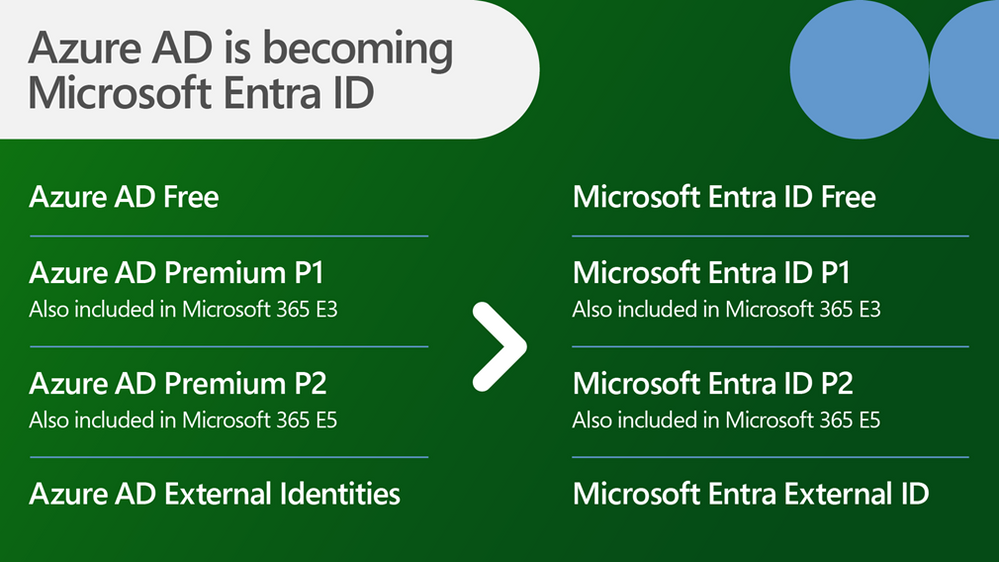 What does the Azure AD rebranding mean for IT admins?
As a part of this change, Microsoft plans to rename the standalone license names for Azure AD. The company will rebrand Azure AD Free as Microsoft Entra ID Free on October 1, 2023. Similarly, Azure AD Premium P1, Azure AD Premium P2, and Azure AD External Identities will also be renamed to Microsoft Entra ID P1, Microsoft Entra ID P2, and Azure AD External Identities.
Microsoft says that IT Pros don't need to take any action. All Azure AD features and capabilities will continue to be available for customers in Microsoft Entra ID. This name change won't impact licensing plans, pricing, Azure AD URLs, APIs, and authentication libraries.
Microsoft also announced yesterday two new tools that will be joining its Entra product family. The company highlighted that Microsoft Entra ID, Microsoft Entra Internet Access, and Microsoft Entra Private Access will enable IT admins to apply Conditional access policies across organizational apps and resources.