Exchange's Confusing Archives
Recently, Microsoft added an Archive folder to Exchange Online as one of the default set of folders created for all mailboxes. On the surface, it is a baffling decision because Exchange already has an "online" or "in-place" archive mailbox for users who want to retain information for long periods, often for compliance purposes. Why complicate matters for users by making competing ways to archive available?
The Value of Online Archives
The case to provide the Archive folder to users is not straightforward. It does close a gap for some users because the kiosk plans sold for Office 365 do not include archiving. All other business plans come with a 50 GB archive quota, but you need to have an E3, E4, or E5 license to benefit from the "auto-expanding, highly scalable archives for Office 365". Although Microsoft has paused the deployment of the expandable archive, there is still plenty of archive space to fill in millions of Exchange Online mailboxes.
The 50 GB limit for an archive is a reduction on the previous 100 GB limit, but as Microsoft notes "if you reach this capacity, additional storage is available" by contacting Microsoft Support. The reduction in the default quota likely reflects usage patterns and it is known that Microsoft Support can extend the quota to 170 GB when necessary. The limit will lift for some when the deployment of the expandable archive resumes. But even 50 GB is sufficient for the average user to store the complete output of their working live.
Shared mailboxes also support archive mailboxes, which are a useful way to keep records of team operations. However, although you do not need to assign Office 365 licenses to shared mailboxes, once you archive-enable a shared mailbox, Microsoft requires that it has a license.
The Difference with the Online Archive
Those of us who have online archives and (now) an Archive folder might become confused when deciding how best to use these features. Think of it this way: the online archive is a long-term repository for information kept because we might just need it one day. On the other hand, the Archive folder is a way for users to keep their Inbox clean by removing items that they have dealt with but want to retain for a short period.
Most users who have an archive mailbox never move items. After all, it is boring to go through thousands of items and decide which to archive. Instead, items move from primary mailboxes into the archives because of background retention policies to archive items after they reach a certain age.
The default retention policy that Exchange Online automatically assigns to new mailboxes moves items into the online archive after a retention period of two years. When the retention period expires, if an archive mailbox exists and no other retention tag takes precedence, the Managed Folder Assistant moves the items to the same folder in the archive mailbox. In other words, items from the Inbox folder in the primary mailbox end up in the Inbox folder in the archive. Apart from being able to include the Archive folder in a retention policy, the Archive folder in the primary mailbox has no relationship to the online archive.
Big Exchange Online Mailboxes Mean You Can Keep Everything
You can argue that Microsoft has reduced the usefulness of archive mailboxes by including 100 GB mailbox quotas in the E3 and E5 plans. After all, why bother to archive anything when you can leave it in that nice big primary mailbox?
Stuffing everything into your mailbox is certainly a valid approach, but some value still exists in removing items from mailboxes to somewhere that they remain available just in case you someday need the items for eDiscovery or other compliance purposes. Archive mailboxes are also useful to store information imported from PSTs or legacy archiving systems like Veritas Enterprise Vault.
Offline Access
The big advantage of keeping items in the Archive folder rather than deleting them or having Exchange Online move them to the archive mailbox is that items are available to mobile clients. Keeping the items in the Inbox also allows access to mobile clients, but at the expense of a cluttered Inbox – and we cannot have that, can we?
Mobile clients cannot access archive mailboxes because the protocols used by these clients (like Exchange ActiveSync) only support primary mailboxes. Clients, including Outlook desktop, can synchronize items from the Archive folder to make them available offline whereas items in the archive mailbox are only accessible when a network connection is available. Sometimes that network connection is not fast enough to allow easy access to archived items, including searching those items. Because local searches can process cached copies of the Archive folder, searches complete faster.
Client Options
Outlook 2016 desktop, OWA, and the Outlook for iOS and Android apps support options to make it easy for users to move items into the Archive folder. Figure 1 shows the one-click option to move the currently selected item to the Archive folder. The Outlook apps take a different approach and allow users to configure a swipe action to move items to the Archive (Figure 2). In either case, items end up safely stored and out of the Inbox.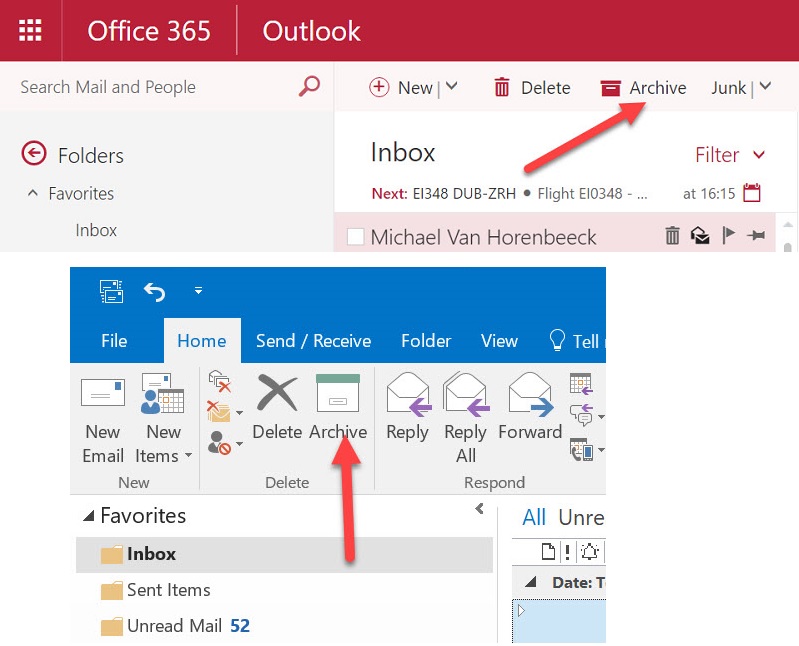 The basic idea is that a user can quickly move through their Inbox to triage items by reading, deleting, or archiving items as required. Because it is a mailbox folder, other EAS-based clients (like Outlook for Windows 10 Mobile) can synchronize the Archive folder, but one-click access is unavailable unless the client incorporates the necessary GUI.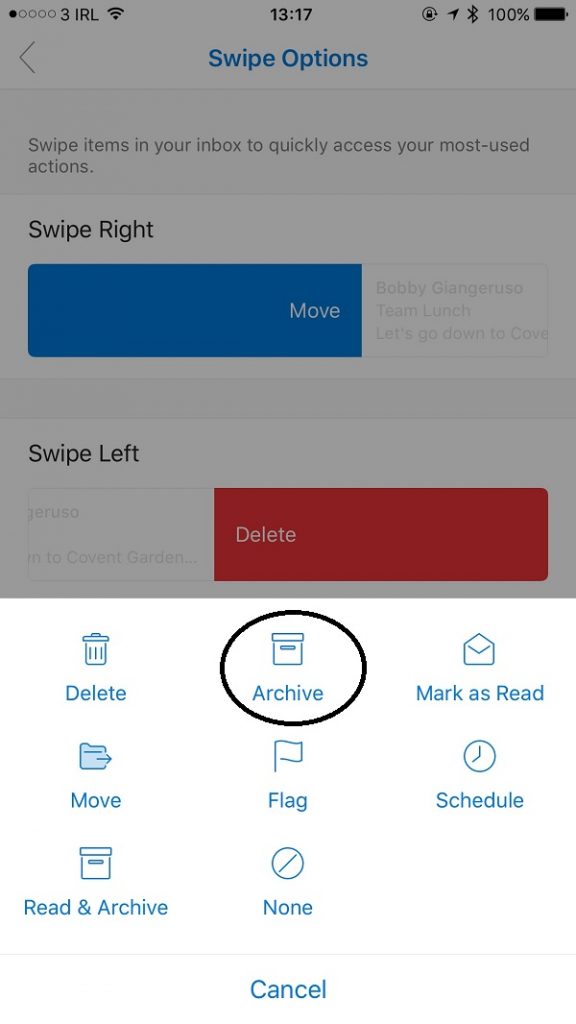 Madness in the Method
Perhaps there is method in the madness of providing an extra way to "archive" information in an Exchange Online mailbox. Some users will not have archive mailboxes and will be happy that they can now move items "out of sight" from the Inbox. And being able to access items on mobile clients is always an advantage.
Of course, the age-old approach to keeping a clean mailbox is to file items into appropriate folders as you process email. That approach still works even if filing has rather gone out of fashion. Current practice is to accumulate Inboxes holding massive numbers of items and depend on search to find items when required. The one-click access to archive items provided in clients might help people change habits, but I still have some doubt as to whether it is enough. I suspect that many will continue to leave email to rot and decay inside the Inbox. Time will tell.
Follow Tony on Twitter @12Knocksinna.
Want to know more about how to manage Office 365? Find what you need to know in "Office 365 for IT Pros", the most comprehensive eBook covering all aspects of Office 365. Available in PDF and EPUB formats (suitable for iBooks) or for Amazon Kindle.