May was a busy month for Windows, not least because of the release of the Windows 10 May 2020 Update but also because of some major announcements at Microsoft's annual Build conference.
Windows 10 May 2020 Update general availability
At the end of May, Microsoft started rolling out the Windows 10 May 2020 Update (version 2004) to 'seekers' on Windows Update. Seekers are those who actively click Check for updates in the Windows 10 Settings app. The update is also available via the Media Creation Tool on the Window 10 download page.
Despite a long testing period compared to previous feature updates, Microsoft isn't making Windows 10 version 2004 available to all seekers. The rollout is being throttled and blocked on devices where there are known issues. For a complete list of known problems with the update, check out Microsoft's release information here. Windows Server version 2004 is also now generally available.
The May 2020 Update comes with some important new features, including:
Windows Subsystem for Linux 2, which was first announced at Build 2019.
A new chat-based Cortana experience delivered as an app.
Support for WiFi 6 and WPA3.
Cloud recovery.
The ability to name virtual desktops.
Potentially unwanted app (PUA) blocking.
Win32 segment heap capabilities to reduce app memory usage.
I'll be covering these features, and more changes in Windows 10 version 2004, soon on Petri. According to Microsoft's website, the Companion Device Framework, Microsoft Edge (legacy), and Dynamic Disks, have all been deprecated in Windows 10 version 2004.
Edge version 83 released to the stable channel
Edge version 83 was released to the stable channel May 21st. In addition to improved performance, Edge 83 comes with extension synchronization, automatic profile switching; and improvements to Collections, including the ability to add all the tabs in an Edge window to a new collection. You can find the full list of changes here.
Microsoft says that Edge 83 is now integrated with Windows spellcheck on Windows 8.1 and later. This change brings access to more languages and Windows custom dictionaries. A toggle control has been added to the Edge settings page for those who prefer to disable spellcheck.
Build 2020 announcements
Despite being Microsoft's first virtual Build, there were a lot of significant Windows announcements this year.
Windows Subsystem for Linux GUI support
To enable GPU hardware acceleration in WSL 2, Microsoft is implementing GPU Paravirtualization (GPU-PV) for Linux virtual machine (VM) guests. GPU virtualization is integrated into WDDM (Windows Display Driver Model). Right now, GPU virtualization only works in Windows guest VMs. But in WDDM version 2.9, Microsoft is adding GPU virtualization support for Linux VMs.
Microsoft demonstrated early work it is carrying out to let developers run Linux GUI apps using the Windows Subsystem for Linux. Microsoft says that its goal is to let Linux GUI programs run seamlessly alongside Windows 10 apps.
GUI support in WSL 2 is mainly aimed at developers that would like to run integrated development environments (IDE), and other tools for development, at the same time as Windows apps.
For more information, check out Microsoft Brings GUI Support and GPU Acceleration to Windows Subsystem for Linux on Petri.
Windows Package Manager
Microsoft announced that it is working on a native open-source package manager for Windows. Due for general availability in May 2021, Windows Package Manager (WPM) is now in preview and you can download it from GitHub. Windows Insiders can get WPM from the Microsoft Store.
WPM is like AppGet, a utility that helps automate installing software using the command line. Maybe it is even a little too similar. Another example of a Windows package manager is the popular Chocolatey. The developer of AppGet, Keivan Beigi, has accused Microsoft of copying large parts of his package manager without giving him credit after he attended a job interview last year. In a blog post, Windows Group Program Manager, Andrew Clinick, acknowledges that parts of WPM are based on AppGet.
For more information on how to use WPM, see How to Use Windows Package Manager on Petri.
Windows Terminal general availability
Another product that was first announced at Build 2019, Windows Terminal 1.0 is now generally available. Windows Terminal is designed to replace the command console that's built into Windows 10. There are several important features that differentiate Windows Terminal from the existing console:
Tabs and panes.
GPU accelerated DirectWrite/DirectX-based text rendering.
Settings and configurability.
Monthly updates, starting in July 2020.
A preview channel.
Community contributions.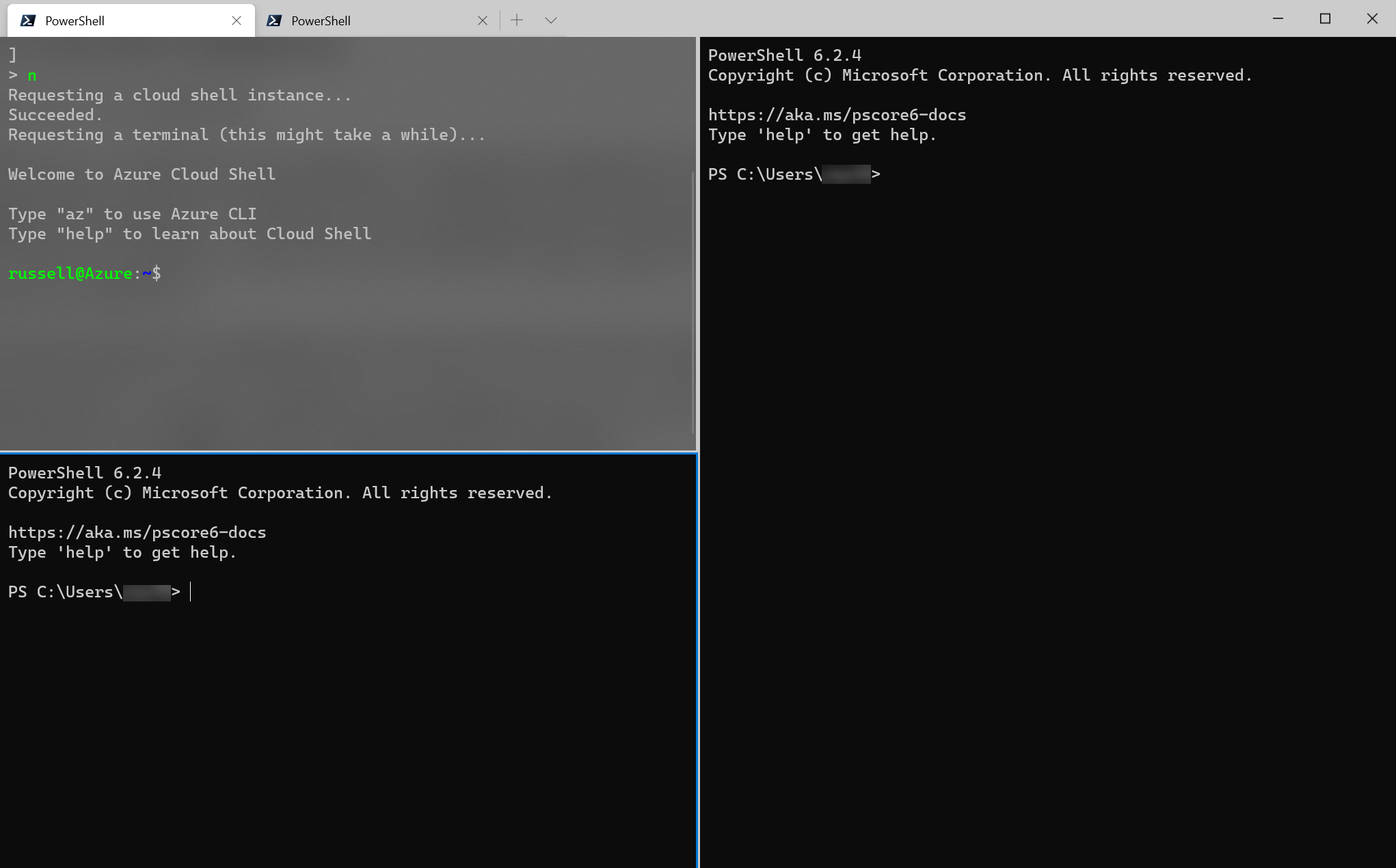 Senior program manager Rich Turner said on Twitter that the command console is now in maintenance mode and that it shouldn't be used for interactive shell work.
Win32 and UWP APIs to converge
Probably the biggest Windows news for developers out of Build 2020 was Project Reunion. Microsoft announced that it is unifying and evolving the Windows developer platform to make it easier to build apps.
Project Reunion will unify Win32 and Universal Windows Platform (UWP) APIs so that they are decoupled from the operating system. The idea is to provide a common platform for new apps and help update and modernize existing apps with the latest features.
WinUI 3 and WebView2 are some of the first components of Project Reunion. WinUI 3, which is now in preview, is a high performance, Fluent-optimized native UI framework for Windows that developers can use to build user experiences. WebView2 provides full web functionality across all Windows apps, and it is also decoupled from the OS.
For more information on Project Reunion, see Microsoft's Windows blog here.
Windows on ARM may get 64-bit x86 app support
Thurrott.com reported in May that a code commit on GitHub suggested that Microsoft is adding support for 64-bit x86 application emulation to Windows on ARM. Windows 10 on ARM is 64-bit ARM and it runs 32-bit x86 in emulation mode. But it can't currently run 64-bit x86 software, a major limitation as most modern x86 apps are developed for 64-bit.
Panos Panay confirms Windows 10X for single-screen devices
At the beginning of the month, Windows Chief Product Officer, Panos Panay, confirmed that Microsoft will make Windows 10X available for single-screen devices.
"With Windows 10X, we designed for flexibility, and that flexibility has enabled us to pivot our focus toward single-screen Windows 10X devices that leverage the power of the cloud to help our customers work, learn and play in new ways. These single-screen devices will be the first expression of Windows 10X that we deliver to our customers, and we will continue to look for the right moment, in conjunction with our OEM partners, to bring dual-screen devices to market."
Windows Insider builds
Microsoft released Windows 10 Build 19624 to the Fast ring May 6th. The build includes some general changes and improvements including updating VPN connection logic so that when you disconnect from a VPN network, the option to auto-connect will be unchecked.
May 13th saw Microsoft release Windows 10 build 19628 to the Fast ring. The big change in this build is support for DNS over HTTPS. For more instructions on how to enable it, check out Microsoft's site here.
In February, Microsoft added the ability in Windows 10 build 19559 to install Hyper-V on ARM64 devices running Enterprise and Pro SKUs of Windows 10. With the release of build 19624 to the Fast ring, Microsoft is providing the build as a VHDX file so that Insiders can run Windows 10 as a guest OS in Hyper-V.
Windows 10 build 19635 was released to the Fast ring May 28th and it brings a series of fixes for previously known issues.
Finally, Thurrott.com reported that the Fast ring might be switching to Windows 10 21H1 in late June.
And that's it for another month!