The Big Side Effect on Teams of Renaming a SharePoint Site URL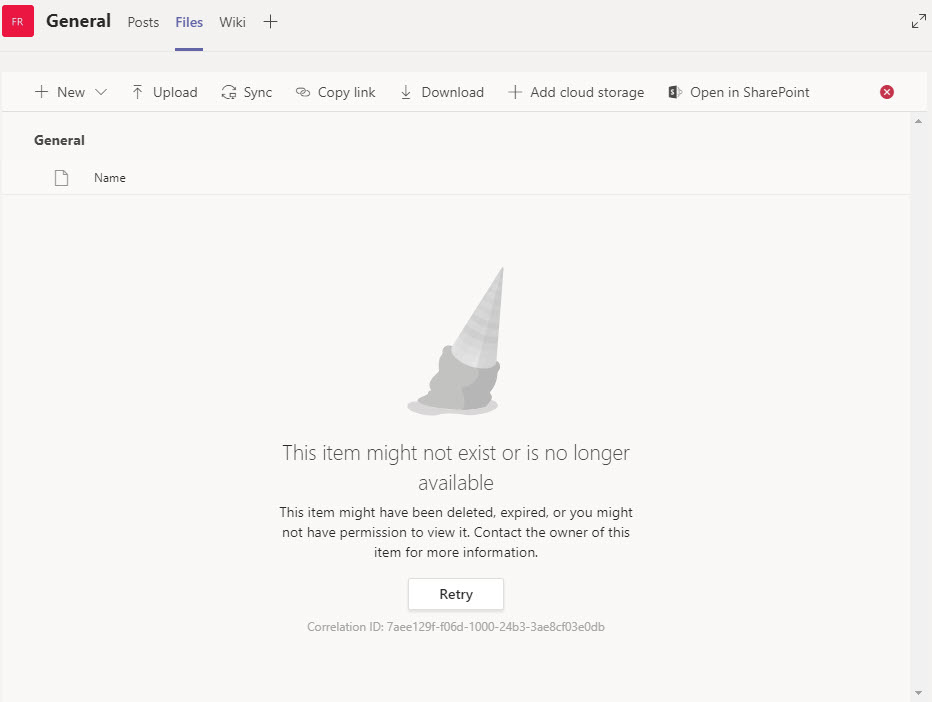 The Side Effects of SharePoint Site Renames
SharePoint Online introduced the ability to rename site URLs in beta in May 2019. The feature achieved general availability in October 2019 (message center notification MC193275, Office 365 roadmap item 56205). Renaming site URLs (and the display name of a site) addresses a problem that's been around a while, so all is good in the SharePoint camp.
That is until you read the list of known side effects of a site rename, Some of these are informative, such as the way that the OneDrive sync client will automatically transfer synching to the new site URL; some are mildly concerning, like the assertion that "any files in the recycle bin will be lost when  the site address is changed." (this assertion seems erroneous because I see files in the recycle bin for renamed sites. In other cases, some work is needed to make sure that the new site URLs are picked up by applications after the rename (Flow, InfoPath, PowerApps, etc.).
The Sad Effect on the Teams Files Tab
In any case, the biggest issue is what happens to the Teams Files channel tab for renamed sites. Microsoft's statement is blunt:
"Teams (for Office 365 group-connected sites)
After the site address is changed, users won't be able to view the team's files within the Teams app, but they can access them from Teams by selecting Open in SharePoint."
The bald words are reflected in the experience users receive when they next try to access documents via the Files channel tab (Figure 1). No amount of hitting the Retry button will convince Teams to access SharePoint. The connection is broken and can't be fixed by any action on the part of the user.
New Files Tab Experience Affected Too
The problem exists in both the older Files tab and the new version of the Files tab (Figure 2) announced by Microsoft in one of its pre-Microsoft Ignite announcements. The new version is rolling out to targeted Office 365 tenants and deployment worldwide will be complete by the end of November. In passing, the same announcement has the news about bringing the file sharing experience now available in SharePoint Online and OneDrive for Business to Teams and OWA. This is a nice upgrade as it gives users more control over file sharing.
Why Open in SharePoint Works
Why does the Open in SharePoint link continue to work after a site rename? While I don't have access to the code, I assume that Teams asks SharePoint to open the old site URL and SharePoint deals with the old link by redirecting to the new site address. This is like the situation where "users are redirected to the new URL if they've saved the site as a favorite or if they click a link to the site."
Dropping the Ball
I knew that a problem existed in this area because I reported it to Microsoft last May. After some discussions with engineers, I assumed that the problem would be addressed and moved on to other issues. I find this a common problem inside Office 365 because there's so many topics and changes clamoring for attention. I should have kept my eye on this issue because it's unacceptable for Microsoft to assume that customers will accept that a change in SharePoint Online can have a big impact on Teams.
The issue with the Files tab is especially troublesome because of the way that Teams consumes so many services drawn from across Office 365. A premier selling point for Teams is that it is a point of integration for Office 365; I also say that Teams delivers a much more friendly interface to OneDrive for Business and SharePoint Online than the browser interfaces do. Breaking the connection to a core piece of functionality doesn't seem like an intelligent way to proceed and relying on a note buried in a support article as a get out of jail card isn't bright either.
The only possible reason I can think of why Microsoft believes that the current situation is acceptable is that they think that relatively few people will rename site URLs. And a workaround exists. I don't agree. Sending people to SharePoint is a workaround, but why break Teams?
Way Forward
According to one of my Microsoft sources, they are aware of the impact and are working on a solution. No date is given for when a fix might be available.
Bugs happen in software all the time. What's problematic here is that Microsoft has not prioritized fixing an essential connection between Teams and a major Office 365 component. Given the number of features shipped by Teams recently, like multi-channel posts, it could be that the attention of engineering resources is absorbed by jazzy new stuff instead of fixing old but important problems. If true, that attitude hardly aligns with the focus on customers we so often hear about from Satya Nadella.