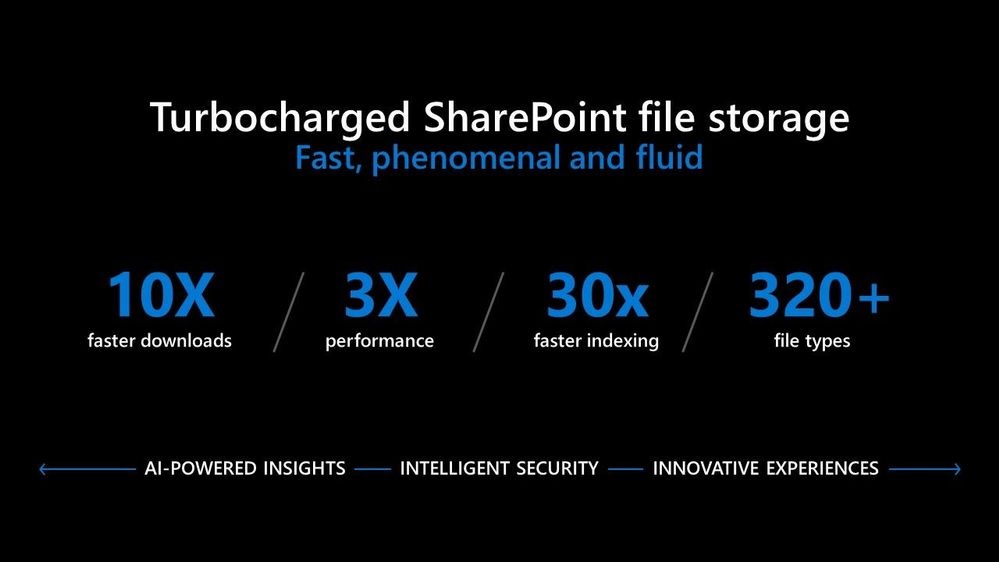 This week, Microsoft made many announcements about SharePoint and OneDrive at the SharePoint North America conference. This isn't a formal Microsoft conference, but it does boast a lot of support from the SharePoint product team, so the announcements made by people like Jeff Teper usually give some interesting pointers to what we can expect over the next six or so months.
SharePoint has its own community, just like Exchange. But as I've been saying for a while now, the on-premises products that worked at the center of their own ecosystems are now service providers to Office 365. In short, their mission has changed and much of what we see happening in SharePoint and OneDrive benefits other apps. One example of this is the improvement in sharing controls for links generated by Teams. Another is the new Teams Files channel tab UI, which replaces the simplified version used to date.
OneDrive Differential Synchronization
Looking at developments through an Office 365 lens, my eye was taken by several improvements. First, OneDrive for Business will soon support differential synchronization for non-Office files. Delta synchronization came for Office file formats a few years ago and is the reason why you can open very large PowerPoint presentations or Word documents without having to wait for the whole file to be downloaded. It's also the basis of the Office AutoSave feature, which then gives SharePoint Online and OneDrive for Business the ability to support Files Restore for up to 30 days back in time. Microsoft promises that differential synchronization will reduce large files much faster and reduce network utilization, contributing to their efforts to make cloud storage more accessible than ever before.
Administration Improvements
Few people, even its biggest fans, would claim that the (classic) SharePoint Admin Center is a work of art. It's not. The (modern) SharePoint Admin Center is better as it's more functional and easier to use, but Microsoft seems to have taken forever to move Office 365 tenants to the new portal. Perhaps that time is coming because the new Admin Center will soon support all the options available in the classic portal (aka consolidated views) plus some new ones of its own, like site rename, site swap (replace an existing site with another of the same name), bulk actions, and improved sharing controls.
Having a functional administration portal is important for SharePoint Online because many of the administrators working with the online variant are not SharePoint professionals and only venture into the admin portal when strictly necessary. It's good to see the new portal evolve, even if progress is slow.
More Secure Sharing with External Users
As Office 365 continues to grow past 180 million monthly active users, the number of guest users invited to join Teams, Office 365 Groups, and Planner increases external access to SharePoint Online document libraries. Remember that the membership model used by Groups allows all members the same access to group resources, even when you might want to restrict access to some information. One solution to the problem is to use rights management to protect sensitive information, and that's what Microsoft is making easier to do.
SharePoint Online will soon allow users to apply Office 365 sensitivity labels, including labels that invoke encryption to protect content. You can apply these labels today to documents and store the protected documents in libraries accessible by guest users, but only when working inside the document. The new feature will allow users to apply labels through the SharePoint browser interface and when working with the Office Online apps. We've been expecting this change, but it's good to see the news openly announced.
Microsoft is also making further changes in how Office 365 Data Loss Prevention (DLP) policies can stop users sharing confidential information with external users. You'll be able to create a policy that stops users sharing documents stamped with a confidential sensitivity label.
Other SharePoint News
SharePoint aficionados will have enjoyed the wealth of "intelligent intranet" announcements made this week in Las Vegas, like home sites. Those of us who use SharePoint Online for its document management capabilities inside Office 365 will like the extra administration and compliance functionality. The only thing Microsoft must do now is deliver the promised functionality to tenants, something that occasionally takes a long longer than you'd imagine.