Windows 11 Version 22H2 "Moment" Update Brings AI-Powered Bing to the Taskbar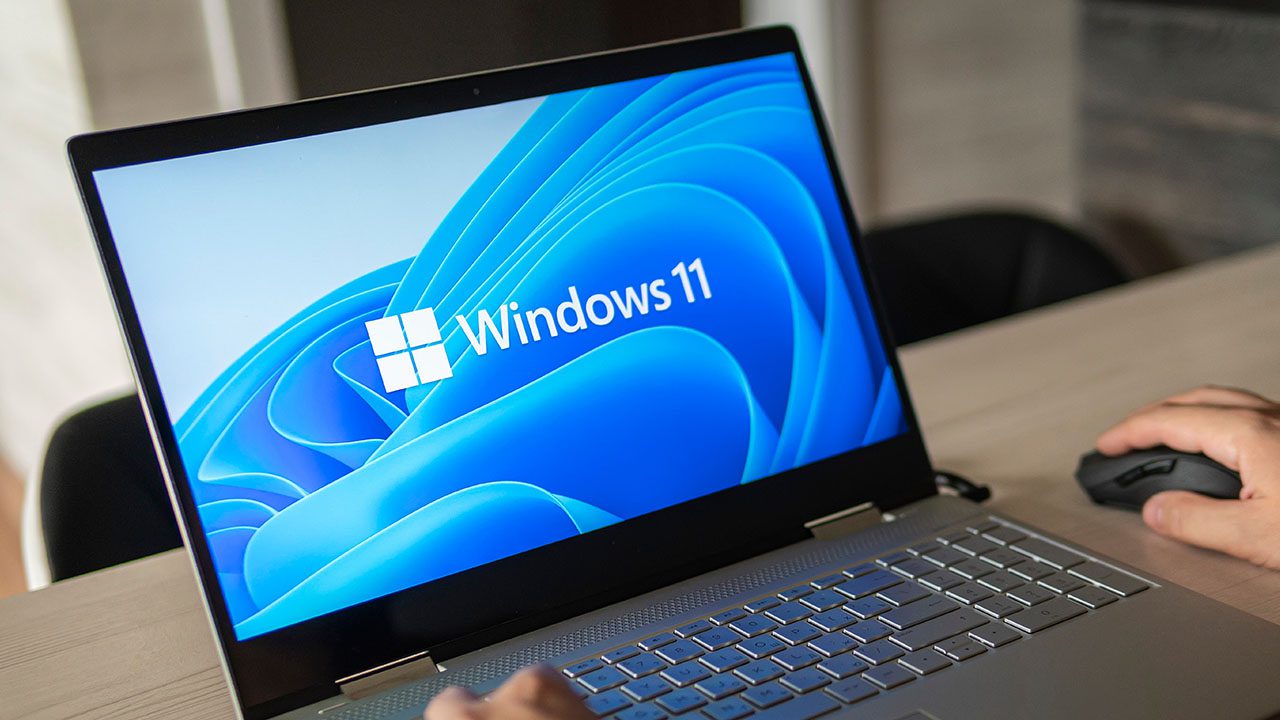 Microsoft is releasing today a major update for Windows 11 version 22H2. This update introduces a new search box in the taskbar that integrates the new AI-powered Bing that Microsoft started testing earlier this month.
Despite Windows 11 now receiving major updates once a year (the latest one being the version 22H2 released last fall), Microsoft now releases new Windows features throughout the year when they're ready. The company reportedly refers to these updates as "Moment" updates internally, and we had an example of such an update back in November when Microsoft rolled out File Explorer tabs, a new overflow menu UI on the taskbar, and other new features.
Today's update for Windows 11 is available as an optional update for users running Windows 11 version 22H2, and all the new features will be available for all users with next month's Patch Tuesday Update. Let's dive into all the biggest changes in this update.
Microsoft brings back a search box to the taskbar with a Bing tweak
The biggest change coming with today's update for Windows 11 version 22H2 is that Microsoft is bringing back a typable search box in the taskbar, similar to how Windows Search looks on Windows 10. However, this new search box integrates Microsoft's new Bing chatbot.
"It's a first step to see how the idea of a copilot comes to life for you on Windows for everything you will do on the PC," said Microsoft's Chief Product Officer Panos Panay. The exec added that this new Bing integration in the taskbar will "provide hundreds of millions of Windows 11 users the next era of computing."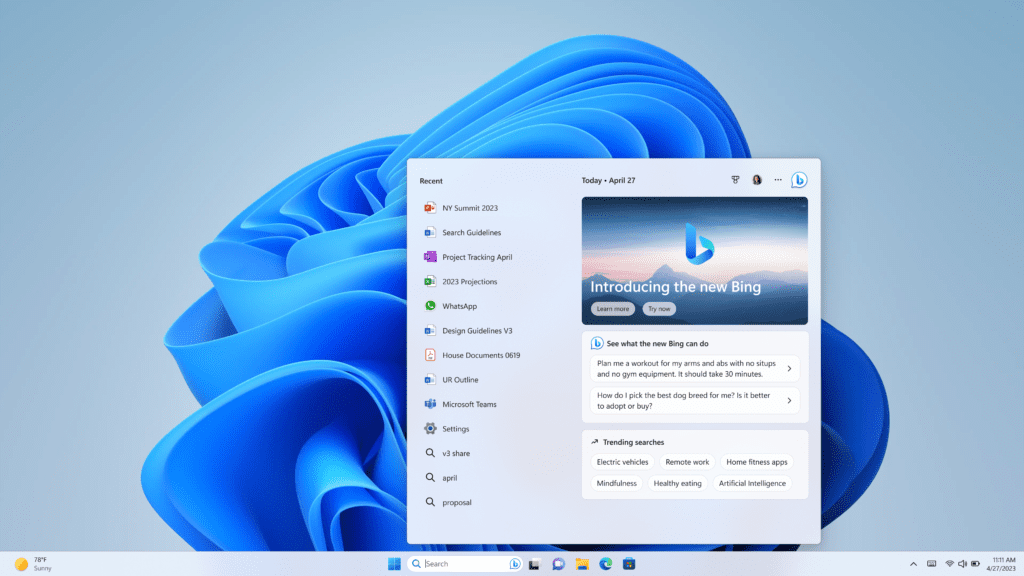 Microsoft has already released a new policy allowing IT admins to control how search looks on the taskbar. Using this policy, IT admins can choose to show the new search box, a search icon with a label, a search icon only, or hide the search icon on the taskbar altogether.
In addition to this new search box, today's Windows Update also makes Windows Studio Effects available from the Quick Settings section of the taskbar. If you have a Windows ARM device with a neural processing unit, it's now easier to enable features such as background blur, eye contact, and automatic framing during video calls.
Lastly, the Windows 11 taskbar is now optimized for 2-in-1 devices with detachable keyboards. Users will be able to use a swipe gesture to make the taskbar switch between a "Collapsed" state and an "Expanded" state, and the latter will automatically be enabled when a keyboard is disconnected on a Windows 11 tablet. This new touch-optimized taskbar can be disabled in Windows 11 settings.
New AI-powered recommendations in Start Menu and File Explorer
On Windows 11 Pro devices that are Azure Active Directory (AAD) joined, the Start Menu will now display AI-powered recommendations. The "Recommended" section at the bottom of the Start Menu will display relevant Office files and shared documents you may need to prepare for your next meeting.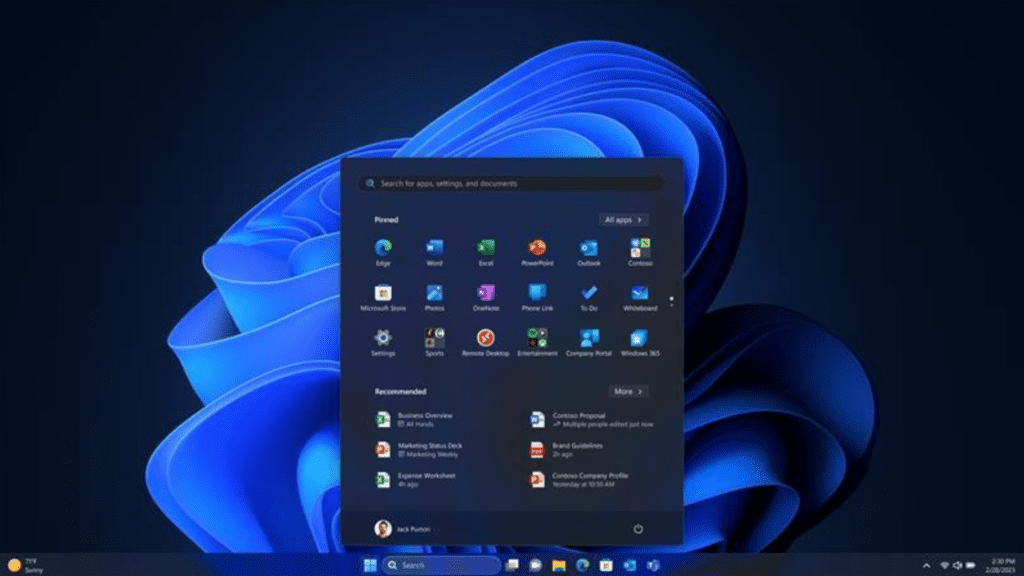 Microsoft is also tweaking its File Explorer with this update. Search should now be faster, and the app will better surface recommended local and cloud files.
Microsoft is also making its Quick Assist app, which allows Windows 11 users to receive or provide PC assistance over a remote connection available right from the Start Menu. The app is now preinstalled on all PCs running Windows 11 version 22H2, and it has also been redesigned.
Improvements to widgets and accessibility
The Windows 11 Widgets board may soon become more useful as it now supports third-party apps. There are new widgets for Microsoft's Phone Link app, Facebook Messenger, and Spotify, but it will be interesting to see if more serious productivity apps start embracing the Windows 11 Widgets board.
On the accessibility front, today's update adds support for more braille displays, and it also enhances the functionality of the Voice Access app. This feature already allows users to control their PC and author text using only their voice, and it's now compatible with more Microsoft apps including Word and File Explorer.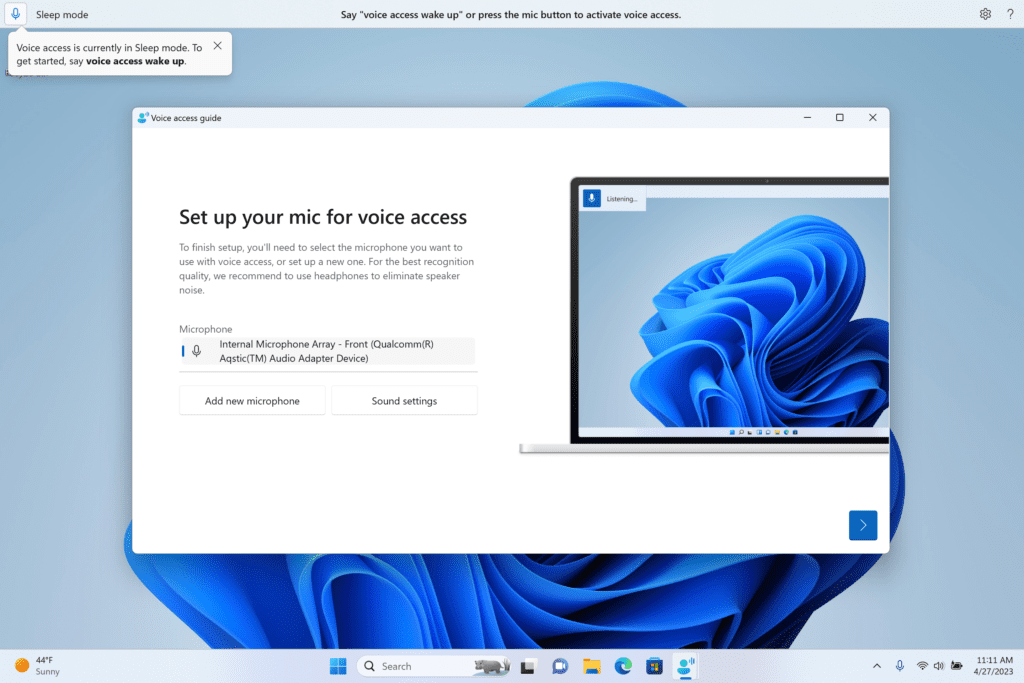 Tabs in NotePad, Windows 365, and other app updates
Microsoft is also rolling updates to several Windows 11 inbox apps today. Notepad is the latest app after File Explorer to receive tabs support, while Snipping tool is getting a built-in screen recorder.
Microsoft is also making its Windows 365 app generally available today. On Windows 11, the app provides the best experience for accessing a Windows 365 Cloud PC thanks to better integrations to the Windows 11 taskbar and Start Menu. The app also lets users use their Windows 365 Cloud PC as a window or full screen.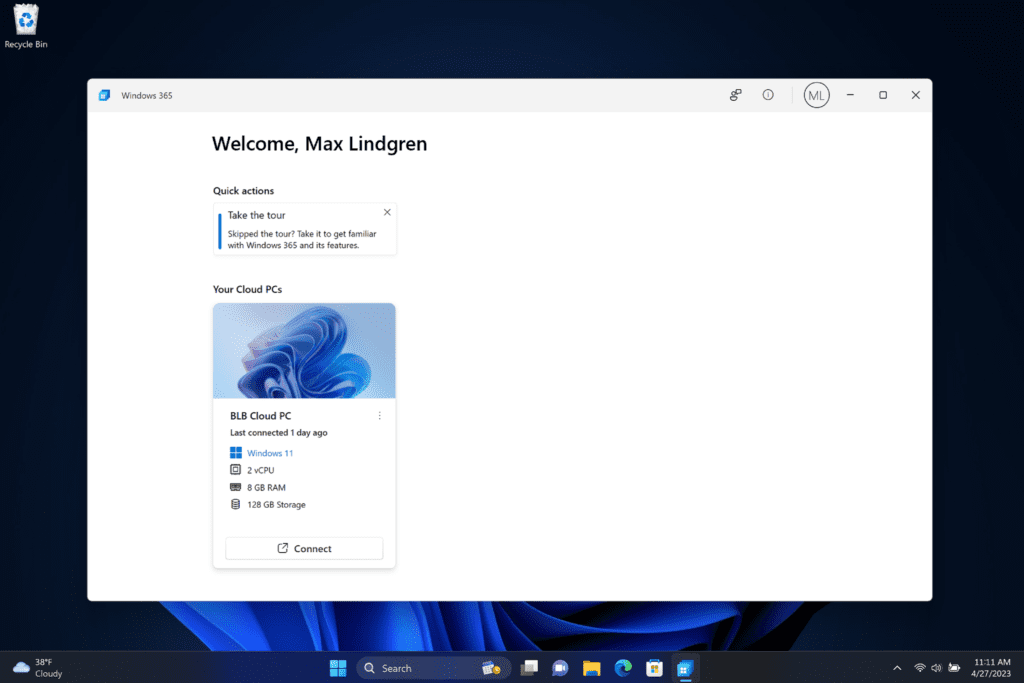 Windows 11's Phone Link app adds iPhone support in preview
Microsoft's Phone Link, which currently works best with high-end Samsung Galaxy Android phones is adding support for iPhones in preview. Starting today, select Windows Insiders will be able to pair their iPhone in the app and get access to text messages and iPhone notifications right from their Windows 11 PC.
The iOS integration is currently quite limited as sending messages to a group and sending media are not supported. Microsoft says that it will expand the availability of the Phone Link for iOS preview soon.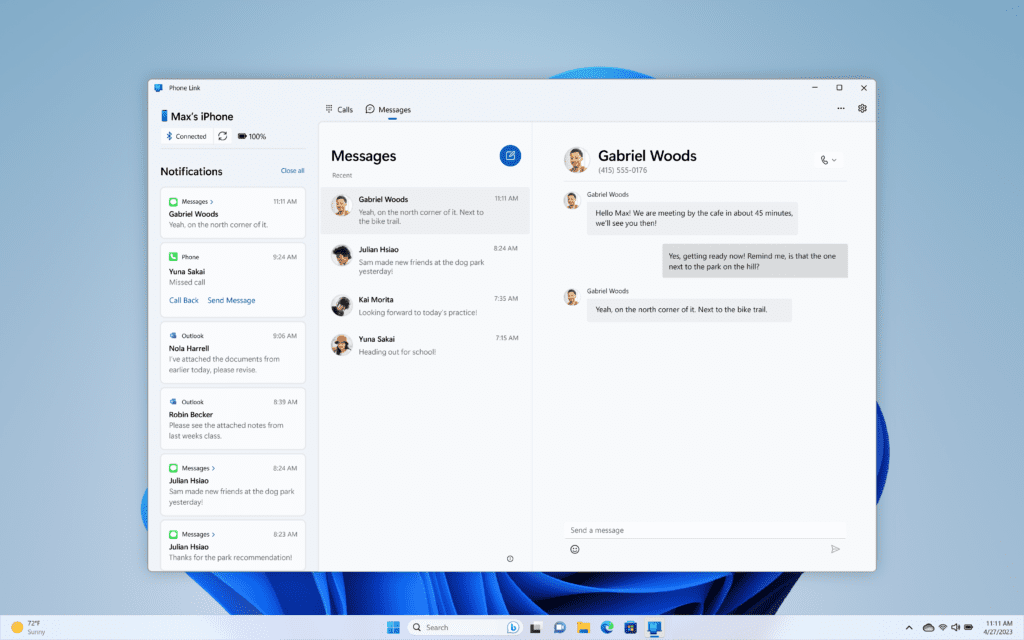 A little more than a year since the initial release of Windows 11, Microsoft's Chief Product Officer Panos Panay said that the OS still continues to enjoy some momentum. "Since the launch, Windows 11 users continue to be more engaged than Windows 10 and customer satisfaction is higher than any version of Windows ever," the exec said.
Again, today's big update for Windows 11 version 22H2 is available as an optional update in Windows Update, but it will roll out to all users with next month's Patch Tuesday updates. IT admins will also have some control over the rollout of these new features.
"If your organization uses Windows Update for Business or WSUS to control which Windows updates are offered to your managed devices, you can use a new client policy to control the rollout of select features introduced via servicing. By default, all features introduced via servicing that are behind this commercial control will be off for Windows-Update-managed devices until they are released as part of the next annual feature update," Microsoft explained on its Windows IT Pro blog.