Microsoft is Ready to Take on Google With AI-Powered Bing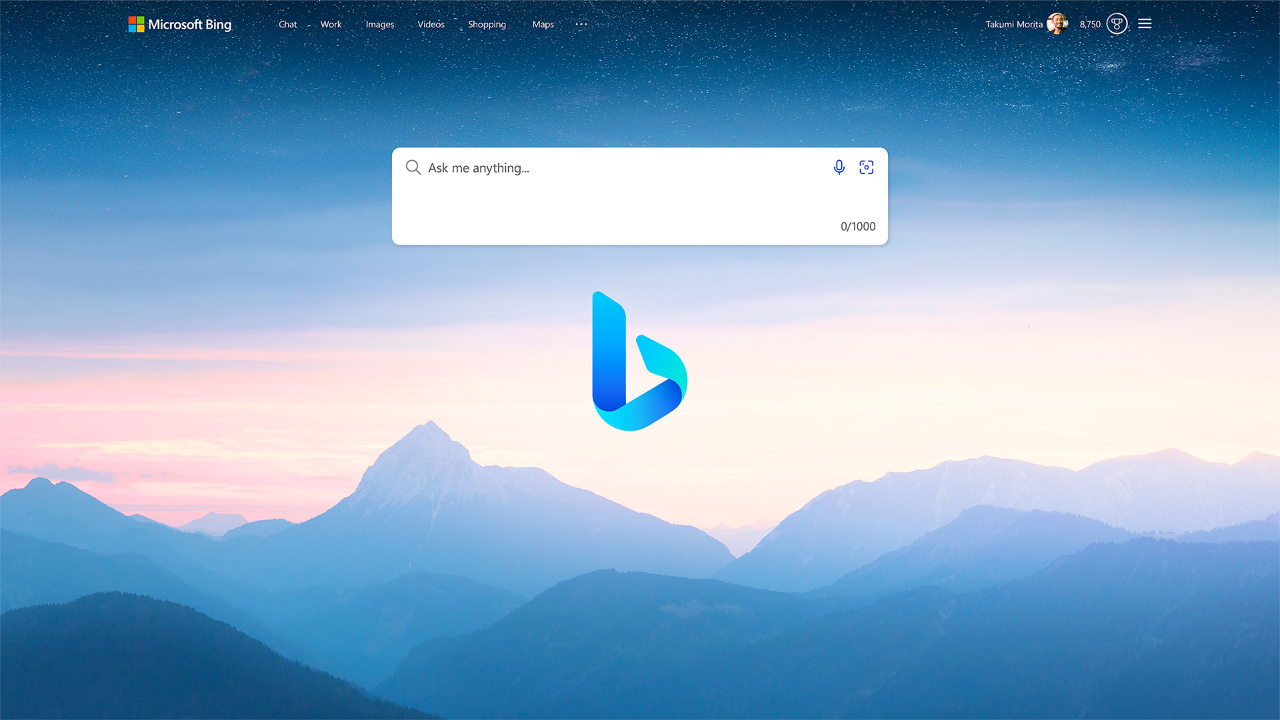 Microsoft held a media event yesterday to announce a new version of its Bing search engine that leverages a next-generation OpenAI model. The new AI-powered Bing is launching as a limited preview, and Microsoft believes that it will redefine what we should expect from search engines.
"There are 10 billion search queries a day, but we estimate half of them go unanswered. That's because people are using search to do things it wasn't originally designed to do," emphasized Yusuf Mehdi, CVP and Consumer Chief Marketing Officer at Microsoft.
Since its launch back in November, OpenAI's ChatGPT has become one of the fastest-growing apps of all time and recently crossed 100 million users. Microsoft, which just announced a new multibillion-dollar investment in the company is planning to integrate OpenAI technologies into all of its consumer and enterprise products. This has already started with a new ChatGPT integration in Viva Sales.
Microsoft wants its new AI-powered Bing to be "your copilot for the web," and what Microsoft introduced yesterday is indeed a massive upgrade for a search engine that has been playing catchup with Google since launch.
How the new AI-powered Bing works
The new Bing still provides a familiar user experience, but the search box can now accept up to 1,000 characters. The new Bing also continues to provide a traditional list of search results, and Microsoft says that applying AI to its core search algorithm has led to "the largest jump in relevance in two decades."
In addition to providing better search results, the new Bing will also display GPT-based results on a right pane. These more detailed answers will have footnotes to the source material in case users wants to learn more about what they're researching.
The new Bing is also introducing a new "Chat" experience that pretty much works like ChatGPT: Users can ask Bing a question and refine the results with follow-up questions. This chat mode will allow users to get creative and ask Bink to generate content such as emails, quizzes, or travel itineraries. Unlike ChatGPT, Bing will also provide a list of sources for the content it creates.
Microsoft will continue to display ads on its traditional search results page. However, there won't be any ads in the new Chat experience.
Is the new Bing better than ChatGPT?
The new AI-powered Bing uses a next-generation Open AI model that Microsoft says is faster and more accurate than ChatGPT. Users will also be able to rate the detailed replies in the right panel of the search results page.
If ChatGPT and GitHub Copilot have both raised some questions about intellectual property, the new Bing does cite the sources it uses to generate content. Microsoft also says that it has worked with OpenAI to implement safeguards to protect users from harmful content.
However, Microsoft admits that its new AI-powered Bing won't always be accurate. "Bing will sometimes misrepresent the information it finds, and you may see responses that sound convincing but are incomplete, inaccurate, or inappropriate. Use your own judgment and double check the facts before making decisions or taking action based on Bing's responses," Microsoft said in an FAQ.
Microsoft Edge is also getting an AI Update
As of today, the new AI-powered will only work on Microsoft's Edge browser, which is also getting some new AI capabilities. A new sidebar that will roll out first to Edge Insiders will provide access to two new features, Chat and Compose.
The Chat feature will allow users to summarize a web page in a couple of bullet points and ask follow-up questions. With the Compose feature, Edge users will be able to create content such as emails or blog posts and choose their desired length and tone.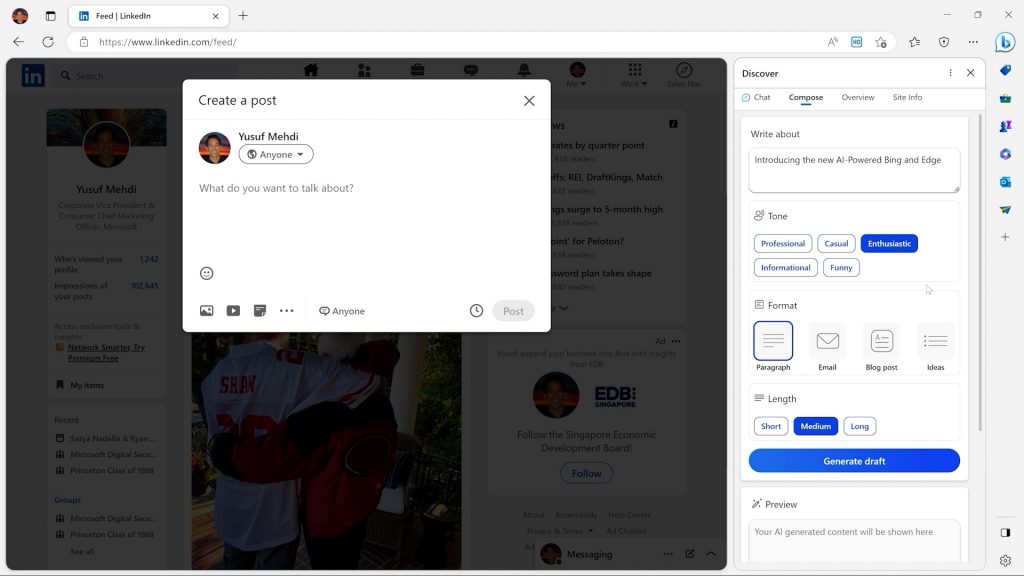 What the new Bing means for the competition
The new AI-powered Bing and ChatGPT before it may well change how we use search engines, and ultimately, how we work. And it's a real risk for Google, which currently has 93% of the global search engine market share and makes the majority of its revenue from Google Ads.
In recent years, Google and other companies have also been working on AI-powered search, but they've been reluctant to make these technologies broadly available, and probably for good reason. You may remember Microsoft shutting down its Tay.ai chatbot in 2016 after it started generating nazi responses after less than 24 hours.
In what seemed to be a pretty rushed announcement, Google did announce a new conversational AI service named Bard earlier this week, but it's currently in restricted access. The company is expected to follow up with more product updates during a search and AI event later today at 2:30 PM CET.
It's impossible for Google not to take the competition from ChatGPT and the new AI-powered Bing very seriously. Google is still a core piece of the Internet as we know it, but integrating AI models into search is going to be very disruptive, especially for the SEO middlemen.
"AI will fundamentally change every software category, starting with the largest category of all – search," said Microsoft CEO Satya Nadella yesterday. Bing is just the beginning, but you can expect OpenAI's cutting-edge technology to become integrated with Office, and maybe Windows as well.
"AI is going to reinvent how you do everything on Windows, quite literally," said Microsoft's Chief Product Officer at AMD's CES 2023 press conference last month. We've already seen glimpses of that with Windows Studio Effects on Windows on ARM devices with dedicated AI chips, but Intel and AMD are also both planning to add AI processing capabilities to their upcoming CPUs.