Microsoft is adding a new policy that enables IT admins to customize the Windows Search experience on the Windows 11 taskbar. The company announced yesterday that the feature is already available in the latest Windows 11 preview builds for Insiders in the Beta and Dev channels.
Microsoft recently started testing improvements to the search experience on the taskbar to help users find documents, apps, settings, and important information. "After shipping Windows 11 with a search icon on the taskbar, we received feedback that some didn't find it discoverable or engaging enough. Based on this feedback, we are adding the ability for users to search directly from the taskbar," Microsoft explained.
With the new policy, IT Pros can hide the taskbar's search icon by default on Windows 11 PCs. Moreover, administrators can also hide the search icon with or without an accompanying label. Microsoft says that it's also possible to only show a search box similar to the one found on the taskbar in Windows 10.
How to customize the search experience on the Windows 11 taskbar
Microsoft notes that Windows admins can configure the new search experience on the taskbar through Configuration Service Provider (CSP) or Group Policy. Notably, the feature will respect the default settings on Windows 11 devices in tenants where IT admins have either not configured or turned off the policy.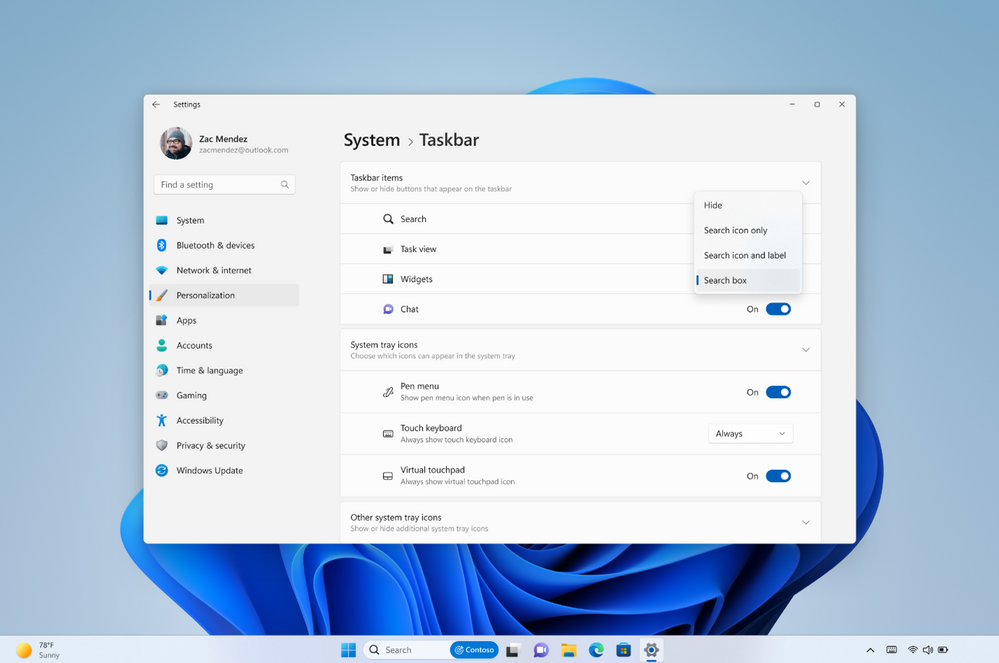 Meanwhile, Windows 11 users will be able to change the search experience in taskbar settings. To do this, head over to the Settings app and click Personalization >> Taskbar. Alternatively, they can right-click on the taskbar and then select Taskbar settings.
Microsoft plans to launch the new search experience on the Windows 11 taskbar to all managed devices on April 11. However, Microsoft will roll out an optional quality update to make the ConfigureSearchOnTaskbarMode policy available for enterprise customers later this month. This release should enable IT admins to configure the new search experience ahead of its official release on Windows 11 machines.