ClickUp is a cloud-based project management tool that provides various collaboration features. In this article, we'll explain how ClickUp works and how it can help organizations of all sizes to improve how they operate with a full-featured project management platform.
The ongoing COVID-19 pandemic has pushed businesses all over the world to look for better tools to improve collaboration between employees, whether they're working on-site or at home. As you'll see in this article, ClickUp offers a broad range of task management and collaboration tools on the same unified platform.
What are the main use cases for ClickUp?
ClickUp is designed as an all-in-one productivity platform with various features to help businesses to operate more efficiently. It competes with productivity tools like Notion and Microsoft 365.
Here are the main use cases for ClickUp for organizations of all sizes.
Project management
The multi-level hierarchy of views allows organizations to plan, organize, and track progress on multiple projects more efficiently. Depending on the scope and size of your projects, ClickUp lets you build custom workflows for each of them. You can create multiple lists and tasks and assign each of them to individuals or teams.
The platform also allows you to automatically track the time employees spend on a particular task. You can export detailed time tracking sheets at an individual or project level and use that information for billing or work tracking purposes.
Collaboration and communication
With most organizations now allowing their employees to work remotely, it has become really critical to pick up the best collaboration and communication tools. In addition to the aforementioned tasks and time-tracking features, ClickUp lets you streamline teamwork with Whiteboards and shared documents that support parallel editing and comments.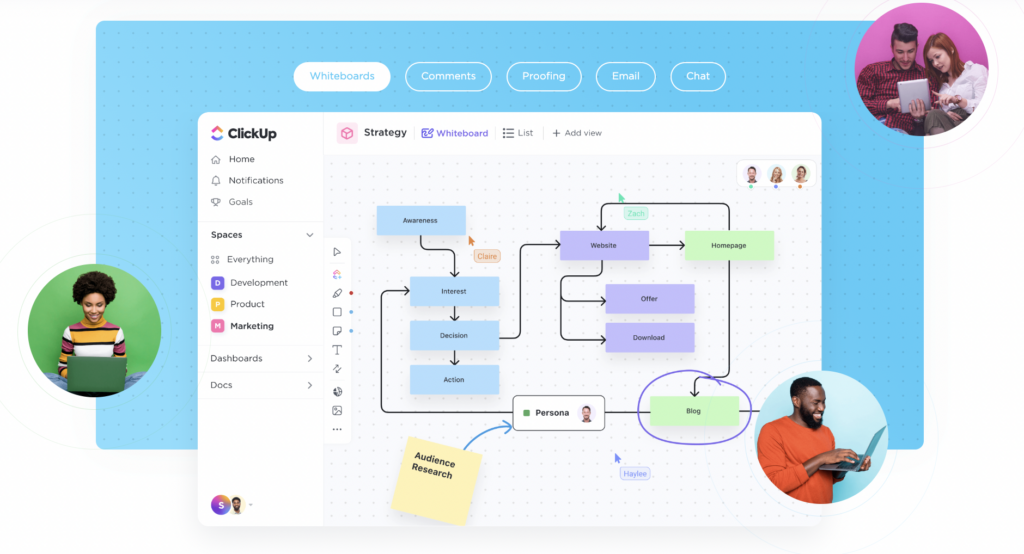 Real-time reporting and analysis
ClickUp allows you to set milestones for your projects and track their progress. To do that, you can either use custom metrics or choose from the existing set of reporting and analysis metrics.
You can also aggregate all these metrics on a single page using dashboards. Dashboards provide visual widgets to monitor resource utilization, time spent on projects, and more.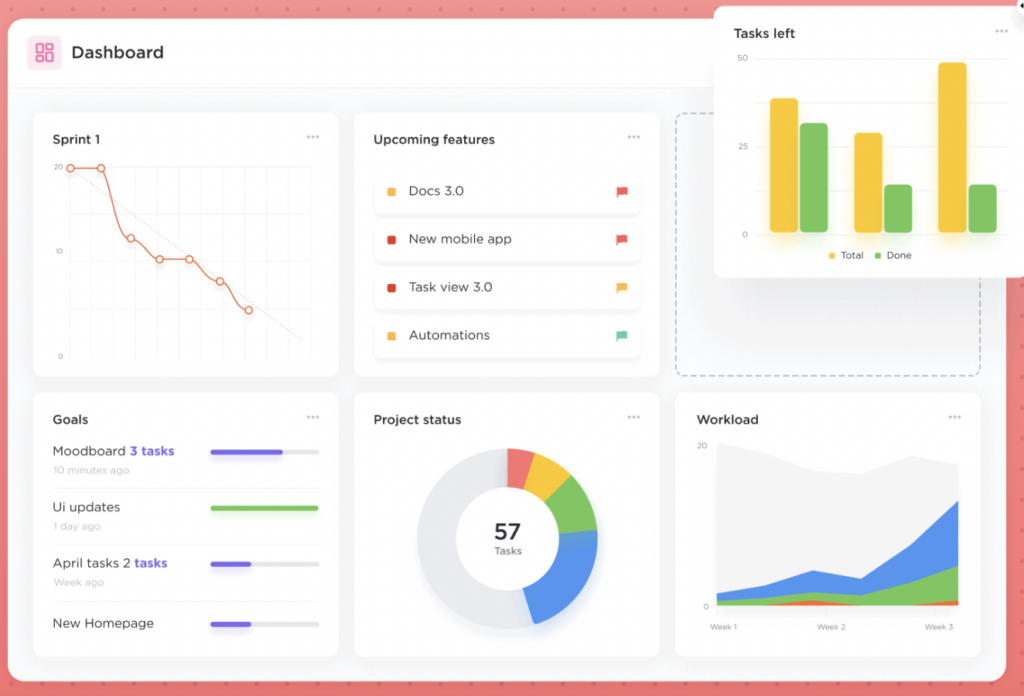 Automation
The platform lets you automate some of the most monotonous tasks in a project. It comes with several pre-build automation tools such as alert generation, workflow duplication, schedulers, and automatic task assignments that you can customize to your needs.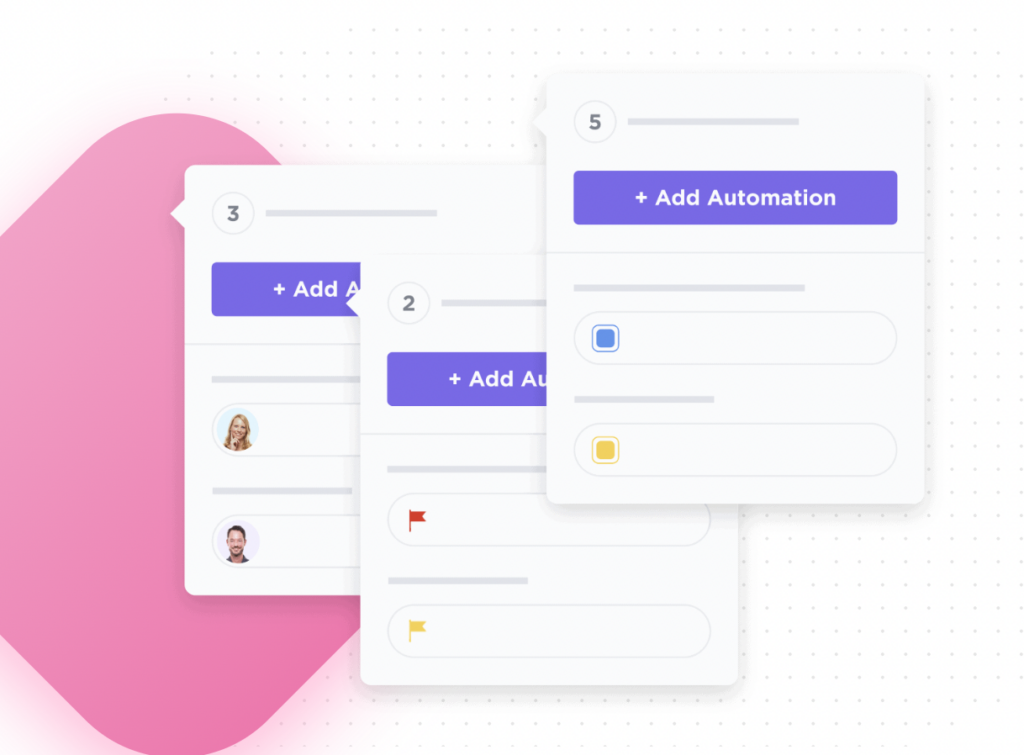 You can also automate data importation and exportation and set up integrations with third-party tools with ClickUp. We'll have more on integration with third-party services below.
Customer Relationship Management (CRM)
If you're running a business where you need to collect customer data, ClickUp lets you build custom CRM workflows for your organization. You can build sales pipelines and perform account management all in one place.
How does ClickUp work?
The platform lets you break down projects into easy-to-manage actionable items. ClickUp uses a hierarchy with different tiers that you need to understand to improve team collaboration across your organization.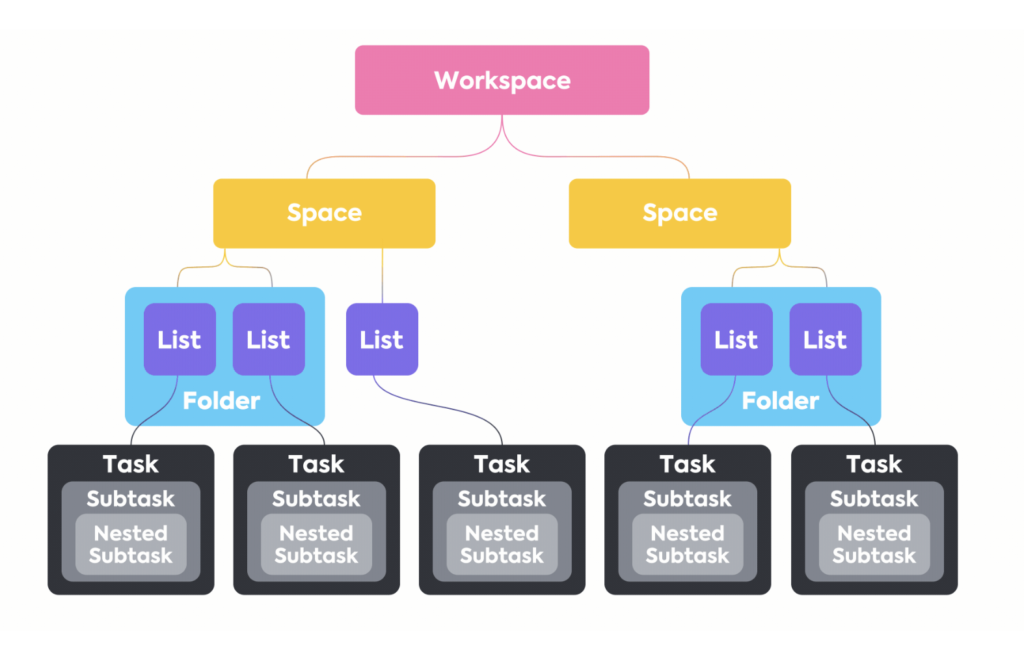 Workspaces
Workspaces sit at the top of the platform's hierarchy of project management tools. Workspaces are isolated entities, and you can create or join multiple workspaces and seamlessly switch between them depending on the task at hand.
Spaces
Each Workspace can be further organized into one or more Spaces. Spaces can represent different departments within your business, and they help you break down your employees and resources under the same workspace. ClickUp also allows you to create public and private Spaces and set up different workflows for each of them.
Lists
A List acts as a container for all the tasks that need to be done for a particular project. Lists in ClickUp can also be used to detail all the different phases of a project such as testing, deployment, and maintenance.
Folders are an optional entity in the ClickUp hierarchy, and they allow you to store and organize a group of Lists within a Space.
Tasks
Each of your Lists will contain action items known as Tasks. These tasks can be assigned to individuals or teams, and they can be tracked to completion using predefined or custom statuses. Tasks can also inherit features, configurations, and rules from Lists.
Docs
Docs allow your employees to collaborate on Tasks. They can be used to take quick notes, create drafts, project statuses, and more. ClickUp also allows you to tag Tasks with one or more Docs to facilitate collaboration.
Views
ClickUp offers several Views that offer different perspectives on the evolution of a specific project. Views are available for Lists, Folders, and Spaces, and they offer different ways of grouping, sorting, and filtering tasks.
You can visualize tasks on a list, boards, or a calendar. You can also use a Gantt view to see interconnections between tasks or use the Box view to see how tasks are distributed among team members.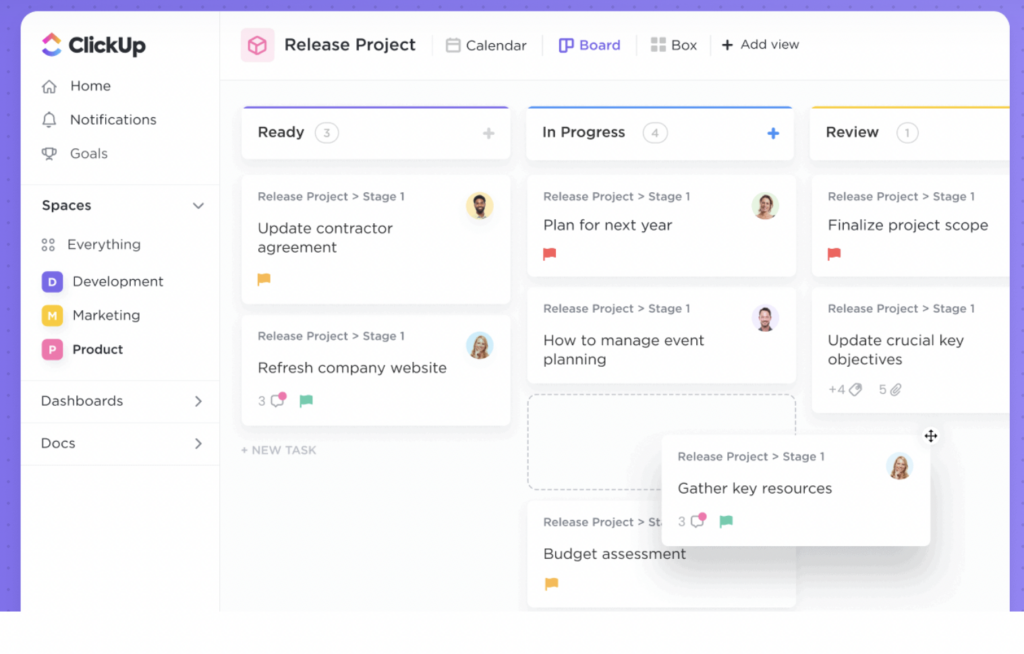 Templates
The platform offers several pre-categorized templates that you can apply to your Workspaces, from Spaces to subtasks. You can also choose a template and modify it according to the needs of your organization.
ClickUp integrations and automation
ClickUp provides native integrations with other leading business applications and services such as GitHub, GitLab, Slack, HubSpot, DropBox, Google Drive, Outlook, Google Calendar, and many more. Thanks to these integrations, ClickUp can auto-import data from these services. Organizations can also integrate other third-party services using their public APIs.
ClickUp pricing and plans
To get started with the platform, you'll need to sign-up for the service, choose the right plan for you, and verify your account. ClickUp offers a free plan that supports up to 5 projects, which is ideal for individuals. The premium plans also support collaboration with external users or guests with permission controls.
The table below details what's included with the different plans:
| | | | | | |
| --- | --- | --- | --- | --- | --- |
| Feature | Free Plan | Unlimited Plan | Business Plan | Business Plus Plan | Enterprise Plan |
| Price | Free | $5 per member per month | $12 per member per month | $19 per member per month | Custom Pricing |
| Storage | 100MB | Unlimited | Unlimited | Unlimited | Unlimited |
| Projects | 5 | Unlimited | Unlimited | Unlimited | Unlimited |
| Automation | 100 per month | 1000 per month | 10,000 per month | 25,000 per month | 100,000 per month |
| Ideal for | Individuals | Small teams | Mid-sized teams | Multiple teams | Large organizations |
What are the main alternatives to ClickUp?
The main alternatives to ClickUp include other cloud-based platforms such as Monday.com, Zoho Projects, Hive, and Asana. All these apps offer a unique set of features and services to help users improve team collaboration and project management.
Conclusion
ClickUp is one of the most efficient and feature-packed project management platforms on the market. With its versatile collaboration capabilities and integration with third-party apps, it can cater to the needs of organizations of all sizes. ClickUp's pricing structure also makes it quite accessible for small teams and bigger companies.