Last week at Microsoft Inspire,  Microsoft announced that the new meetings and calling experience for Microsoft Teams was due to roll out to Windows and Mac clients. Over the last few days, it has begun to appear, as promised in clients.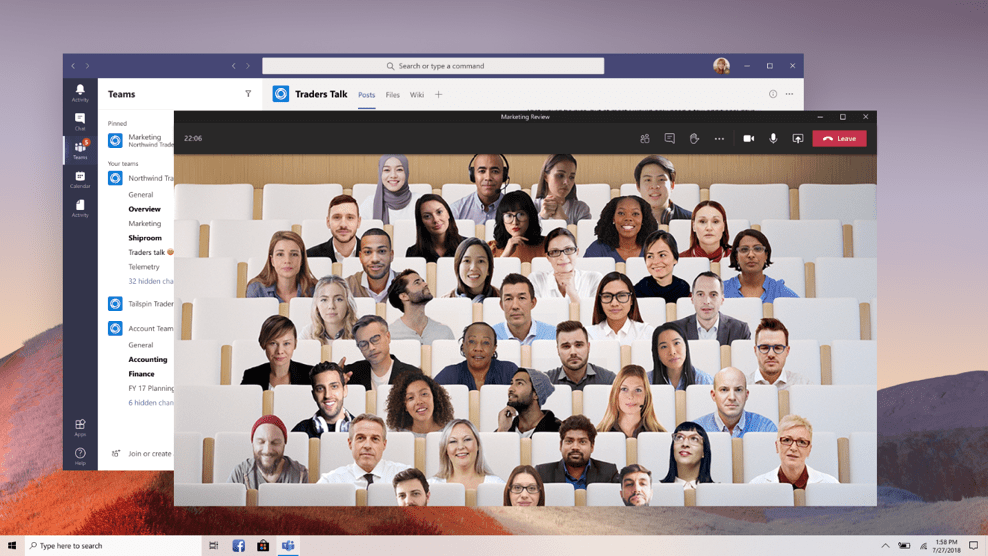 The new meeting experience is made up of several key new features:
Multi-window meetings and calls, with a re-designed experience.
Together Mode, providing a re-think of how meetings can be conducted by placing meeting participants into a virtual room together announced last month.
Large Gallery view, supporting up to 49 video feeds on-screen in a 7×7 view.
And Focus view, hiding all video streams and avatars when content is being shared.
The multi-window view was scheduled to arrive in June – then slipped back to July. Large Gallery view however was pushed back from June to sometime in Q3 (between now and September). Together Mode was originally scheduled for Q4 (between October and December).
Naturally, due to changing priorities this year for Microsoft, who has shipped many new features in Teams that weren't even on the roadmap six months ago, it's understandable that some new functionality will get pushed back. But it was surprising to hear last week that not only is the new meeting experience rolling out, but that we can expect both Large Gallery view and Together Mode to arrive alongside it.
Checking across several global Microsoft 365 tenants to get a wide view confirms that the new meetings and calling experience is widely rolled out, but you may need to wait a little longer for Large Gallery view and Together Mode.
You can enable the new meeting and calling experience by opening the Teams desktop client options page, then choosing to Turn on new meeting experience. You'll then need to quit (rather than simply close) Teams and re-launch the client.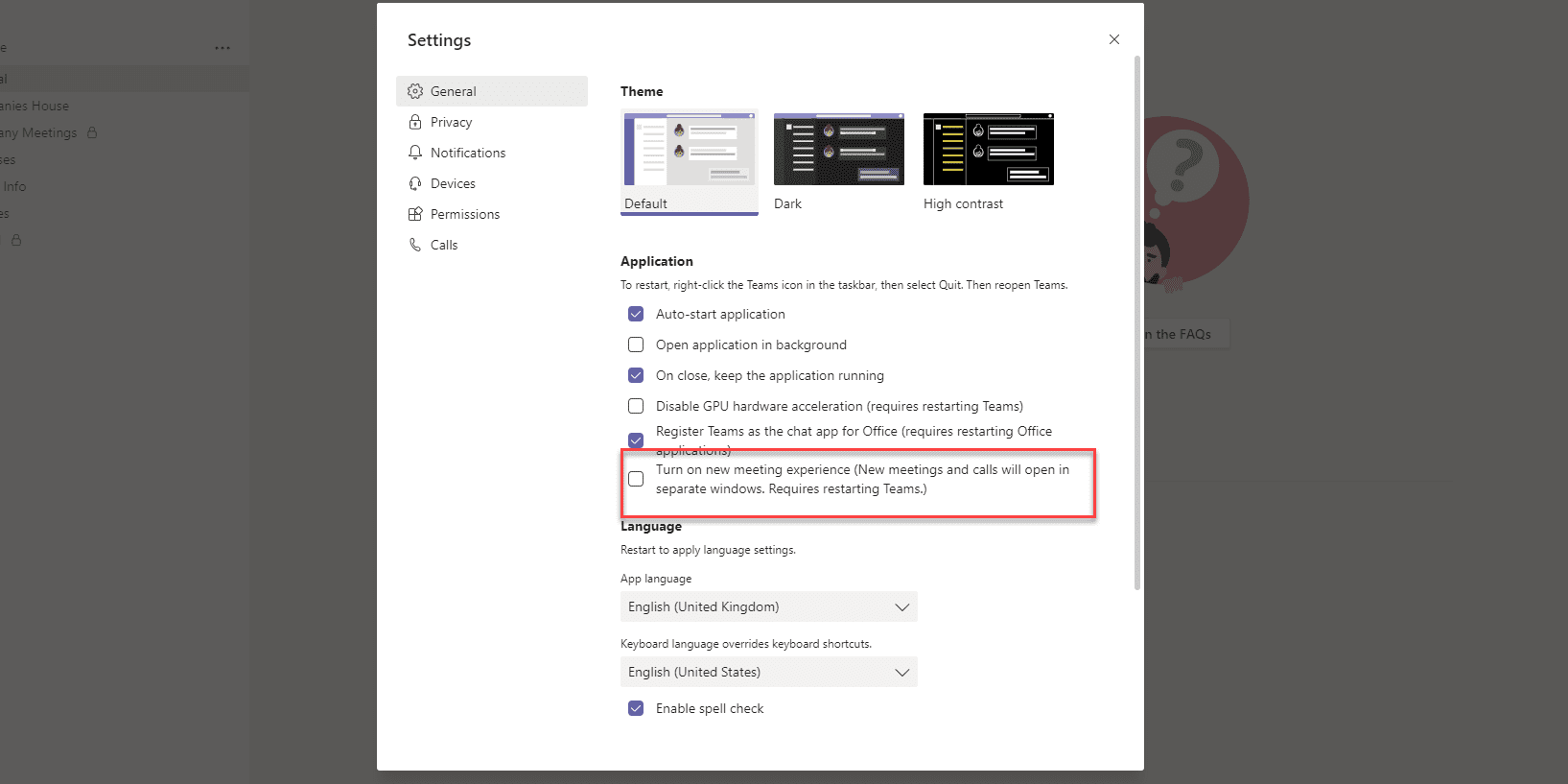 With the update enabled, joining or starting a meeting will open a new window. As part of moving to pop-out windows, Microsoft has moved the underlying architecture in the Teams client to use their new React.js renderer, effectively re-writing the meeting engine in Teams to provide a better experience, and according to Microsoft, a foundation that will support CPU/GPU and memory usage improvements.
The new meeting and calling experience changes the experience in Teams meetings significantly. Meeting controls move from auto-hiding controls superimposed over the video feed to the top of the meeting window, with key controls extending from the right-hand side.
Views for Teams meetings, such as Together Mode, Large Gallery view, Gallery view and Focus will all show under the more actions button. These show as greyed out until the criteria for enabling them has been met.
Gallery view is the default for meetings – so will always be available. Together mode is available once 5 people including the organizer have joined the meeting, Large Gallery view is available as soon as a meeting has 10 joined participants and Focus is available when control, such as a screen or PowerPoint presentation is shared.
Late last week the core new meeting experience, along with the Focus mode, began rolling out and almost all Microsoft Teams clients should see the option to enable it available.
In the middle of this week, Together Mode and Large Gallery views began appearing in tenants globally, but because Microsoft rolls out updates in stages, you might need to wait a little longer to receive it.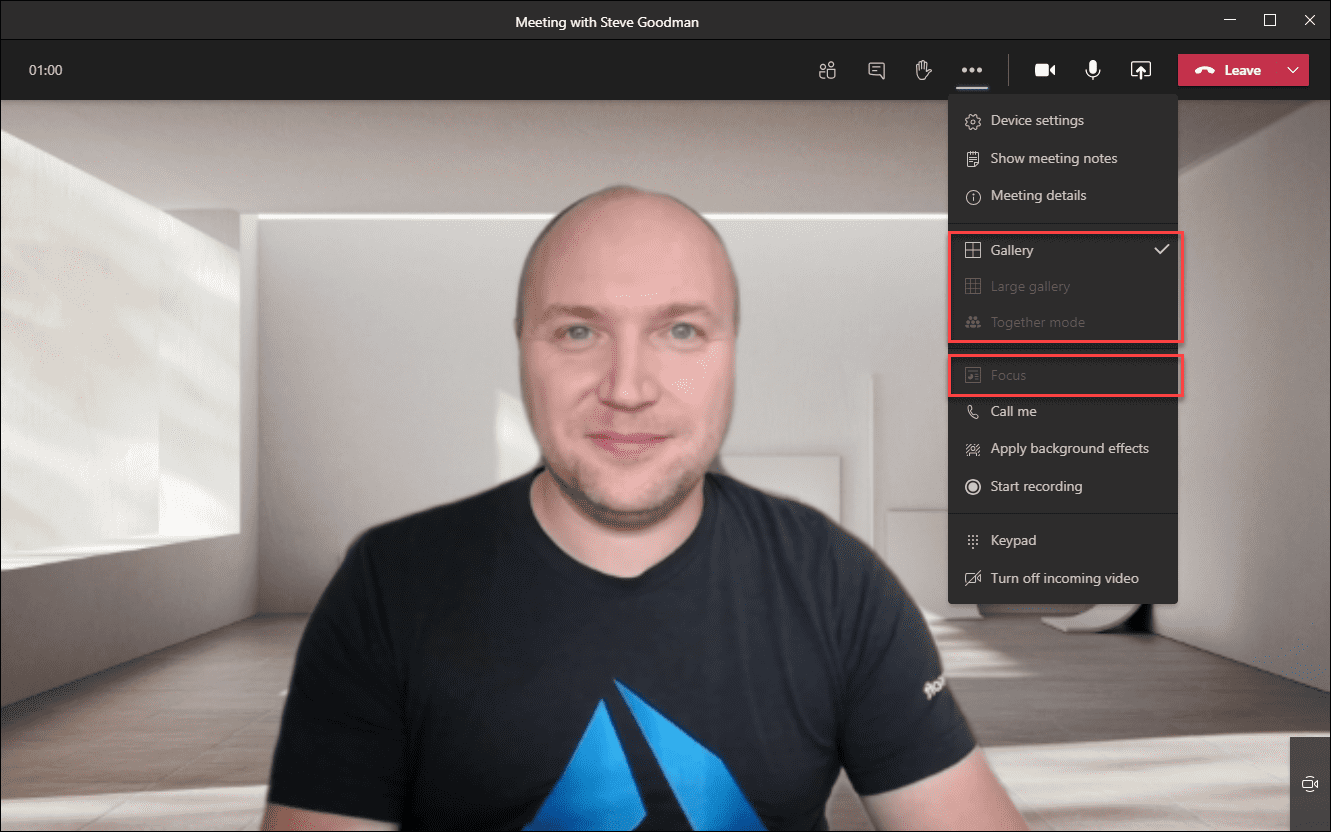 You will know if you have received Together Mode and Large Gallery by examining the More actions drop-down menu in the meeting window. You'll see the new options, even in a meeting with a single participant – they will just be greyed out, as shown above.
You'll see Microsoft's example of Together Mode in Figure 1, above. In real-life usage it's very similar to the example – however there are a few key notes you might need to be aware of to use it successfully. Simply switching it on in a meeting isn't likely to provide a great experience. Different light levels and camera positions make a big difference in Together Mode, and it works best when everyone has front-lighting and the camera is at eye-level around 2 feet / 60 cm away.
The new experiences don't just extend to meetings. Making a new audio or video call from Teams will, once the new meetings experience is enabled, pop-out into a new window. And as part of this re-engineering, Microsoft has ensured that if you are using the existing pop-out chat feature and escalate to a call, the same window is re-used – similar to Skype for Business. Once the call concludes, the window remains at it's larger dimensions but returns to the same pop-out chat view.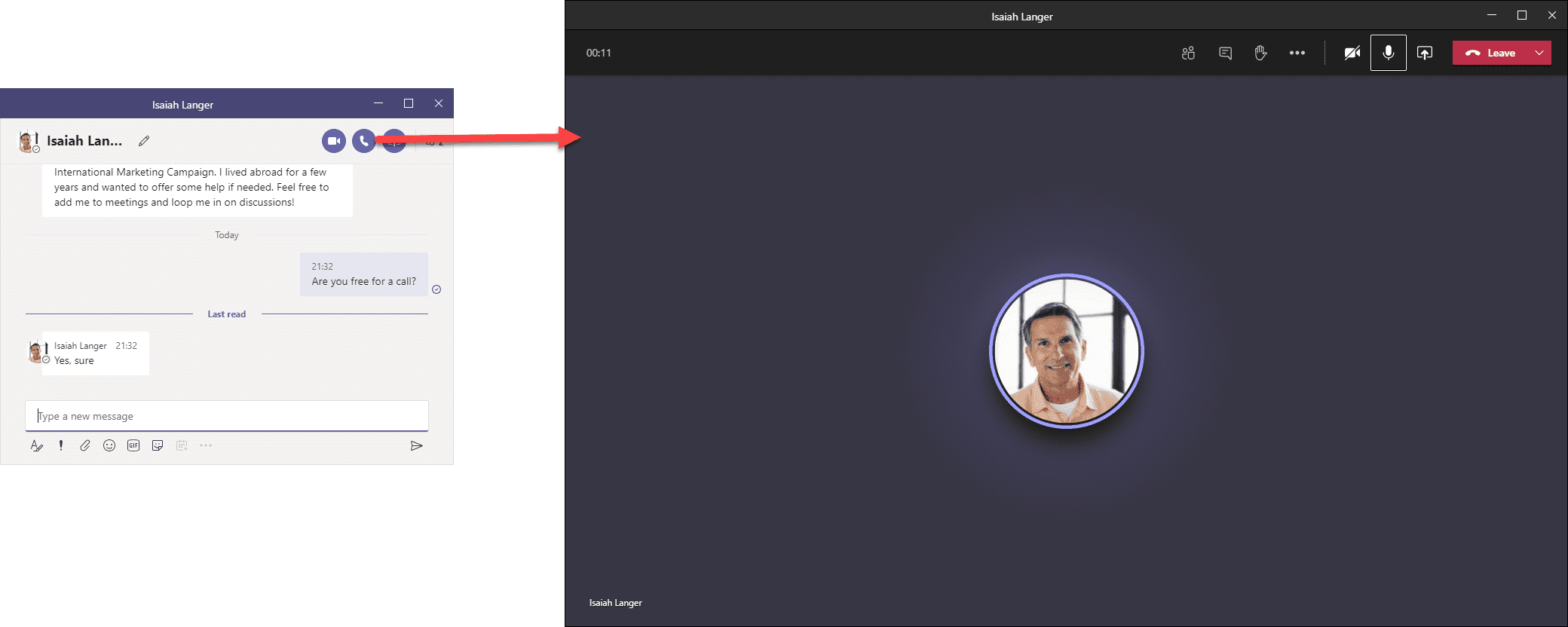 As well as a re-design and additional new features, there's a couple of user interface improvements that most people will find beneficial. Firstly, the Raise Hand feature becomes more prominent in meetings – with the raised hand superimposed over the main meeting content, and the border for the asker coloured yellow:
The simplest way to present in Teams is to share the presentation from Teams, rather than sharing your screen. The sharing experience remains the same, but one common control that users often struggle to find is the option to restrict visibility of all slides to attendees. The visibility icon is now shown more prominently, to the left of the Stop Presenting icon.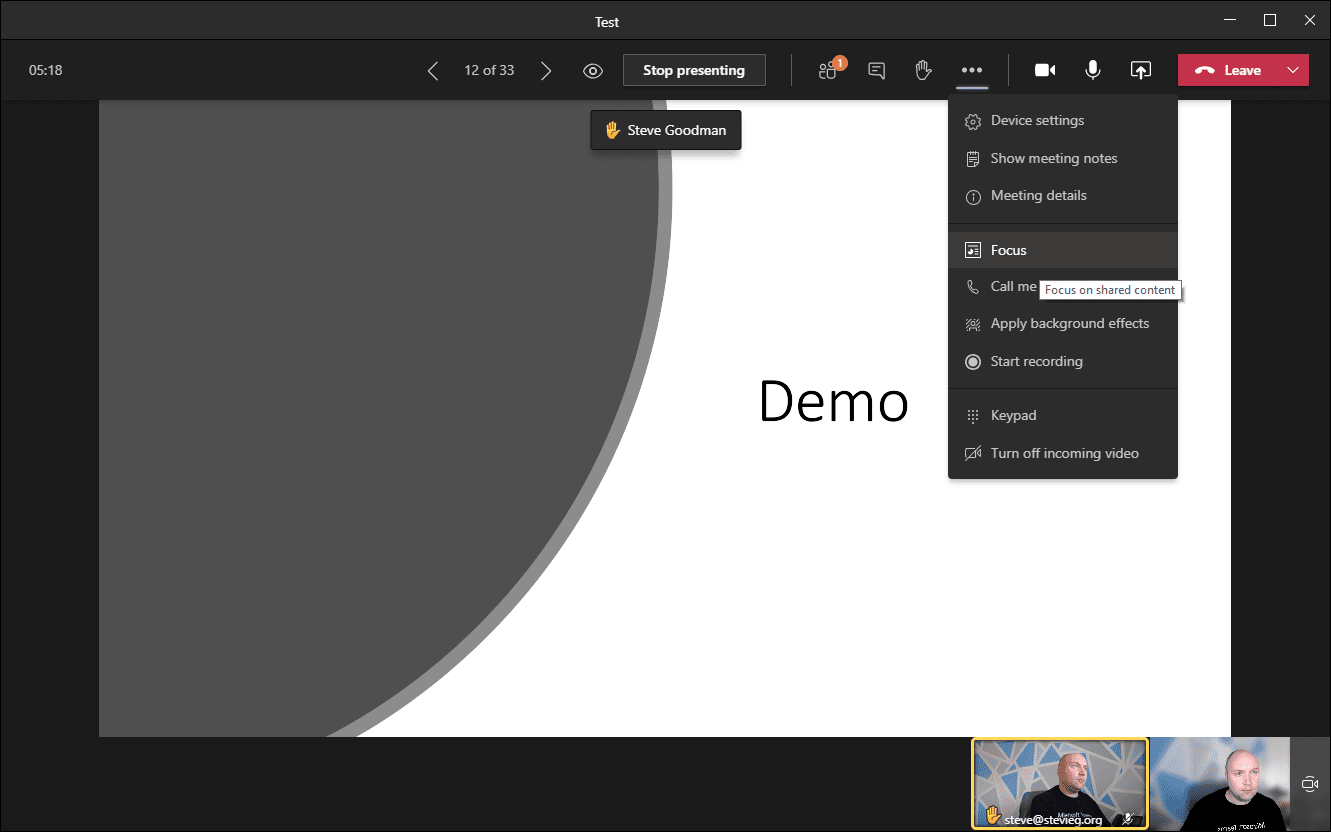 However, some features have been removed in the new experience. If you prefer meetings in full-screen mode, then you will need to revert to the old experience – though Microsoft is working on bringing full-screen mode to the new experience. There's also no way to hide the meeting controls in-meeting to focus entirely on the caller. Finally, unlike pop-out chats, you can't choose to use the new meeting experience in the main Teams window. If you want to use the new experience, every meeting will pop out into a new window.