You've probably heard system administrators talk about the importance of PowerShell. Petri IT Knowledgebase readers should already be familiar from dozens of articles covering uses and aspects of PowerShell. If you're just getting started with PowerShell you might want to check out the Petri IT Knowledgebase article, "Top 3 Reasons for Learning PowerShell."
Microsoft's command-line scripting language has garnered attention from IT professionals due to its ability to quickly and efficiently automate tasks that traditionally could only be achieved through the graphical user interface (GUI). It's no secret that Microsoft is heavily invested in PowerShell. The company recently released the Windows Management Framework public preview which gave Microsoft users a glimpse into the next version of PowerShell.
It's clear that PowerShell is not going away. PowerShell experience is a desirable skill-set on any professional IT resume. You'll also come away with a deeper understanding of the Windows ecosystem by immersing yourself in this powerful scripting language. There are thousands of PowerShell resources on the Internet but you shouldn't have to sift through them all. You can turn to Twitter for advice, answers, and interesting conversations.
We have compiled a list of PowerShell experts active on Twitter who regularly share their tips and tricks with the IT community. A quick way to dive into the PowerShell discussion on Twitter is to follow the #PowerShell hashtag.
Please note: this list is by no means exhaustive. If you have a go-to expert you think we should follow, please let us know in the article comments.
Jeffery Hicks (@JeffHicks)
Jeffery Hicks is a Microsoft PowerShell MVP with almost 25 years of experience working with Windows Server technologies. He currently works within the IT community sharing his insights on PowerShell as an author, trainer, and consultant. He's also a contributing editor for the Petri IT Knowledgebase. Jeffery writes regularly for his own blog for fellow Windows administrators with 'too much to do and not enough time' at www.jdhitsolutions.com/blog.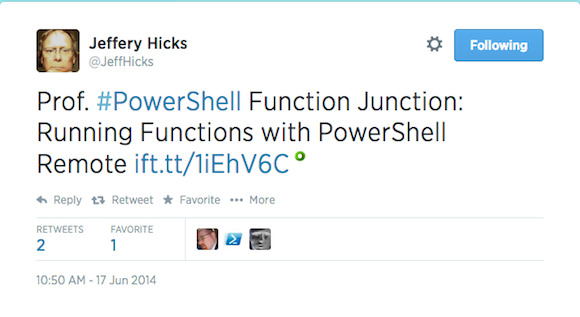 Jeff Hicks is a popular PowerShell expert who is active on Twitter and other social media outlet. (Source: Jeff Hicks)
Don Jones (@concentrateddon)
An author of over 40 books and a Microsoft PowerShell MVP, Don Jones is the president and chief executive officer of PowerShell.org. PowerShell.org provides how-to articles on PowerShell along with information about in-person and virtual PowerShell events taking place across the globe.
Thomas Lee (@doctordns)
Based in the United Kingdom, Thomas Lee is a trainer and consultant in the IT industry. He writes about Lync and PowerShell for his blog at www.tfl09.blogspot.com.
Shay Levy (@shaylevy)
Based in Israel, Shay Levy is co-founder of PowerShell Magazine and is highly active in the PowerShell community. He moderates forum posts for the official PowerShell forum on the Microsoft TechNet website. He also frequently writes about PowerShell at his blog, www.powershay.com.
Jeffery Snover (@jsnover)
Known as the inventor of PowerShell, Jeffery Snover tweets and writes tips for getting the most out of PowerShell. You can find Jeffery presenting at several Microsoft events throughout the year. You can follow him on his blog at www.jsnover.com/blog, and you can read our interview with Jeffrey Snover about PowerShell.

Microsoft's Jeffrey Snover is the creator of Windows PowerShell and is an active participant in the PowerShell community on Twitter. (Photo: Jeff James)
Trevor Sullivan (@pcgeek86)
A lover of craft beer and Colorado's mountains, Trevor Sullivan is a Microsoft PowerShell MVP. He provides solutions to common, everyday problems on his blog at www.trevorsullivan.net. Trevor currently works as a Microsoft Solutions Architect at Project Leadership Associates, where he provides guidance for Microsoft System Center Configuration Manager implementation and configuration.
Ed and Teresa Wilson (@ScriptingGuys and @ScriptingWife)
Also known as The Scripting Guys, this husband and wife duo head up the Microsoft Script Center, a web resource full of PowerShell tips and tricks. Ed has earned over 20 Microsoft certifications throughout his career. He's also authored six scripting books for Microsoft Press. You can find Teresa at various Microsoft events where she enjoys connecting with the community.
Is there someone we missed who provides great PowerShell advice on Twitter? Drop the author an email or touch base with me on Twitter or Google+. Also, please follow the Petri IT Knowledgebase on Twitter, Facebook, and Google+.