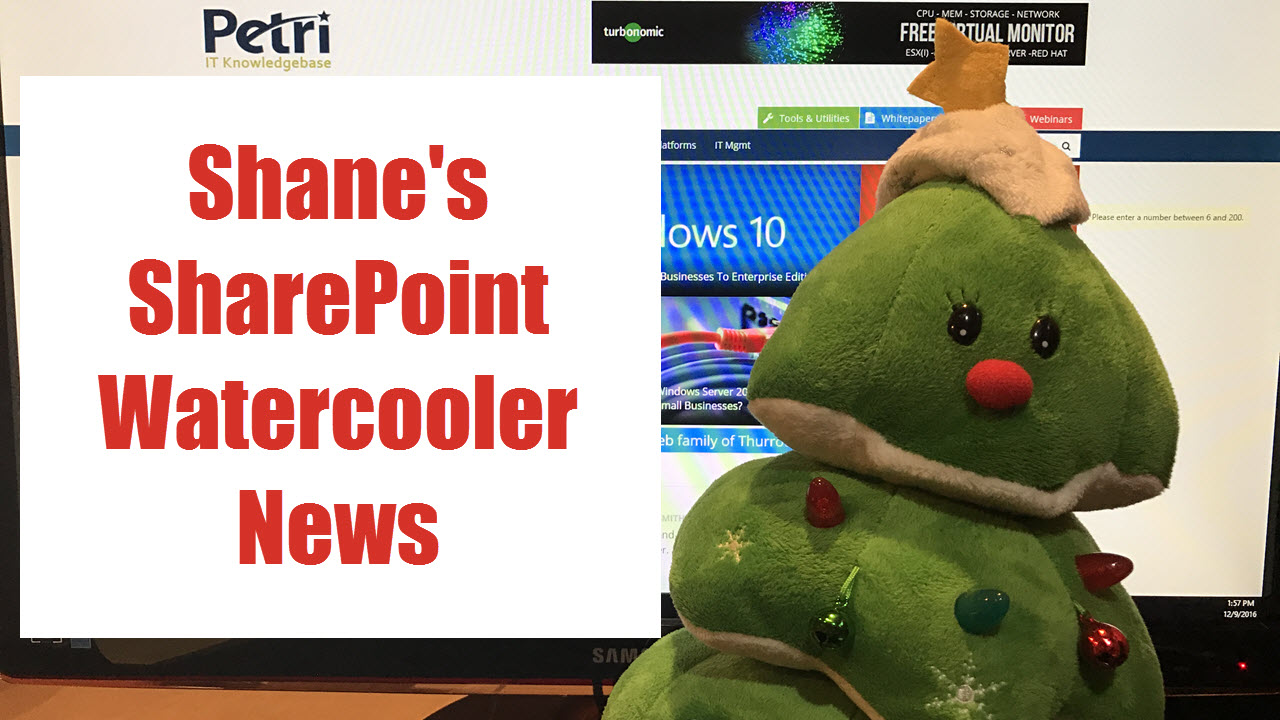 This article is not a hot off the presses article, but instead more of Shane's watercooler talk about what is going on in our ecosystem. Also, this is my chance to make sure you didn't miss an announcement that you needed because you were on vacation or buried by the unfair workload your boss gave you. Lots of opinion, interpretation, and snark included with a link to the actual story if you want to draw your own conclusions. If you have thoughts, feedback, or want to send me a story to talk about next time, leave a comment below or tweet me @shanescows. Remember, though; I don't have to be nice on Twitter but comments on the site I do. Choose your path carefully.
Feature Pack 1 for SharePoint 2016 Is a Month Old
I am happy to say so far, so good. I have talked to a few people who are running it in production, and they had nothing but nice things to say. One company, with a small deployment, rolled it out and took advantage of the new minrole functionality in their farm. They said that they have seen a noticeable performance improvement over their previous configuration of both servers running the custom role. I thought that was pretty cool.
Remember if you were waiting on an inflection point to move to SharePoint 2016, like Service Pack 1, you might be waiting forever. Feature Packs seem to be the plan, so I think the November 2016 release is your "sign" that it is time to take SharePoint 2016 seriously. To listen to me ramble on about the new features and walk you through the download and install, check out this video.
Are You Still Doing Public Websites on SharePoint Online?
Anonymous websites were a great early feature of SPO that was taken away from us way too soon. Microsoft announced on March 9, 2015, that the feature was being depreciated and those of you who loved it had two years to move on. Since Internet years are like dog years, you thought two years was fourteen. Well, I am here to remind you that now you are down to four months. March 2017 will be here before you know it, so if you have not already started moving to that new solution, you should either work on that or your resume. Link to Microsoft's KB in case you do not believe me.
Office 365 Is EVERYWHERE
Microsoft recently announced that it has expanded Office 365 to 10 new markets; Bhutan, Cambodia, Greenland, Guadeloupe, Laos, Maldives, Martinique, Mozambique, Myanmar, and Vatican City. And in a sure sign that my public school education failed me, I think I have only heard of about half of those countries. Either way, this brings the total Office 365 footprint to 150 markets in 44 languages. That is just crazy town to me. I still remember the days we thought Office 365 was a fad. Read more about it here.
The Patterns and Practice (PNP) Team's PowerShell Is Changing
Hopefully, your life is complete and you a) are comfortable with PowerShell or b) you are using the PNP PowerShell for SharePoint and Office 365. If both of those are true, then it is worth noting that the only annoyance of the PNP PowerShell is that it uses SPO as the prefix for all of its objects. Good news, though — as of the November release, PNP will be the prefix. Meaning Get-SPOSite will now be Get-PNPSite. Hooray!
To update your existing cmdlets you will need to uninstall-module and install-module . Unfortunately, the update-module cmdlet is broken for this release due to a certificate error. In the coming weeks, I will write a step-by-step article on how to get started with PNP PowerShell. Until then, I have a video you can check out on this topic.
Office Online Server (OOS) Has Been Updated
Unlike SharePoint, that gets updated monthly, OOS gets updated every four months. Also, unlike SharePoint, you will need to uninstall and reinstall OOS to get the latest version. Not as scary as it sounds, but still a little scary. You can get the update and read more about it here. Sounds like this update was mostly bug and performance improvements, things we are all fans of. Now, if they would just get a new acronym since half the Internet uses OOS.
Do You Love SQL Server Reporting Services (SSRS) and SharePoint?
For me it is more of a love-hate thing, but what do you do. The SQL Server team recently announced that in SQL Server V.next there will be no more SharePoint integrated mode. Now before you get your pitchfork and storm the castle, read their article. Here they describe the very real pain we have felt over the years and how it has stifled their investments. Their plans going forward will be to give us the features we need without the current nastiness. My fingers are crossed they can deliver. If SharePoint and SSRS are your world, you should stay tuned in and be slightly excited (I hope).