Planner Supports Export to Excel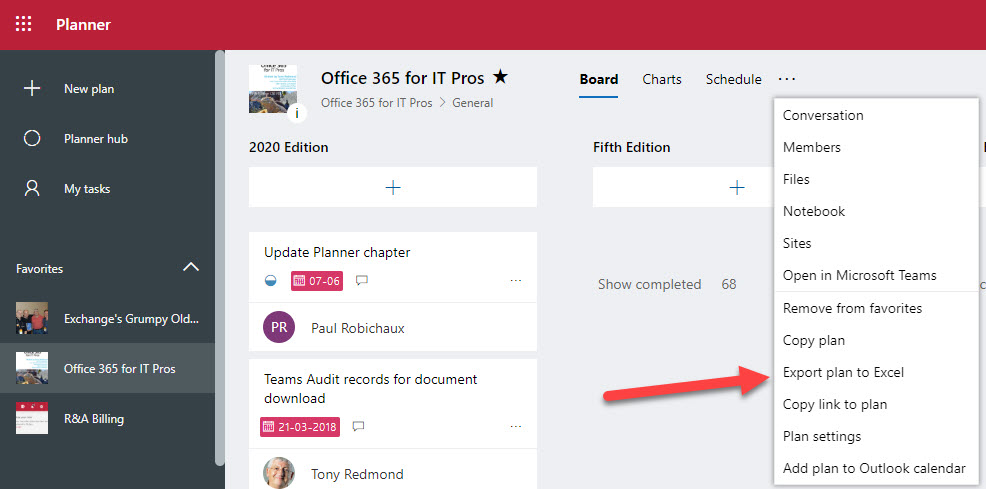 Export to Analyze, Print, and Share
In a move to give Planner users more tools to analyze the tasks that make up plans, yesterday Microsoft announced support for export to Excel. The new option is in […] menu for a plan (Figure 1), but only in the Planner browser client. You can't export to Excel from the mobile client or in the version of Planner integrated with Teams.
Simple Planning
Microsoft's announcement emphasizes the simplicity of Planner and implicitly acknowledges that Planner will never have analysis tools. At least, not anytime soon. Microsoft says, "Export to Excel gives you a broad range of additional capabilities for keeping your plan on schedule and your plan's stakeholders up to date."
The statement about simplicity is true. Planner is a simple task management application. The problem is that Planner is probably too simple for its own good, which reflects the balancing act Microsoft has between To-Do at the low end, Planner in the middle, and Project at the top. Planner's graphing abilities, for instance, are poor and haven't been updated since early 2018.
That's not to say that the Planner developers haven't been busy. In the last year or so, they added guest user support, delivered a new web part for SharePoint, linked Planner to Outlook, and enabled multiple plans for an Office 365 group (and Teams). Good work has been done, albeit slowly (when compared to the pace of other Office 365 apps).
Downloading to Excel
The downloaded Excel spreadsheet (Figure 2) includes everything from a plan, including the tabs (labels) used to highlight tasks. No filters are available, so you can't do something like exclude completed items. However, finding and removing a set of items is easy in Excel.
No Wheels Recreated Here
Although some will complain that Planner should have better analysis tools to help make sense of the multitude of tasks that can comprise plans, exporting to Excel is a good solution. Excel has robust capabilities to slice and dice information before generating reports, graphs, and so on. The tip of using CTRL-A to format a selection of data is one example of how easy it is to apply formatting in Excel.
Office 365 apps shouldn't need to recreate the wheel just to be able to boast that an app includes such-and-such a feature if there's a way to "borrow" functionality elsewhere. This is a good example of that principle in action.
Uses for Exported Planner Data
Microsoft suggests that people can use the new feature to archive plans by exporting the data to Excel. The exported spreadsheet could be placed in SharePoint Online or OneDrive for Business. The one downside in this suggestion (as with another idea to use Excel to merge data from multiple plans) is that there's no way to import data back into Planner, so information from an archived (to Excel) plan would have to be reentered manually if the original plan was lost.
On the upside, exporting to Excel makes it possible to create reports and print information about a plan. It has always puzzled me why Planner never included a print option. But then again, Teams ignores printing too, so perhaps this is a new mark of a cloud app.
Another point to remember is that the data exported from Planner have no connection back to Planner. If you update tasks in Excel, there's no way to have those updates synchronized to Planner. Export creates a static snapshot of a plan at a point in time, which is fine if you don't expect updates to flow back to the original data.
The Goodness of Data
Data wonks (like me) will appreciate being able to export Planner information to Excel. The new feature probably won't make a heap of difference to many users, but anyone who likes to analyze, report, or compare plans will find being able to work with tasks in Excel more powerful than anything in Planner. Even so, this is a good change that adds value.
Related articles