Paul Thurrott's Short Takes: November 22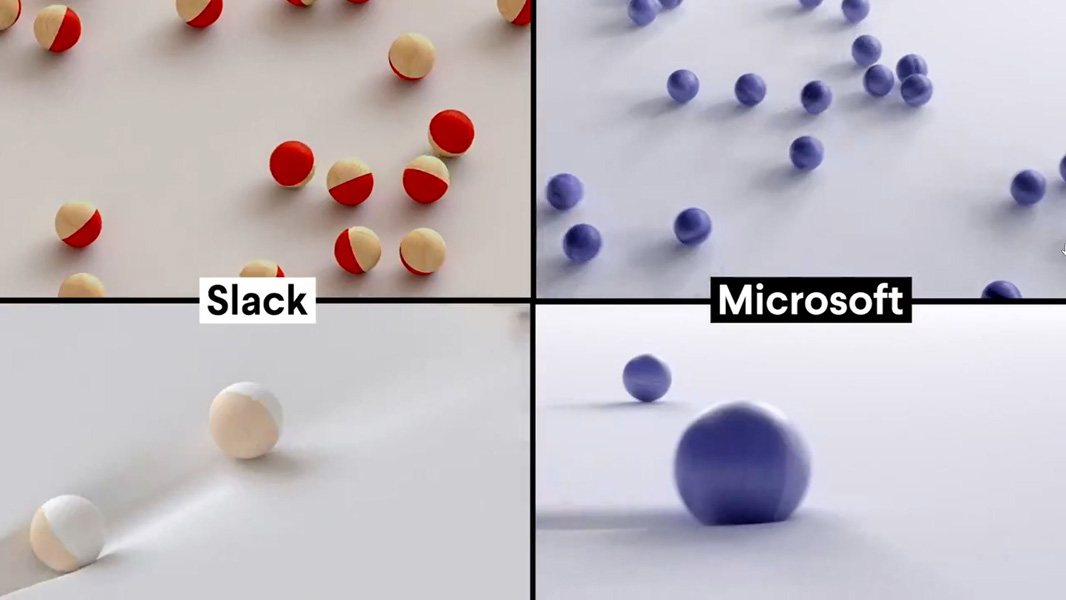 Because millennials always have the answers, this week's edition of Short Takes looks at Slack's response to a Microsoft rip-off, Amazon suing over Microsoft's JEDI contract, Salesforce's unlikely Microsoft partnership, and so much more.
OK, Boomer
In August, Slack released an advertisement that showed colorful balls, meant to represent communication, rolling around onscreen and heading off into different directions. But then Microsoft this month released its own ad, for Slack competitor Teams, which likewise showed colorful balls, meant to represent communication, rolling around onscreen and heading off into different directions. The ads are, well, uncomfortably similar, one might say non-coincidentally similar, and since they come in the wake of news of Teams blowing past Slack's usage numbers, it's kind of hard to miss the symbology. But Slack's response is mostly terrific: It posted a video called "ok boomer" that highlights how the Microsoft ad ripped it off and, less positively, references the "OK, Boomer" ageism meme in an attempt to show that the software giant is old and out of touch. I guess. The problem for Slack, of course, is that Microsoft has done to Slack what it did to Netscape 20 years ago. And once again, the savvy veteran comes out on top. OK, millennial!
"Microsoft's Biggest Business Could Be the Cloud by 2023, Analyst Says"
But the cloud is already Microsoft's biggest business.
Amazon sues to contest Microsoft's $10 billion JEDI contract
As expected, Amazon is suing to overturn a U.S. Department of Defense decision that awarded Microsoft the $10 billion Joint Enterprise Defense Infrastructure (JEDI) contract to overhaul and modernize its IT systems. Amazon claims that the contract was awarded on political grounds only, as president Trump is in a personal battle with Amazon CEO Jeff Bezos because Bezos also owns the Washington Post, which has been highly critical of his presidency. "It's critical for our country that the government and its elected leaders administer procurements objectively and in a manner that is free from political influence," an Amazon statement notes. "Numerous aspects of the JEDI evaluation process contained clear deficiencies, errors, and unmistakable bias — and it's important that these matters be examined and rectified." On merit, Amazon really should have won the contract, though I feel like the DOD, like any large enterprise, should have multiple cloud suppliers. Regardless, it appears that Amazon's chances of winning this one are slim as it will be hard to prove that the DOD was influenced by the president.
"Amazon Reportedly Planning To Announce A Stadia-Like Game Streaming Platform Next Year"
Timely!
Salesforce partners with … Microsoft?!
Wait, I thought Marc Benioff hated Microsoft with the heat of one thousand suns. And maybe he does, but that hasn't prevented his firm, Salesforce, from partnering with Microsoft to move its marketing cloud services to Azure. But you gotta wonder what's going on here: Benioff has spouted off about Microsoft countless times over the past few years, mostly because he feels that the software giant is stepping on his core business with Dynamics 365. Microsoft even considered buying Salesforce in 2015, presumably just to shut up Benioff, but talks broke down over the price and, I suspect, because Microsoft was going through its ugly de-Nokiafication at the time. And then LinkedIn happened: Microsoft outbid Salesforce for the company in 2016, causing Benioff to caustically note that "maybe the new Microsoft is actually the old Microsoft." These guys deserve each other.
"Microsoft delays launch of earbuds intended to rival Apple AirPods"
You know, like Zune was intended to rival iPod.
Microsoft can sell software to Huawei again
The U.S. government informed Microsoft this week that it can once again sell software to China-based Huawei, which, among other things, sells PCs running Windows. "On November 20, the U.S. Department of Commerce granted Microsoft's request for a license to export mass-market software to Huawei," a Microsoft statement notes. "We appreciate the Department's action in response to our request." Microsoft, like most of its peers, had previously petitioned the U.S. government to stop its bizarre and evidence-free attacks on Huawei, which it has characterized as a national security threat. The issue, it said, was that refusing to let Chinese firms like Huawei buy U.S. tech would drive those companies to seek only Chinese tech solutions and that that would lead to a real, and not imagined, threat to national security.
"To cut down on bugs, Apple is changing how it develops its software"
You know, like it did two years ago!
President Trump claims responsibility for 6-year-old Mac factory
You can't make this stuff up. U.S. president Donald Trump visited a factory in Austin, Texas this week with Apple CEO Tim Cook and then claimed that he had "opened a major Apple Manufacturing plant in Texas that will bring high paying jobs back to America." So, the factory is owned by a company named Flex, not by Apple; Apple does not manufacture anything that it designs. The factory was opened 6 years ago, not this week, and it only makes high-priced Mac Pro computers that sell for $6000 or more. Even worse, the factory has such a terrible reliability record that Apple has had to cancel production in the past. But the very worst part? Mr. Cook, who is desperate for special tariff wavers that will make those expensive Mac Pro computers economically viable during the U.S./China trade war, just stood there while Trump lied and didn't correct any of it. Just in case you thought he somehow was a good guy.
"Save up to $160 on a New 16-inch MacBook Pro"
That's HUGE!! It lowers the starting price to just $2240!!!!