Outlook Plans to Synchronize Email Signatures Across Devices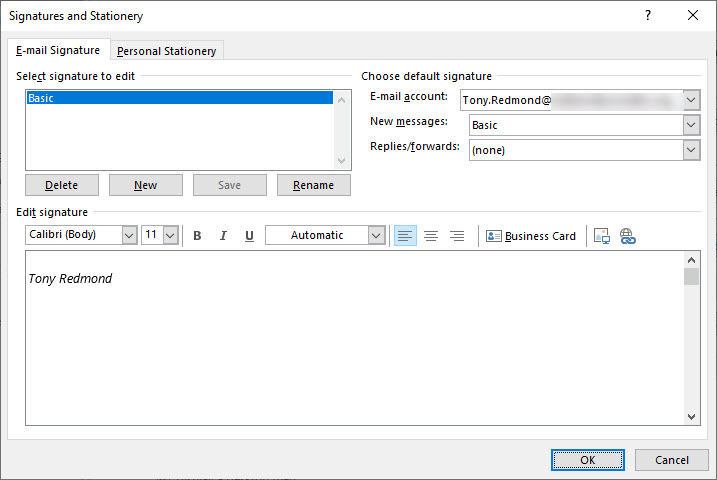 The Same Signature on All Outlook Devices
Much excitement was generated when Microsoft revealed on September 11 that they are working to synchronize email signatures across devices. Microsoft didn't say when they expect to deliver the functionality or what clients will get the feature first.
This initiative addresses the problem caused by clients having independent control over the signature information applied to outbound messages. If you, like me, use multiple Outlook clients, you need to configure the email signature on each client on each device. It's not hard to do, but it is frustrating that such a simple task is necessary, especially when clients use different interfaces to compose and manage signatures. Figure 1 shows the Outlook desktop UI for managing email signatures.
Microsoft Implementation for Outlook Only
Some commentary I saw said that this marked the end of the road for ISVs who specialize in email autosignatures. I beg to differ. Let me explain why.
The most important thing to understand that this is a Microsoft implementation. Two things flow from this statement. First, the implementation will focus on Outlook clients and won't apply to third-party software such as Thunderbird or other IMAP4/POP3 clients, or any of the vendor-specific ActiveSync clients like the iOS mail app. If you want an out of the box solution that handles all clients, use a transport rule to apply signatures.
Second, Microsoft will choose a storage location that they control to make signature information available to Outlook clients. One way to do this is to hold signature data in mailbox properties. An example of a more flexible mechanism is to use Folder Associated Items (FAIs) stored in Exchange mailboxes.
Third, Microsoft hasn't said if their implementation will be cloud-only or cover on-premises servers. Given the way current engineering investments focus on cloud services, I anticipate that we won't see this functionality being incorporated into Exchange 2019.
Whichever way they choose to proceed, you can expect Microsoft to ship client updates that use the designated repository to store and fetch signature information. When updated, all Outlook clients will apply the same signature to outbound messages, no matter what device is used (which is the point of synchronizing the signature across devices).
Encrypted Signatures Handled Properly
It's important that clients process signatures because it means that fully-formed messages, including encryption applied by Office 365 Message Encryption or Sensitivity Labels, are sent to the transport pipeline. This avoids the issues that third-party auto-signature products encounter because they can't open and update encrypted messages.
ISVs Offer More Functionality and Flexibility
But just because Outlook clients share signature information doesn't mean that ISVs should despair. It's unlikely that Microsoft will seek to recreate the full spectrum of flexible auto-signatures offered in products from companies like Code Two, Exclaimer, and Crossware. These companies specialize in meeting the many varied demands of large organizations who want signatures applied to outbound messages in a controlled and reliable manner. Microsoft's solution is likely to focus on the person to make sure that they use the same signature on all clients rather than the organization who wants consistency across all users.
Another factor to consider is the nature of hybrid deployments within Office 365. Exchange has always supported strong hybrid capabilities, which is why so many large organizations continue to run hybrid tenants. If Microsoft doesn't deliver on-premises support for synchronized email signatures, ISVs can step into the gap with solutions that work across cloud and on-premises platforms.
Microsoft's initiative will affect ISVs in the sense that it creates another barrier to overcome in the selling process. However, because of the user focus, the barrier isn't unduly high and shouldn't pose too much difficulty for competent salespeople.
Good News for Outlook Users
Overall, the news is good. Microsoft should have delivered cross-client signature consistency years ago. Outlook has existed for almost 23 years and OWA has been around for nearly as long. It's taken far too long for this penny to drop, but at least some light can be seen at the end of the tunnel.