OneDrive for Business Controls Office 365 File Sharing
Something that people might not know is that OneDrive for Business is the file sharing service for Office 365. When you share files or folders through SharePoint Online, OneDrive, Teams, OWA or another app, OneDrive creates a sharing link to dictate what the recipient can do with that content. A sharing link is a secret key that allows revocable access to files or folders. If the link allows Anyone access, the secret key is transferable (you can forward a link to someone else who can then use it); if not, the key only works for specific people. Sharing links are platform agnostic.
Sharing Basics
OneDrive for Business generates unique sharing links each time someone shares something in Office 365. The settings for the sharing link control who can use the link and what they can do with the content. In Figure 1, we see that a link is generated to share content with someone who's outside the organization. The link settings include the email address of the person who can use the link. If the link is an Anyone link (available to anyone who has the link), it can be password protected for added security.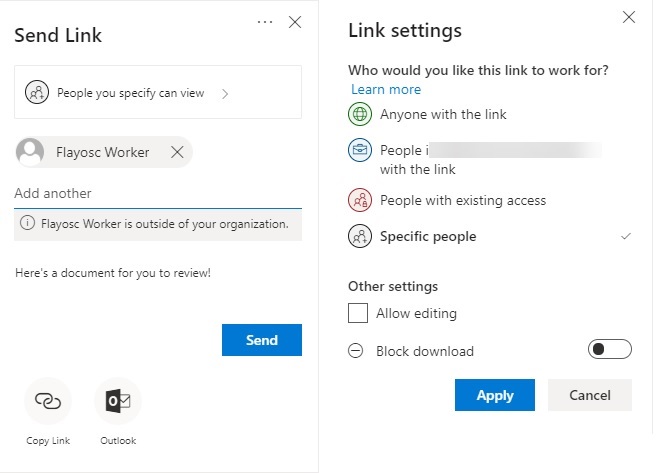 Depending on the type of sharing links permitted by the tenant (set in the OneDrive for Business Admin Center or the new SharePoint Admin Center), a sharing link can allow Anyone access or it can be tied to specific people, who must prove their identity (by signing in or with a one-time passcode) before they can use the link. Links can also be created to work for anyone in the tenant or for people who already have access, for instance because they can access the folder a file is located in.
Links are sent through email and can messages of up to 500 characters. The link settings can allow editing or be restricted to view-only, block download (very useful for material that you really don't want saved to individual workstations) and be password-protected for an added layer of security (not shown in Figure 1). Office files have supported download block for a while; download block for PDF files is coming in early 2020.
Consistency Across Office 365
The big news from the Microsoft Ignite 2019 conference is that the OneDrive sharing experience is being implemented across all Office 365 applications. In the past this wasn't the case. Outlook clients, for instance, always created Anyone links for "cloudy attachments." This was goodness in terms of being able to keep content in one place instead of sending copies of documents around as email attachments. However, it certainly didn't deliver the same level of precision sharing that was available elsewhere.
Teams and Outlook are the big apps to benefit from consistency. As usual, OWA is the first Outlook client to get the revamped sharing experience (Figure 2). Apart from better sharing controls, OWA also detects access issues in sharing links. For instance, if you create a link to a document for specific recipients and one of those people forwards the message (including the link) to someone else, that link won't work. If the person forwarding the message is the document author, they can edit the link on the fly to add the new recipient.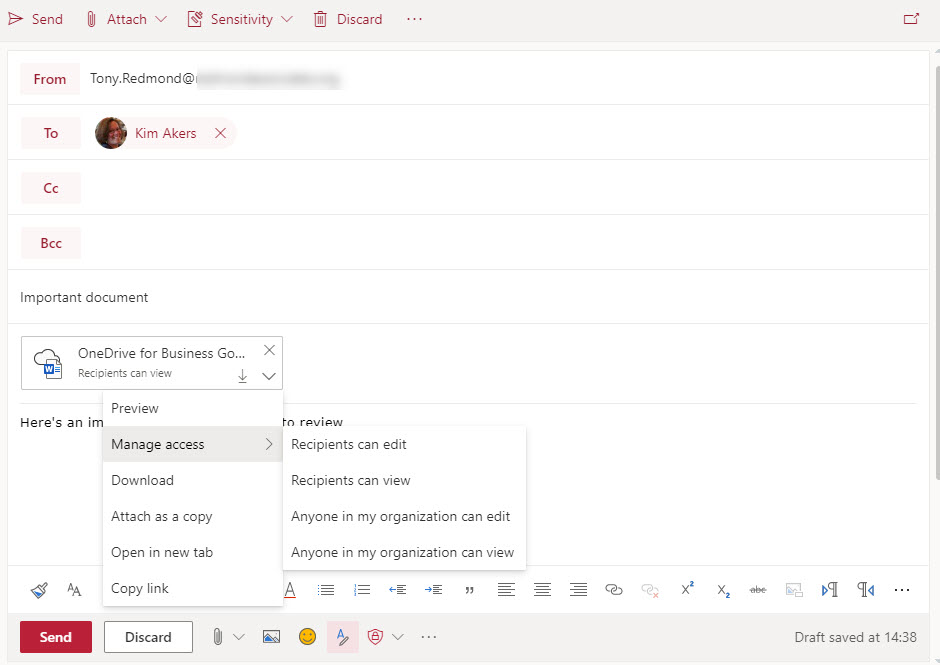 The same experience is coming to Teams in early 2020.
Request Files
Sharing is good; contributing is even better. OneDrive for Business is introducing the Request Files feature where (internal or external) people receive a link to allow them to upload files to a folder in someone else's OneDrive account. For instance, you could ask a sales representative to upload a proposal document to a folder shared with members of a project team. The person who's asked to upload a file receives an email with a link (another secret) to allow them to upload securely without being able to see anything else that might be in the target folder. Once a file is uploaded, the requester receives an email notification to check it out. All in all, a great idea that's rolling out now.
Address Bar Sharing
This feature allows the ability for recipients within an organization to use the URL for a OneDrive file copied from a browser (Figure 3) and sent to them via email or a Teams chat (or passed on a piece of paper).

Today, the URL won't work because it is an internal pointer to a file with no sharing link associated with it. A new setting under Sharing in the Policies section of the SharePoint Online Admin Center will allow tenant admins to control if URLs to be used by either people with existing access or anyone in the tenant. URLs cannot be used by external users to access files. Address bar sharing is due to ship in early 2020.
Going to the Right Place
OneDrive links are also becoming smarter. You'll soon be able to create a sharing link to a specific slide in a PowerPoint deck. When the link is used, PowerPoint opens at the requested slide. The best thing is that the link still works if the slide moves within the deck. This feature is now available in PowerPoint Online and is due in the desktop version in 2020.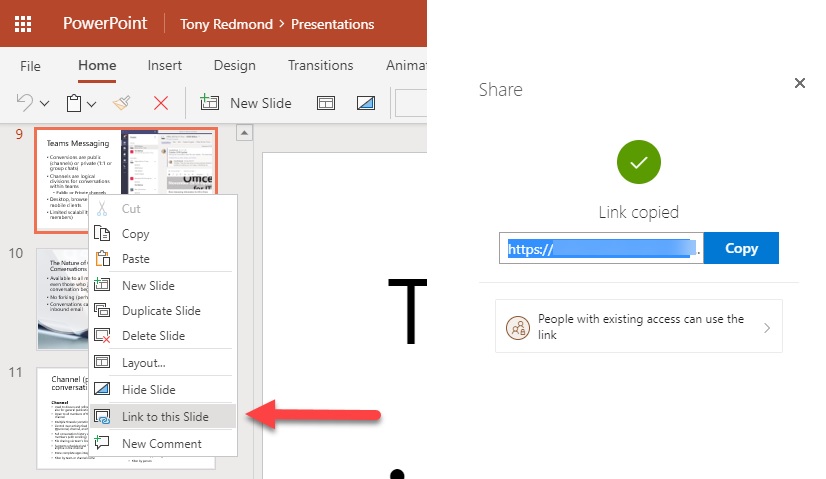 OneDrive Delivers Consistency and Value
OneDrive for Business is taking sharing within Office 365 to a new level of consistency and sophistication. I like the Request Files feature a lot and being able to go to a specific place in a PowerPoint deck is a neat enhancement too. Taken with the control and security available in sharing links, you'd wonder why anyone with an Office 365 account would ever consider sending a file attachment in the future.