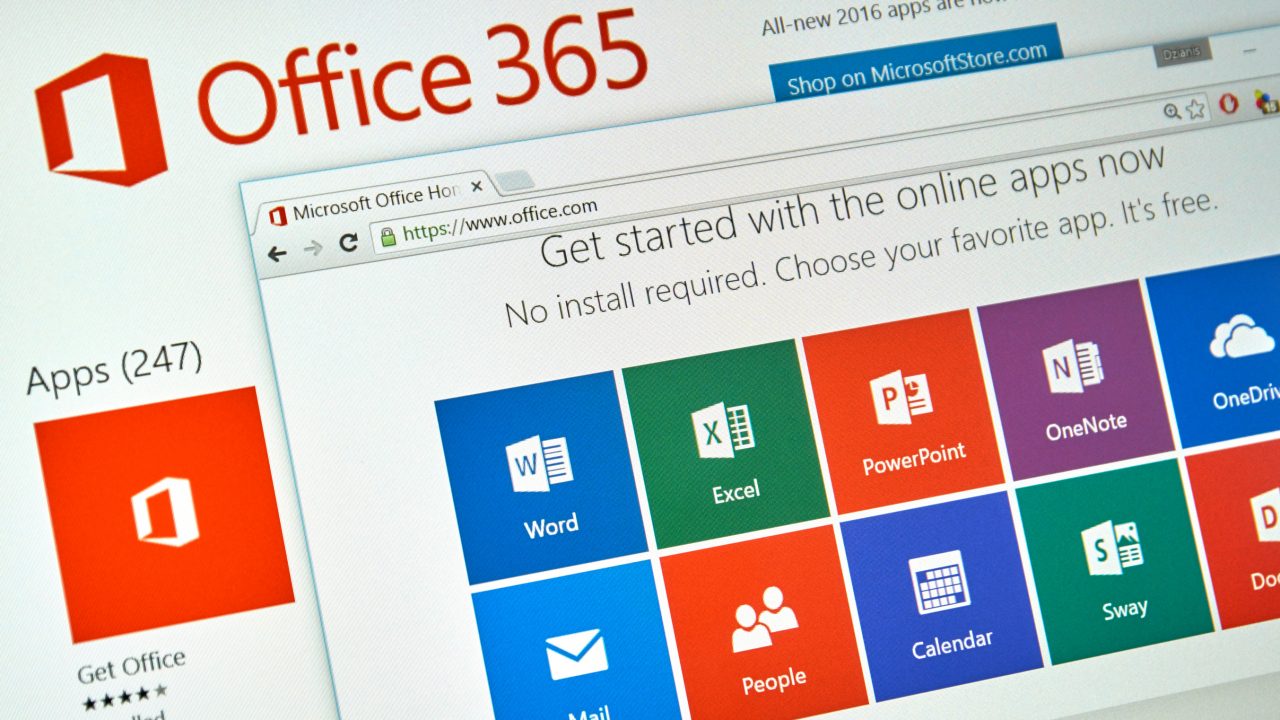 A relaxed week between the bedlam of Ignite and the calmness of the IT/DEV Connections conference in Las Vegas gives me a chance to catch up with some of the less-important but still worthy things I learned about recently. The Exchange team celebrated the 20th anniversary of the product, another of its leaders joined the Microsoft SLT, email from Paul Robichaux caused some problems, and the new Office 365 Admin Center finally reached general availability.
Exchange Bosses at the Top Table
Terry Myerson led the development of Exchange 2007 and moved to Windows Phone in October 2008. His replacement as the Exchange chief was Rajesh Jha, who previously led Microsoft Office Live. Both are now at Microsoft's top table as members of the Satya Nadella's Senior Leadership Team (SLT), with Jha joining September 29 as the leader of a new Office Product Group after Qi Lu stepped down from Microsoft to recover from a bike injury.
The Exchange development group threw a party at Ignite to celebrate the product's 20th anniversary. Some interesting videos were shown during the evening, including this one to commemorate some of the features (like the ill-fated Exchange 2000 Conferencing Server) that the developers aren't quite so proud of, including PSTs and Public Folders that remain remarkably difficult to eradicate.
Overall, the commercial and technical success of Exchange both as the leading on-premises email server and in a remarkably effective transition to be a cornerstone of Office 365 has certainly been good for the careers of many Microsoft employees.
Unsubscribing from Paul
Sometimes Exchange attempts to be so clever that it runs up its own rear end. Take the example of the footer that was added to a message I received from Paul Robichaux to tell me that he had posted the latest episode of the Office 365 Exposed podcast to iTunes (Figure 1). Some code running in the background clearly considers Paul to be a menace to my good mental health and added the offer to unsubscribe me from his email.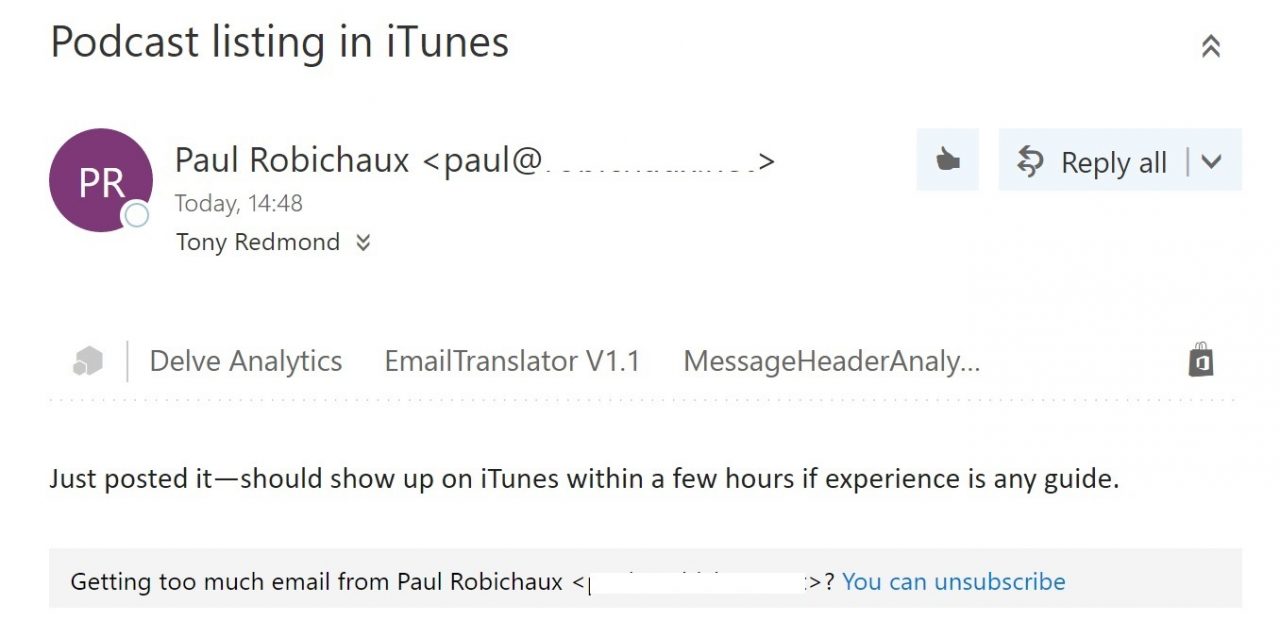 Clicking the unsubscribe link produced a note that Paul hadn't provided any information to allow me to unsubscribe (Figure 2), which is what you'd expect for private email exchanged between two individuals. It also came with an offer to block Paul, delete all his email from my Inbox, and tell Microsoft about the kind of messages he has been sending! Talk about an example of so-called "intelligent detection" gone mad.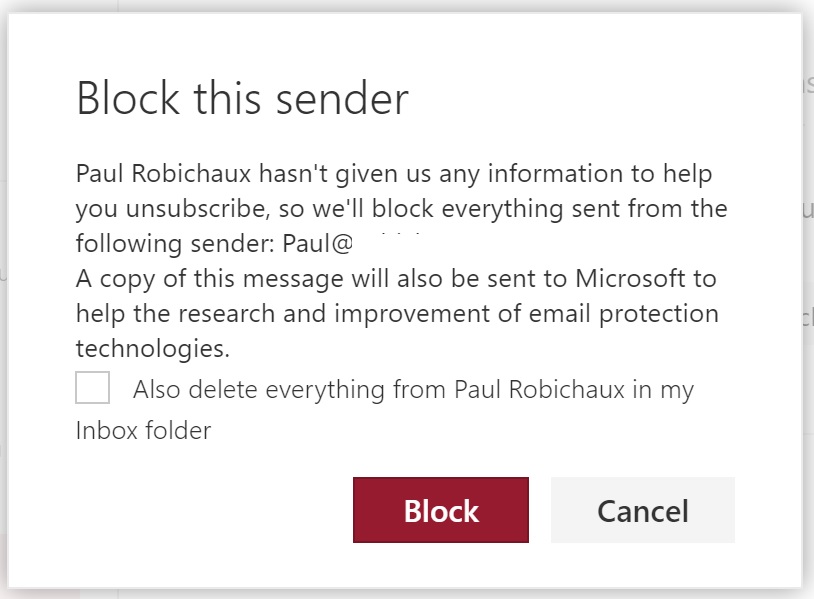 Note to Microsoft: Paul Robichaux is OK. Most of what he generates is eminently readable. The rest is about airplanes and flying and passes me by, but even so, those messages are perfectly acceptable.
The New Office 365 Admin Center Is Generally Available
The new Office 365 Admin Center finally passed out of preview and attained general availability status on September 27. I know that you've all been longing for this to happen, as I have. It was somewhat hilarious to find that the new service health dashboard promptly reported that it wasn't doing so well (Figure 3). I am sure that the promise of "more relevant incident insight" will come in time.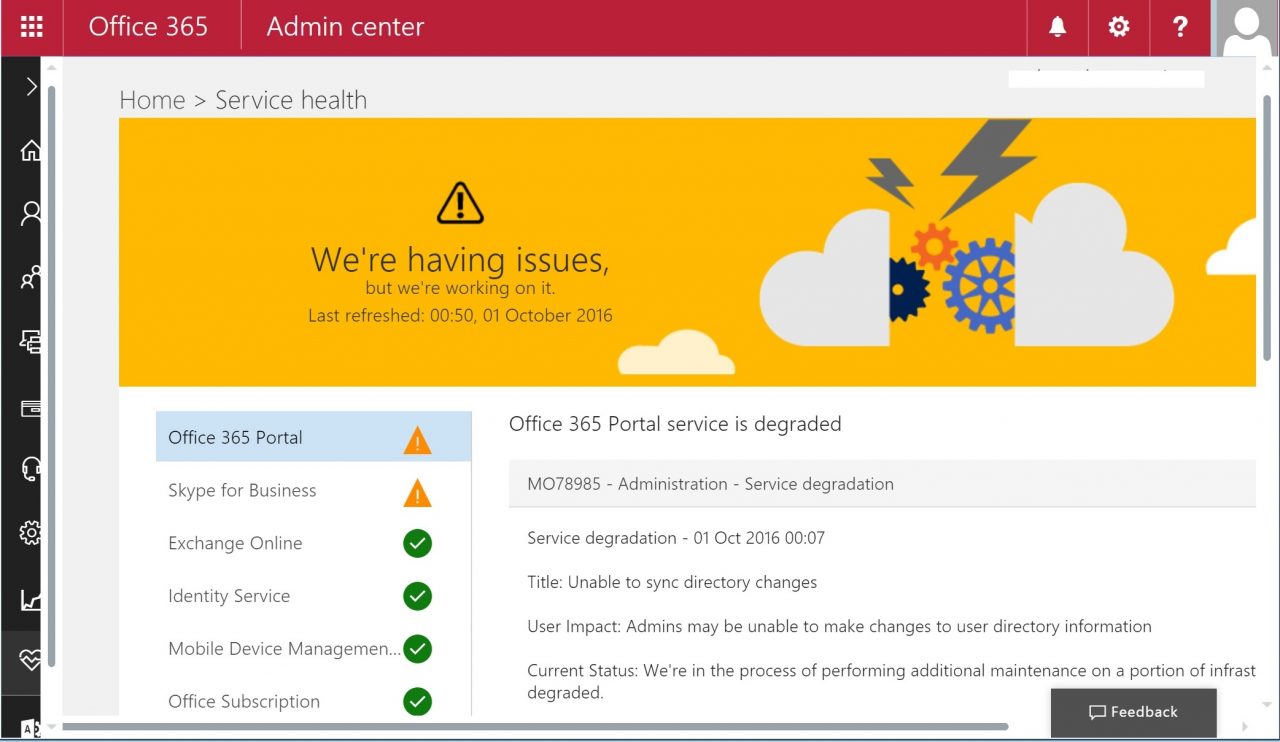 I chatted a little with Microsoft's Anne Michels at Ignite. She has been involved with the effort to bring the new Admin Center through its development for the last year or so and was relieved to see the console reach the necessary level of quality and completeness to move out of preview. According to all reports, a few bits and pieces need to be added to round out the effort. Expect everything to be complete in the next month or so.
Upgrading to the New OneDrive for Business Sync Client for Use with Group Document Libraries
Paul Cunningham is based in Brisbane, Australia and is a major contributor to the "Office 365 for IT Pros" eBook, which uses a group document library to hold the book's source files. The document library is hosted in my European Office 365 tenant and Paul has had an unhappy history with synchronization. So much so that I couldn't repeat the pithy and blunt words he uses to describe the effectiveness and efficiency of the old OneDrive for Business sync client (Groove.exe).
Immediately when Microsoft announced the preview release of the sync client that supports SharePoint libraries, Paul upgraded to the preview and uttered a big sigh of relief (and documented his experience). I read his notes with interest, but waited until I returned from Ignite to reliable high-speed network access at home to install the new software and resynchronize all my libraries. Another good write-up on how to install the new client is available from MVP Hans Brender.
The good news is that everything went pretty smoothly. The dreaded sign-in error I complained about last week has not reappeared and Groove.exe has been dispatched to the byte wastebasket. Moving to the new sync client is definitely recommended if you use Office 365 document libraries and need to work when offline.
Follow Tony on Twitter @12Knocksinna.
Want to know more about how to manage Office 365? Find what you need to know in "Office 365 for IT Pros," the most comprehensive eBook covering all aspects of Office 365. Available in PDF and EPUB formats (suitable for iBooks) or for Amazon Kindle.