Office 365 Snippets November 3, 2016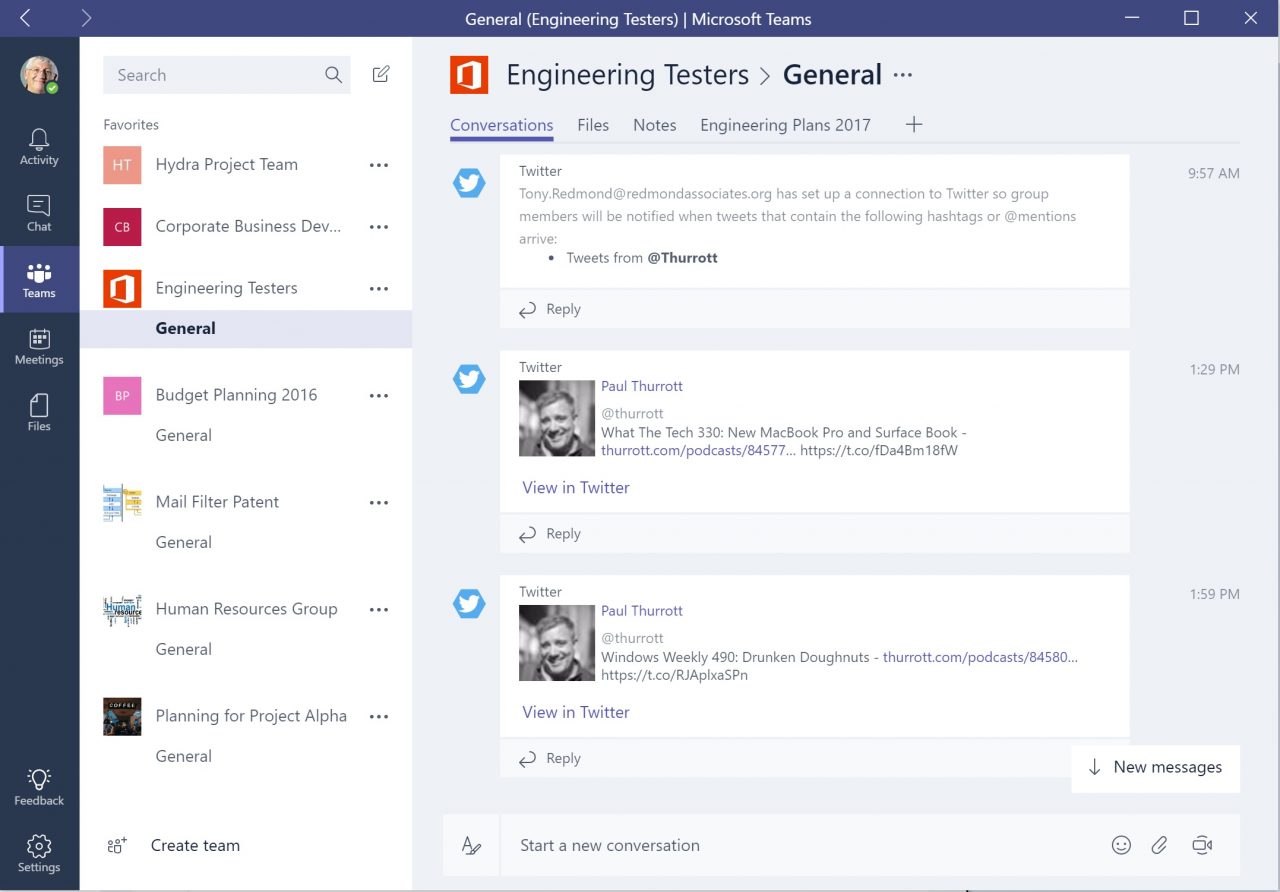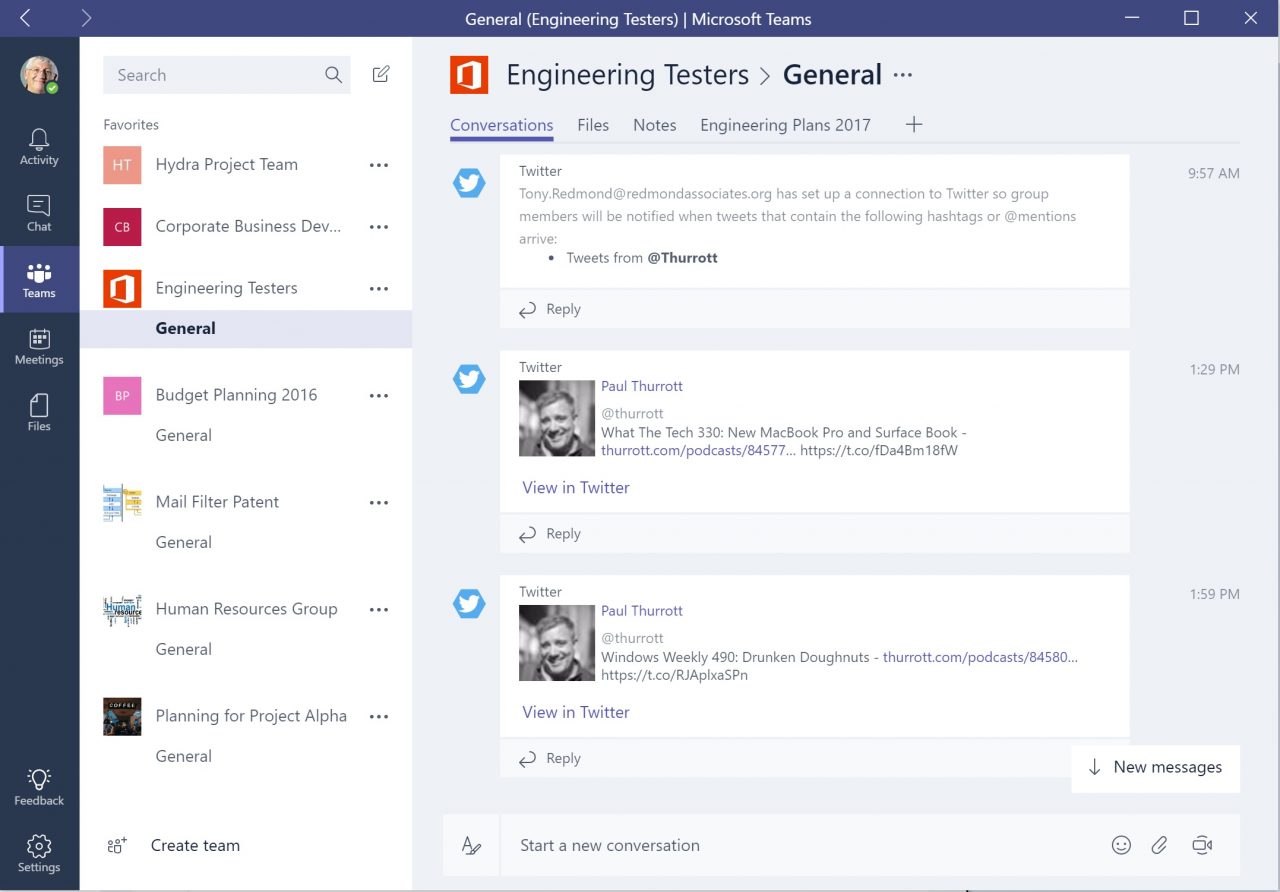 Office 365 Gets Even More Collaborative
The November 2 announcement of Teams, Microsoft's chat-based competitor to Slack, created a stir in those responsible for driving the collaboration strategy for Office 365 tenants. Teams is built from Office 365 components such as SharePoint, Exchange, and Azure AD. It will be available to all enterprise Office 365 tenants. In many respects, Teams is like Planner.
Whether or not Teams has any significant impact on Slack, I imagine that Teams will be pretty popular within Office 365. Next week, I'll take the time to look at the technology in some depth and will write up my findings and report here. In doing so, I'll remember that Teams is still a preview release and that lots of change might happen before the application reaches general availability in early 2017.
What's clear is that Microsoft is creating all manner of ways for users to collaborate together within Office 365 in Groups, Yammer, Planner, SharePoint, Exchange, and Teams. The question is how to provide users with the right tool at the right time, especially when issues such as compliance and data sovereignty taken into account.
Outlook's New Mobile Scheduling Assistant
On October 31, a breathless announcement brought us the news that "Inspired by the well-loved scheduling assistant of Outlook on the desktop" Microsoft had delivered a "powerful scheduling assistant on Outlook for iOS." Hmmm… apart from debating whether a feature is delivered "on" or "for" a software product, the news is welcome for anyone who needs to schedule meetings.
After using the scheduler for a couple of days, I can report that it is functional rather than powerful. Like many things that are tailored to work in a mobile format, there are good and bad things in the way the scheduler works.
I rather like the use of green and red to indicate which slot works best for attendees. As shown in Figure 1, green for the 15:00-16:00 slot means that everyone is free and able to attend. Yellow means that the slot works for some of the attendees. The idea is that you drag and drop the slot along the time grid to find the best time. The implementation is both simple and effective.
Of course, things work best when Exchange has access to the free and busy data for attendees. This might be the case for external attendees if the two organizations share free and busy data, but that's not usually the case. When no free and busy data is available, Outlook assumes an attendee is available. Unfortunately, that is often not the case and you will still have to check with people to make sure that they can attend.
I'm not sure that I shall discard Outlook 2016 as my primary calendar management interface anytime soon. For example, many of my meetings involve Skype for Business, and there's no way to set up the call details through Outlook for iOS. Other meetings require booking a room, and the room finder and room lists are unsupported. And of course, there's the small matter of access to shared calendars.
The Outlook mobile scheduler is due to appear soon for Outlook for Android and Outlook for Windows 10 Mobile. In all cases, you'll need an Exchange Online mailbox to make use of the feature, probably because Outlook makes use of the new Office 365-based mobile infrastructure to support the background processing. There's no word yet of when the feature might appear for those with on-premises Exchange mailboxes or mailboxes on other mail servers.
Although the Outlook mobile scheduler (due) might not be for me, it absolutely might serve your purposes very well. After all, scheduling is very much a personal thing.
PowerShell and Two-Factor Authentication
The folks at Black Hills Information Security published information about a purported exploit in which two-factor authentication failed to protect an Exchange Online mailbox from attack. Black Hills reported the details to Microsoft on 28 September and are upset that they haven't received a response. My reading of the information provided is that a PowerShell script is run to use Exchange Web Services to extract information from a mailbox. That comes as no surprise because the PowerShell module for Exchange Online does not yet support two-factor authentication. It's a known issue that Microsoft is fixing. In addition, Exchange Web Services doesn't support two-factor authentication. All in all, this looks like so much excitement over not a lot wrong.
Quest Returns from the Dead
I received a note from Francisco Partners and Elliott Management Corporation to announce the completion of their purchase of Dell Software. The newly-acquired company is to be called Quest, the name it had before DELL came calling. It's nice to see Quest come back from the dead, especially if they recreate the well-respected The Experts Conference (TEC). However, the first order of business is to refresh a product portfolio that has aged recently, especially in the area of Office 365. Some innovation, technology leadership, and breakthrough thinking is required if Quest is to regain its mojo.
Passing Exchange 2016 Exam Ref 70-345
Paul Cunningham and Brian Svidergol's "Designing and Deploying Exchange Server 2016" is available in both Kindle and traditional printed format. Anyone who's considering attempting the Microsoft exam 70-345 to gain certification for Exchange 2016 should get a copy. You could, of course, read every blog written about Exchange in creation, but many errors lurk in badly-written blogs and you're better off spending the $30 on the book. At least it will be a future paperweight.
Discover and Audit
Microsoft includes Advanced Security Management (ASM) in the Office 365 E5 plan. ASM is also available as an add-on for $36 per user per year. All of the users in a tenant must be licensed for ASM. I like ASM because it makes sense of the hundreds of thousands of audit events that can flow into the unified audit log for busy tenants. However, it is expensive, especially for small tenants that might not need quite the level of sophistication provided by ASM.
Enter the Discover and Audit module of Cogmotive Reports, which uses the same data as ASM to provide investigative querying capabilities for audit events gathered across Exchange Online, SharePoint Online, Skype for Business and so on. Cogmotive has a launch offer of $3 per user so it's worth checking out.
Skype for Business Improves Meeting Performance
Skype for Business makes it easy for anyone to organize a large online meeting. However, the current approach isn't very efficient in terms of network connectivity when meeting participants come from multiple regions. Take the example of a large multinational company whose Office 365 tenant is based in the U.S. and has users around the world. A U.K-based person organizes an online meeting and invites co-workers from the U.K. and the U.S. to attend. Today, all of the network traffic consumed by the meeting is routed to the U.S. Office 365 data center, which is fine for the U.S.-based attendees but not so good for those in the U.K., whose connections are routed across the public internet to the Microsoft network. Depending on the internet link, the upshot could be poor performance due to excessive latency.
Logically, the majority of meeting attendees are likely to come from the same region as the organizer. This feeling is supported by data, so Microsoft is going to change its routing so that Skype for Business servers in the same region as the meeting organizer will handle the connections. In our example, it's likely that more participants will come from the U.K. because that's the home region of the meeting organizer. The U.K.-based users will now have no need to route traffic across the internet as the connections can stay inside Microsoft's network. In this scenario, the U.S.-based users will route their traffic across the internet, but that's a better outcome as there should be fewer of these users. The change seems sensible. It will be interesting to see how it works in practice.
Follow Tony on Twitter @12Knocksinna.
Want to know more about how to manage Office 365? Find what you need to know in "Office 365 for IT Pros", the most comprehensive eBook covering all aspects of Office 365. Available in PDF and EPUB formats (suitable for iBooks) or for Amazon Kindle.