New Personal Well-Being Insights Coming to Insights app in Teams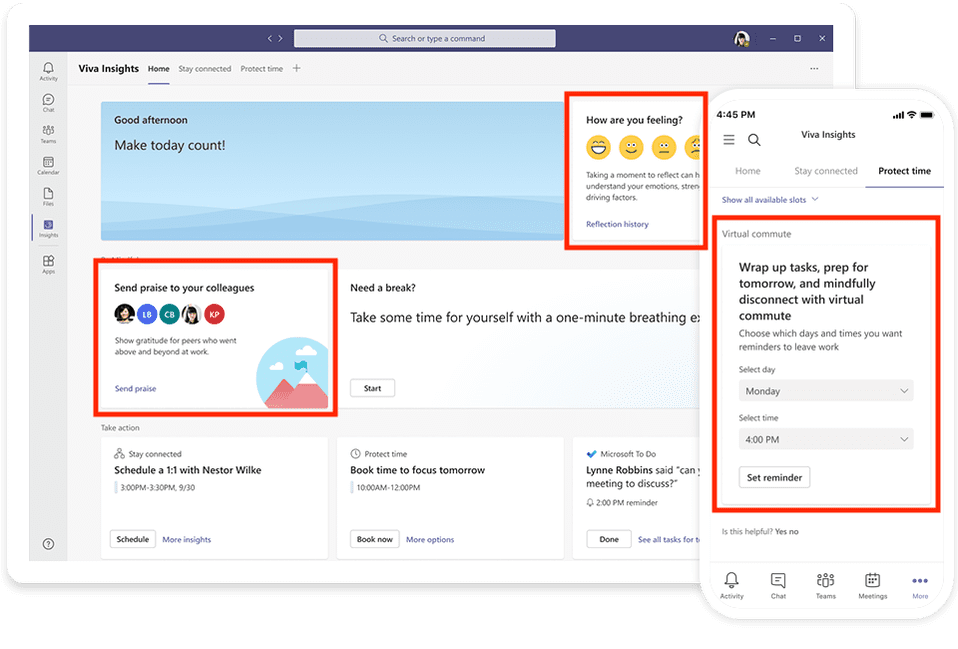 Microsoft announced some new Viva Insights features coming to Teams earlier this year and at their Ignite conference last week. They recently offered a little more detail and rollout plans for their personal wellbeing features. Users will be able to enhance their mental wellbeing during the workday by including breathing breaks, sending praise to users and colleagues, pausing and reflecting during the workday, as well as utilizing an innovative 'virtual commute' to close out their day.
Timeline: These features will start to roll out in early April 2021 and be complete by the end of June.
Requirements: Users will need a provisioned Exchange mailbox to access these features in the Insights Teams app.
Roll-out: Beginning today (March 8, 2021), unless an admin has disabled the app via policy, the Insights Teams app will be pre-installed for users and available along the left navigation bar in the Teams interface.
The Insights app in Teams is bringing a new Home page with relevant suggestions and workflows that will focus on the wellbeing of your users. These include:
Virtual commute – "users can schedule a virtual commute to help them wrap up their tasks from today, prepare for tomorrow's activities, and mindfully disconnect from work."
Praise – "users can schedule reminders to send praise to their top collaborators and build a habit of sharing gratitude."
Reflect – "users can schedule reminders to check in with themselves emotionally and save and reference their personal reflection history."
Image #1 Expand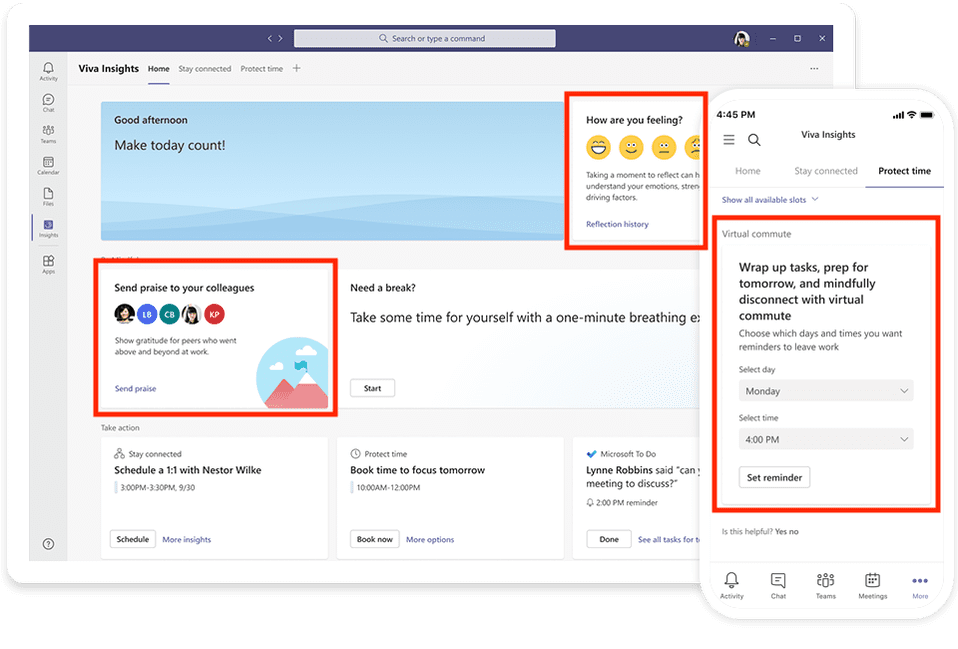 More updates are planned for later this year, including guided meditations from Headspace that will be integrated into the virtual commute as well as the Home tab. These will assist users in mindfully disconnecting from work in the evening, relaxing their minds before a big meeting, and focusing before starting an important project.
Note – The features listed in Insights are completely personal and private. Administrators will not have any access to see users' data. All data is stored in the user's mailbox. The app complies with GDPR compliance terms as part of Office 365.
Reminder – As stated above, Microsoft will be rolling out the Insights app as an app available for your users to add at will. If you want to make it easier for your users and populate their left navigation bar with this new Insights app automatically, use these instructions to create a Teams App Policy for Insights in your organization.
These new Teams Insights/Viva features are wonderful news for users, especially after the past year seeing millions of employees completely and in many cases abruptly changing their workplace setting. Adapting to working from home, especially if they never have, can be daunting. Because so many users are worried about getting their job done, they may have lost sight of what they did at work to calm down, take breaks, etc. Taking note and providing research and development into users' wellbeing is a wonderful 'peace of mind' feature sure to provide a needed mental balance throughout the next few months at least.