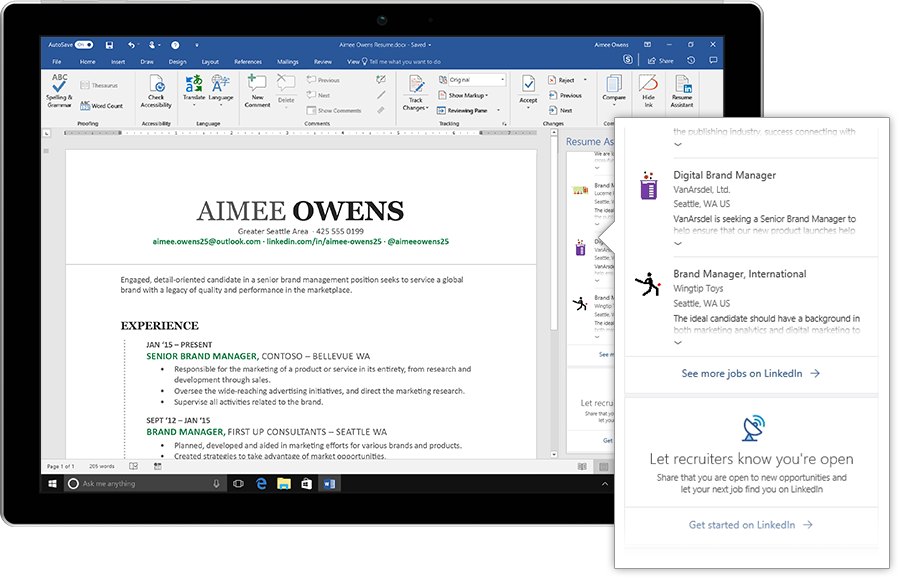 The job hunting process can be an overwhelming and frustrating experience. With headhunters calling at every hour, hundreds of applications to fill out, and trying to make sure your resume stands on its own, this is all part of the process of landing your next promotion or dream job.
Announced today, Microsoft is trying to help ease the pain with the resume part of the job hunting process. Called Resume Assistant, this new feature for Office 365 brings LinkedIn data directly into Microsoft Word to help you build a better product.
The feature works by the Resume Assistant pulling in LinkedIn context for wording suggestions for your role, industry, and skills. And of course, being that it is LinkedIn, it will also recommend relevant jobs as well.
The assistant will also show how other people in your field are representing their work and experiences to help you craft your own descriptions. Further, it will also pull in top skills for a specific field to make sure that you are covering everything needed for a specific career-type.
At the end of the day, this feature is something that will help make creating resumes easier which is at the heart of what Microsoft's trying to do with Office. But, the one thing to keep in mind that when finding a job, it's about standing out and if everyone is using this feature, you will once again become just another resume in a large stack of applicants.
When Microsoft purchased LinkedIn for $26.2 billion, you knew that the company would be injecting this data into every bit of software that it owned. This is the latest example of how the company is putting that social network to use in an attempt to make you more efficient at your task.
This feature is available today for Office 365 Insiders today and will be rolling out broadly the next few months.