As is customary for around this time of the year, Microsoft is making changes to its organizational structure. While the company did make a small round of layoffs earlier this summer, these changes appear to be more substantial but it does not look to be tied to a round of layoffs.
The short version is that Microsoft is bringing some of Azure to the Windows and Devices organization, according to insiders familiar with the company's plans. Specifically, Microsoft is moving COSINE to E+D (experiences and devices) to help the Windows/Surface teams build more cohesive experiences that the company hopes customers will love and push the Surface team to create better products as well.
While this move may sound simple on paper, there are significant changes happening to various leadership positions within both Windows + Devices as well as Azure.
The biggest change is that Michael Fortin is joining the Experiences and Devices organization that reports to Panos Panay – his role is expanding to lead a new team that combines services teams from Cosine and 365 Experiences and Services.
In addition, many of the team leads from COSINE will also be moving over to Panay's team which includes Kevin Gallo, Mark Alcazar, Kristian Andaker – this likely means that Project Reunion is now under the Windows leadership team.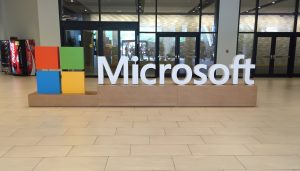 Other notable changes happening in the Windows + Devices org is that Jeff Johnson will be leading a newly formed Windows, Developer and Experiences engineer team: Linda Averett is joining Windows + Devices to lead a new Windows, Developers, and Experiences PM team.
Other names that you may recognize are not going anywhere with this change: Ralf Groene will continue to lead the Design Team, Stevie Bathiche will continue to lead the Applied Sciences Group, and Robin Seiler is now leading the Devices Portfolio and Operations (DPO) team.
On the Azure side, there is a new Azure Core team that combines Compute, Networking, and Storage services across both PM and Dev; this team will be led by Girish Bablani.
The old COSINE team is evolving, with the company bringing together services from ASME, PIE, and COSINE to form a new team: Azure Edge + Platform; Henry Sanders will fill a newly created role of CTO of Azure Edge + Platform.
There is a new Azure for Operators org as well, this team is focused on emerging 5G and virtual networking opportunities. This new team is comprised of Anand Krisnamurthy (CEO of Affirmed Networks), Martin Lund (CEO of Metaswitch).
These are significant changes to how Windows and Azure will function as business units but the moves make sense and better align Windows/Surface to the end-user experience. And by bringing the future of Windows development (Project Reunion) to the Windows org is a much better fit than being part of Azure.
To help better understand how Windows + Devices thinks about new products, they have three strategic pillars:
Deliver iconic experiences across Microsoft, lighting up both modern work and life.
Grow the business of Windows and Surface, delivering the best of Microsoft and creating end-user pull.
Lead the industry through innovation and technology, enabling our ecosystem of partners to thrive.
Based on Microsoft's last quarter, we know that Surface hardware sold exceptionally well. Previously, Microsoft has roughly had a 50/50 split between consumer/commercial sales but that shifted at the end of FY20 with it shifting heavily towards commercial rather than consumer sales.
With the new structure in place, expect it to take some time for the new structure to gel and the efficiencies of these groups working closely together to materialize. That being said, all these changes are effective today.