Microsoft Lets IT Admins Remove Internet Explorer References From Windows 10
Microsoft released an update to permanently disable Internet Explorer 11 (IE11) on Windows 10 back in February. Now, the company has provided an update about the next steps to completely remove the last bits of the legacy web browser on Windows devices.
Microsoft unveiled its plans to deprecate Internet Explorer 11 in favor of Edge on Windows 10 in June 2022. The company released updates to permanently kill off Internet Explorer and redirect users to the new Chromium-based Edge browser. Microsoft advised organizations to use the IE mode to run legacy websites that still need Internet Explorer features.
Additionally, Microsoft mentioned that users may still see IE11 icons and references on their Windows 10 systems. The company previously planned to remove the visual references with an update in June 2023. However, Microsoft has since made some changes to its Internet Explorer 11 app retirement plan.
Internet Explorer 11 to remain accessible in "exceptional scenarios" on Windows 10 devices
Microsoft has announced that it will no longer remove visual references (such as Start Menu and Taskbar icons) via Windows Update. The company says that it will be up to the IT admins to remove the last bits of the legacy Internet Explorer browser from Windows 10 PCs via the Disable IE policy. Microsoft also mentioned that users will still be able to access IE11 in Microsoft Edge in case of "exceptional scenarios".
"Additionally, changes will be made over the next coming months to redirect a small subset of exceptional scenarios where IE11 is still accessible to Edge. This ensures users access a supported and more secure Microsoft browser. Details will be available in the Windows and Microsoft Edge release notes," Microsoft explained on the Windows Health Dashboard.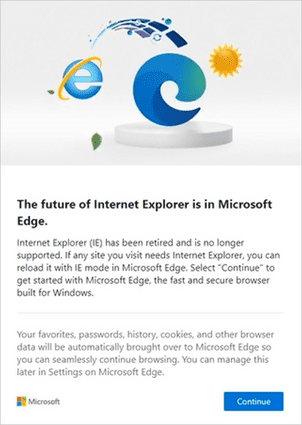 Notably, Microsoft has committed to support the IE mode in the new Edge browser until 2029. This means that the legacy IE-based apps and websites should be accessible via Microsoft Edge until that date. Microsoft will provide a one-year advance notice before retiring the IE mode feature on Windows machines. You can find more details about the changes on Microsoft's FAQ document.