New Report Shows 47% of Enterprise Windows 10 PCs Could Be Impacted by Internet Explorer's Retirement on June 15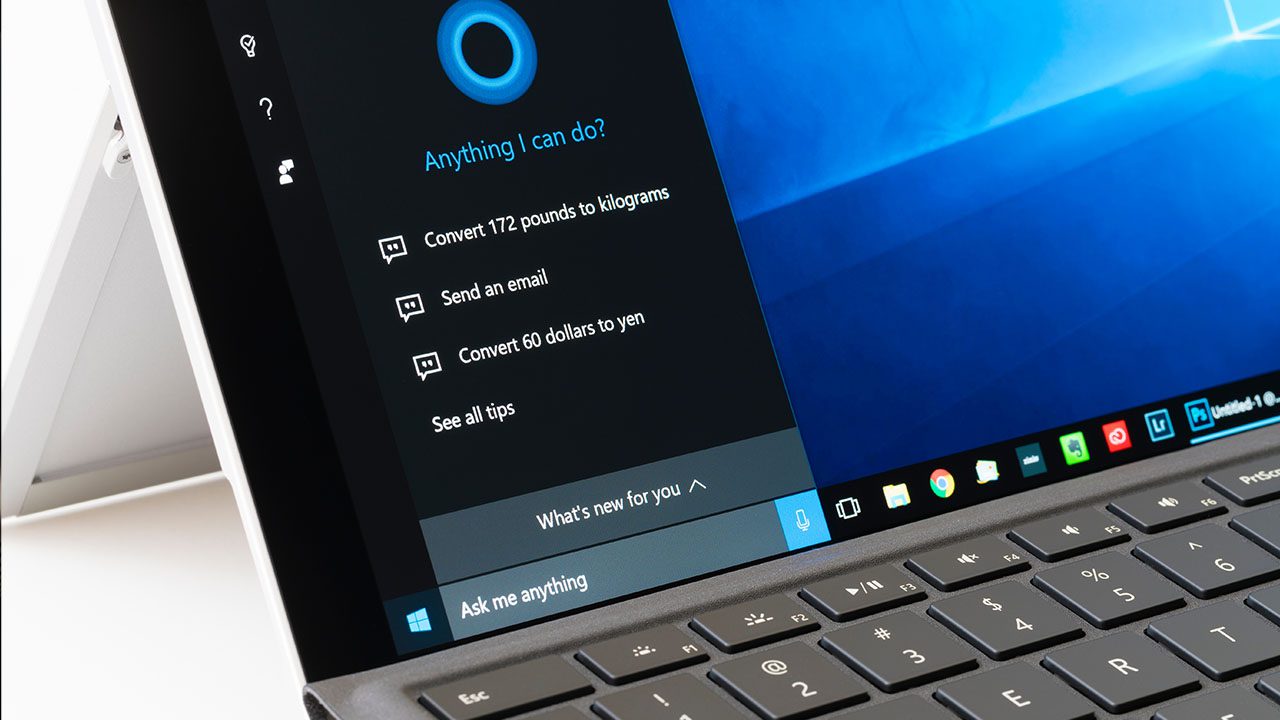 Microsoft is finally ending support for its Internet Explorer 11 (IE11) web browser on June 15. This change will impact certain versions of Windows 10 that follow the semiannual channel release update cycle.
"The Internet Explorer (IE) 11 desktop application will end support for Windows 10 semi-annual channel starting June 15, 2022," the company explained on the IE11 lifecycle page. "For supported operating systems, Internet Explorer 11 will continue receiving security updates and technical support for the lifecycle of the Windows version on which it is installed."
According to Microsoft, the end of support will only apply to users of Windows 10 version 20H2 and later and Windows 10 IoT version 20H2 and later. However, Windows 10 client LTSC, Windows 10 IoT LTSC, Windows Server LTSC, and Windows Server 2022 won't be impacted. Meanwhile, Internet Explorer 11 desktop app support on Windows 7 (with paid Extended Security Updates) and Windows 8.1 will end on January 10, 2023.
The Redmond giant plans to automatically redirect Internet Explorer users to Microsoft Edge, which comes with a built-in IE mode. The company will also ensure that all Windows 10 applications that use IE11 as the default web browser will be switched to the new Edge.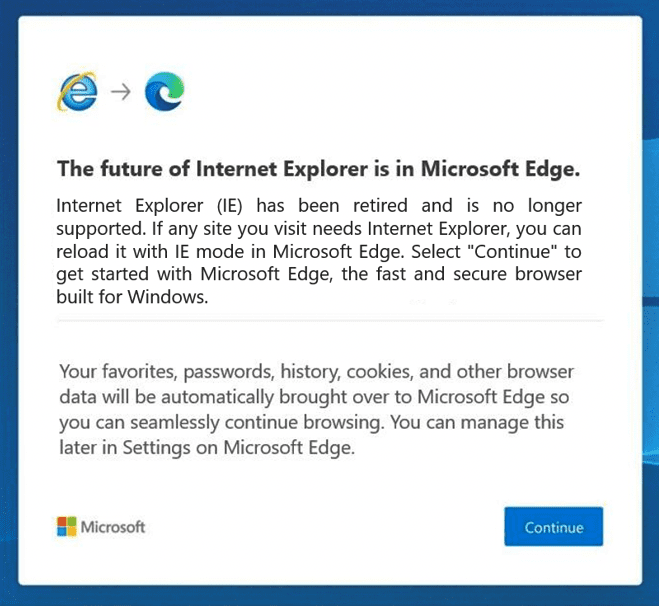 Microsoft will eventually disable Internet Explorer 11 via Windows Update in the coming months. However, the browser will not be completely removed from the OS because it's still required to make IE mode work on Windows 10 PCs. Microsoft is committed to supporting IE mode until 2029, and the firm will provide IT admins a one-year notice ahead of its official retirement.
Almost half of enterprise Windows 10 devices may be impacted by Internet Explorer's retirement
According to a recent study by IT asset management firm Lansweeper, 47 percent of enterprise Windows 10 devices may be impacted by Internet Explorer's retirement on June 15. The company calculated this figure based on an audit of 9 million PCs from 33,000 organizations worldwide.
It is important to note that the research doesn't refer to Internet Explorer usage. However, it just counts the market share of enterprise Windows 10 machines running supported versions of the OS, which will be impacted by IE's retirement. As seen in the screenshot below, the Windows 10 version distribution is calculated as follows: 21H2 (21.37%), 21H1 (8.06%), and (16.87%).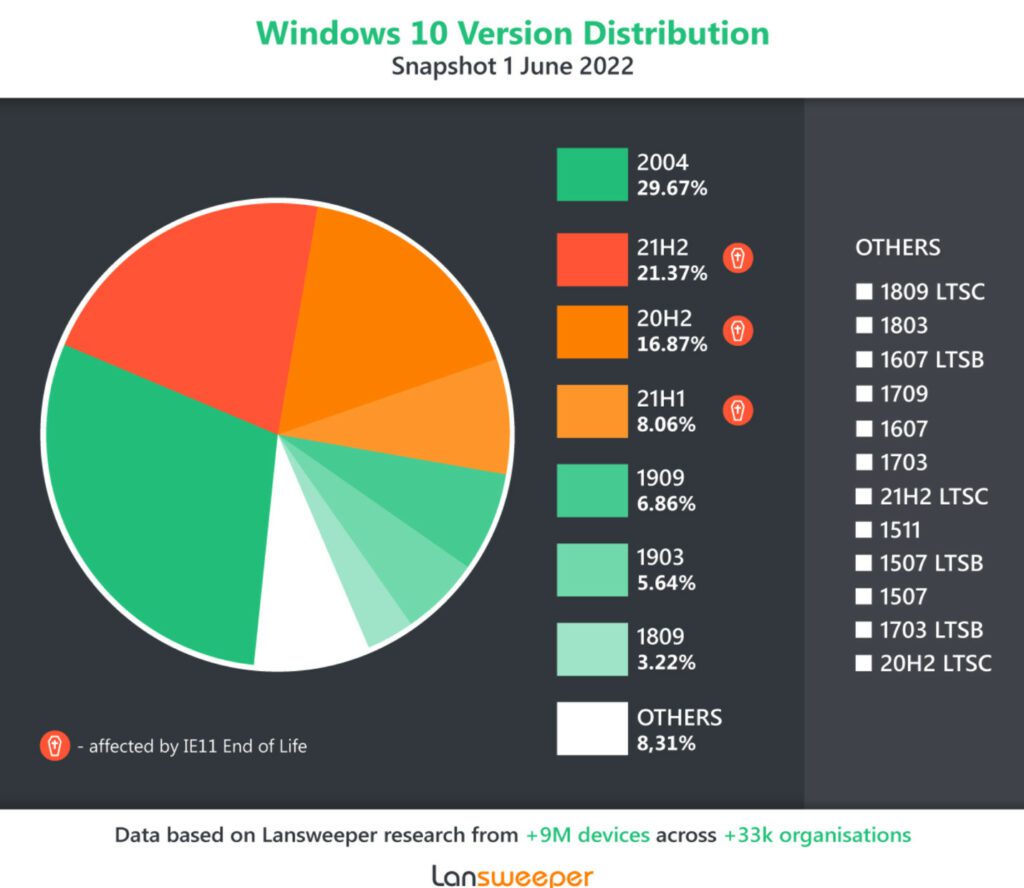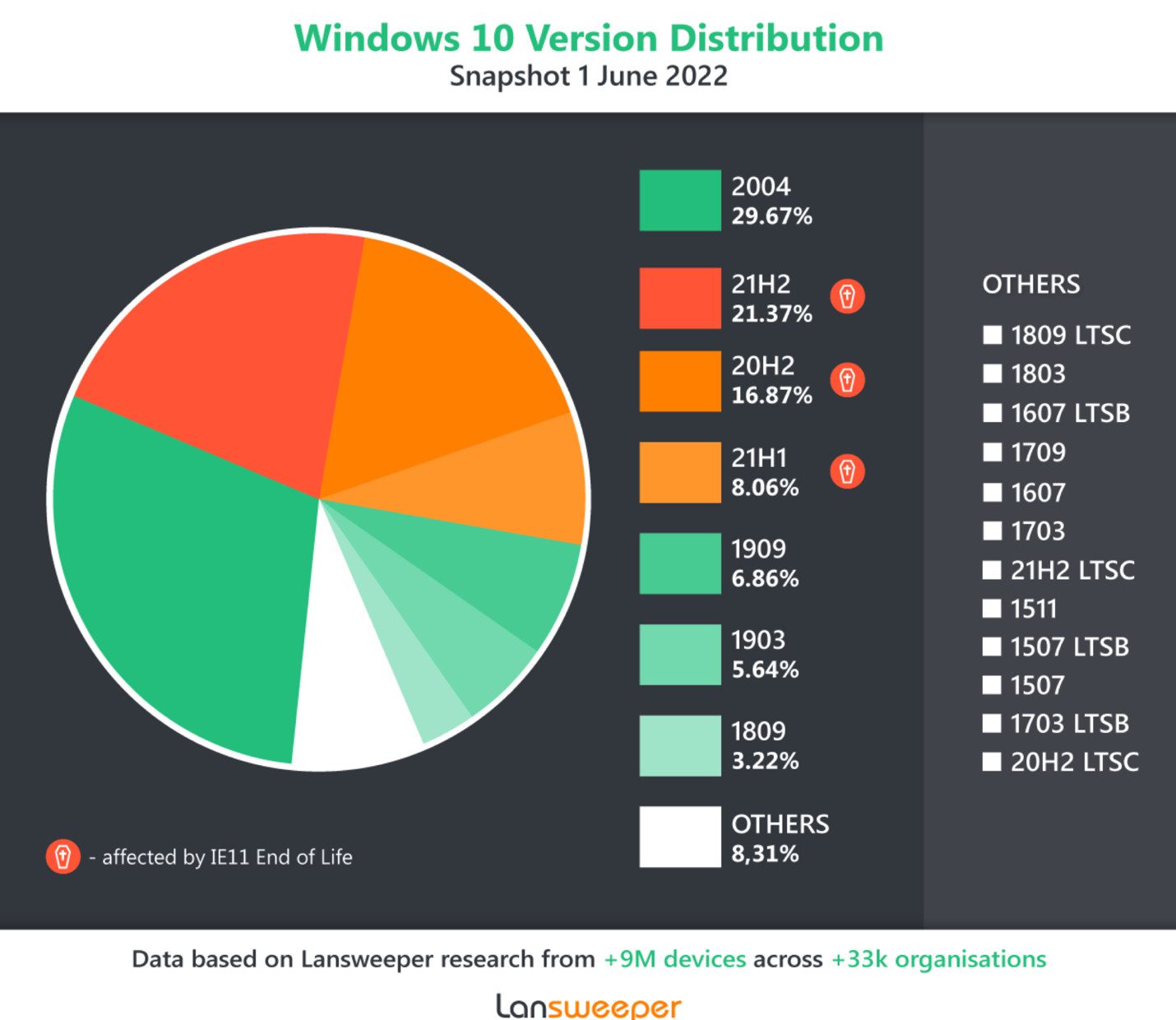 "There could be many reasons for organizations to delay upgrading, including being more conservative, having more pressing issues to deal with, or simply having no visibility into the version of operating systems they're running," Lansweeper noted. Let us know in the comments below if you're still using Internet Explorer in your organization.