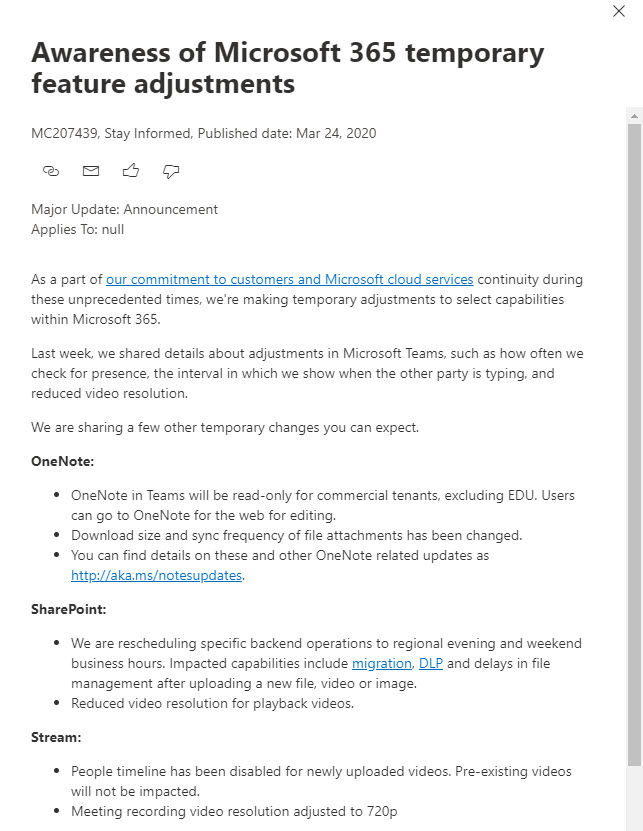 On March 17, I reported on how Office 365 was suffering some temporary scaling problems. A week later, Microsoft has applied further throttles on background processing and some user functionality to free up CPU cycles for user activities. The news came in Office 365 notification MC207439, released to tenants today.
The steps are unsurprising given an outbreak of problems across the service over the last week due to the incessant increase in demand caused by new users, leading to a rash of service incidents and advisories (Figure 1 shows the current state for my tenant as I write this post).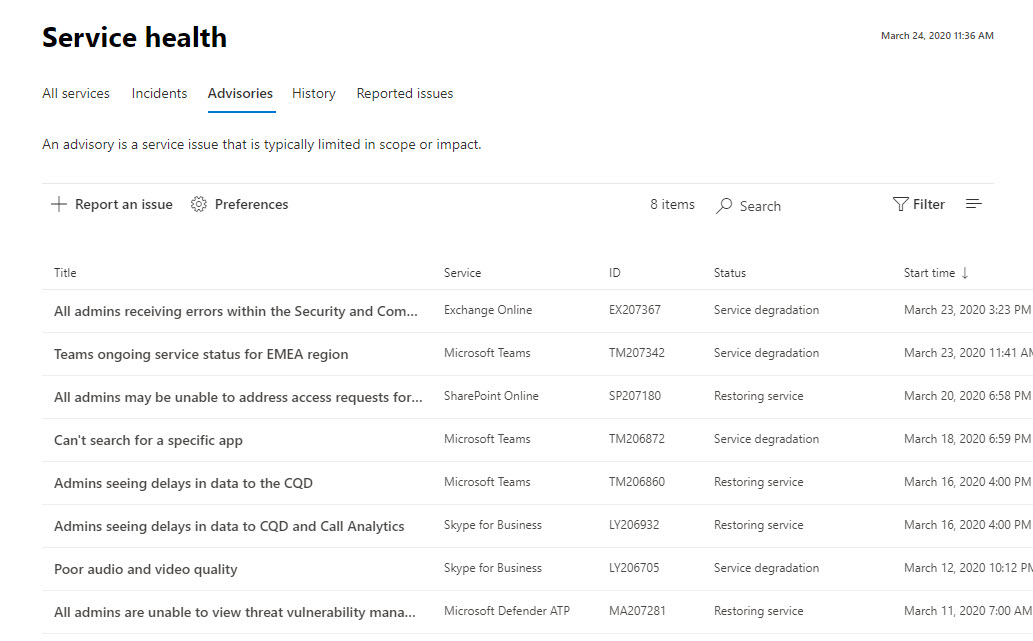 Heavy Demand for Teams
Teams scaled up by 12 million users over a week and that increase meant extra demand for associates applications like SharePoint Online, OneDrive for Business, OneNote, and Stream. Because more people are using Teams to work from home, more meetings are being recorded. Microsoft says that 900 million minutes of calling and meetings are now being consumed daily. This total is shared across all Teams users, so it's not the amount of recorded meeting minutes that are uploaded and processed by Stream.
Stream Downgrades Meeting Recordings
Nevertheless, the growing demand on Stream means that Microsoft has disabled the face recognition feature (which allows users to find people based on when they appear in a video) and downgrade video recording resolution from 1080p to 720p. In this respect, Microsoft is following a line like that taken by Netflix and YouTube as they seek to conserve resources. Microsoft isn't saying, but I assume that recordings will be restored to full resolution once enough resources are available.
SharePoint Stutters
Microsoft says that they are rescheduling backend SharePoint Online operations to evenings and weekends. Many customers have reported problems with the SharePoint Online and OneDrive for Business browser clients, citing poor responsiveness and some errors. The SharePoint Online admin center performed like a warm slug at times.
Moving processing to quiet times affects functionality like Data Loss Prevention and indexing. SharePoint relies on background processes checking new documents for policy violations as their content is indexed. The delay means that an increased potential exists for a violation to slip through in the form of a confidential document being shared when it shouldn't be. If you're worried about this, consider enabling the sensitive by default feature, which stops documents being shared until they have been processed.
Migration Woes
Now is not a good time to be migrating data into Office 365. Microsoft says that migration to SharePoint Online might be impacted and some tenants have reported problems moving data into Teams. When you think about it, migration is an intense processing activity that generates lots of writes into databases and usually leads to other background processing, so it's reasonable to expect problems when infrastructures are under stress. I would consider delaying moving large quantities of data into Office 365 at present if you can – or do it at the weekend.
OneNote Issues
Microsoft has made OneNote in Teams read-only for commercial tenants, with educational tenants being excluded from the new restriction, probably because of the heavy dependence on OneNote in a classroom environment. You can still use OneNote Online for editing.
Into the Future
No one knows when the restrictions will be lifted or if Microsoft will need to impose new restrictions to maintain service to users. So far, apart from some slight frustration with SharePoint Online, I have not been unduly impacted. I remain in hope that this status will continue.