Brave is a new (free to download) Chromium-based browser that's built for speed. The Brave developers boast that they can load pages 3 to 6 times faster than either Firefox or Chrome can. With that kind of speed in prospect, who wouldn't relish the thought of taking a test drive to see if Brave can work any magic with the Office 365 online apps, some of which can be slow.
The first thing to note is that the Brave browser is fast. It is noticeably and verifiably faster than the browser I normally use. I didn't notice any missing feature that I normally use in general-purpose browsing. Brave, for instance, supports the ability to run web sites like OWA as an windowed app that can be pinned to the Windows toolbar. None of the general-purpose web sites I tested, including the Microsoft Technical Community, were worse in Brave and most performed much better. I also noticed that search results from Google or Bing were returned much faster than normal.
For more information about Brave, read Paul Thurrott's review.
OWA as a PWA
I started my testing of Office 365 apps with OWA. Everything ran smoothly out of the box with the notable exception of some Office document previews, which resolutely failed at the start of my testing. On the other hand, PDF attachments always worked perfectly and the problem with Office attachments eased over time. The problem with Office document previews could be because I'm currently testing support for sensitivity labels in SharePoint Online, which also covers the Office Online apps, so this is a possible root cause.
Microsoft now supports the installation of OWA as a progressive web app (PWA) for Chromium-based browsers, so you can install OWA as a Brave app. This is a similar process to the way to create web apps from sites with Chrome or Edge. The process works well and it's how I use OWA with Brave. One nagging issue I encountered is that although Brave generally worked well, at times it slowed to a crawl. I never experience a similar issue using OWA/PWA with Chrome or Edge.
Teams
The Teams desktop and browser clients are built with Electron. As it happens, Electron is also in Brave's past. My first attempt to run Teams failed every time (Figure 1) and no amount of signing in and out convinced Teams that the Brave browser was a good home for it.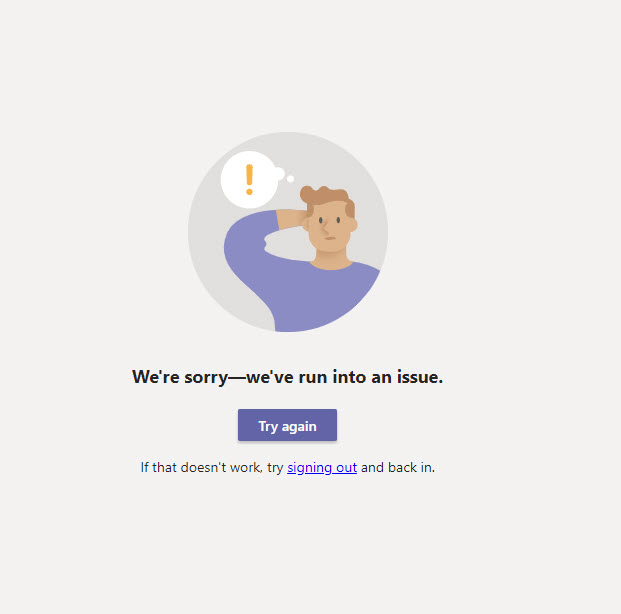 That is, until I figured out that I needed to go into "shields down" mode for Teams.microsoft.com, possibly because Teams depends on cross-site cookies. Shields are a big part of Brave, which gets a lot of its speed from blocking scripts, ads, fingerprints, and all the other junk that other browsers include to allow advertisers to track user progress. Once I went "shields down" (surely a Star Trek reference) for the site, Teams started without a hitch (Figure 2).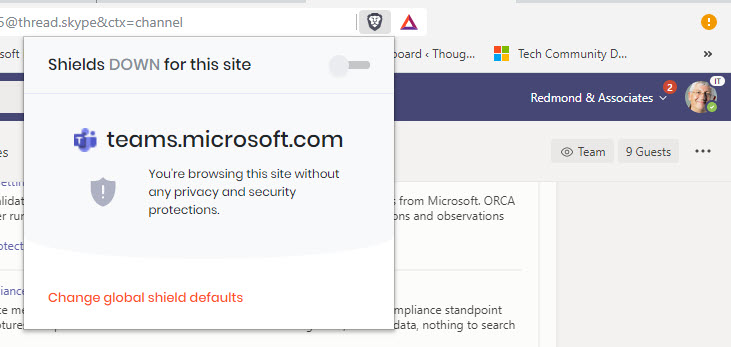 As I used Teams with Brave, I noticed an occasional delay in refreshing data, but nothing that caused too much concern. That is, until I tried to attend a Teams meeting when Brave utterly refused to let me hear any audio on microphones that I know work. I couldn't figure out what to do, so I switched to attend the meeting with the Windows client and all was well.
SharePoint Online and OneDrive for Business
Equipped with knowledge about how to drop shields, I tried out SharePoint Online and OneDrive for Business. The caveat here is that some beta code was involved, so it's unsurprising that some things didn't work all the time (like the details pane for a selected document). But I was able to open documents (with a desktop app), upload documents, assign retention labels, and so on.
The Online versions of Word and PowerPoint refused to open documents (Figure 3) stored in OneDrive for Business and SharePoint Online libraries.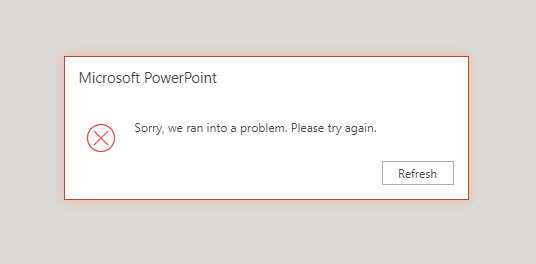 Again, some beta code is involved here, so it's hard to criticize Brave. However, both Chrome and the Chromium version of Edge have zero problems with the Office Online apps.
Yammer
Yammer has no problems working with Brave. I'm sure the same will be true for the new version due to be delivered as part of the Year of Yammer initiative.
Planner
No problems either for Planner, which was able to display tasks in board, chart, or schedule view. I was able to create and assign new tasks, update task details (Figure 4), and clean up old tasks that have long cluttered up my schedule.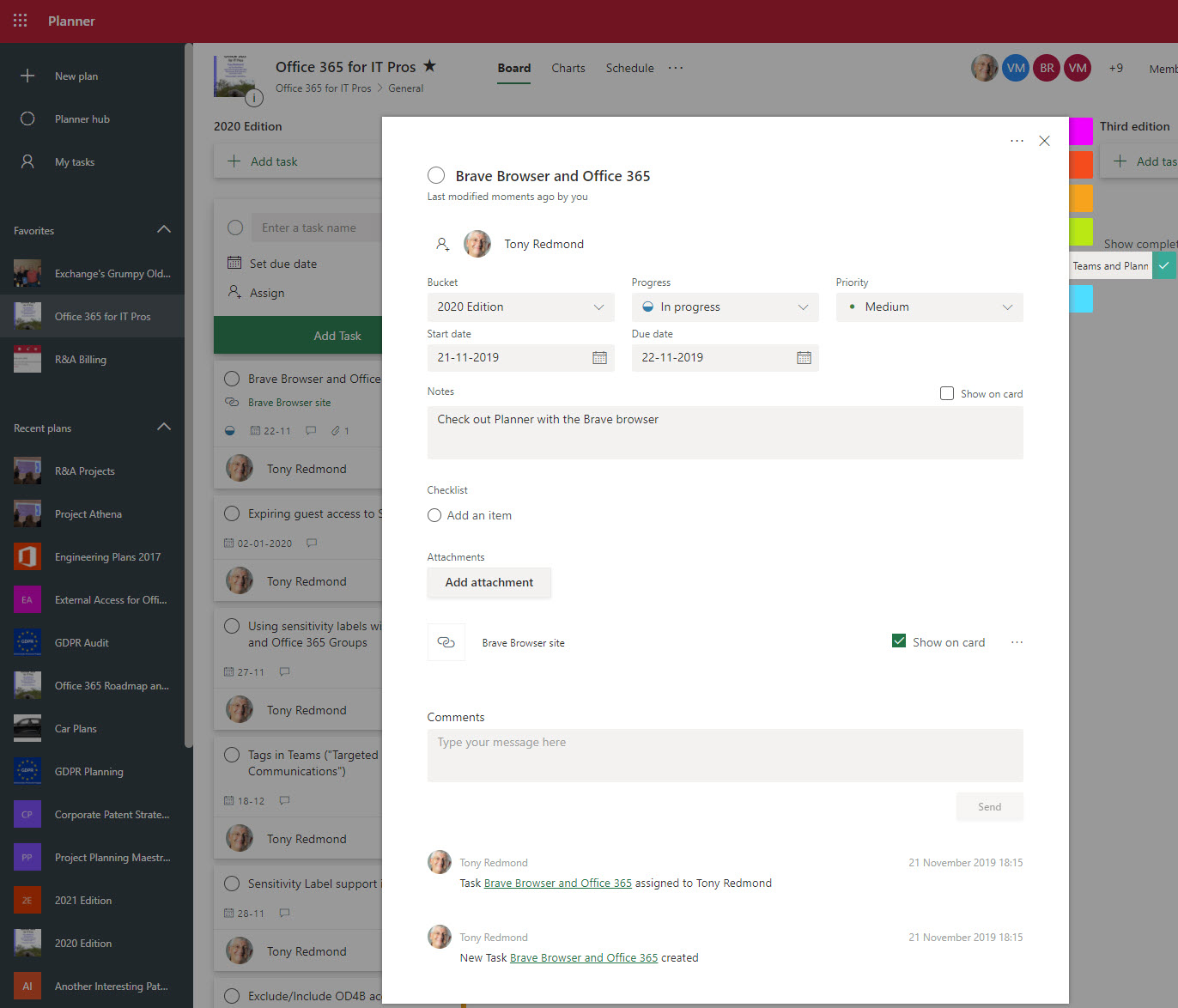 Stream
No problems were encountered working with video content in the Stream app. Videos played flawlessly (Figure 5) and I could upload new files without a problem. I was also able to trim videos very happily with Brave.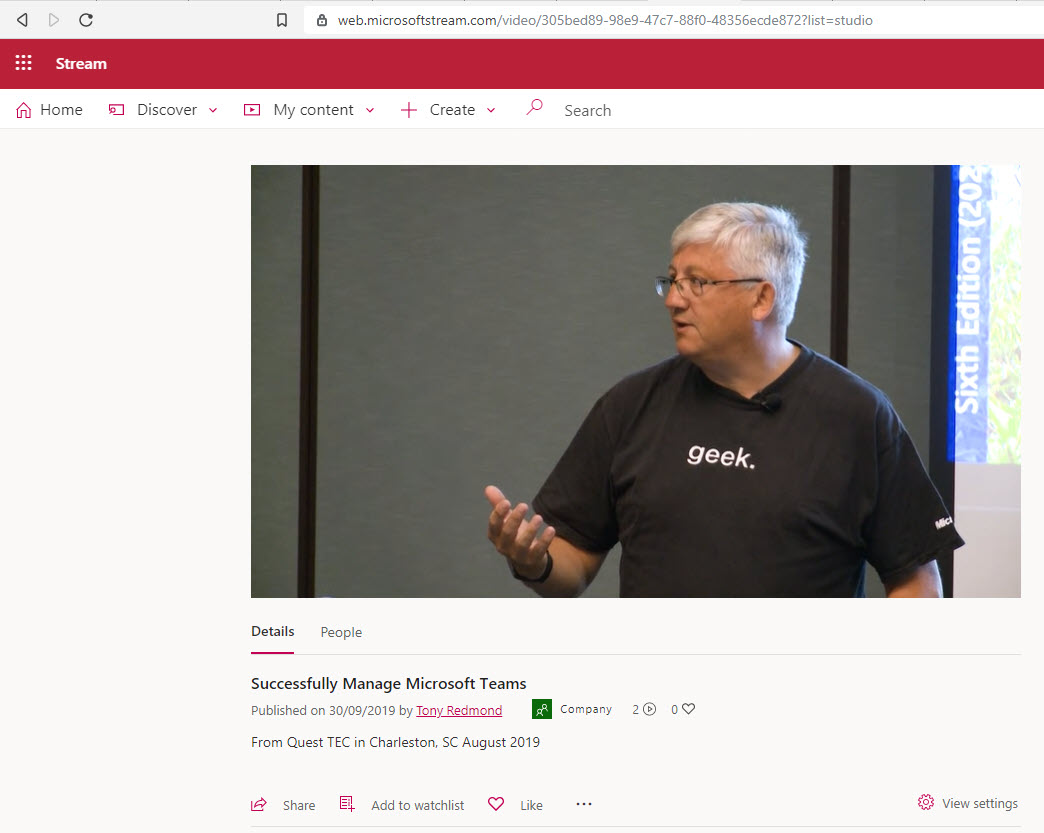 Admin Portals
Brave worked well with the Office 365 Admin Center, the Security and Compliance Center, and the Azure Active Directory portal. Shields were up for these tests and didn't cause any problems. Then I went to the Teams Admin Center and hit more issues. Shields up or down, Teams Admin had issues (Figure 6), which seemed strange given the success with the other portals.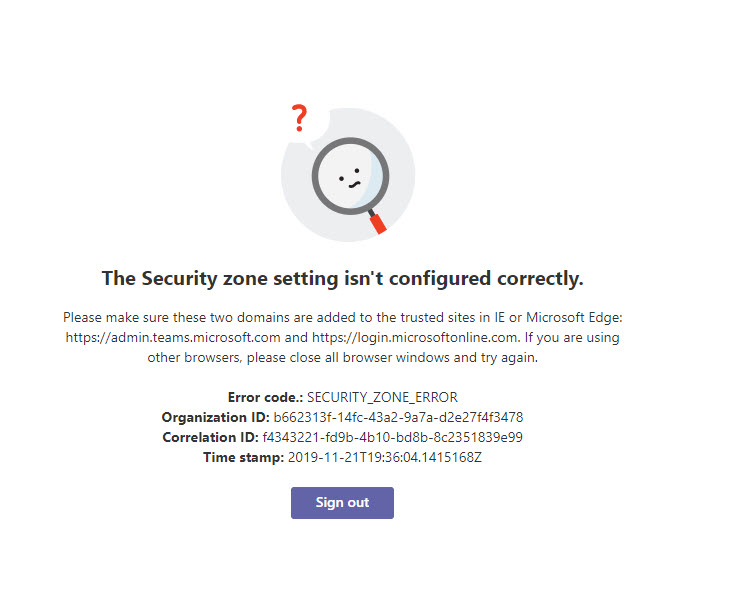 The SharePoint Admin Center also hit a problem, saying that "the server is busy now" when authenticate.aspx was running. Eventually something happened in the back end and the SharePoint Admin Center ran smoothly from then on (with shields down).
Maybe Not a Daily Driver Yet
Given some of the hiccups I ran into when using Office 365, Brave can't take over from Chromium-based Edge as my daily driver. Yet. Problems like those I encountered will be sorted over time, and when that happens the speed of Brave will make it a very compelling choice, if your favorite add-ins are available (in my case, the LastPass password manager works very well). I'm going to continue to use Brave for as much as I can make work in the browser and look forward to seeing this story develop.