Analytics in Viva Insights that Improve Collaboration Behaviours in the Workplace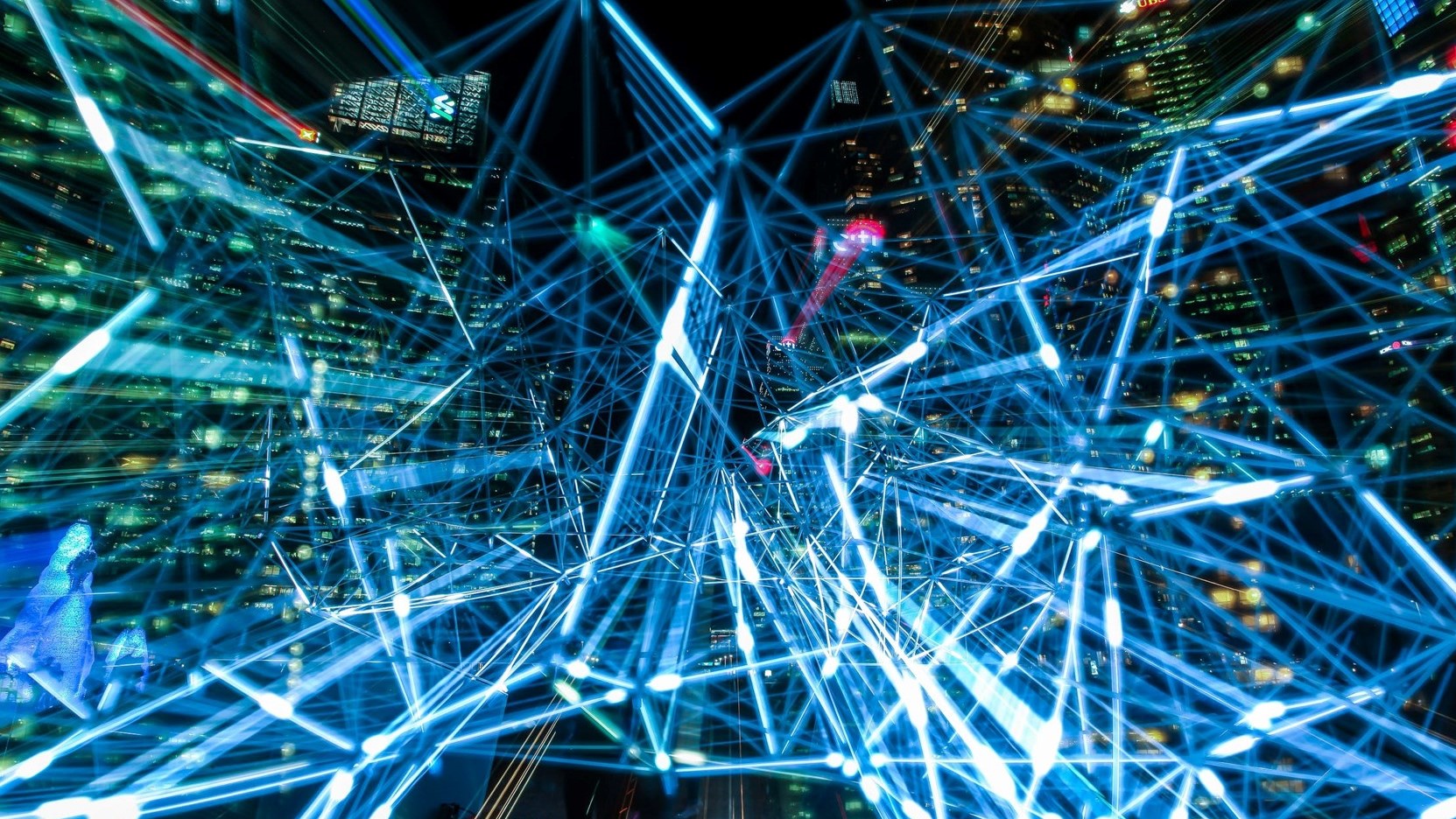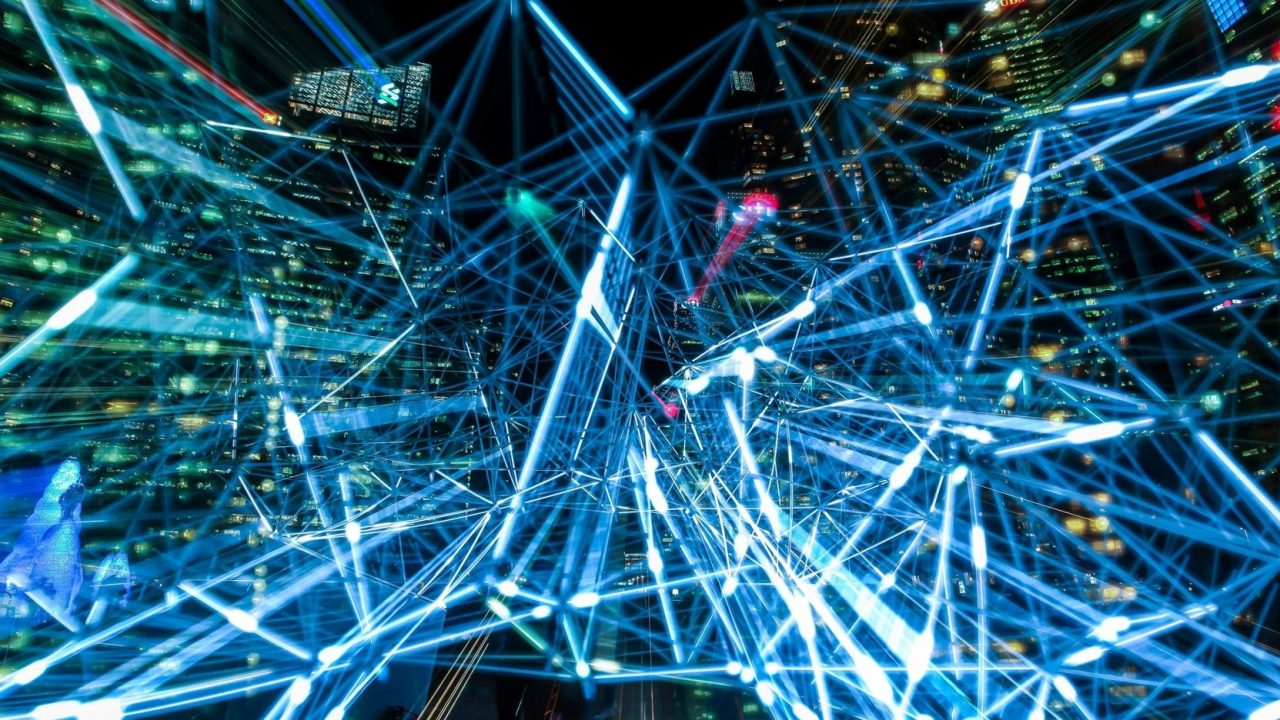 Many of us have witnessed how easy it is for the boundary between work and life to blur over the past year. As our lives become increasingly connected, we make sense of an enormous amount of information while multiple tasks and deliverables require our attention. As more people work remotely, it is harder to figure out how happy employees are, if burnout is a problem, and how resilient an organisation is. Microsoft has a solution for these challenges called Viva Insights.
What is Microsoft Viva Insights?
Viva Insights is one module in Microsoft's employee experience platform that offers privacy-protected insights and actionable recommendations that help employees work smarter, build better habits, and achieve balance in the workplace. These recommendations surface in the Viva Insights Microsoft Teams App, daily briefing emails and web dashboards.
It provides three types of Insights:
Personal Insights – Individuals receive personal insights to help them recognise opportunities to improve how they work to do their best. It is easier to boost productivity and prioritise well-being with actionable recommendations, such as scheduling regular breaks, focused work, and learning throughout the day.
Manager Insights – Managers can use insights to improve their teams' productivity and well-being by seeing patterns of work that can cause burnout and stress, such as work after hours, meeting overload, or not enough focus time. Managers can create positive change when they know what current team norms are.
Organisation Insights – Business leaders can understand how work impacts their people and business with insight into organisational resiliency and work culture. By knowing where to ensure employee well-being, leaders can understand where a change in process may improve business outcomes.
It's important to note the licensing requirements for Viva Insights. The personal Insights come as part of your typical Office 365 plans, including E1, E3, E5 and Microsoft 365 Business plans. The manager and leader insights for Viva Insights require an additional add-on.
Workplace analytics
Analysts have a significant role in helping business leaders make critical decisions, as they can generate insights and explore the data to support positive change. Workplace Analytics has been rebranded as Viva Insights and is a web app with advanced analysis tools available to Analyst roles. It allows analysts to gain insight into business challenges, work patterns and support business leaders.
What analytics are available?
The Viva Insights Home page provides a quick look at leadership ready insights related to business outcomes. It shows your organisation's data scope and how many team members, managers, and teams the data includes.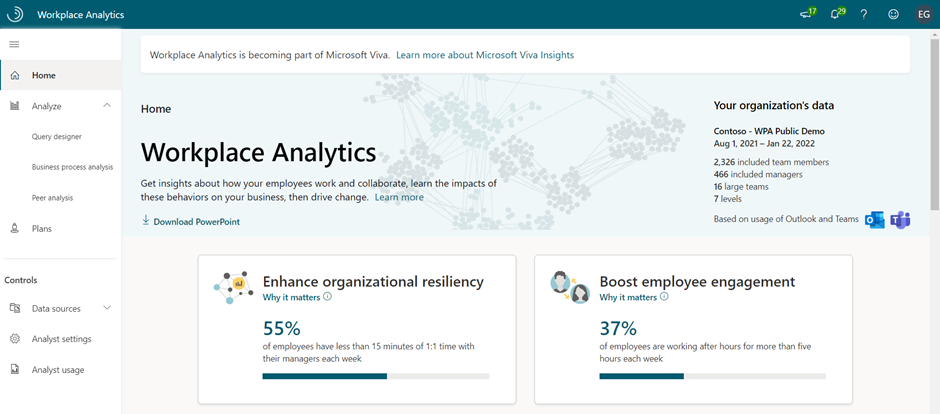 Each outcome provides a high-level look at relevant metrics, linking to supporting evidence and deeper analysis. These insights are helpful to identify patterns you want to investigate further quickly.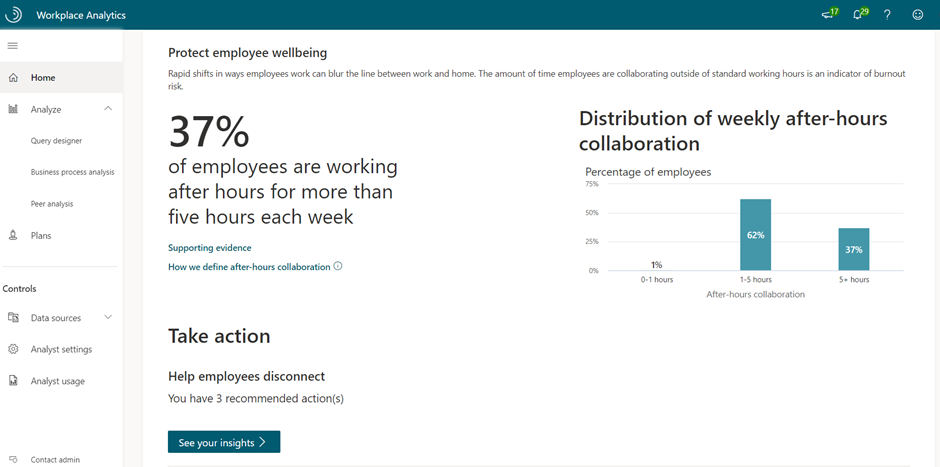 The Take action section shows suggestions of actions depending on the business outcome you have opened. In this example, the analyst investigates employee well-being, and Viva Insights suggests encouraging employees to disconnect using tools like focus time and together mode.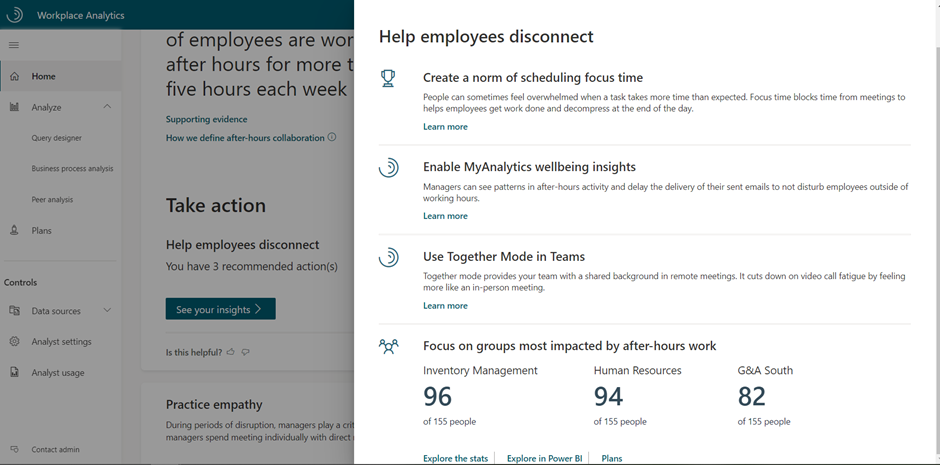 To dig deeper, explore the stats to see the detail around department-specific insights into after-hours work. These detailed stats can help you pinpoint which department to focus on and use the recommended actions.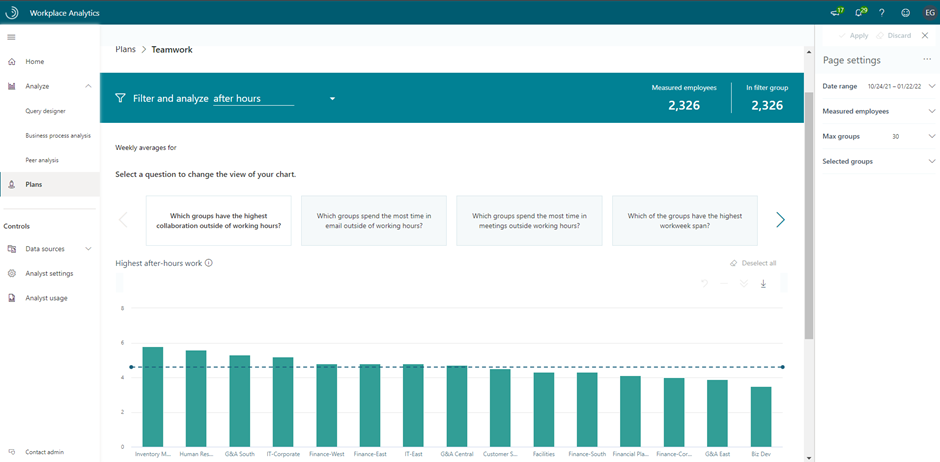 Analyse with Query Designer
As well as the nine business outcomes surfaced on the Home Page, analysts can customise the data to view relevant recommendations. You can use the Query designer, which provides templates to help analyse trends using Power BI. Some featured templates include tracking your collaboration culture, manager effectiveness and more. You will need Power BI Desktop to view the templates.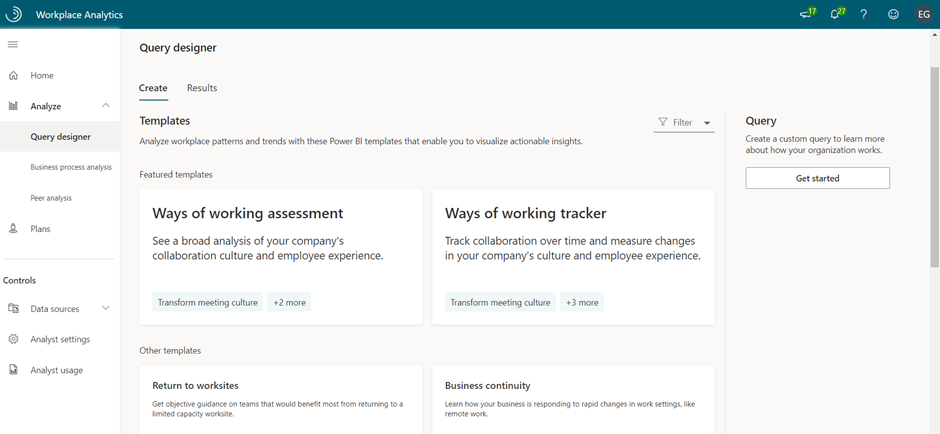 If you can't find a helpful template, you can import row-level data into other analysis tools to create custom analyses, advanced insights, and dashboards.
Under Start custom query in Queries, you'll see a query options list. The two most common are:
Person query – Extract person metrics for analysis of combined employee data.
Meeting query – Extract meeting-related metrics for analysis of accumulated meeting data.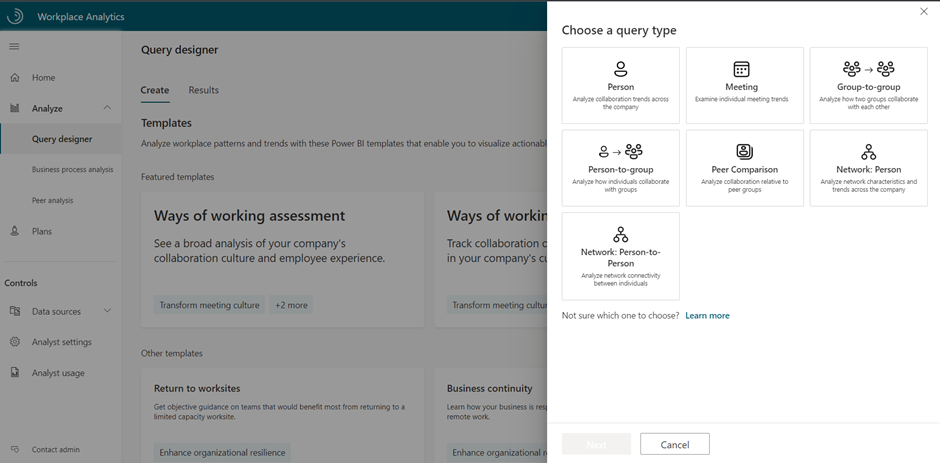 Queries use the same underlying data, but the type of query determines the report's structure. For example, each observation in a Person query represents a person, their measured collaboration, and their descriptive attributes. Each observation in a Meeting query represents a meeting, its attributes, and the total collaboration associated with the meeting attendees.
From there, you can customise the query metrics based on what you want to find out about your employees.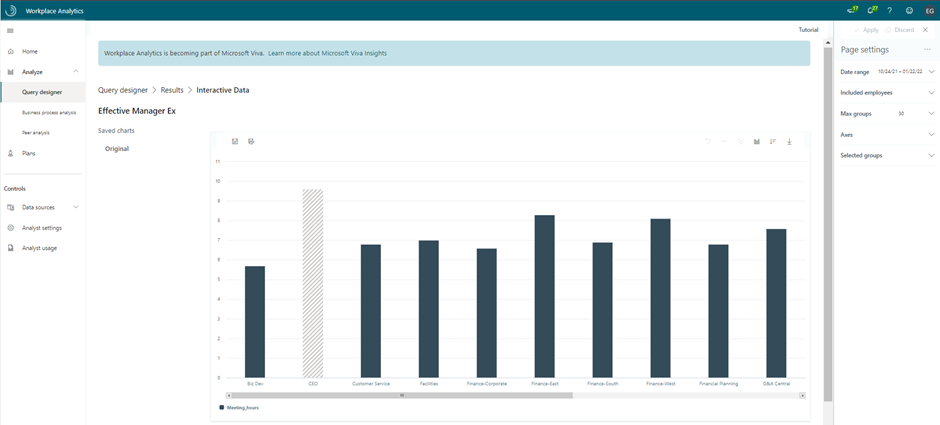 Once you have the results, you can view them in Power BI and use the data to help business leaders make decisions that will positively impact employees.
Manage and create plans
You gain a lot of information from the insights and Queries about how employees in your organisation get work done. With Plans, you can transform these insights into actions.
A Plan combines team goal setting and tracking with valuable suggestions in Viva Insights to shift ways of working. There are currently four types of plans available in Viva Insights:
Focus plan – Helps participants get more time to do deep-dive work and reclaim their calendar for work that matters most.
Collaboration plan – Helps participants reduce the number of excessive meetings that the group schedules.
Well-being plan – Helps participants unwind and protect their time by disconnecting outside of work.
Seller success plan – Helps participants prioritise time, increase network quality and size, and connect with the right roles.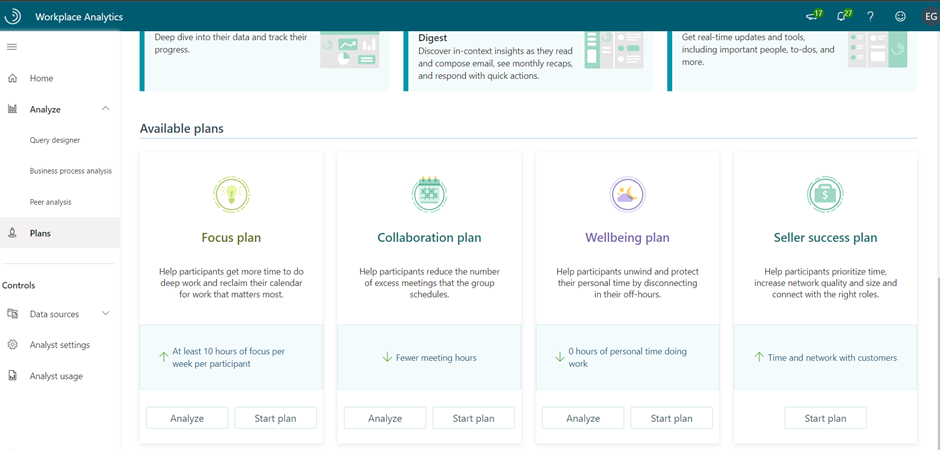 Each plan type offers the option Analyze, which answers questions related to relevant metrics. Click on Start plan to develop, manage, and track a plan specific to your employees.
Viva Insights plans provide managers and employees with a window into how they spend their time, which helps increase focus and improve collaboration and well-being.
Data sources
Where does the data come from? Viva Insights processes collaboration data from Microsoft 365; emails, meetings scheduled, Teams usage. It then maps descriptive employee attributes, usually from the organisation's human resource information system (HRIS), onto the collaboration data. A HRIS is a system that organisations use to manage and maintain detailed employee information.
Employee roles and positions can change frequently, so analysts should update this monthly or quarterly to get more accurate insights. The employee attributes from HRIS are called organisational data. Your Viva Insights administrator uploads organisational data into the Viva Insights web app.
Viva Insights joins the organisational data to the collaboration data to generate its data model for out-of-the-box insights and queries.
Analyst settings
The settings allow you to validate both the Microsoft 365 data and organisational data (uploaded from the HRIS). It also lets you define system defaults, privacy settings, manager settings, and which calendar activity, if any, to exclude from the analysis.
Exclusions are helpful because not all scheduled meetings are business-related or meetings you might want to include in the data. Employees often have personal appointments blocked out in their calendar, cancel meetings, and add all-day meetings for attending events. You might want to exclude this information from the data to get more accurate insights. You can do this in the Analyst settings and exclude by meeting duration, appointments and even by topic.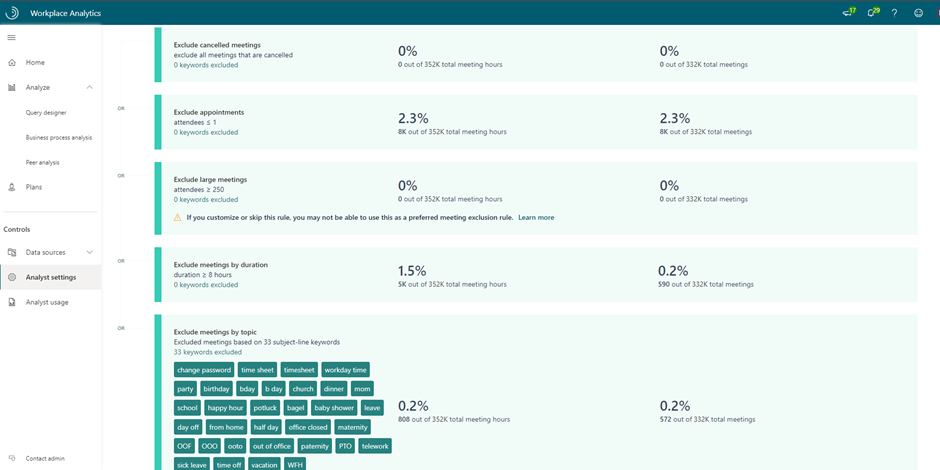 Privacy
When speaking to customers about Viva Insights, a topic that often comes up is privacy. Viva Insights is part of Microsoft 365 which means it sits in your organisation's trust boundaries with privacy safeguards and protections for individuals. By default, it only processes metadata and does not include personal information. Your organisation has complete control over how employees use Viva Insights, deployment, and visibility in your organisation.
Viva Insights looks at header level metadata. It never uses attachments and text in the body of email and meetings. Furthermore, Viva Insights excludes rights-managed, confidential, and private email and meetings.
Why do we need Viva Insights?
IT tools, regardless of email, Teams or a spreadsheet, are designed exclusively with productivity in mind. Their purpose is to make it easier for people to work efficiently.
There is a real risk of burnout for people, especially in the era of remote working, when it is easier than ever for people to access their work apps. Since we no longer sit in the same room, it is challenging for management to see this burnout.
As a result, Viva Insights can provide both individuals and organisations with insights into how people are doing at work. The app has various features that track well-being in different ways and offer recommendations for improving it. Navigating through the insights proved simple enough, and the insights you can derive from them are beneficial.
Viva Insights is an additional license cost if you look for that manager and organisational view. Still, if your goal is to improve employee engagement retention and build better processes in your organisation, then, in my opinion, it is worth the investment.