Microsoft has announced several new capabilities added to its Windows Autopatch service this month. The company has introduced a new feature that enables customers to set custom schedules for the deployment of quality updates for each ring in their tenants.
Specifically, IT admins can now configure deadline-driven or scheduled install settings in Microsoft Intune. The scheduled install feature lets IT Pros apply updates outside of working hours on Windows machines. Deadline-driven customizations enable customers to modify deadlines, deferrals, and grace periods within 14 days.
Last month, Microsoft unveiled a new Windows Autopatch feature that lets IT admins block updates for Microsoft 365 Apps. The company has announced that this capability is now generally available for all enterprise customers.
"Since Windows Autopatch currently sets enrolled devices to Microsoft 365 App updates via the Monthly Enterprise Channel, this feature allows organizations subscribed to different channels to still take advantage of Windows Autopatch," Microsoft explained.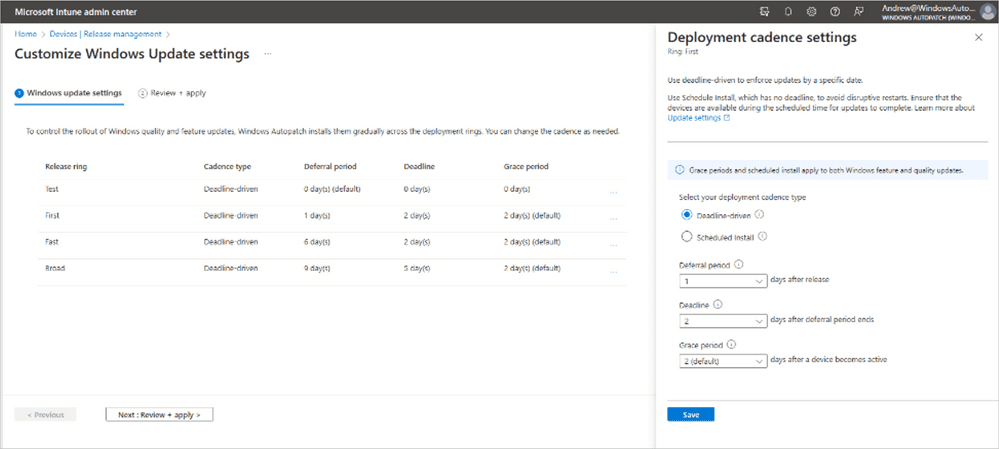 Microsoft has also announced some enhancements coming to the Tenant management blade. The company will alert IT admins about expired licenses that need to be replaced or renewed to retain access to Windows Autopatch.
Windows Autopatch to add new reporting features and much more
Microsoft has also announced several new capabilities that will soon be available in public preview in Windows Autopatch. First up, IT admins will be able to use Windows Autopatch to deploy Windows 11 updates. Additionally, they will be able to utilize Autopatch groups to apply various cadences and ring configurations to a specific set of Windows devices.
Microsoft's Windows Autopatch is also getting support for new reports that will provide more insights such as feature updates. Some new settings will help organizations ensure the enforcement of policies and configurations. Other capabilities include a new 5-ring default option and support for custom ring configurations.