Key takeaways

The Windows 11 Fall update is coming on September 26 as an optional update for Windows 11 version 22H2, and it will add over 200 new features.
This update brings Copilot in Windows, a new AI assistant that will be available in all markets except the EU, Russia, Belarus, and China
There are also new options for IT admins to enforce passwordless authentication methods on Windows 11.
Microsoft held a special event in New York yesterday where the company detailed new features coming to Windows on September 26. The highlight of this Windows 11 Fall update is Windows Copilot, which has been available in preview for Insiders since June. This update will also introduce new Cloud PC experiences with Windows 365 Boot and Windows 365 Switch, Passkey support, and more. 
As we're now getting close to the release of Windows 11 version 23H2, the next annual update for the OS, there was a bit of confusion regarding this upcoming update yesterday. The update coming next week on September 26 is actually the optional September preview update for Windows 11 version 22H2, which will include all of the aforementioned features. 
"On September 26th, Copilot in Windows will start to roll out in September 2023 optional non-security update for Windows 11, version 22H2–and will be available behind the commercial control for continuous innovation," the company explained on the Windows IT Pro blog yesterday. "It will later be included in Windows 11, version 23H2, the annual feature update for Windows 11, which will be released in Q4 of this calendar year. With the feature update, Copilot in Windows will be on by default, but under your control with Microsoft Intune policy or Group Policy."
Copilot adds an AI assistant to Windows 11
In typical Microsoft fashion, the company started referring to Windows Copilot as "Microsoft Copilot," "Copilot in Windows", or just "Copilot." Anyway, this is the same Windows Copilot that's been available in preview for Insiders, and it's still quite limited at the moment.
The new AI assistant can be pinned to the right side of your desktop, and it provides access to the Bing Chat experience. Organizations with Microsoft 365 E3 and E5, Business Standard, and Business Premium subscriptions can also enable the Bing Chat Enterprise experience for free and get the added benefit of commercial data protection. 
Copilot allows users to ask questions in natural language, and the AI assistant can also be used to change Windows settings or troubleshoot issues. Microsoft already announced that Copilot will eventually support the same third-party plugins that ChatGPT supports, and that will make it even more capable.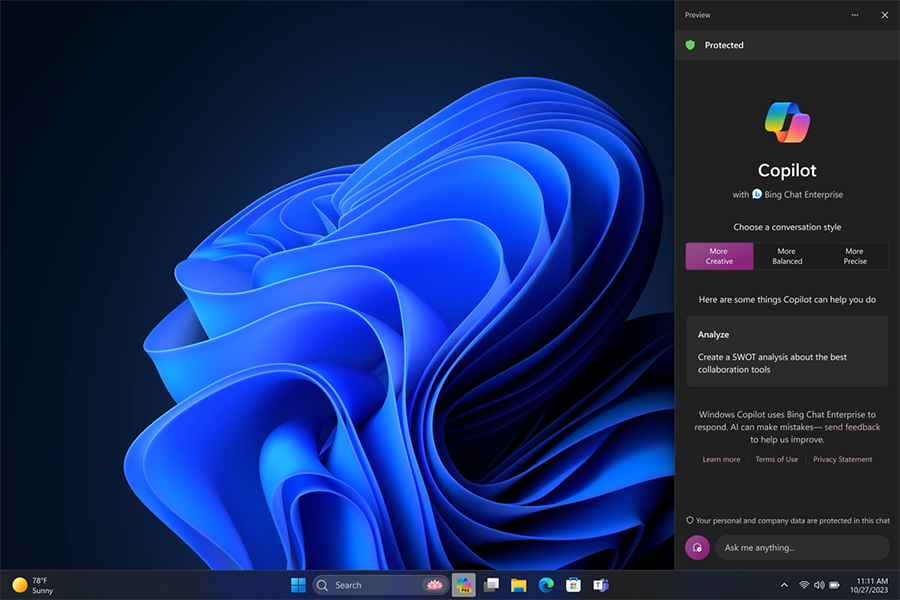 Copilot in Windows will be available in all global markets except for the European Community, Russia, Belarus, and China. It's not clear why the AI assistant won't launch in Europe, though this is an area where Microsoft is currently facing regulatory scrutiny. The EU Commission recently designated Microsoft as a "gatekeeper" under its new Digital Markets Act, and the company will have to make changes to Windows to allow third-party services to better compete with Microsoft's. 
New commercial capabilities for IT admins
For IT pros, the Windows 11 Fall update will add more options to go passwordless. They'll be able will be able to set a policy to enforce the use of phish-resistant credentials on Microsoft Entra joined devices, eliminating password fields on lock screens and other authentication scenarios. 
This update will also add support for passkeys protected by Windows Hello for Business. Passkeys provide passwordless sign-in methods (face, fingerprint, PIN) on websites that support them, such as Google and GitHub. 
Microsoft also highlighted yesterday some Windows Firewall updates, including the ability to target firewall rules to specific applications. The next Windows 11 update will also add support for Mobile Application Management for Microsoft Edge on any PC with Intune.
For organizations using Windows 365 Cloud PCs, the Windows 11 Fall update will add support for two new features: Windows 365 Boot will allow employees to directly log into their Windows 365 PC, and Windows 365 Switch will make Cloud PCs directly accessible from the Task view feature. 
Over 200 new features in the Windows 11 Fall update
Microsoft says that the Windows 11 Fall update coming on September 26 is "one of our most ambitious yet", with over 200 new features including new AI-powered experiences in Paint, Photos, Clipchamp, and more. The new web-based Outlook for Windows, which is set to replace the Windows Mail and Calendar apps and the legacy Outlook app at some point will also be included with this update.
Also coming with the upcoming Windows 11 Fall update is a new File Explorer with a modernized File Explorer home, address bar, and search box, as well as a new Gallery feature to browse your photos collection. Microsoft is also bringing back taskbar features that disappeared with the launch of Windows 11, such as app labels and the never-combine taskbar mode.