This month, there was a lot of activity for Windows Insiders, Internet Explorer was finally retired, and could Microsoft be preparing to release another version of Windows 10 this fall?
Internet Explorer retired
It shouldn't have come as a shock to anyone but after more than 25 years, Internet Explorer (IE) was officially retired on June 15th. And that means that IE is no longer supported by Microsoft.
Most of you will no doubt be glad to see the back of Internet Explorer. While Sean Lyndersay, General Manager for Microsoft Edge Enterprise, wrote about Internet Explorer with some fondness this month, the truth is that most people will remember IE as a slow and buggy browser that was completely crushed by Google Chrome.
Of course, Microsoft's modern web browser, Edge, is a completely different story. It may have got off to a false start. But when Microsoft decided to use Chromium as the rendering engine in Edge, instead of its own proprietary solution that had been the foundation for IE, things started to change. Edge now has 10 percent of the browser market and it has received praise from users and IT pundits alike.
For enterprises that still rely on IE for legacy webapps, Edge provides IE Mode. It allows enterprises to open apps in Edge but use the old IE rendering engine to ensure compatibility.
Could Microsoft release a new version of Windows 10 this year?
When Microsoft launched Windows 11 in 2021, it stated that there would be no new versions of Windows 10 beyond version 21H2. But is that about to change? According to some websites, Microsoft is planning to release Windows 10 22H2 in August this year. And it can be enabled on 21H2 without needing a complete operating system update.
According to Windows Latest, Windows 10 22H2 (Build 19045) has been spotted in the latest optional cumulative update. The article goes on to say that there are no major new features, but the update is expected to come with some minor tweaks.
Microsoft hasn't confirmed any of this, so who knows whether we will see Windows 10 22H2 later this year. But considering it seems to be baked into existing code, it seems quite likely.
Edge WebView2 is now available for Windows 10
Edge WebView2 is the rendering component of Microsoft's Edge browser that allows developers to embed web content in their apps on Windows. For example, the Teams 2.0 client, which is packaged for consumers in Windows 11 as the Chat app, uses WebView2.
Until now, Microsoft recommended that developers package and distribute the WebView2 runtime with their apps. Because while the runtime is part of Windows 11, it wasn't previously included in Windows 10.
In June, Microsoft released the WebView2 runtime for Windows 10. I was recently asked if the long talked-about Teams 2.0 client for work and school accounts will be available on Windows 10. My answer was probably yes. Providing that Edge WebView2 is available for Windows 10. Well, now it is. At least for consumers. But at the time, I didn't know that developers were able to package the runtime themselves.
Microsoft says it is considering a rollout of Edge WebView2 for managed Windows 10 enterprise devices in the future.
Microsoft releases the Surface Laptop Go 2
At the start of June, Microsoft announced the Surface Laptop Go 2. The Go 2 seems to be a worthy upgrade, although it's not that different than the first version. So, there's probably no need to run out and upgrade your original Surface Laptop Go.
Rather than repeat myself here, if you want to know more about the Surface Laptop Go 2, check out my video below.
Visual Studio 2022 17.3 Preview 2 now available as native Arm64 application
Microsoft announced this month Visual Studio 2022 17.3 Preview 2. The new version of Visual Studio reduces reliance on x64 emulation on Arm devices. It supports natively building and debugging Arm64 apps on Arm. This should significantly increase performance for developers creating Arm64 apps.
It's good to see Microsoft move, albeit slowly, towards a better Windows experience on Arm. The more developers that compile apps natively for Arm, naturally the better the experience will be for end users.
Windows Insider Program news
In case you missed it, Windows 11 22H2 was released to the Release Preview Channel in early June. 22H2 is set to be widely available this fall.
Notepad and Media Player got updates for Windows Insiders. Notepad gets native Arm64 support, improved performance, and better accessibility. Media Player also gets performance improvements and users can now sort songs and albums by date added.
Windows 11 Build 25136 got File Explorer tabs and navigation improvements. At least for some Dev Channel users. The changes came to Beta Channel users in Build 22621.60 later in the month.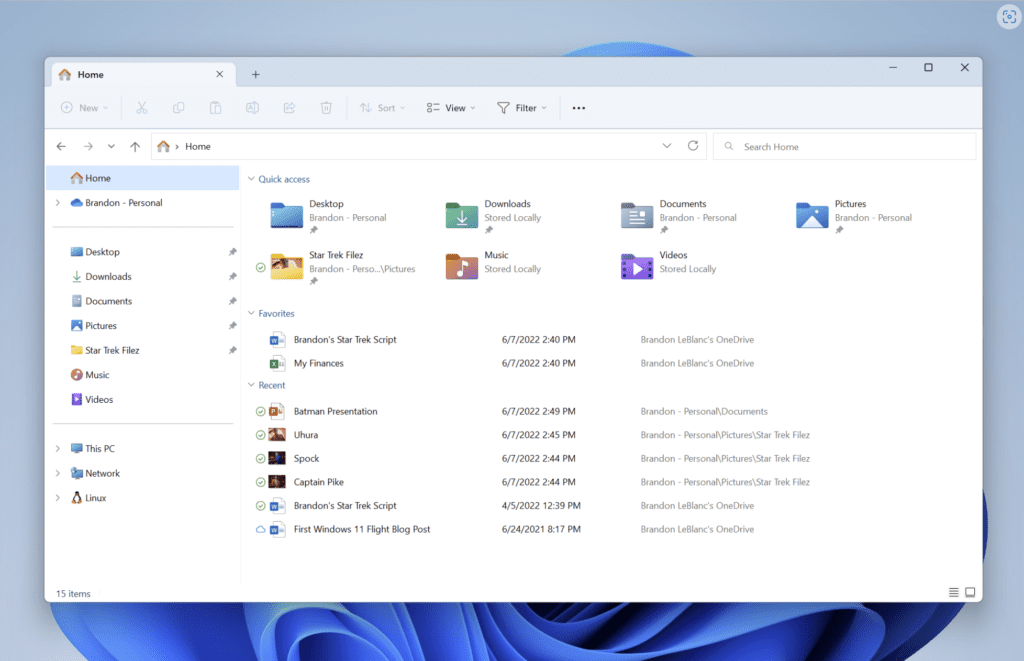 In the same build, Microsoft also introduced some changes that allowed the Widgets icon on the taskbar to display live content from more than just the weather widget. But now also from the sports and finance widgets, including breaking news alerts.
Windows 11 build 22000.776 got some interesting technical changes for IT, including:
IP address auditing for incoming Windows Remote Management (WinRM) connections.
Server Message Block (SMB) redirector specific public File System Control (FSCTL) code FSCTL_LMR_QUERY_INFO.
And the ability to use PowerShell for configuring the SMB client and server cipher suite order.
And maybe not such good news, this build also introduced search highlights, which has already been launched in Windows 10.
These changes were also included in Windows 10 build 19044.1806 on the Release Preview Channel later in the month. But the build also included a whole load of Print and Scan features, like:
IPP over USB support
Print support app (PSA) APIs
PIN-protected printing for IPP and Universal Print
eSCL Mopria Scan protocol
Finally, there were some more technical changes to Windows 11 in build 22621.169 on the Release Preview Channel on June 30th:
Transport Layer Security (TLS) 1.3 in Windows client and server Lightweight Directory Access Protocol (LDAP) implementations
The PowerShell Remote-Item cmdlet now properly works with OneDrive folders
Enabled the InternetExplorerModeEnableSavePageAs Group Policy setting
That's it for another month!