Whats New with Windows April 2022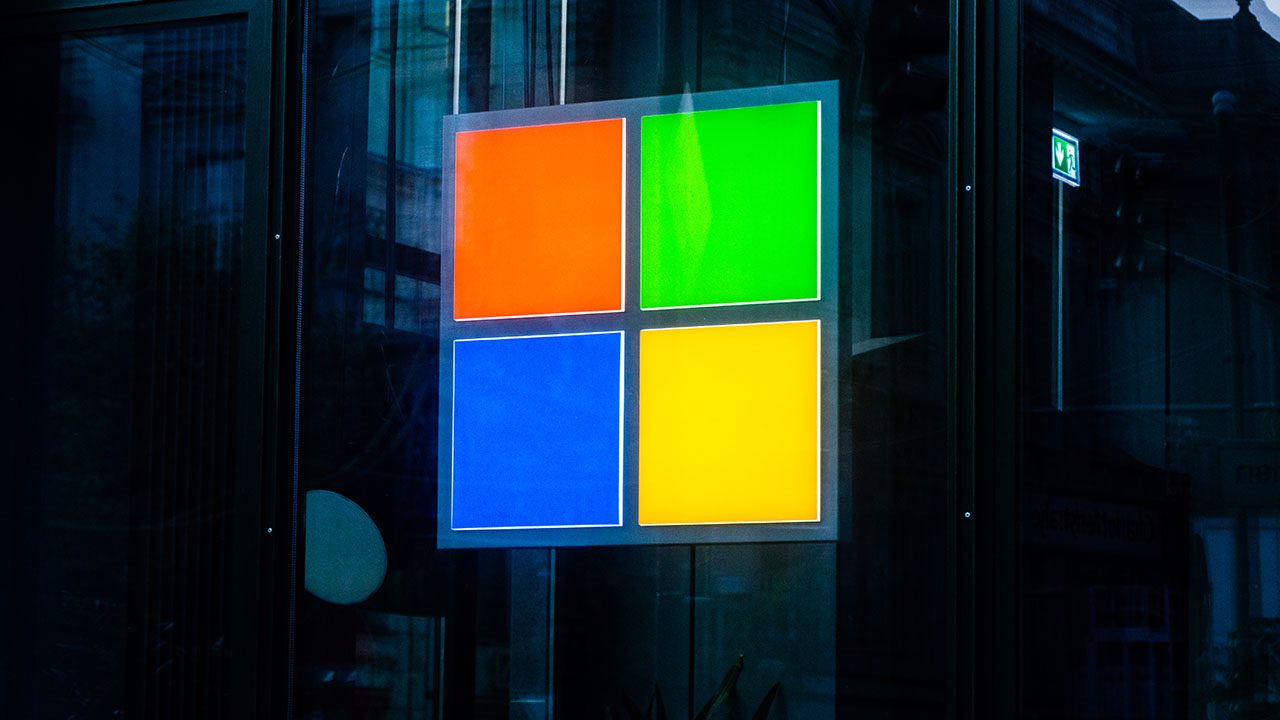 This month sees Microsoft announce a whole load of new features for Windows 11, but it's not clear when they will all be generally available. Plus, Microsoft gives some advice on upgrading to Windows 11 and Edge beats Safari to become the 2nd most used web browser on desktop devices.
Microsoft offers advice on upgrading to Windows 11 from its own experience
In a recent post on Microsoft's website, Lukas Velush said that the upgrade to Windows 11 of 190,000 end user devices was the smoothest ever and it was completed in only five weeks. The post goes on to say:
"Our success was built around several factors: far fewer app compatibility challenges than in the past, not needing to build out a plethora of disk images, and delivery processes and tools already that were greatly improved during the rollout of Windows 10. We divided our upgrade into three stages: plan, prepare, and deploy."
Microsoft used Windows Autopilot and coordinated with its OEM partners to make sure that all new devices came with Windows 11 preinstalled. Then Windows Autopilot configured everything for the employee on first boot.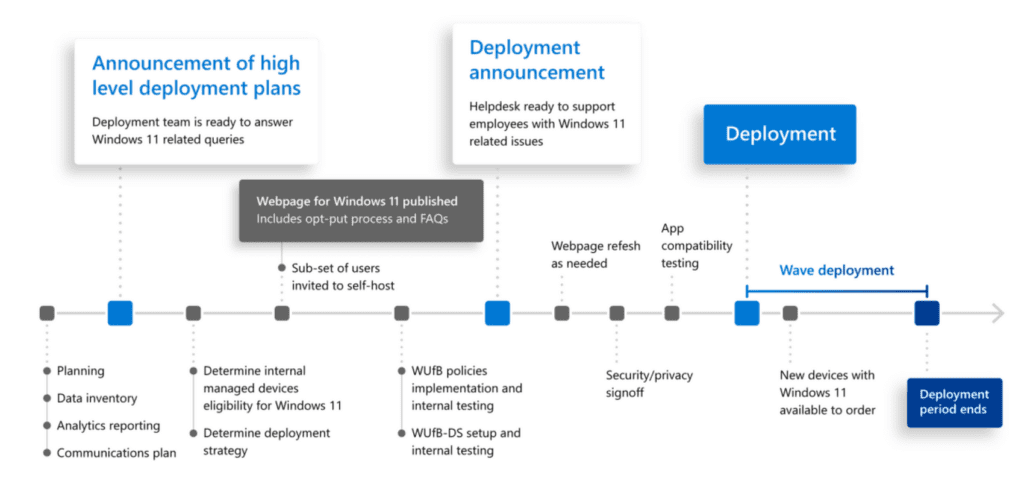 Windows 10 21H2 now ready for broad deployment
Microsoft announced in April that Windows 10 21H2 is ready for broad deployment in businesses. This milestone is typically reached 6 months after a Windows feature release is made generally available. It means that Microsoft has patched any major bugs and you can roll out the feature update in confidence. After performing your own validation of course.
Windows licensing in Azure is anticompetitive according to some critics
If you want to run Windows in Google Cloud or AWS, you will end up paying more for the privilege. In a recent Bloomberg article, Microsoft acknowledged that Windows pricing is cheaper in its own Azure cloud. And that maybe the current situation should be addressed.
Microsoft President and Vice Chairman Brad Smith said: "There definitely are some valid concerns. It's very important for us to learn more and then make some changes."
New Windows 11 features announced at Hybrid Work event
In an online event earlier in April, Microsoft announced a whole load of new features coming to Windows 11. Some of which are already available as you read this article, like Remote Help. And for others, it's not clear when they will see the light of day. Nevertheless, here's a rundown of the new features:
Passwordless single sign-on
Enhanced phishing protection
Smart App Control
Start menu folders
Tabs in File Explorer
New Snap layouts
Favorite files
Widgets improvements
Live captions
Improved focus tools
For a description of each new feature, check out Here Are the New Windows 11 Features That Microsoft Announced on Thurrott.com.
The Your Phone app is now called Phone Link
The app that allows Windows users to easily access info and apps on Android smartphones is now called Phone Link. In a post on evolving the connection between your phone and your Windows PC, Microsoft said:
"We see this experience as more than just bringing your phone into your PC but as a bridge between the two devices, so we are renaming the app to Phone Link. And to further celebrate this connection between your two devices, we have also renamed the mobile companion app from Your Phone Companion to Link to Windows for all Android users"
Microsoft Teams app coming to the Store in May
According to its Microsoft 365 roadmap, the Teams app should be coming to the Microsoft Store in Windows in May. The version available for Windows 10 users will support work, school, and consumer accounts. The Windows 11 version will support just work and school accounts because the built in app already supports consumer MSA logins.
At this moment, it's not clear whether this is just the current Electron app packaged for the Store, or the promised Teams 2.0 client that has only been seen in a prerelease version until now.
SMB v1 file sharing protocol disabled by default in upcoming Windows 11 release
Microsoft is now disabling SMB v1 in Insider builds of Windows 11.
"There is no edition of Windows 11 Insider that has any part of SMB1 enabled by default anymore. At the next major release of Windows 11, that will be the default behavior as well," explained Ned Pyle, Principal Program Manager in the Windows Server engineering group.
Smart App Control requires a fresh install of Windows 11
If you want to take advantage of Smart App Control, a new feature coming to Windows 11 that prevents untrusted or unsigned applications running, you'll need a fresh install of Windows to get it.
"It goes beyond previous built-in browser protections and is woven directly into the core of the OS at the process level. Using code signing along with AI, our new Smart App Control only allows processes to run that are predicted to be safe based on either code certificates or an AI model for application trust within the Microsoft cloud. Model inference occurs 24 hours a day on the latest threat intelligence that provides trillions of signals.", says David Weston.
So while Smart App Control will be enabled by default on new Windows 11 devices, existing users will have to reinstall the operating system or use the 'Reset this PC' feature.
Microsoft Edge improved sleeping tabs and 10% market share
As of writing, Edge 101 was just released. But in version 100, Microsoft touted increased performance with sleeping tabs.
"Beginning in Microsoft Edge 100, we've updated sleeping tabs to enable pages that are sharing a browsing instance with another page to now go to sleep. With this change, 8% more tabs on average will sleep, saving you even more resources! On average, each sleeping tab saves 85% of memory and 99% CPU for Microsoft Edge."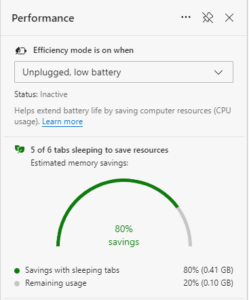 Microsoft Edge also now has 10% of the desktop browser market, apparently knocking Safari off second place. The gap between Edge and Google Chrome is still massive, naturally.
Windows 11 Insider builds
The only interesting feature that hasn't already been mentioned elsewhere in this article is a series of new MDM and Group Policy controls for IT admins in Windows 11 build 22610.
The new policies are for controlling certain aspects of the taskbar, notification center, and Start menu:
Disable Quick Settings flyout
Disable Notification Center and calendar flyouts
Disable all taskbar settings
Disable search (across Start & taskbar)
Hide Task View from taskbar
Block customization of 'Pinned' in Start
Hide 'Recommended' in Start
Disable Start context menus
Hide 'All apps' in Start
And that is it for another month!