Autodesk Drive is a cloud storage platform that allows individuals and small teams to collaborate on design data in the cloud. In this article, we'll detail how Autodesk Drive works and how to get started with the popular storage and collaboration tool.
Autodesk Drive is available on the web, but there's also an Autodesk Desktop Connector app for Windows that provides access to your cloud files while maintaining file relationships. You'll need a subscription to use the service, and we'll have more details on pricing below.
What is Autodesk Drive?
Autodesk Drive is a cloud-based platform designed for sharing and collaborating on design files. The service supports more than 60 file types, and users can edit them, organize them into folders, and download them if needed.
The service supports a wide range of 2D and 3D file formats including DWG, IAM, RVT, IPT, DWF, PDF, JPG, and more. It's also designed to manage the workflows of your CAD (Computer-Aided Design)/CAM (Computer-Aided Manufacturing) and BIM (Building information modeling) projects.
A focus on CAD/CAM and BIM projects
Autodesk Drive allows individuals and teams of any size to work on 2D/3D design files and model data in the cloud. Its team collaboration features also include external sharing, which means you can easily provide access to your projects to external parties.
Being a CAD-aware cloud solution, Autodesk Drive enables organizations to work on data models and designs within a web browser without installing any plug-ins. In the construction field, engineers may need to create data models that include geometry and other metadata to provide their customers with high-quality BIM files. With this platform, architects can seamlessly collaborate on complex CAD/CAM or BIM files with their project teams or clients.
Pricing and storage limit
You are entitled to use Autodesk Drive with a subscription to any of the following products:
AutoCAD ($1,865/year)
3ds Max ($1,785/year)
BIM Collaborate ($705/year)
Advance Steel ($2,310/year)
Autodesk Revit ($2,675/year)
Civil 3D ($2,550/year)
BIM Collaborate Pro ($945/year)
Vault ($770/year)
With these subscriptions, you'll have a storage limit of 25 GB. If you want more storage space, you can opt for other Autodesk products without storage limits such as Fusion 360 or BIM 360.
How does Autodesk Drive work?
To start using Autodesk Drive, you'll first need to create an account on the company's website. Then, you'll need to subscribe to any of the aforementioned products to access the service.
To access Autodesk Drive via a web browser, go to https://drive.autodesk.com/ and log in using your credentials.
Downloading and installing the Autodesk Desktop Connector
The Autodesk Desktop Connector lets you easily manage your files on a Windows PC without having to use a web browser.
To install the Autodesk desktop connector, visit Autodesk's Products and Services page and download the latest version of the Autodesk Desktop Connector.
After launching the executable, choose where to install the program file and click on Install.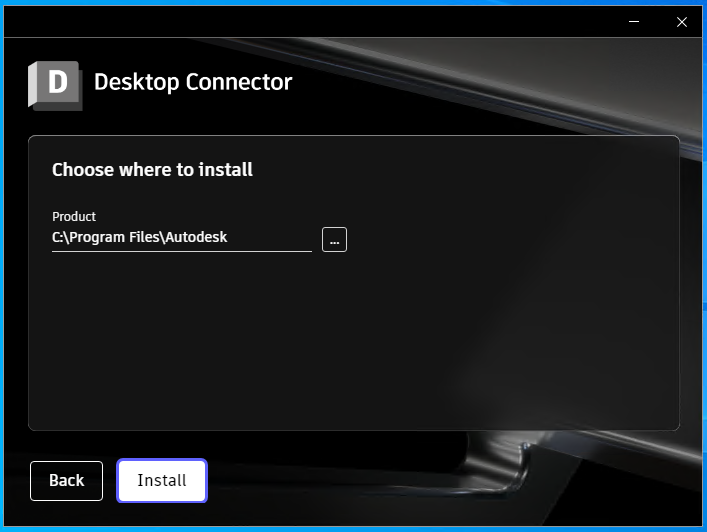 Once the installation process is completed, click on the Finish button.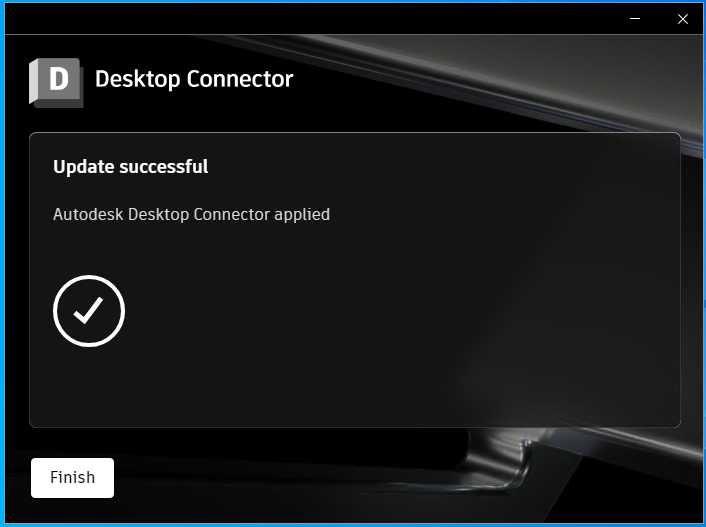 After installing the Desktop Connector, right-click on the Desktop Connector icon on your taskbar and select Sign In, then enter your credentials on the sign-in screen.
You'll now be able to manage and open your files from File Explorer.
Uploading files and folders
If you have the Desktop Connector installed, you can drag and drop files into the content area of Autodesk Drive in File Explorer to upload them to the cloud. Please note that the maximum size for files is 6GB.
When using the web interface, you can also use the file browser to upload local files and folders. You also have the option to connect your Dropbox account to access files stored on the cloud storage service
Although Autodesk Drive supports most file types, there are some exceptions: For example, executable files (.exe), Fusion 3D (F3D) files, and files whose names contain some special characters like (>, <, ", ?, etc.) can't be uploaded.  
Viewing 2D/3D designs and models
When you open a design file, you can see a range of viewing options including an immersive view, an isolated view, and an overview of the design.
If you are opening a file with the AutoCAD web viewer, you can edit it and save it back to Autodesk Drive. You'll be able to open various data file formats (DWG, F3D, DWF, etc.), media file formats (AVX, AVI, MP4, etc.), office files (, PPT, DOC, PDF, etc.), and results file formats (A, DAT, LOG, etc.).
How to use Autodesk Drive for collaboration
To share a file with anyone, you have to create a public link by clicking Get Link on the file that you want to share. You can limit access to your file by setting a password for it. You can also disable the download option while sharing the link to the specific file. The recipient will need not log in to the service to view these files.
If you want to share a folder with someone else, you have to use the private folder-sharing feature. Click the Share button on the folder you want to share and add the recipient in the given space.

You can also choose any one of the permission levels from Can View, Can View and Download, and Can Edit.
Conclusion
Autodesk Drive is a solid cloud-based collaboration platform for any organization that needs to work with 2D and 3D designs and models. The service supports a wide range of 2D/3D design files and model data, and it has a versatile web interface and a convenient Desktop Connector for Windows PCs. The platform supporting collaboration with external users also makes it an easy recommendation.