Hyperconverged infrastructure (HCI) is a software-defined infrastructure that virtualizes and packages all the components of a conventional data center including network, storage, and computing resources. Hyperconverged infrastructure platforms allow businesses to virtualize servers, storage, and underlying networks and implement a software-driven control of their IT environment. In this article, we'll look at the top 5 hyperconverged infrastructure platforms and explain how they can help to reduce your overall IT costs.
What are the benefits of using hyperconverged infrastructure (HCI) platforms?
Hyperconverged infrastructure platforms allow businesses to reduce their operational, infrastructure setup, and maintenance costs. Here are some of the other key benefits of using HCI.
Easy management
Managing, operating, and monitoring an hyperconverged infrastructure platform is much easier than handling a traditional infrastructure. Since it is software-driven, IT admins can configure the HCI system to auto-assign resources, perform redundant tasks, eliminate management siloes, and perform data backup and restoration.
Scalability
Adding or removing nodes from an HCI cluster is easy and convenient. You can start small when your business is in its starting phases and scale out as you grow.
Hyperconverged infrastructure platforms allow you to do these configuration changes without heavy upfront infrastructure and maintenance expenses. Moreover, as HCI nodes are pre-configured and pre-optimized, IT admins can easily add or remove them from the clusters without any integration challenges.
Performance
Hyperconverged infrastructure platforms are capable of running multiple different applications and application types simultaneously. The software-defined nature of HCI platforms can help you to easily accommodate changing performance requirements depending on your workload.
Cloud-friendly
The software-defined infrastructure of hyperconverged infrastructure platforms and their cloud-like experiences are rapidly helping businesses to accomplish their digital transformation. HCI leverages advanced virtualization, which makes it easy to integrate these platforms with other cloud services.
How do hyperconverged infrastructure platforms work?
A hyperconverged infrastructure platform unifies and integrates the core entities of a data center stack including storage, networking, and virtualization. An HCI platform is powered by a distributed software layer, which is an effective way to mitigate the pain points associated with traditional infrastructure.
An HCI cluster is made up of preconfigured and self-contained building blocks called nodes or servers. These nodes can be added or removed from a cluster as per the needs and requirements of your organization.
Each of these nodes contains compute resources such as x86 processors along with storage (SSD and HDD) and dedicated software. Software running on each of these nodes distributes the workload and operating functions across any nodes within a cluster as per the availability and load-balancing configuration.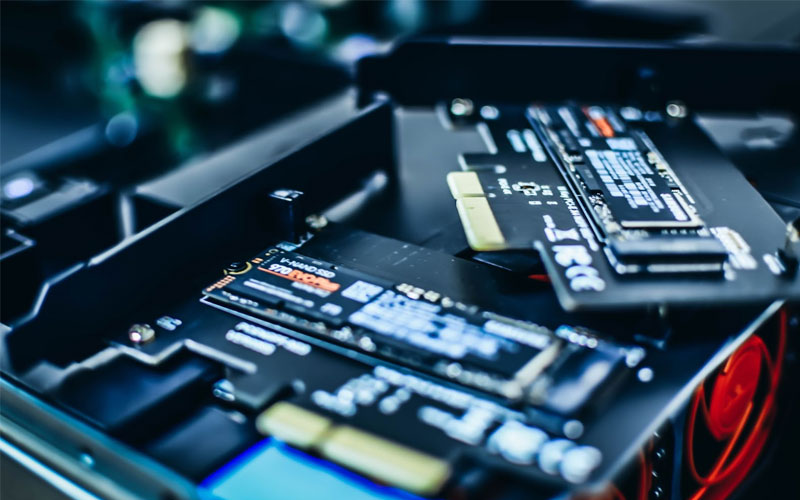 On top of this, almost all modern HCI solutions offer a centralized management console that enables you to easily monitor your HCI resources.
What qualifies for a hyperconverged infrastructure?
The categorization of IT infrastructure between traditional, HCI, dHCI (disaggregated hyperconverged infrastructure), and composable infrastructure is complex. However, for your IT infrastructure to qualify as a hyperconverged infrastructure, it must:
Be able to integrate with other hardware and software.
Virtualize storage, computing (servers), and the networks connecting them.
Offer data backup and recovery options to the virtualized data.
Be able to scale the underlying virtualized infrastructure when needed.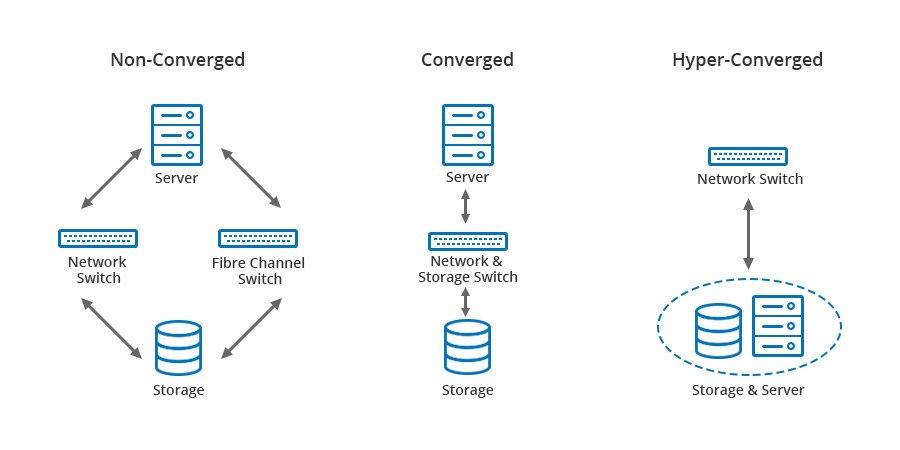 Choosing the Right HCI Provider
There are several HCI vendors today and you'll need to have a good understanding of the IT landscape, tech stack, and the feature set that you need before making a decision. Here are some of the key aspects to consider before zeroing in on a vendor.
Storage Management
An ideal hyperconverged infrastructure solution should let you easily integrate and configure a wide range of storage systems. It should also allow you to map these storage systems to meet the dynamic system requirements of your IT environment. Some modern HCI systems are offering support for NVMe-OF (non-volatile memory express over fabrics), a technology that simplifies storage re-architecture using flash memory.
Analytics
Because hyperconverged infrastructure is an aggregator of storage, computing, and network resources, it is very crucial for you to be able to manage resource utilization, allocation, and health. Choosing an HCI platform that offers centralized dashboards with pre-made and custom metrics along with reporting abilities can be very beneficiary.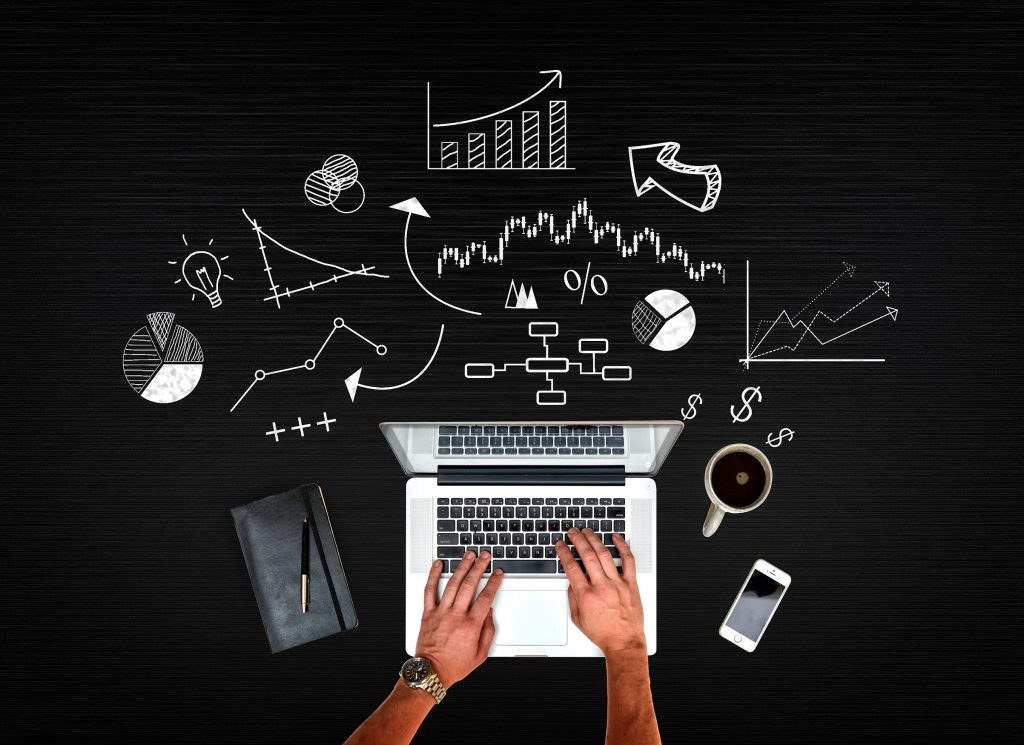 Ease of Use
Most HCI solutions support multiple hypervisors, and that can increase configurational overhead for IT pros. Therefore, it is important for you to understand if your may or may not need this capability.
Integrations
It is crucial for your HCI platform to integrate with different types of storage, computing, and network resources along with cloud services. Having container support could also be a very important requirement if your organization ever starts using containers.
The top 5 HCI vendors
Let's look at some of the most widely used and adopted HCI platforms on the market today. We've picked these services based on their feature set, the use cases they address, their ease of use, and their pricing structure.
Microsoft Azure Stack HCI
Microsoft Azure Stack HCI platform is delivered as an Azure service that integrates on-premises operations with Azure's cloud capabilities. It allows organizations to easily manage their resources remotely, and it provides a secure virtualization platform for Windows and Linux guests.
Azure Stack HCI comes with built-in enterprise-grade storage virtualization and disaster recovery availability through the stretched cluster option. Azure Stack HCI also makes it very easy to connect to any Azure service. It's easy to integrate with your existing IT environment, and it offers great flexibility in hardware options with your preferred vendors.
Top reasons to choose Azure Stack HCI
It integrates with Microsoft's Azure Kubernetes Service to run cloud-native apps on-premises.
The versatile form factor of Azure Stack HCI nodes is ideal for branch office and edge computing requirements.
Azure Stack HCI enables you to simplify your infrastructure and resource management with GUI-based Windows tools.
Pricing
Azure Stack HCI offers a 60-day free trial of the instance after registration. After the free trial, you will be charged a monthly service fee of $10 for every physical core per month. Moreover, users can get a Windows Server data center with software assurance with the Azure Stack HCI instance for no extra cost. More information on the pricing can be found on Microsoft's Azure website.
HPE Nimble Storage
HPE Nimble Storage is a disaggregated hyperconverged infrastructure (dHCI) solution that overcomes the limitations of traditional HCI platforms. HPE is built for companies with business-critical applications running mixed workloads.
HPE Nimble Storage boasts modular components and it's built on top of a universal hardware platform. It lets organizations scale computing and storage resources, and it also supports integrations with other cloud services.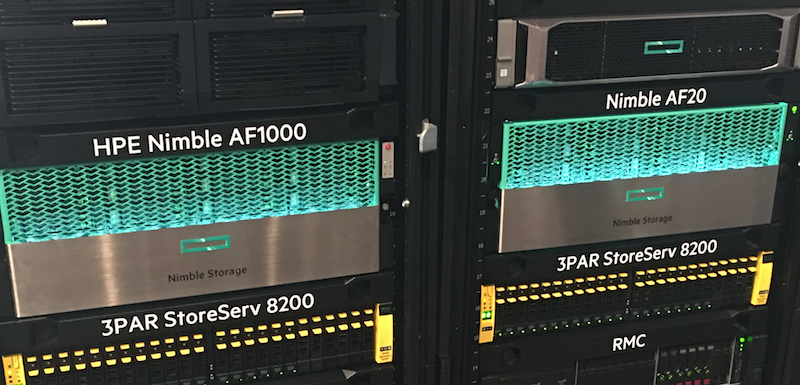 Top reasons to choose HPE Nimble Storage
Being a dHCI storage solution, HPE Nimble Storage can incorporate artificial intelligence and let your organization scale storage and compute independently.
You can use HPE InfoSight, an AI-driven predictive intelligence system that helps you optimize resource usage and allocation.
HPE Nimble Storage also integrates with the HPE GreenLake cloud-to-cloud platform.
Pricing
HPE Nimble Storage doesn't offer a free trial, but the company has a detailed pricing calculator on its website. You'll need to purchase hardware and software separately, and you can find more information about HPE Nimble Storage system information and pricing on this page.
Cisco HyperFlex
Cisco HyperFlex is another versatile and agile HCI platform. It can be deployed at any edge location, and it integrates well with hybrid cloud setups. Cisco HyperFlex can also be operated through Cisco Intersight to perform predictive scaling.
Top reasons to choose Cisco HyperFlex
Cisco HyperFlex provides strong enterprise data protection and backup.
Hyperflex users can also leverage Cisco's Virtual Desktop Infrastructure (VDI) to give users a seamless and secure experience on any device.
Pricing
You'll be able to view Cisco's license fees along with the costs involved with the usage of Hyperflex on the Cisco License website. This is a comprehensive solution targeting large corporations and enterprises, and that's clearly reflected in its pricing.
Nutanix Acropolis
Nutanix Acropolis is an HCI platform designed for companies operating on a massive scale. All aspects of Acropolis are completely software-controlled, allowing for easy scalability and hosting with no single point of failure. However, the highly scalable and distributed nature of Nutanix still allows companies of any size to benefit from this HCI solution.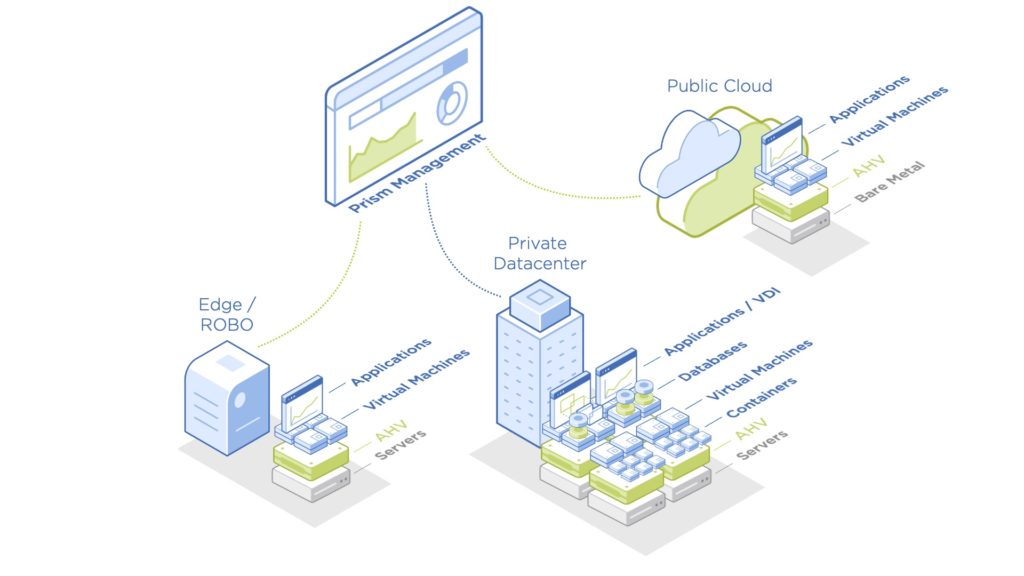 Top reasons to choose Nutanix Acropolis
Nutanix allows you to customize your environment by choosing any hypervisor and cloud services from their supported catalog.
It unifies public, private, and distributed cloud environments, which lets you focus on the delivery of your applications and data
Nutanix Acropolis helps in simplifying your data center operations by combining computing, storage, and virtualization into a simplified interface.
Pricing
Nutanix Acropolis has three different editions – Starter, Pro, and Ultimate.
The Starter edition offers the core set of features and Nutanix software functionality, and it's ideal for limited workloads with small-scale deployments.
The Pro edition offers richer data services along with the core features, and it's ideal for enterprises running multiple applications.
The Ultimate edition consists of the full suite of Nutanix software.
You can view the full licensing costs through the Nutanix Portal after you sign up with your work email.
Dell EMC VxRail
Dell EMC VxRail is a single HCI platform built to handle every VMware workload and use case including VDI, traditional and modern applications, as well as compute-heavy applications running on a hybrid infrastructure. VxRail also supports Dell SmartFabric services to automate the network configuration and help you in simplifying your deployment.
Top reasons to choose Dell EMC VxRail
If your organization is already using VMware for some workloads, VxRail is probably the best option for you as VxRail's HCI software is jointly engineered with VMware.
VxRail is highly configurable, and it lets you choose between various deployment options including integrated rack offerings with or without networking hardware included. This allows you to choose the right option from the VxRail portfolio to meet your workload, performance, graphics, storage, IO, and cost requirements.
Pricing
EMC VxRail offers several options ranging from single appliances to integrated racks. Dell provides custom quotes to its customers based on their requirements. You can get a custom quote for the products you need by either chatting with a business advisor or by having a sales team member from Dell call you back. More information on the pricing can be found on this page.
Conclusion
HCI platforms can help organizations of all sizes to overcome traditional operational and business challenges and benefit from scalable and rapid deployment options. In this article, we've looked at some of the best HCI platforms on the market, and we've also detailed everything you need to consider before choosing an HCI provider. It is crucial for you to choose the right HCI solution that really fits your organization's needs and budget.