Teams to Skype Consumer chat and calling is completing roll-out
Believe it or not, Skype isn't dead. If you haven't checked out the latest versions recently, then you will be surprised to see it has gained meeting functionality very similar to Teams – and also has the same, new background effects and background blur functionality.
Skype for Business has for a long-time had interop with Skype Consumer, and this functionality is now rolling out to Teams.
If you had it enabled for Skype for Business and have moved across to Teams – or set up a new Microsoft 365 tenant, then be warned that this is enabled by default and you'll need to visit the Teams admin center to disable this functionality: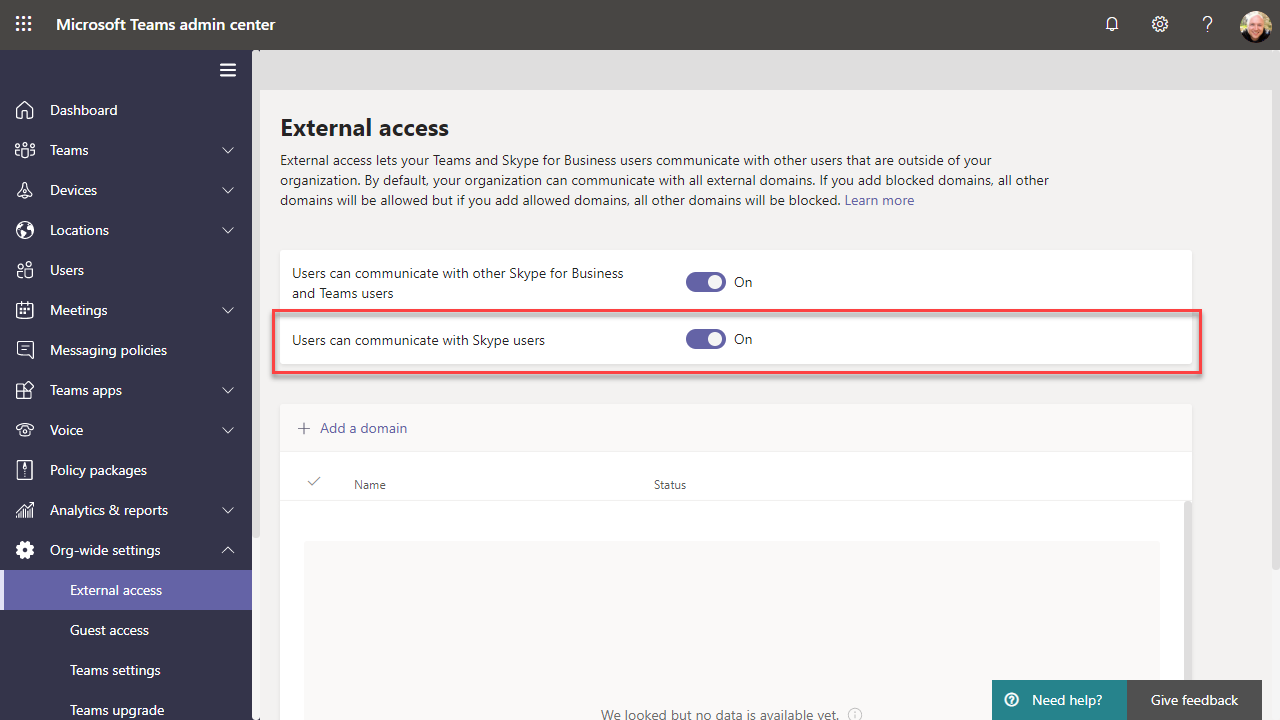 The user experience is the same as when you search for external users on Skype for Business and Teams. You need to search by their Microsoft account name, or they can send you a message using your Teams ID. You will see a Skype logo by their name and the receiving side needs to accept the first chat message to allow calling and chat to continue.
Organizations using Islands Mode get additional controls over how meetings are scheduled in Outlook
If your organization is in Islands mode, then you really should consider looking at moving to Teams-only mode. There are, of course, many reasons why people cannot move entirely over to Teams-only mode – typically existing Skype for Business integrations and older VDI environments to name few and Microsoft appears to understand that.
If you want to gradually move users across to using Teams for scheduling meetings in Outlook, but not change the way Islands mode and Skype for Business work for chat and collaboration today, then you might find this feature useful.
A new control is being added via the Skype for Business Online PowerShell module within the cmdlets for Teams Meeting Policies, and the control will take effect for Outlook on Windows, the web, and mobile early June, and mid-June for Mac.
If you do nothing, then users will continue to see both the Teams add-in and Skype add-in when they schedule a meeting and can pick the type they will prefer. You can change this to only show the Teams add-in by updating the relevant meeting policy.
For example, if we want to check the setting Global meeting policy connect to Skype for Business Online PowerShell and run the following command:
Get-CsTeamsMeetingPolicy -Identity Global |Format-List AllowOutlookAddIn,PreferredMeetingProviderForIslandsMode
If you have not updated anything, you should see output like below: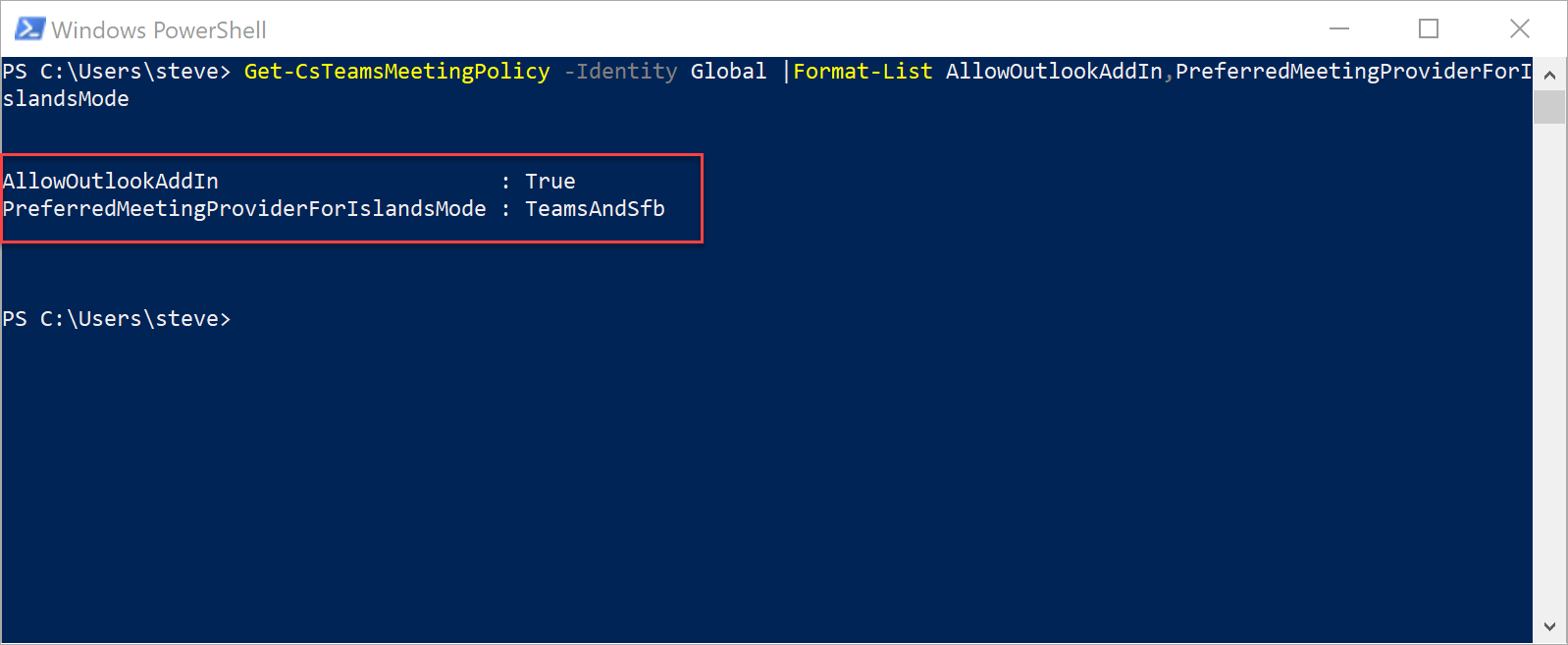 To update the policy so that users only see the option to create a Teams meeting, change the setting PreferredMeetingProviderForIslandsMode to TeamsOnly:
Set-CsTeamsMeetingPolicy -Identity Global -PreferredMeetingProviderForIslandsMode Teams
Re-run the command to check the policy to verify the setting has been applied: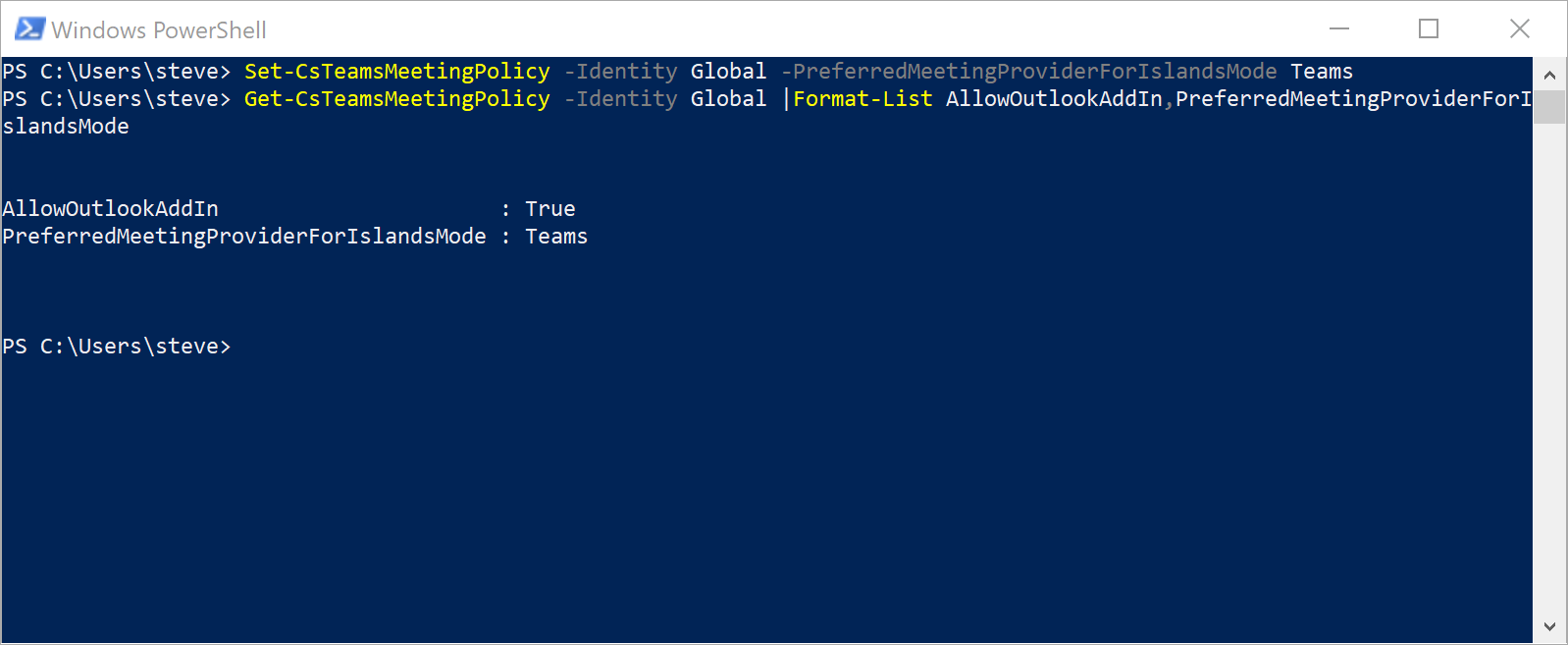 When you make this change, remember it will only affect new meetings and will not initiate the Meeting Migration Service. You can also change back the policy settings to TeamsAndSfb if needed to revert the configuration later.
Teams gets reverse number lookup
Finally, this week, we have got a feature that we'll keep an eye on over the coming weeks. Teams currently provide caller ID for incoming calls, using data both in Active Directory and from telcos, but will soon get the same across the calling history, activity feed and voicemail services. This will not require any admin changes, nor will it have any admin controls.