Slack Uploads from Outlook and Other Office Integrations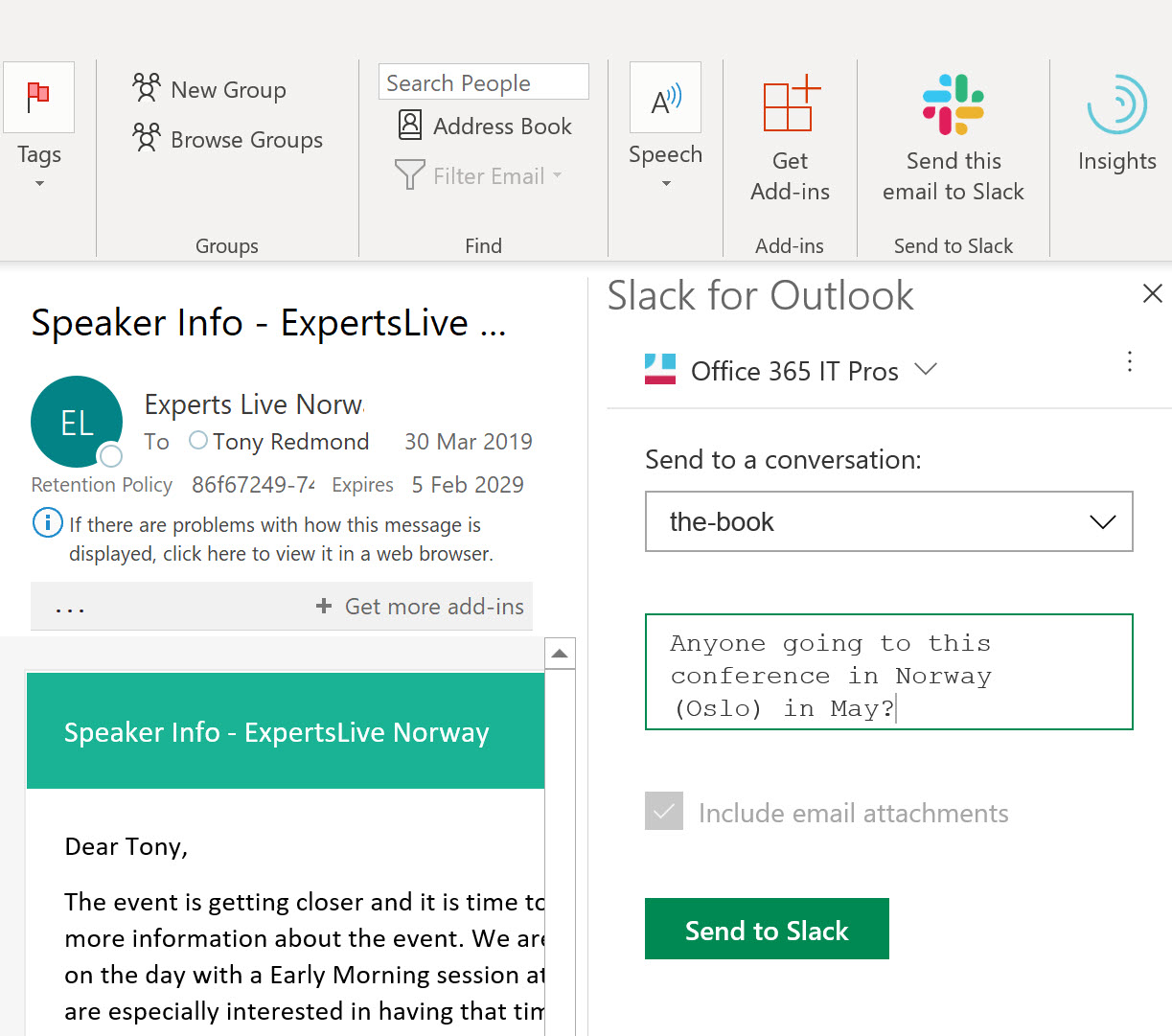 Slack Cozies Up to Office
On April 9, Slack launched a set of integrations to improve interoperability with Office 365, or so Slack claimed (here's what Brad wrote about the announcement). Given the success of Teams, it's unsurprising that Slack should try to keep customers who use the Office apps from considering the free or commercial versions of Teams. Here's a quick look at what Slack has delivered.
Connected Outlook calendar to Slack
This is like the way that Teams synchronizes data from a user's Outlook calendar into the Meetings app (due to be replaced by a more functional Calendar app soon – roadmap item 48516). Planner also has a method to synchronize data with Outlook, so this is not rocket science. Still, it's good to bring calendar information into Slack, including presence information to let people know when you're at a meeting or otherwise unavailable.
One thing I noticed is that Slack supports the ability to join a Skype meeting if scheduled in Outlook. They don't say anything about being able to join a Teams meeting but given that the relevant button invokes a URL to the meeting, I'd be surprised if the link generated by Outlook didn't work.
Send email to Slack
Teams users might be familiar with the ability to send email to a channel using a special email address Teams generates for the channel. Slack takes a different approach with an Outlook add-in that allows users to select a destination and compose a message. This is a more user-friendly implementation than the somewhat clumsy method used to deliver email to a Teams channel.
Because it uses the Outlook add-in model, you can use it with Outlook 2016 or ProPlus for Windows, OWA, and Outlook for Mac. The add-in is unavailable for the Outlook mobile clients. In addition, you need an Exchange Online mailbox as the add-in doesn't support on-premises Exchange.
After the add-in is installed, you need to connect it to Slack and authenticate. You can then go ahead and forward messages to a selected channel or person in Slack (Figure 1). If the message has attachments, you can choose to send them too.
Unlike Teams, you can't create a new message and send it to a channel. A message must exist in Outlook before you can invoke the add-on to compose a covering note. You can't forward messages to Slack that are protected with rights management, including the default Encrypt-Only template.
The Slack add-in uploads messages and attachments from Outlook (or rather, Exchange). As such, there's a discernible delay while the add-in processes a message, especially if it has some attachments. Generally, the add-in worked, but I encountered some issues with large messages (attachments over 300 KB) when the add-in froze (Figure 2) and caused me to restart Outlook.
Developing a Conversation in Slack
Like Teams, once the email arrives in Slack, any further discussion takes place inside Slack (Figure 3). As far as Slack users are concerned, the message is just another contribution to a debate. There's no way to send email back out if needed (for instance, if a decision is made after a discussion).
Outlook add-in for Slack Creates Some Compliance Issues
Attachments sent to Slack are indexed and discoverable there, but the fact that documents leave Office 365 might cause some concern for corporate compliance officers. Another potential issue is the way messages are uploaded to Slack instead of going through email, so no copies are kept in Sent Items folders. No trace or audit record exists that any information has been transmitted from Office 365 to Slack, nor is the sharing subject to Data Loss Prevention or supervision policies, which might be a problem if someone shares sensitive or confidential information through Slack.
Import and Search Files from OneDrive
You can now browse personal OneDrive accounts (OneDrive for Business isn't mentioned) and select a file stored in OneDrive and attach it to a Slack conversation. Again, this isn't earth-shattering because it's a feature that other apps, including Teams, have had for a while.
Preview Office Files in Slack
This looks like Slack uses the Office file viewers to preview files without loading a native app (like Word). Word, PowerPoint, and Excel are supported.
Some Value for Office Desktop
Apart from the slicker email integration with Outlook, I'm not terribly impressed by what Slack has done. Many commentators followed Slack's line and reported that the integration is with Office 365 but it's not if you think of Office 365 as Exchange, SharePoint, and the other services. In reality, Slack's announcement covers a set of integrations with the Office desktop apps. There's nothing wrong with that and there's goodness here for Slack users. However, I doubt that it's going to stop Teams taking the lion's share of the Office 365 commercial base.